Hélène Rebelo: Clever Colour Play from Brussels-Based Curator

A sharp-eye for design and a love of all things bright and bold, multi-talented creative Hélène Rebelo welcomes us into her new home.
A lifelong interest in all things beautiful, French curator Hélène Rebelo keeps an open mind when it comes to creativity. Finding expression in roles ranging from make-up artist to fashion editor, Rebelo has engineered a career where fun and fulfillment remain a priority. Entering an exciting new chapter with a recent move to Brussels and the launch of Cool Machine Studio, a full-service agency offering brands a taste of her uniquely vibrant aesthetic, we caught up with this adventurous tastemaker to talk new beginnings and the power of colour.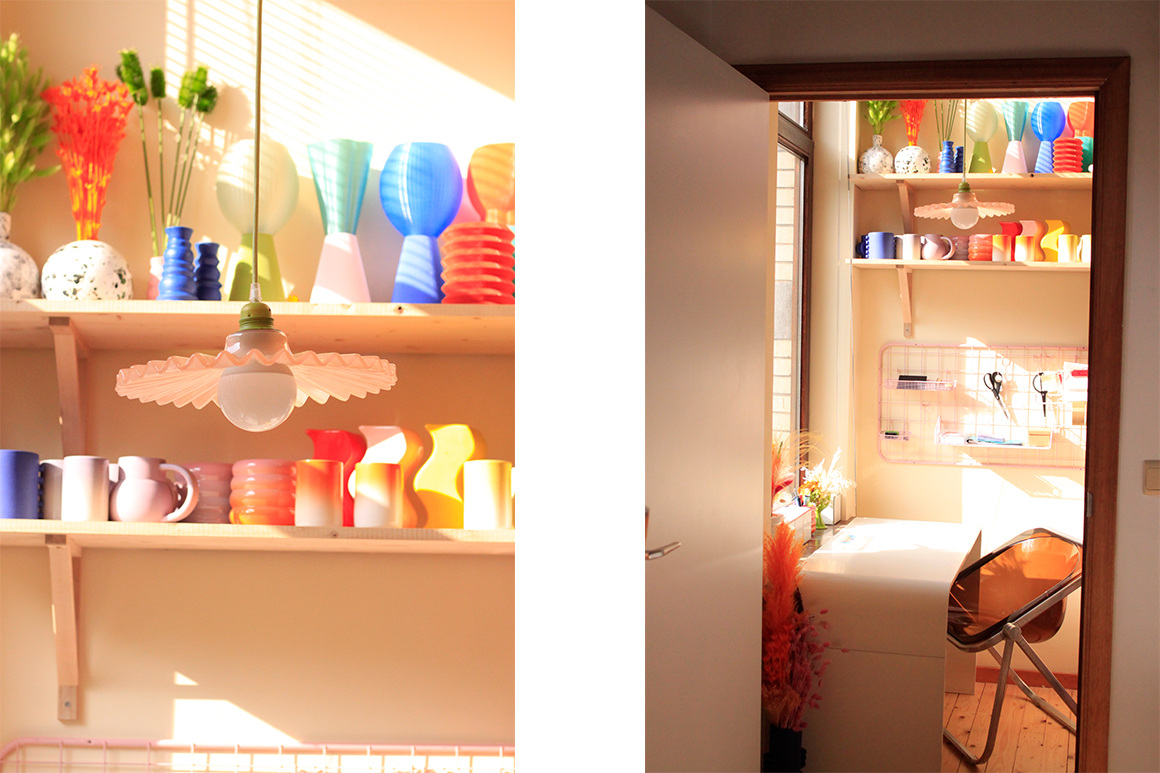 Tell us about your background, where did you grow up? 
I grew up in a small village in the Loire Valley with my parents and my big sister. My studies centered around aesthetics and during this period I fell in love with colors and fashion. I tried to express myself as a makeup artist but, over the years, I developed a deep interest and love for objects, design, art and scenography. 
Why the move to Brussels? Did you find it easy to settle in the city?
It was a kind of 'let's try our luck!' situation. We work flexibly so we can move easily if we want to. We had visited Brussels briefly just once before. While seeing some friends here, we took the decision to view apartments and in less than 48 hours, we'd signed up for this new place. We needed to leave our provincial town in France where we have grown up to change our daily life. Brussels seems to be a good compromise to have all the positive sides of a capital without the inconveniences. We've found here a cultural life and places to go out, at the same time as calm and tranquility, which perfectly corresponds to our personalities.
You've had a few different careers, from make-up artist to curator, which aspect of your working life have you enjoyed most?
I've enjoyed a lot of moments over these past 10 years and when I think about all the things I've done, I understand that the moments I enjoyed most are the ones which  allowed me to express myself in an artistic way. The past few months since launching Cool Machine have been some of my favourite times. I can't imagine working without having fun.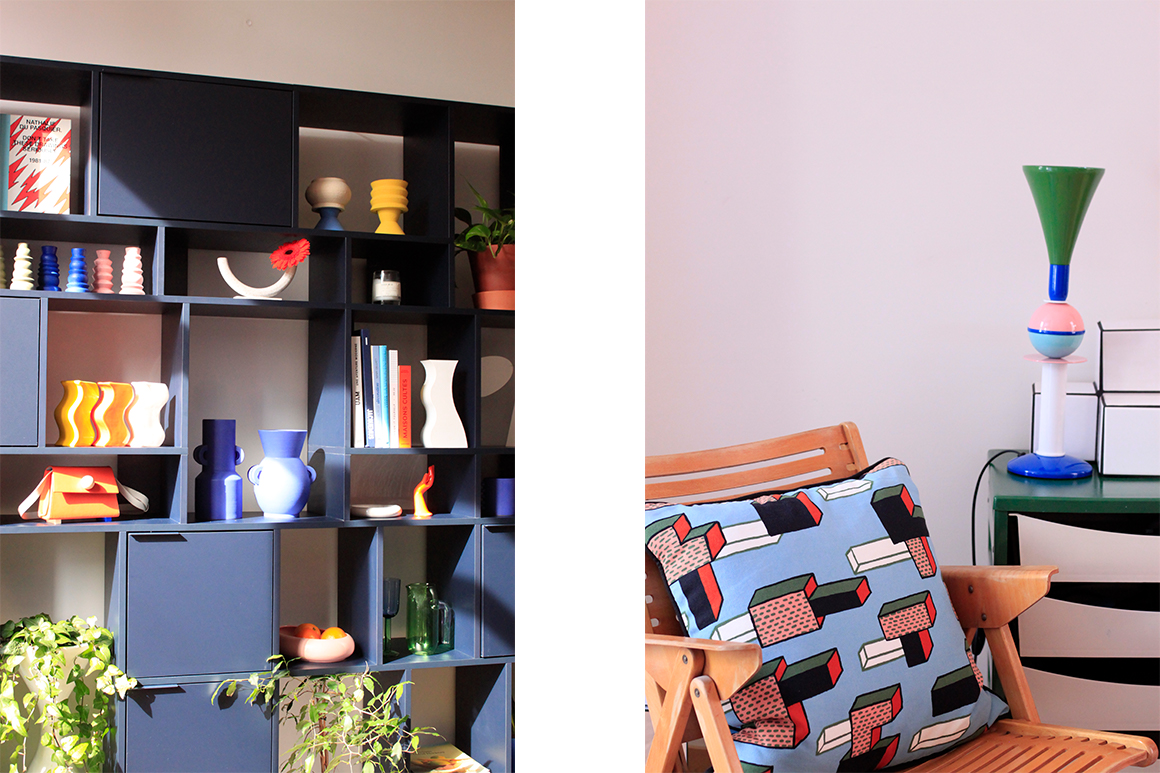 Where did your love of colour come from?
I can't really explain why I have this thing for colours, but I know this is something I really discovered during my time at make-up school. I saw faces like blank canvas and I had to fill them with my brushes. I believe, personally, that colour brings life and emotions, that's why I love it.
Who are your design heroes?
Ettore Sottsass and Nathalie Du Pasquier have always inspired me. I could mention many more designers, but they were the first ones to catch my attention. 
Tell us about your studio, Cool Machine – when & how did the project begin?
I founded my shop Cool Machine in 2014 with my fiancé Edouard who I met 10 years ago. We recently launched our studio in April actually. We had been thinking about it for a while because Edouard and I have very complementary skills, his technical know-how and my creativity. But this was really born by chance through Instagram. I'd often get contacted by people asking me to create images for them and over time the demand grew. I realized that we had something more to offer and this was the logical step for us. I'm very glad and excited about it, this is something I've always wanted to do.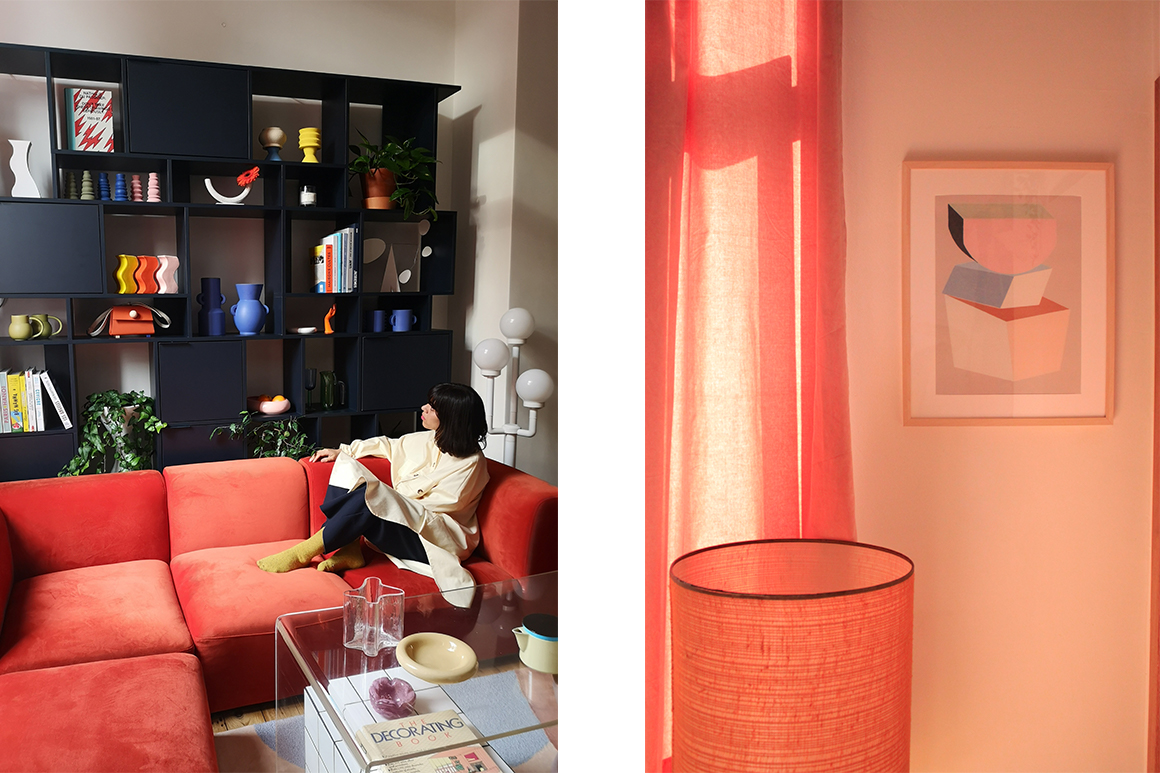 Your work focuses on finding exciting makers and creatives, which qualities do you look for in a new artist?
Generally, I know at first sight if I can imagine a new piece at Cool Machine or not. It's all about a feeling for a shape, a colour, a material, how the material is used and how the piece is made. I'm looking for a certain aesthetic and character, my tastes are rather defined.
Who or what inspires you?
I find daily inspiration in art, design, architecture, fashion…and Instagram is an incredible source of inspiration.
Tell us a little about your home – how long have you lived here and why did you choose this particular space?
We have lived here for almost 2 months. I was not very enthusiastic when I saw the pictures but once inside, we fell in love with so many things: the view looking across a small wooded park, the ceiling height of almost 4 meters, the bathroom nestled in a small glass roof – it's such an easy apartment to move around.
How would you describe your interior design aesthetic?
Colorful, playful, graphic, contemporary and vintage at the same time, warm and generous…and maybe a bit too charged and bold for some!
Are you a collector and if so, of what? 
I'm obsessed with vases. I love them because they can bring something very special with or without flowers, they are like sculptures and I love playing with their different shapes and colors.
What are your favourite locations for anyone visiting Brussels?
I love Fracas Gallery, Victor Hunt Gallery and all the amazing shops and antiquarians around Place du Jeu de Balle – a good place to find vintage pieces at a low price by the way.
What does "home" mean to you?
A shelter, a place to let loose and a kind of laboratory for all our ideas.
How does your Tylko shelving work within your space and how does it fit your lifestyle?
We chose a large, tall shelf in a dark colour because it brings something very graphic with a lot of character to the high white walls in our living room. Our Tylko is the perfect shelf to display all our pretty objects as we don't have any cabinets in this apartment. As our home is our workspace too, we love to mix our personal collection with some artisanal pieces from our online shop.