10 Ways to style a chest of drawers

How often do you think about your chest of drawers? Now be honest: how often do you think about styling your chest of drawers?
Often used as a catch-all for keys, small accessories and the things emptied from your pockets after a long day, the humble chest of drawers is having a renaissance as the piece de resistance in well-designed bedrooms around the world. No longer treated as an afterthought, this helpful storage furniture is having a moment. Ready to breathe new life into your own chest of drawers with some easy-to-copy creative ideas? We're sharing our top chest of drawer decorating tips with you.
Decorating ideas for your chest of drawers
You're probably thinking, "Do I really need to be looking for chest of drawer makeover ideas?". The quick answer? If you're still piling mismatched socks, read magazines and random bits you don't know where else to put on top of it, yes. When it comes to how to decorate chests of drawers, there are some people who think there are rigid rules which must be observed ("you need one tall object, one medium and a low, wide object"), but, like chests of drawers themselves, your choice can and should be personal. Whether you cover your chest of drawers with plants for a leafy look, or prefer a minimalistic approach with one well-centered print, the choice is yours. The absolute first before even discussing chest of drawer decorating ideas is to clean it off and give it a good dusting and wipe down. Once you have a clean slate, you can easily create your new-look chest of drawers. Don't own a chest of drawers yet? This is the perfect time to design a custom one and get exactly what you need. On that note, chests of drawers are no longer just for the bedroom – easy-to-design-online custom chests of drawers allow for great flexibility in sizing and style (and even offer the flexibility to mix and match your type of storage, for example adding doors and drawers, or even open sections), so they're a flexible furniture piece that's ideal for use in hallways, as tv stands, or in offices, as well. That's the beauty of designing a custom chest of drawers – you decide where it goes and what it'll do. 
Decorations to put on your dresser top
There's no formula for styling a chest of drawers, but there are some pretty typical things people do and like to put on top of theirs. Most typically, people often like to center visual balance with a large print or mirror that hangs close to the top of their chest of drawers. This gives chest of drawers ornaments and accessories a "foundation", so that they don't feel like they're floating against a blank wall, and also helps to create a cohesive vignette as you start to place your objects. Not into large prints or mirrors? Try a gallery wall or a tapestry – both have the same effect. Next, a tall lamp can add visual interest, especially when accompanied by objects and ornaments of varying height. Not sure what to include? Jewellery dishes, ring holders shaped like hands, or even stacks of one or two books with a small bowl on top, for example, serve to add height differences that encourage the eye to move across the objects. Try to avoid things of the same height, or mirroring their placement, as this can feel formulaic and stale. And always include things of personal significance, if you can. Wine corks collected from a honeymoon in Italy, silver pachinko balls found in a Japanese flea market, or a beloved clay figure a child crafted lovingly – they all serve to add a personal touch, and a touch of whimsy. Once you've decided what you'd like to include, move the items around and play with their configuration until it feels right. Again, there are no rules here, and chest of drawers decorations can be anything and everything you want. In fact, if you fancy covering every square cm of your chest of drawers with accessories, more power to you. The key thing is that you love it, and love to look at it. Personal effect and trinkets with significance to you are far more important than any passing trend or pinterest look.
Don't forget about plants
If you don't need a tall lamp on your chest of drawers, a leafy plant can easily take the place, while adding colour and texture. Whether a tall, spreading monstera or a trailing pothos, your chest of drawers will feel elevated when a little life is added. And if one plant is not enough, add some more! As the science of biophilic design has shown, the health benefits of green plants in the home can't be understated, with our leafy housemates having positive effects on mental health and positivity, as well as being brilliant air purifiers. Plants not your thing? Fresh flowers are another alternative to bring a little natural style to your chest of drawers' updated look. A statement vase, a few long-stemmed blooms – both add a touch of colour and natural charm to any chest of drawer display, and have been known to boost your mood and creativity, too. A wonderful bonus about adding florals in the bedroom? Heady plants like jasmine and lavender not only look beautiful and add a pop of fresh colour that's an instant mood booster to wake up to, their evocative scents are known to help you enjoy a more restful sleep, too.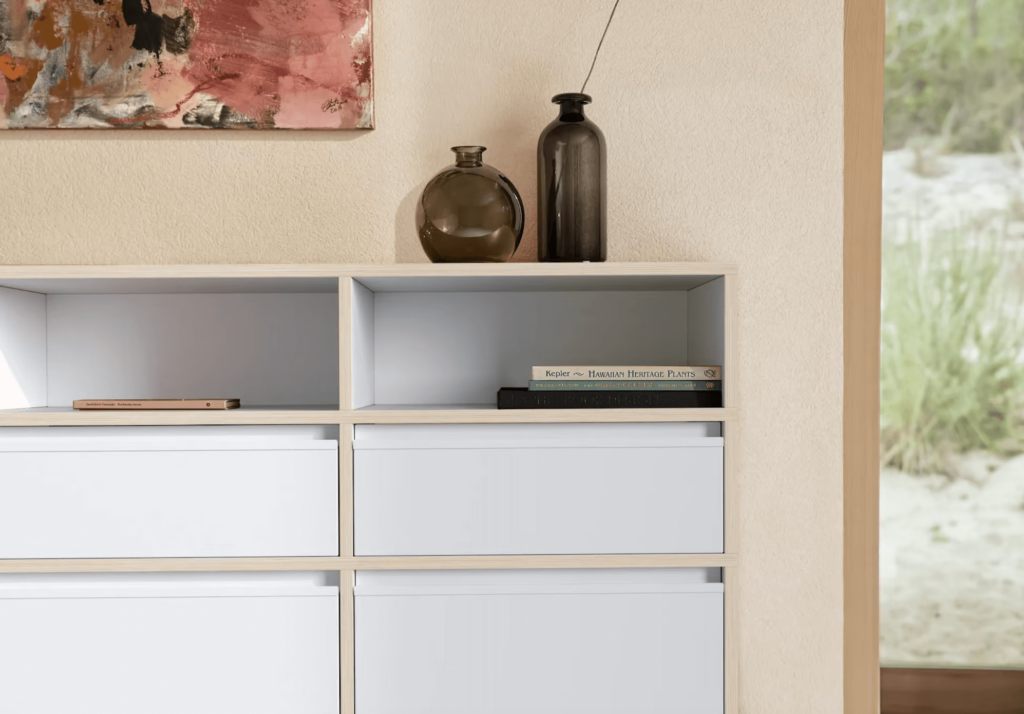 Add storage space for necessary items
If you're working with a chest of drawers you already own, this may not apply, but if you're in the process of (or thinking about) designing a custom chest of drawers, be sure to plan ahead for how many drawers and what type of storage space you may need. Whether you need a long, low unit with lots of deep drawers, or something a little shorter with a mix of open sections and closed drawers, configuring your dresser with a little planning will help keep everything tucked away and tidy in its place, so you can focus on styling your chest of drawers. Got a lot of bulky jumpers and woolens that you like to keep folded so the hangers don't destroy them? Plan on adding deep drawers to keep them cosy. Want space to keep socks and intimates neatly arranged? Slimmer drawers do the trick, especially when combined with in-drawer grid organisers to keep things neat. Not in the market for a custom chest of drawers? No worries either – storage boxes are great for corralling extra little accessories, and if your chest of drawers has legs, you can easily tuck below your furniture for a little extra space, when needed. 
We talked about expressing yourself with personal chest of drawer ornaments and accessories, and touched a little upon visual balance, but let's really dive into it. Now that you've gathered your chest of drawer decorations, picked your personal objects, and readied your chest of drawers makeover,  styling your chest of drawers should be a cinch.
Starting with a clean, empty surface, step back and look at your furniture. Is it centered against the wall? Is it in a corner? Does it have a window to one side? These can all affect how we suggest you style your chest of drawers. For example, if it's in the corner, you might want to balance/disguise the weight of the corner with a tall object, lamp or plant. If a window is to the left of your unit, you may want to place a taller object to the right of your chest of drawers. Visual balance is hard to explain, but is best described as when something placed somewhere just feels "right". If you can, leaving a little space on each side of your chest of drawers can help it to feel like it fits perfectly, unless of course you want a wall-to-wall storage piece. The key is proportion, and ideally your chest of drawers should fit well in the room without it feeling cramped or overwhelmed. 
Now that you've checked out the scene, it's time to start filling in the details. You'll want to begin with an anchor. As we said above, a large print or mirror works wonders, as does a tapestry or even a well-curated gallery wall of a few prints. If your chest of drawers sits under a window, this acts as a natural anchor in the room, too! Circular mirrors are a great choice to offset the geometric lines of chests of drawers and add contrast thanks to their soft curves – they're also handy in a pinch when you need to tie a tie or put on earrings while getting ready. Whatever you choose as your anchor, don't hang it too high – you want it to feel as if it belongs with your chest of drawers, and is visually connected. A good rule of thumb is to keep it around ¾ the width of your chest of drawers. Any wider and it will make the dresser look disproportionate. Too small, and you risk it feeling like it's "swimming". 
Once you have your anchor in place, you'll want to add visual height. As we said before, a statement lamp or tall plant works wonders, but candlesticks, vases, sculptures and more are all effective as well. Lamps are an ideal choice because they allow you to add soft, complimentary lighting instead of relying on overhead lights – perfect for creating a cosy atmosphere in the bedroom (or wherever your chest of drawers is located). Again – keep in mind proportion. A tiny lamp on a large chest of drawers will look ridiculous, while a massive lampshade perched atop a tiny dresser has the same effect. 
Make sure your anchor is complemented by the tall item too, as you don't want the two competing for height. What we're going for here as we style a chest of drawers is a staggered look that encourages the eye to travel gently across the vignette – minus any jarring changes in height or dimension. An interesting experiment to try is to arrange your anchor and tall objects in descending left to right order – the eye naturally reads from left to right, so this arrangement of chest of drawer accessories can often feel really natural and unforced, and really help to bring your style together.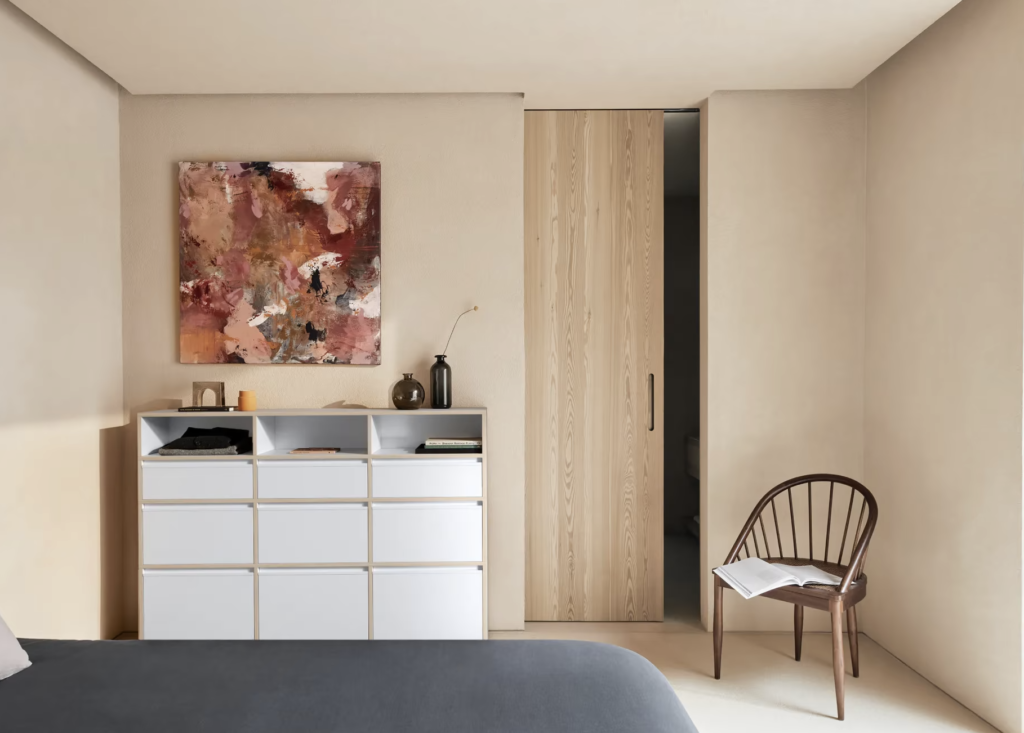 Next it's time to add detail. With texture, colour and variety, you can create a stylish set-up that's pleasing to the eye – and the heart, thanks to items with personal significance. Try adding framed photos, and a few favourite books to elevate smaller objects. Small bowls, trays and trinket dishes can help to beautifully organise and display pebbles collected on the beach or grandma's heirloom rings, for example. Perfumes, face oils and more look elegant standing in a tray, giving assorted-yet-similar items a more purposeful and tidy look, while creating a designated place to keep keys in a vessel such as a rattan accent basket can help you to stay organised, too.
Again, keep in mind that whatever you choose to place as you style your chest of drawers, try to work with the proportion of your furniture. Too many chest of drawers ornaments and you risk it feeling cluttered. Too few chest of drawers accessories and they can feel like an afterthought. Don't be afraid to play with textures, too. Items made of marble or wood, porcelain or stone, and textiles or metal can all work together to add contrast and intrigue. But, as all design goes, the opposite can hold just as true. If you're going for a modern, monochromatic or minimalistic look, try grouping objects of the same colour and hue together, playing with height and shape to create visual excitement. Grouping items in threes, which feels balanced to the human brain, or keeping things symmetrical when it suits (and asymmetrical when it doesn't) can also be fun ways to play when it comes to styling a chest of drawers. 
While this is by no means an exhaustive guide on how to decorate your chest of drawers, these simple tips and tricks can help your chest of drawers makeover come together and create a new look for your space. And, the best part? Once you're bored of it, start all over and create something new!