How to Pick the Right Type of Shoe Storage for You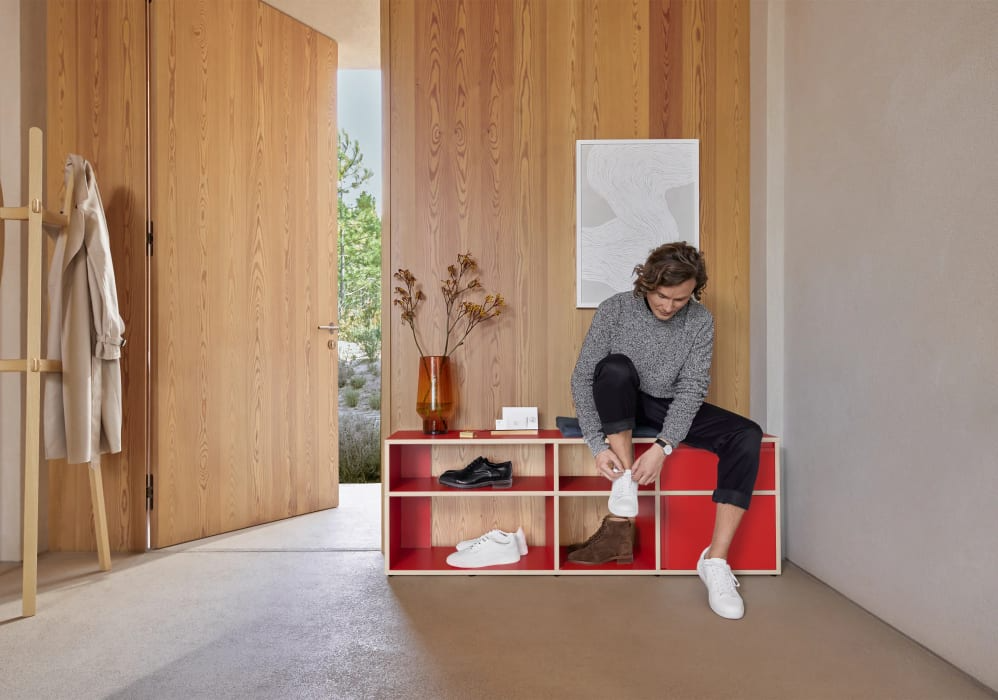 There aren't many people who own fewer than four or five pairs of shoes on average, and shoe racks are an essential way to avoid the dreaded hall or entryway clutter.
There's nothing worse than coming home after a long day to find shoes littering the floor in a haphazard pile, or worse- running late to get out the door because you can't find a shoe's matching pair. Keeping your shoes neat and organised is important, and this is where shoe storage comes into play.
There are many different types of shoe racks, and the choice may seem overwhelming, but we're here to show you how to choose a modern shoe rack that suits all your needs, keeps your shoes neat, and elevates your entryway, too. 
What are the different types of shoe storage?
Shoe rack designs vary hugely, and personal preference, available space and the amount of shoes and even accessories you intend to store will help you determine which modern shoe rack will work best for you. 
One of the most popular shoe rack designs is the shoe cabinet. This design for shoe rack can come in a variety of styles, but normally appears as a closed unit that opens with cabinet-style doors or even drawers to hold a number of shoes within. They can be made of wood, metal and even plastic, as well as a mixture of materials, and are a popular choice for people who like their shoes tucked neatly out of view. Often similar to a narrow chest of drawers in appearance, they work well in narrow hallways or spaces where a slim shoe storage solution is needed. And, with the huge variation in styles, materials, colours and designs, there is sure to be an option to suit everyone's liking. Tylko customisable shoe racks are the perfect choice when you're looking for a shoe cabinet, as the 100% customisable design means you can make it as wide or high as you like, and decide on doors or drawers to keep all of your shoes safe from dust and tidied carefully away. They come in a range of colours to suit every interior and can be tweaked and adjusted using the online configurator until a perfect fit shoe rack is designed. Each door or drawer features an aluminum colour-matched handle and soft-close system to make sure every interaction is a pleasure, and can be a perfect choice for unusually-sized or shaped areas where a one-size-fits-most shoe rack is less than ideal. The online configurator makes modern shoe rack design simple, especially with an augmented reality option within the app that allows you to see your shoe rack design in your space before you order to make sure it works.
Another of the popular types of shoe rack design is the shoe bench. This is a popular way to store shoes, especially in entry or hallways, as they serve two purposes: neat and tidy shoe storage, but also a place to perch as you put on or take off your shoes. They can feature open shelves below a solid top, or a grid of sections to hold your shoes, which can have doors or drawers to hold smaller entryway necessities like gloves, housekeys, travel cards and purses and bags. These shoe benches can be made of many materials, but tend to be sturdier to support the option of seating on top. Perfect if you wear shoes with lots of laces, buckles or boots that are hard to get on or off, a shoe bench is a design for a shoe rack that makes a lot of sense. It's also great to pop a toddler on while you crouch to help them get their shoes on. Add a few cushions, and you've created a comfy shoe bench upon which to gather yourself after a long day, after slipping your shoes off tired feet. Tylko's modern shoe rack design makes designing a shoe bench simple, too. Built from sturdy, premium materials, the 100% customisable shoe benches can be as long, wide or low as you need them, starting from just 30 cm wide and 23 cm in height! You can add height, as many sections as you need, and even add doors or drawers and design a perfect fit shoe bench. Taller users might want a taller bench, while families with little ones might prefer a lower, more easily-accessible bench. The best thing about a customisable shoe bench truly is the flexibility it gives you to dial in the exact design for a shoe rack that you're been searching for, and fine tune precisely the shoe storage that works for you, your space and your family.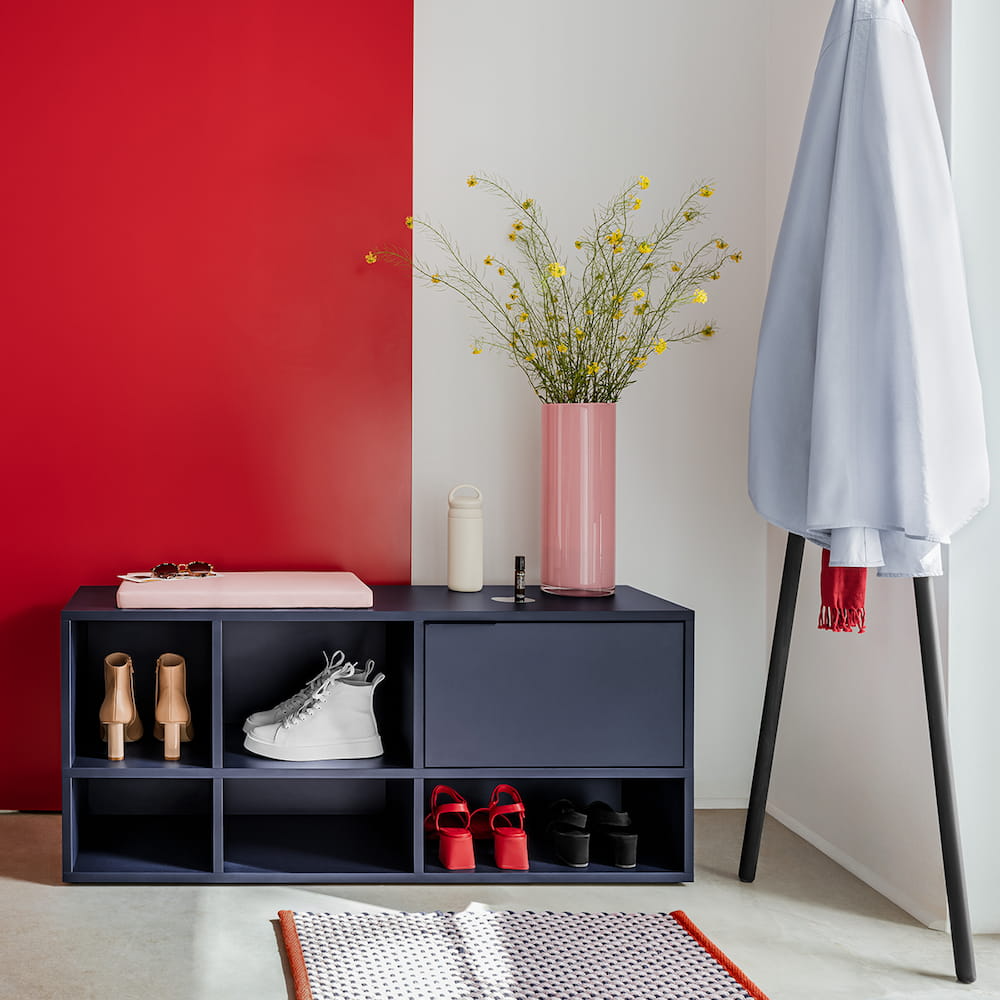 Shoe storage racks are another widely-used choice for shoe storage. These simple racks are often made from metal wire, plastic, or other materials, and work best in the bottom of closets or wardrobes, in laundry rooms, entryways and places like bedrooms due to their slimline features. These shoe racks sit close to the floor and take up minimal space with their tiered, stacked design. They also can be closed or open, and come in a myriad of styles, colours and materials. They can also be built from more robust materials, like those of Tylko. Crafter from premium plywood, these shoe racks can be arranged in a grid style, or any configuration you prefer, and again, can be customised to any size and height to suit your needs, as well as be open or closed as you see fit.
Over-door and hanging shoe racks are other options for the backs of closet or hallway doors, or within wardrobes when there is no floor space to put a freestanding shoe shelf, cabinet or rack. These are often made of cloth, plastic and other materials, and conveniently hold shoes in a tiered position to maximise the amount they are able to hold. While not the most aesthetically pleasing option, this design for a shoe rack works well when space is at a premium, and you still want to protect your shoes and keep them organised. 
There are many more styles of shoe rack design available, from rotating circular racks, wall-mounted racks that are like shelving, to walk-in closet shoe racks that are built-in and totally custom. Your shoe rack options are literally endless, and different types of shoe racks serve different types of purposes. Knowing your available space, the amount of shoes or other accessories you want to store, and having an idea of the shoe rack designs you prefer will help make choosing the perfect shoe rack for your space simple.
What shoe storage capacity is best for me?
When it comes to modern shoe rack design, you want something that looks good, but is also practical and easy to use. A small shoe rack when you have thousands of pairs is pointless, but you don't need a whole-wall shoe storage cabinet if you own and wear only three pairs of shoes.
The best starting point when it comes to what shoe storage capacity to choose is to take stock of your shoes. How many pairs do you own? Are they mostly flats or sneakers? Do you wear high heels or tall boots? Do you prefer to keep your shoes in their original boxes? Are you a sneakerhead or high heel collector who adds a new pair every few days, and your collection is rapidly growing? Taking all of these factors into consideration will help you design or choose a shoe rack that's suitable for your shoe storage needs. Keep in mind that pairs of shoes in boxes roughly require 12" of space, while unboxed shoes need far less. Tall boots and heels may need higher sections, so account for that, as well – you'd hate to have to crush or roll tall boots to get them to fit into a too-small cubby. Thankfully, if you decide to design a custom shoe rack using Tylko's easy online configurator, they have accounted for this need and made it easy for anyone to simply change and adjust the heights of different sections of their shoe rack to fit different styles of shoes, as well as made adjusting the widths of the sections simple for completely-custom shoe storage that takes into consideration the shape and size of your collection. 
Once you've worked out how much shoe storage space for each pair you require, and have worked out a design that covers every style comfortable, a good idea is to add a few more empty spaces for good measure to allow for your shoe collection to grow, or to provide space for guests to tuck their shoes away comfortably when they pop by. And of course, while the amount of space for your shoes will depend on the amount of space you have available, narrow hallways and slim spaces can still take advantage of vertical space to store shoes by choosing tall and narrow shoe racks that stretch higher and leverage this height to accommodate even more pairs in a stacked shelf formation. Just be sure you can reach the highest shelves easily, and as with all tall furniture, fasten it securely to the wall to ensure there is no tip risk. 
What colour should I choose for my shoe storage cabinet?
Modern shoe rack design has come a long way. Long gone are the days of two or three options available in only white or wood. There are millions of different types of shoe racks, so finding a colour or finish that suits your space, taste, and personal style is simple. 
The colour of your shoe rack may depend on the material from which it's made. If you choose a wood or wood veneer shoe rack, for example, you'll welcome the warm tones of real wood into your space, and enjoy a unique grain pattern and natural finish that elevates and adds to any interior. Woods like ash and oak offer exceptional strength and beauty, and look particularly stunning in Scandinavian-inspired spaces and neutral coloured interiors. Wood shoe racks can also be finished with a variety of interesting and exciting finishes, and Tylko shoe racks for example offer a huge range of hues and colours from which to choose. And, with fingerprint and smudge-proof coatings, they're hardy and durable and can stand up to regular, high-traffic use with no problem, and are easily wiped clean with a damp rag. Whether you're looking for a classic colour like white, grey or black, or something more bold or exciting like bright red, sunshine yellow, or even mixed, two-tone finishes like sand and midnight blue, Tylko's finishes offer something for everyone. And, they offer Sample Sets so that customers having trouble deciding on their fave finish can see the colours and feel the quality in their space to make choosing their shoe rack colour a cinch. 
Another factor to consider when choosing the colour for your shoe rack is your existing interior decor. Unless you're doing a total revamp of the space in which you'll place your shoe rack and starting with a blank slate, you'll want to choose a shoe cabinet, rack, bench or shelf that fits into your current colour scheme, style, and space without clashing (unless that's the look you're going for – we don't judge!) or becoming an eyesore. Being observant of colour and proportion when considering your shoe rack will help your space feel balanced, organised and elevated. All white hallway? Consider placing a shoe rack with a pop of colour in a corner. Statement wall? Get playful with colour with a white or contrasting-hues shoe rack against it. Personal preference is paramount when it comes to choosing the colour for your shoe rack, so let your creativity be your guide! 
What size should I choose for my shoe storage cabinet?
Shoe rack designs are available in so many sizes, and it can feel overwhelming when deciding which to go with. Customisable Tylko shoe cabinet designs make this decision easy, giving you full control of every detail of your shoe rack. This is ideal for unusual spaces, narrow hallways, or for people who may want something more personailsed than the big box, one-size-fits-most blandness of the same old shoe shelf everyone else has. 
You'll want to start by measuring how much space you have for your shoe rack design. Narrow hallway? With Tylko you can choose from three depths – 24, 32 or 40 cm – to make sure you're able to use the shoe rack easily, and still pass by without catching your hip on a corner or stubbing your toe. If you're leaning towards shoe rack designs with doors or drawers, be certain that there is enough clearance for all doors to open fully, and drawers to slide open and closed without being impeded. You also want to make sure that any architectural details like electrical outlets, skirting boards, interior doors and more have enough clearance to easily access. 
Once you've worked out the width you have to work with, and the size shoe rack you want, don't forget to take advantage of vertical space, too – especially if you don't have a lot of floor space. Although you don't want a towering shoe rack that's hard to reach, if you have a lot of shoes a taller rack can be a game changer. Make sure it's easy to use though, and be sure to fasten it securely to the wall so there's no risk of injury. Open sections are best for tall shoe rack designs, as opening doors and drawers on your tiptoes is awkward, and you want easy visibility so you can see your shoes! 
Shorter-in-height yet wide shoe racks may eat up more floor space, but can pull double duty as a bench, and are great for families with smaller children who need to be able to put away and reach their shoes, too. They also look elegant in long hallways, and can help to break up and define an entryway. 
Finally, think about practicality and accessibility. It's important to make sure that you can easily get to your shoes, and that using your shoe rack isn't more hassle than it's worth (or you'll just end up with shoes on the floor again!). Different sizes and designs all offer different accessibility options, each with their own pros and cons, especially when it comes to choosing open or closed sections for your modern shoe rack design. 
Open shelves or compartments without doors make access to different types of shoe racks the easiest. Every pair of your shoes is easily visible, and you can grab and go as you need. It also offers good ventilation, so shoes can breathe – an important factor in keeping shoes fresh for longer, and prolonging their life. However, many people don't really want their shoes out in plain sight, and a choc-a-bloc shoe shelf crammed with an entire family's worth of shoes can look a little messy if it's not kept meticulously neat and clean. People conscious of the appearance of their shoe rack probably don't want dirty shoes to be a focal point of their interior decor, so often opt not to have open shelves when it comes to the types of shoe rack they choose – especially when their furniture will be placed in a beautifully-decorated hallway or entryway in easy sight of anyone who stops by. Open shoe racks have plenty of pros though, including making it easy for children to put away and find their shoes, encouraging their independence and instilling the habit of putting their shoes away. They also can save time and hassle when getting ready to head out in the mornings, as shoes are paired together and perfectly visible. They're an effortless and easy way to tidy up hallways, streamline your morning routine, and prevent piles of shoes from gathering, as they tend to do.
Closed racks with doors and drawers are a great solution to keep shoes neatly tucked away for a more clean presentation. However, choosing doors or drawers means access is reduced slightly, and requires an extra step to get your shoes, as you'll have to open compartments to find the shoes you're searching for. However, it's a minor inconvenience when you think of the clean, sleek appearance of a fully closed-up shoe rack. The con of a closed shoe rack design may be the reduced visibility of your shoes, but also consider that there may be a slightly- reduced circulation of air, which can prevent shoes from "breathing". But, that's nothing a few fresh-scented sneaker balls can't solve, and the pros of a sleek, streamlined shoe rack design can outweigh this con. Closed doors and drawers also offer the added benefit of storage for more than just shoes. Designing a custom shoe rack that has a few drawers to keep house keys and other small items tidy and collected, as well as doors to keep shoes and boots neatly stored away simply makes sense. With Tylko custom shoe rack designs, you can easily pick and choose the type of storage that works best for you, while mixing and matching open and closed storage to fine tune a modern shoe rack that will stand the test of time, and look great every day. 
Not only does a stylish shoe rack elevate your space, organise your shoes, and keep entry and hallways clear and uncluttered, they protect your floors, lengthen the lifespan of your shoes, and protect your sneaker, stiletto and shoe investments. Encouraging guests (and yourself!) to remove shoes and place them into a modern shoe rack upon arrival can prevent dust, debris and grit being trampled throughout your home, saving your floors and preventing damage from heel indentations, scuffs and scrapes, and, perhaps best of all, can mean much less hoovering. Whatever style, size, colour or configuration you decide to go with, your shoe rack should be a joy to interact with, and become a useful and reliable part of your organised household.