Which type of wardrobe is right for you?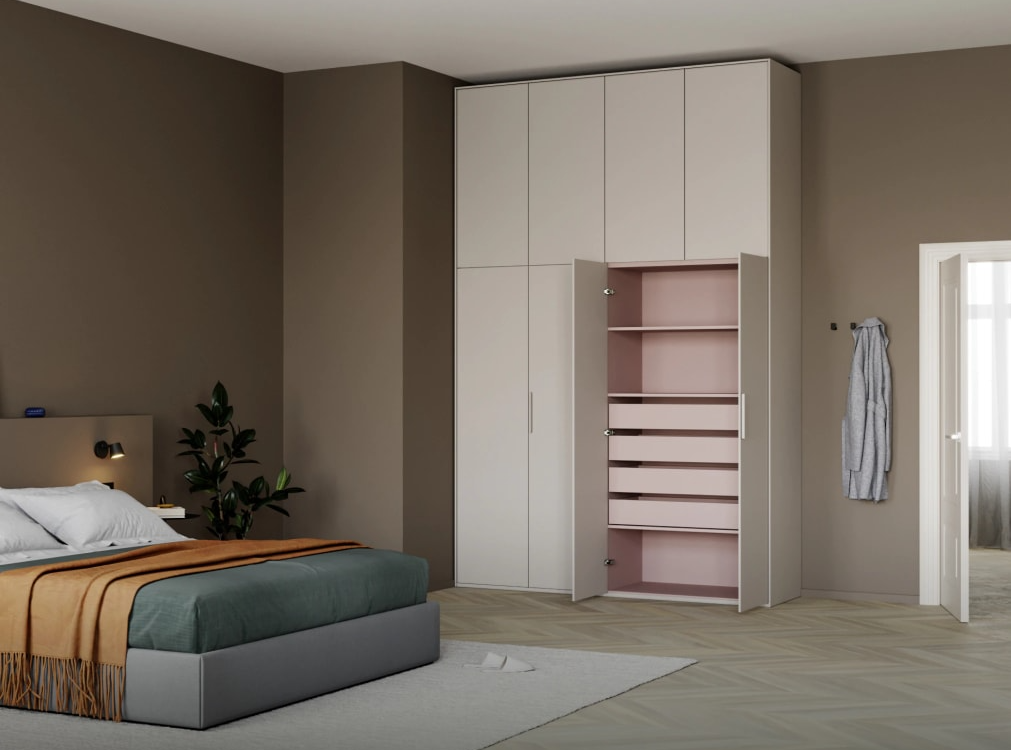 The way you dress can say a lot about you. Your dress sense reflects your personality, your character, even your mood at times, and can tell the outside world a lot about who you are as a person. You spend time picking the clothes that suit you best, and that reflect your taste and preferences, and you like to look your best. But what about your wardrobe? Does the place you keep your clothes reflect the same sense of care? Does it suit your personality or your character?
Or…is it a wonky, leaning mess, cobbled together from a few other shelves, and ready for a total revamp? Ok, maybe your situation is not that dire, but refreshing your wardrobe and replacing it with clothing storage that's purpose-built, custom-designed, and made to measure just for your space and needs can switch up a lot more than just how you store clothes. We're diving into the best wardrobe designs, some of the many different wardrobe types available, and how to bring your closet a-game with thoughtful, bespoke clothing storage.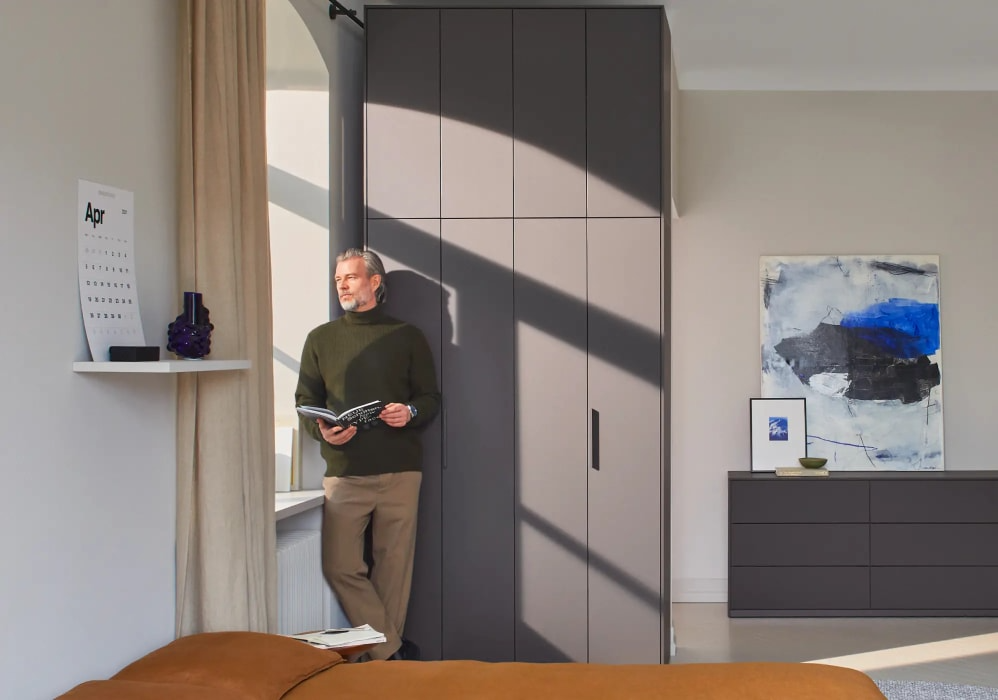 What types of wardrobe can I choose from?
There are as many wardrobe styles as there are people, practically, so determining which types of wardrobes may work for you start with, well, you. Ask any organisation expert and they'll tell you that the best wardrobe designs are the ones that work best for the person using them. Meaning, they store what you need to store, are easy to use and keep organised, and look great in your space, too. When function meets aesthetics at a perfect intersection, you'll find the perfect wardrobe.
Your wardrobe will be the most-used piece of furniture in your bedroom after your bed. Considering its importance, the frequent use it sees, and the loads it must bear, you want to make sure that your wardrobe meets your needs and requirements across the board.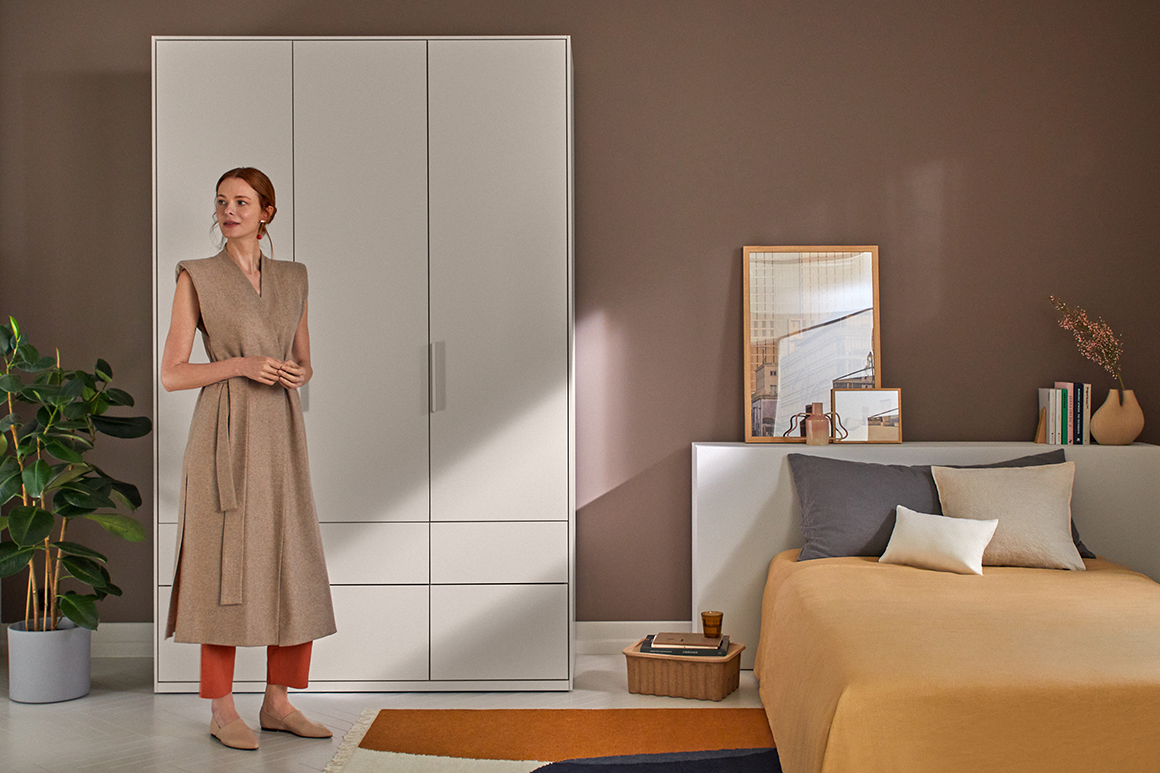 For some people, picking a wardrobe can be overwhelming. There's so much choice and the options can seem endless. But, a good place to start is arming yourself with knowledge, and by learning the different types of wardrobe available. Then you can easily determine what you need and want, and find something that matches both, without feeling overwhelmed.
First, start with a little planning and foresight, and consider what you're working with now. What are the pain points of your current clothing storage situation? If you have no wardrobe at all, the answer is pretty clear. If your current wardrobe is overstuffed, annoying to use, or lacks sections and segments to help you organise, you could identify those as things you'd want to remedy. Maybe the doors open in an annoying way, or you wish you had integrated drawers to help organise smaller pieces of clothing and accessories. Whatever you wish your current storage situation had or did differently, or anything you feel is lacking, make a mental note of it. These details will come in handy when you determine which wardrobe will work best for you.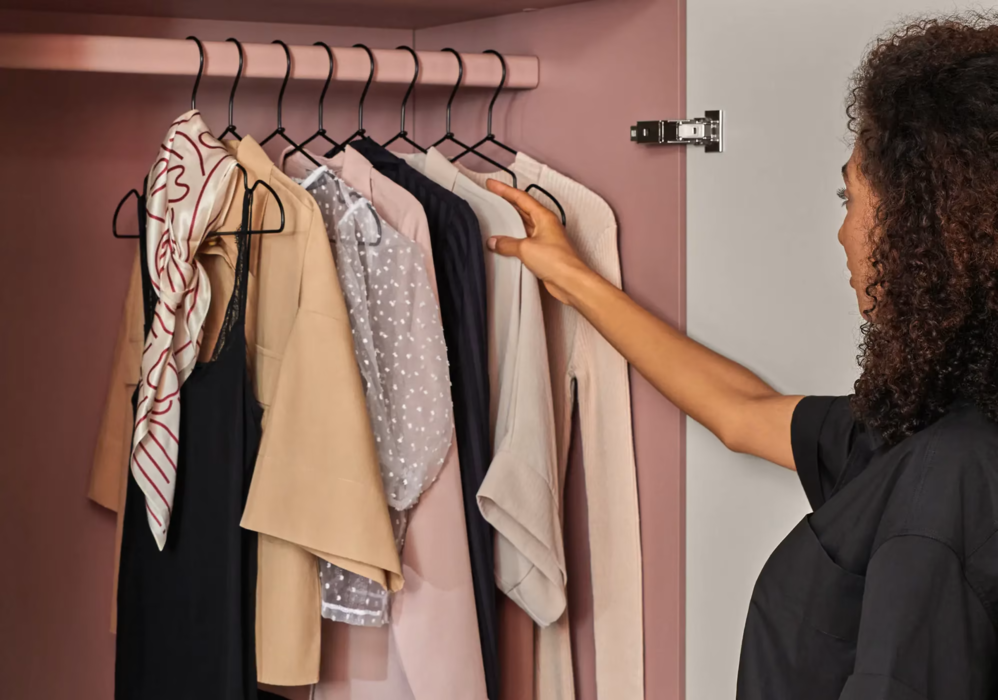 What are the different types of wardrobes?
When it comes to wardrobe styles and the different types of wardrobe designs, there are a few basic styles to know, with variations within each style. A classic type of wardrobe is the fitted wardrobe. It is usually custom-designed to suit the space for which it was built, and is a made-to-measure solution for a specific space. These often exist as walk-in closets, which some of us are lucky to have, while others can be built into bedrooms, in hallway closets, or anywhere there is space to create one. They allow for customisation to a high degree, and offer bespoke clothing storage. Fitted wardrobes allow you to show off your style and augment your interior with beautifully-conceptualised and constructed wardrobes that give an air of luxury. If it's efficiency of space and a style statement that you're looking for, then fitted wardrobes are for you. Fitted wardrobes can create more space for your things thanks to their tailoring that works with your space and the dimensions of the room in which it is built. Perfect for unusual spaces with architectural details like pillars or loft details to work around, they allow space to be used efficiently and effectively, while using every corner, awkwardly-shaped or otherwise.
Another type of wardrobe design is the stand-alone wardrobe. These too can offer a classy and contemporary way to store clothing. Often sold as one-size-fits-all units, these are popular in big box stores for their general sizing that can work for most people with an average amount of space. However, these wardrobes can sometimes be more on the basic side and may leave a lot to be desired. They are often only available in a few select pre-designed sizes within each range of furniture. However, customisable standalone wardrobes, like the Edge Wardrobe or Tone Wardrobe by Tylko, offer complete customisation down to the centimetre, while offering a host of optional design details that can be adjusted according to your every preference. And with perfect fit precision, and built from premium materials, they can give the appearance of a built-in wardrobe at a fraction of the cost.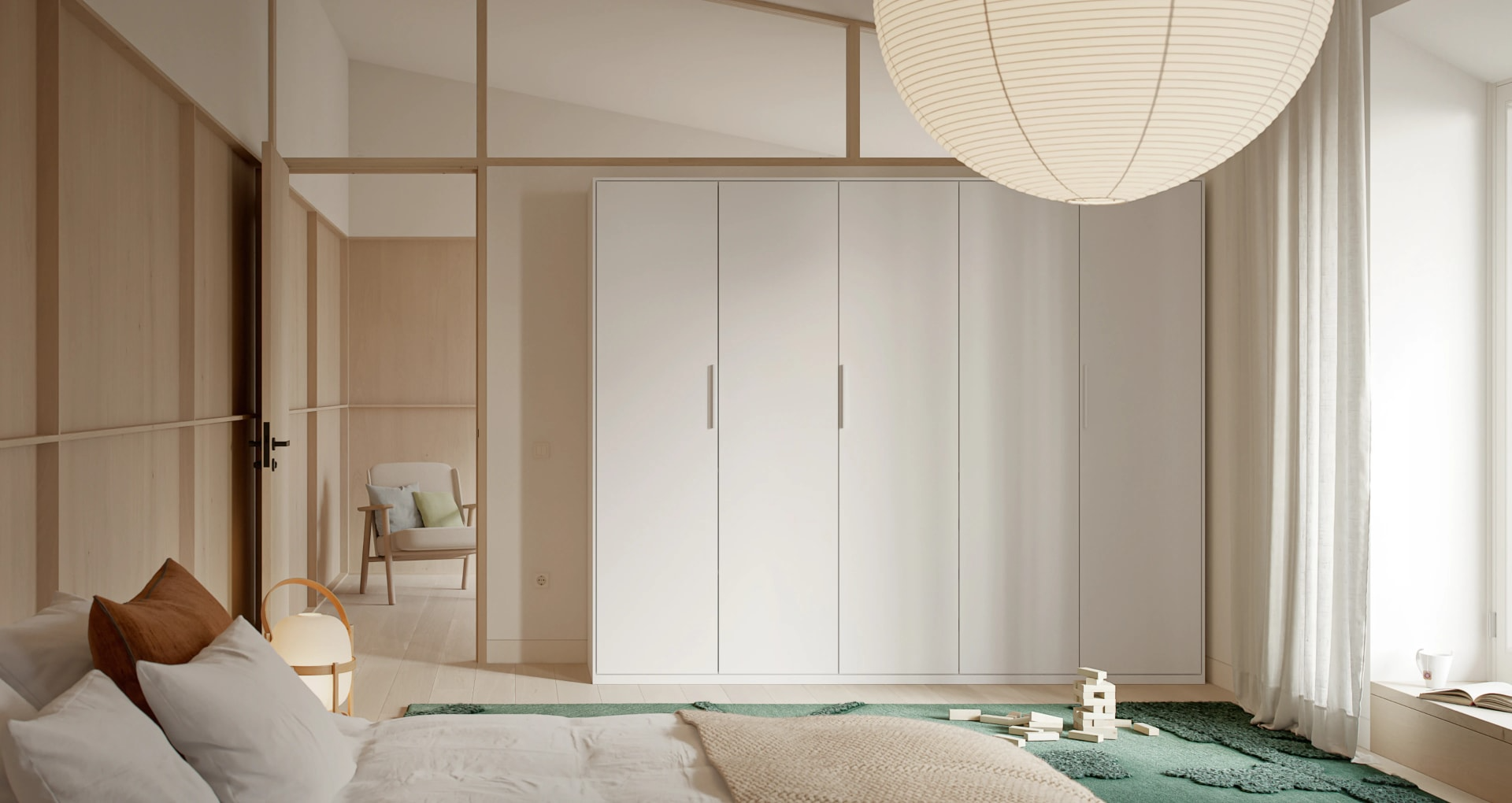 Open wardrobes are a different type of wardrobe style. With no doors or concealed storage, they are a simple and minimalistic way to organise your clothing, but require diligence to keep them tidy, otherwise your cluttered closet is on view for all to see. Corner wardrobes offer right angle storage, while rolling  
Obviously your budget, available space, and the amount of things you want to store will guide your wardrobe style choice, but knowing what you want before you start browsing can help minimise the paradox of choice. 
What types of wardrobe doors are there?
Wardrobe doors come in a myriad of styles and can be made from just as many materials. From swinging glass doors that open outwards, wooden sliding panel doors that slide closely against each other, wooden concertina doors that zig zag open like shutters, and even fabric or curtain doors, there are no rules as to what constitutes a "proper" wardrobe door. 
In order to choose the wardrobe door type that works best for you, consider your space. If you have the room, closet doors that open outwards work best for being able to see the entire contents of your closet at once. Keep in mind that you'll need additional clearance space in front of your wardrobe's location in order for doors to open fully- especially if your closet and its doors are quite wide. Sliding doors are a space saving option for floor plans with a little less space, as their compact design allows one side to open at a time. This is great for minimising space use, but means only a section of your wardrobe can be viewed at a time, which can be frustrating for some people as they shuffle the doors back and forth, searching for what they need. Same goes for concertina doors – while they can open wider than sliding doors, they still leave a folded up section of your wardrobe doors blocking some of the view. Curtain and fabric doors on a sliding rail much like a shower curtain rod is another type of wardrobe door. These open out of the way fully, and can be tucked out of the way for easy access, but can be a slightly cheaper looking option than many people prefer. Whether mirrored glass, wood, laminate, frosted glass, or many more materials, the types of wardrobe doors are really limited only by the manufacturers' imaginations. Choosing what works best for you is a matter of personal choice, usability, and space availability. 
What kind of wardrobe style is best?
This is a tricky question to answer in one fell swoop, because the best wardrobe design for one person might not be the best solution for another. It all depends on the space you have available, the style of wardrobe you prefer, what you plan on storing, and the overall look you are going for. A standalone wardrobe might be the best type of wardrobe for someone who wants to stack things on top, isn't concerned with a totally seamless look, and wants something simple and functional without sacrificing style. Someone else might want their wardrobe design to look like it is a part of their house, and was built-in from the beginning, stretching from floor to ceiling and wall to wall with no edges visible. To determine the best wardrobe style for you, work out what you want and decide from there. 
When a big box store wardrobe won't cut the mustard and a bespoke built-in is beyond your budget, a customisable wardrobe is a great way to go when you want a wardrobe that's made-to-measure, minus the cost associated with an expensive luxury built-in. With Tylko's range of easily configurable wardrobes, you can design easily by segment, change the width and height in increments of one centimetre for perfect fit accuracy, and choose a depth that suits your space too. Not only that, there are a spectrum of colours and finishes so you can design different types of wardrobe designs for clothing storage that's completely unique. And built from premium materials and designed to be long lasting and great looking, they're excellent value for money that –unlike built-ins- you can take with you, should you move house. These custom wardrobes are the perfect choice for people who change their home layout often, or move home frequently for work. Free standing custom Tylko wardrobes give the option of customisable storage that's designed for a space with an immense amount of flexibility when it comes to the size, style, look and layout.
Which type of wardrobe is best for a bedroom?
We might be biased, but we think customisable standalone wardrobes work best in any bedroom. When you don't have the luxury of a walk-in closet, but want a closet that utilises vertical and horizontal space wisely, a standalone wardrobe is a great way to get a fitted wardrobe look without the worry of needing a carpenter.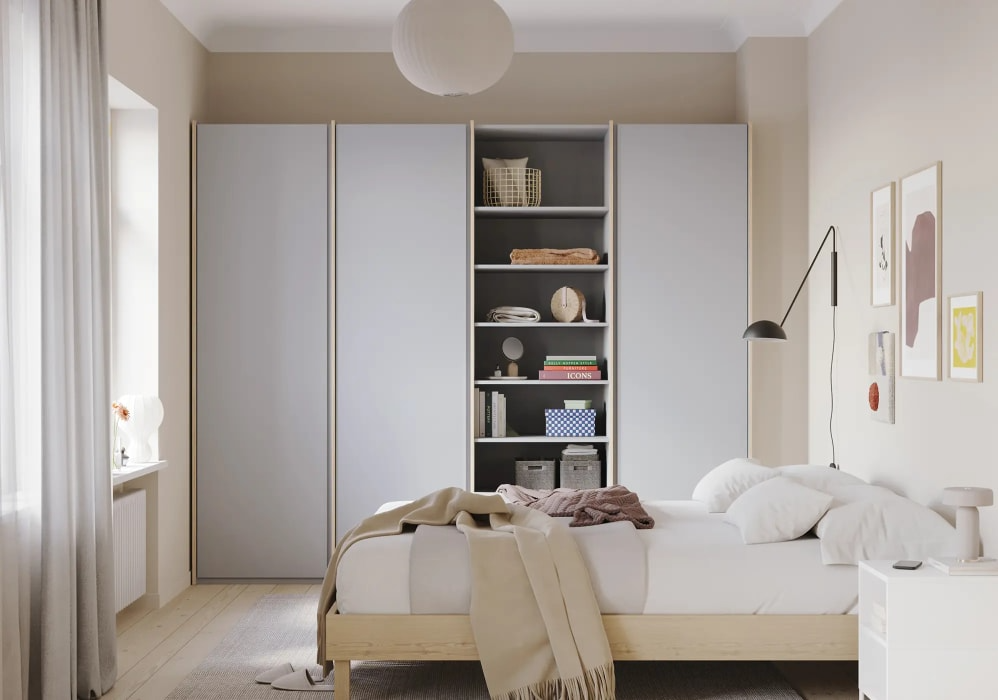 Your bedroom wardrobe needs to be beautiful as well as useful though, so before settling on a wardrobe type based on looks alone, think about the functional aspects your wardrobe will need to cover. The best kind of wardrobe for you is the one you love to look at and use, after all. Choosing hanging racks or rods to make sure skirts, suits, dresses and trousers all have room to hang without getting wrinkled is important, as is making space for smaller things like intimates, socks, ties or stockings. Deciding on inner or external shelves will also give you added storage space for shoes, bulkier jumpers that do better folded, or bed linens and towels. And, with the option of additional lower or upper storage, your Tylko wardrobe can offer additional overhead or low down storage for oversized items. With widths starting at just 40 cm and stretching to 6 metres, there's certain to be a wardrobe that works for your space. And, with two optional depths and heights up to 3.6 metres, achieving that built-in look is easy, down to the cm. Thoughtfully crafted by experts using only top class materials, each Tylko Tone or Edge Wardrobe adds a truly pleasurable experience to everyday life. Featuring a minimalist design that blends effortlessly into every space, and built with sophisticated, subtle details that make all the difference, they are truly luxury clothing organisation at its best. And, added bonus: professional assembly is always included!
How do I choose a wardrobe design?
There are hundreds of types of wardrobe designs, and Tylko spent a long time engineering bespoke modern wardrobes to ensure that every custom Tylko closet can be streamlined, smart and stylish. The Tylko Tone wardrobe is a revolution in clothing storage, with full customisation and thousands of options to choose from, as well as comfortable ergonomic handles and beautifully-smooth finishes. It's easy to click and swipe within the easy online configurator to design a bedroom wardrobe with drawers by segment, add ergonomic hanging racks, and even shelves to keep your closet optimally organised. If you're looking for a double or triple wardrobe, it's easy too. With a range of sizes, styles and designs, as well as 2-door, 3-door and 4-door options (and more), a bespoke Tylko plywood wardrobe is made to be flexible enough to fit every space (and still hold all of your fashion). And, with extra overhead or lower storage that can be added in a click, suitcases, comforters and other oversized items have a place to stay tidy and tucked out of sight, too. When it comes to choosing a wardrobe design there's really no substitute for the flexibility and control that customisation gives you. That's why we say the best wardrobe design is the one you create yourself. 
To summarise, deciding on the perfect wardrobe design should take the following into consideration:
How you'll use it
There are millions of wardrobes on the market, from single door slimline closets to two, three and more-door styles. There are built-ins, fitted, freestanding and frame only wardrobes. And that's just the exterior. Once you open up the wardrobe, there are countless ways they can be configured with hanging rods, drawers, shelves and even shoe racks inside. So, the first and most important question to ask yourself is "how do I intend to use my wardrobe? If you need mainly hanging space for dresses or longer garments, prioritise that as a design requirement. If you need more folding space for tshirts, and jeans, or drawers for smaller clothing and accessories, make sure to incorporate that into your list of wants. Once you've nailed down the functions of your wardrobe, it makes it easier to decide on the exterior and interior layout and look.
Practical functionality
Now that you have narrowed down how you intend to use the wardrobe, think about the practicalities of interacting with it several times a day, as most people do. Determine the length of hanging garments and design your hanging rod height to accommodate them without puddling. If you have a collection of bespoke suits, make sure to allow more hanging rods to house them all. Shirts, shorter skirts and the like will need only a half-height rail, while formal gowns, long coats and similar will need a full-height hanging space. Think also about how much depth you'll want. A deeper wardrobe gives more space, but if you're smaller in stature and your wardrobe is full-wall height, you might find the upper shelves become black holes that you can't easily access. You want to make sure using your wardrobe – every part of it– is comfortable and easy, otherwise, what's the point?
Size
Where your wardrobe will go has the most bearing of all. Wardrobes are large pieces of furniture and can be difficult to move around, so it needs to fit perfectly and you need to be perfectly happy with its location. The size of your wardrobe comes down to the space you have available and the requirements you have for it. If your budget and space allow, we suggest sizing up as much as possible. You can never have enough storage space, but keep practicality in mind, too. You need to be able to access all sections, and be able to fully open any doors or drawers. You also need to be able to move freely around and interact with your wardrobe, without shuffling sideways or stubbing your toes on it when you pass by. Exploiting the vertical space is always a great idea, and we suggest going as tall as you can. This high-up storage is perfect for stashing things you use less frequently, like suitcases, spare bedding or seasonal items that you don't need daily.
Style
Finally, once the space requirements and usage needs have been determined, you can focus on style. Think about what colours, materials and finishes you'd like. With Tylko's custom wardrobes, there are a range of real wood veneer options to bring in the warmth of real wood like oak and ash, classic colours like whites, greys, blacks and Earth tones, and more bold options like bright primary hues, two-tone colourways, and even modern pastels. There is even the option of a contrasting interior for a pop of colour and visual interest when you open your wardrobe door. Another point to consider too, is about how many doors you'd like, and whether or not internal or external drawers is something you'd like to include. And always consider how your wardrobe will interact with the other pieces of furniture in your space, making sure it doesn't compete for space – or attention. You want your bedroom to be a place you feel at ease and relaxed – not somewhere you have to shimmy around oversized furniture that's far too crowded, or a place that gives you a headache from so many clashing colours. Try to keep furniture in the same colour family. While bedroom furniture doesn't have to perfectly match the new wardrobe identically, it should be able to sit in the same room without giving anyone an eye twitch, or making you feel restless or agitated due to clashing colours, patterns or styles. 
Practicality
Finally, when choosing the best wardrobe for your bedroom, think about the practical and logistical side of things. First, how will you get the wardrobe into your space? Flat pack furniture is the ideal solution, especially if your bedroom is at the end of a winding staircase or a narrow hall that won't permit a large piece of furniture to pass easily. Be sure to double check the sizes and dimensions of the wardrobe you decide on to make sure the boxes or components – or entire piece– can make it to your space. There's nothing worse than ordering furniture for it to be delivered and discovering it won't even fit through the front door! Be sure to think about assembly, too. Will it be a nightmare to put together, or, like Tylko wardrobes, is professional assembly included? Does it require specialty tools and a winch to get into place, or is it colour-coded with snap-in components that make it effortless to get set up…like Tylko? (Do you sense a theme here?). Finding the perfect wardrobe is all well and good, but if you can't get it in the house and get it assembled, it's going to be more frustrating than fun, and may even have to be sent back. Also, you'll want to be sure to check on delivery charges and any associated logistics. Does the manufacturer include delivery? Is it extra? Is it tracked and delivered to your door, or is it dropped on the curb and left to you to struggle to get it inside? Will you be alerted when it's on the way so you don't have to leave it sitting on your doorstep if you're away at work? These are all important questions to ask when you're investing in a wardrobe that's an investment piece. It's so crucial when it comes to oversized furniture like wardrobes, that no matter the style or size, you can handle getting it into your home. And finally, think about safety. Does the wardrobe come with the hardware needed to fasten it to the walls to prevent tipping? Will you have to figure out how to make it safe, or has the manufacturer made it easy for you? Is it made from sturdy materials that you know won't buckle, sag or sway? These are all the less-glamorous aspects of wardrobe shopping that still require serious consideration. Luckily if you decide to design a Tylko wardrobe, the logistics are handled for you. Delivery across Europe is included in the price you see as you design your wardrobe online using the easy configurator. The boxes are dropped at your door, and there are no extra hidden costs or fees. And, depending on the model you've chosen, you can rely on a professional team of assembly crew members to arrive and put together your wardrobe for you, as well as clear away and recycle the packaging, leaving your space spotless. Other models that don't include professional assembly come with colour-coded, numbered flat pack boxes and a personalised manual that makes assembly an absolute breeze – with no tools required, thanks to the snap-together elements. And, every piece of hardware you need to fasten your Tylko wardrobe to the wall comes included, for several wall types so you know you're covered. You see, when it comes to finding the perfect wardrobe, there's much more than the appearance you need to consider. You want bringing a beautiful new wardrobe home to be an easy, effortless experience – one the brings you joy as you step back and admire your stunning new clothing storage, not shudder in horror as you look at the fiddly bags of connectors and hex keys you'll spend the next 8 hours faffing with. 
There's an old saying that goes  "tidy bedroom, tidy mind", so armed with the knowledge of wardrobe types, things to consider and what to look for,  we're certain you can find the best wardrobe for their space in just a few simple clicks, and start enjoying an even more organised, calm and collected bedroom before you know it.