Arrange Your home office and find your best desk placement

Would you be surprised to know that good desk placement in a home office can positively affect your quality of work and satisfaction? Okay, stay with us – we're not talking Feng Shui or energy flow, but rather how to best place your desk to make sure your home office is efficient, easy to work from, and a pleasant place to pursue your hobbies, or hybrid or remote work from.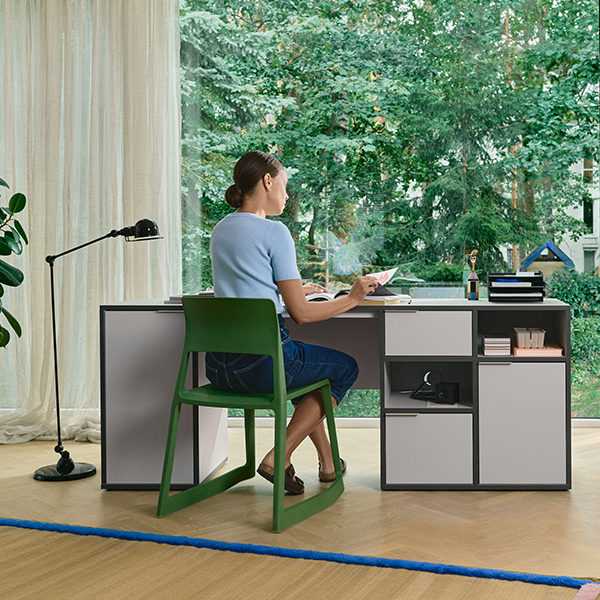 Your desk placement is the most important aspect of your home office design, and whether your cosy home office has limited space, or you're working from a luxurious studio with space to stretch out, the following desk placement ideas can help you feel more positive and productive.

Factors to Consider When Choosing the Placement of Your Home Office Desk
We understand that sometimes space restrictions mean you're truly limited in where you can place your desk, so it's great to start by considering the following, no matter what you're working with:
Room Size: First things first. Think about the space you have available to you as a home office. Airing cupboard under the stairs? Second bedroom, or purpose-built garden studio? A home office can be a nook off the dining room, a basement corner next to a boiler, or an attic studio under the eaves, to name a few. Measuring the space you have available makes it easier to know what will work best, so do a quick length-by-width tape measure run to get an idea. (This is especially important if you're buying a new desk with custom measurements – you want to make sure your work desk for home fits!). Also take note of where things are located. You'll ideally want outlets available near your desk placement to power computers and lighting, as well as any other electronics you use regularly. Getting a good gauge of where everything is, and where your desk might fit best is the first step in successful home office design. And, if you're limited to one spot that your desk might work due to unusual features, built-ins or a kooky layout, don't fret! There are still ways to make sure your desk becomes your home office's happy place.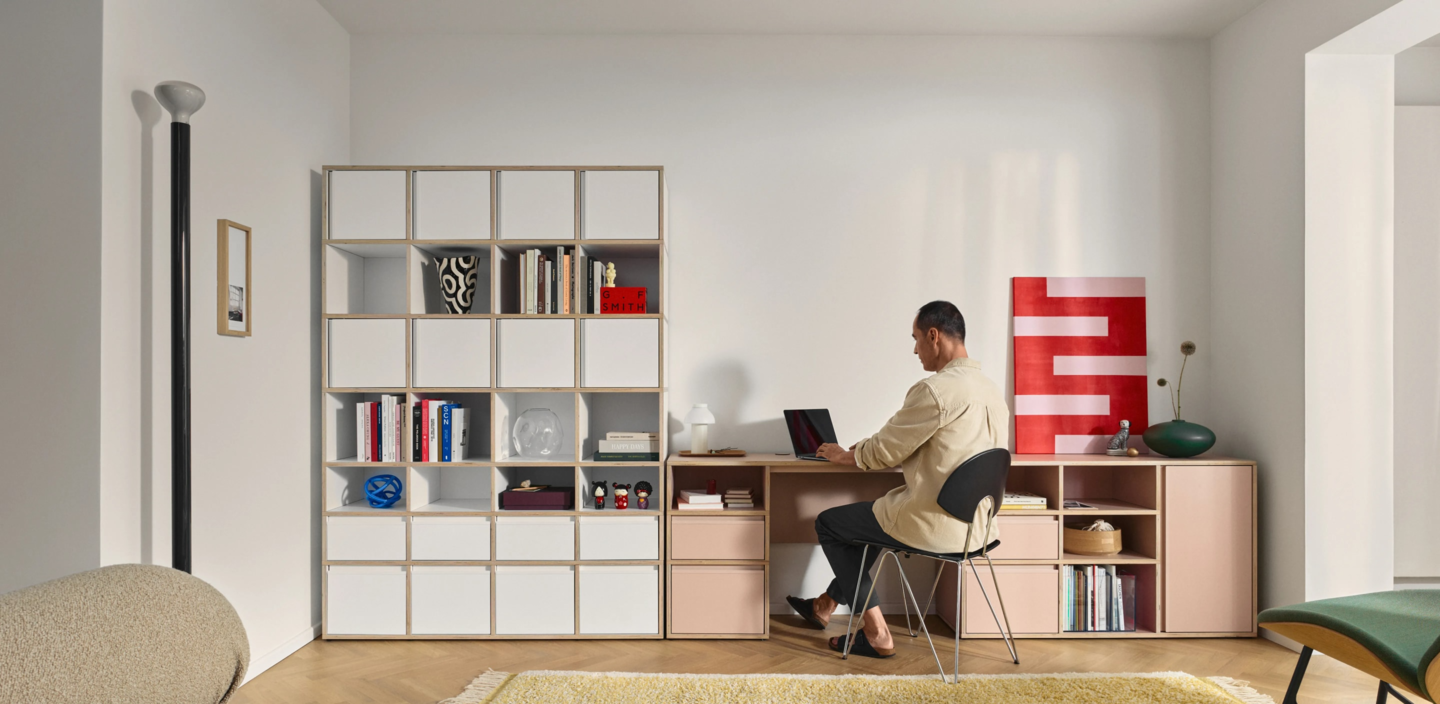 Lighting: Next, check out the light in your space. How does it look? If you're working with expansive walls of windows, you'll need to account for that when you place your desk. Same thing with ceiling fans or chandelier lights. Take a quick mental note of any fixtures that hang and could result in a bashed head when you stand up from your desk. Also, do a mental inventory of the quality of the light. It's important when it comes to home office desk placement to have adequate and comfortable lighting. Work mostly during the day? Check out how much light the windows provide. As important as light is, you also don't want your desk in front of a window to suffer from harsh glare as you work, or find out in deep summer that you're baking as you work in direct sunlight. Consider opaque shades to filter light, or privacy blinds if you want more control (and a little more privacy – not everyone has a wide-open view).  Night worker? Make sure the bulbs in your fixtures are bright enough to allow you to work without straining your eyes. Consider additional lighting like desk lamps and sconces if it seems too dark, too. You don't want to suffer from eye strain peering at a bright laptop in a dimly-lit room. The key to good light is balance. Anything too extreme (like intense sun glare that makes you squint, or buzzing 10w light bulbs) is going to make your environment feel unbalanced, and your working area feel uninspiring. 
Storage Space: Next up, take mental stock of your available storage. If your home office is lucky enough to have a closet (or closets, you lucky thing), great! With clutter hidden away from view, you can work unobstructed, and keep your main working area tidy and free of clutter. If you're not so lucky (or the closet is filled with other things), think about how your work desk for home can step in as a storage superstar. Deep drawers and doors – especially if you're designing a custom desk – can make all the difference, offering plenty of space for tucking away office supplies, art supplies and paperwork, as well as helping to keep projects organised – even hiding ugly electronics like printers and internet routers. If your desk doesn't have this luxury, storage bins and wall shelves are your next best bet, offering deep sections to store, so your desk can stay clutter-free – an essential aspect of a productive home office.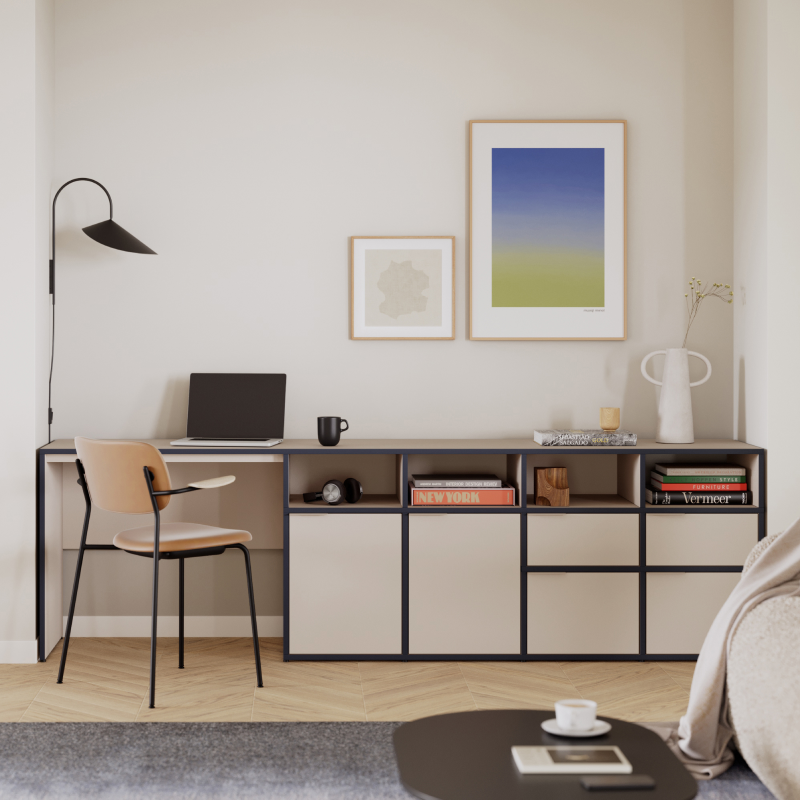 Ergonomics: Finally, think about yourself. How do you like to work most comfortably? Do you like to sit with your feet up as you ponder the mysteries of the world, or do you sit bolt upright in a high-backed lumbar support chair? The style in which you work can affect your desk placement, so take a moment to think through your working mode. Standing desks need extra vertical space, but less room in depth as there's no chair, but if you like to sit on a yoga ball and work your core strength while you work, you'll want to allow for the room it takes. Another important factor to consider is what you work on. Do you mainly work on a laptop? Are you an artist, working on a desktop easel? Perhaps you're a music producer and you need plenty of space for consoles, keyboards, speakers, microphones and more – with plenty of room to move (or roll your seat, if you're like us) between them all. Try to think what setup works or has worked best for you when you were working most comfortably, and be ready to emulate that with your home office desk placement. 
Now that you've considered the foundational factors that help determine the best place to get a desk, we can dive into the actual desk placement ideas.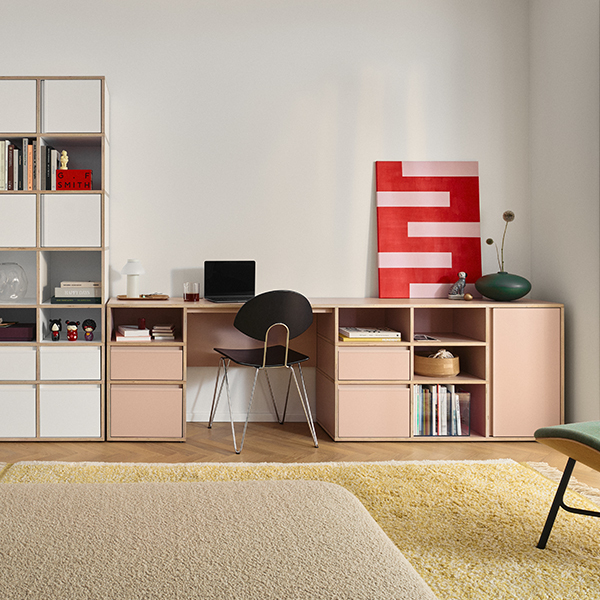 The Best Placements for Your Home Office Desk
There are no set rules about where to put your desk, as every home office is personal, people all work differently, and space availability in your home can sometimes limit your options. In an ideal world, we'd all have the exact office we want, but until then, we'll try to help guide you to home office desk placement bliss. The desk placement ideas we're sharing here are simple (and hopefully helpful) ideas on how you can maximise your home office desk placement success, and help you get inspired to make your home office your favourite place to work. 
Against the Wall: Ah, the classic white desk placement. This grounded position is the most commonly-used one, and for good reason. It's smart, tidy and takes away the worry of losing things down the back of your desk. It's also perfect for spaces with little room to maneuvre, and is a simple, straightforward place for any home office desk placement. If you have the room for it, a long desk against the wall can help give you extra space to spread your documents or project out, and really dig in, while a shorter desk – for example if space is lacking– can still feel spacious when kitted out with loads of storage to store away what isn't needed. Furthermore, desks against a wall offer the possibility to install wall shelves above for even more organisation, or place a cork pinboard to collect inspiration, new ideas, or cute notes from loved ones. Or, if you need a little extra light, wall mounted sconces that shine downwards with glare-free task lighting. This is a flexible and functional desk placement idea, and loved for its classic simplicity by home office workers worldwide. 
Facing a Window: Room with a view? Lucky you! If you're blessed enough to have a beautiful view, or just like to look out the window while you work, you'll love this desk placement idea. A desk in front of a window can be a wonderful desk placement idea, but keep in mind that you'll still want to situate your desk to allow the window to open and close unimpeded. Nothing's worse than a paint pot being knocked onto a masterpiece-in-progress from a gust of wind that catches a window and sends your supplies flying. You'll also want to be aware of direct, unfiltered sunlight. An already warm laptop can go into overheated mode (we all know the sound those fans can make) when left in the sun too long, but it's nothing a little light-filtering blind or curtain can't handle. That said, being able to look up from your work and gaze out the window is a relaxing break from the work day that should be enjoyed, if possible! Bonus tip – add some leafy green plants to your desk for a brain power boost – they'll love your home office desk placement in front of a window!
In the Corner: This desk placement idea is perfect for maximising your wall space. Tucked into a corner, your desk can become a cubicle of sorts, giving you extra L-shaped wall real estate to hang shelves, projects in progress, file folders and more. It's also perfect for rooms with a little less space, and many creatives artists and entrepreneurs love this home office desk placement for its cosy feel. And, you'll never drop anything down the back or side of your desk. Win-win. 
In the Centre of the Room: This work desk for home placement idea makes a rather grand statement. If you have the space available in your home office, a desk centered in the middle of a room can look stately indeed. Paired with a statement chair, it's a chic way to work, with lots of space around you, and creates quite an impression on any office guests or visitors. Often used by lawyers, psychiatrists (and presidents!), this desk placement idea has gravitas, and offers a twist on the classic "against a wall" desk placement choice. The only drawback of this desk placement idea is cables – if you work with a lot of electronics, keep in mind that charging cables, cords and more can look sloppy when draped down a desk on full display in the center of a room. No worries though, as "cable spaghetti" is easily fixed with a magnetic cable port to corral and guide cords, or simple cable guides or boxes that bundle and conceal cords neatly! And, custom desks that look just as good from the back as the front solve the problem of ugly, unfinished edges, or worse – visible cheap filler wood or product information stickers on display. You'll definitely want to make sure your desk looks good from every angle if you choose a dramatic center of the room desk placement. 
Under the Stairs: This quirky configuration for a work desk for home might not work for everyone – especially those without stairs in their home! For those who do have stairs, and unused space beneath them,  it's a brilliant way to use an area that's often overlooked. The best place to get a desk underneath the stairs is in homes where an airing cupboard or storage cupboard exists already, or in homes with open stairs. This little nook beneath the steps is perfect for a cosy work corner – and with custom desk sizing, you can create the exact-sized desk you need to fit perfectly. As the slanted "ceiling" under the stairs doesn't lend itself to wall shelves or storage, be sure to design your work desk for home with doors and drawers to keep your under stair office nook neat and clutter free. 
There you have it. While there's really no best place to put a desk, taking into account your room, available space, lighting, and preferred way of working can help you think through the important decision of where to put your home office desk. Whether a classic wall desk fan, or ready to take the leap to a desk in the middle of the room, it's your home office – express yourself!