Buffet or Sideboard –  What's the Difference?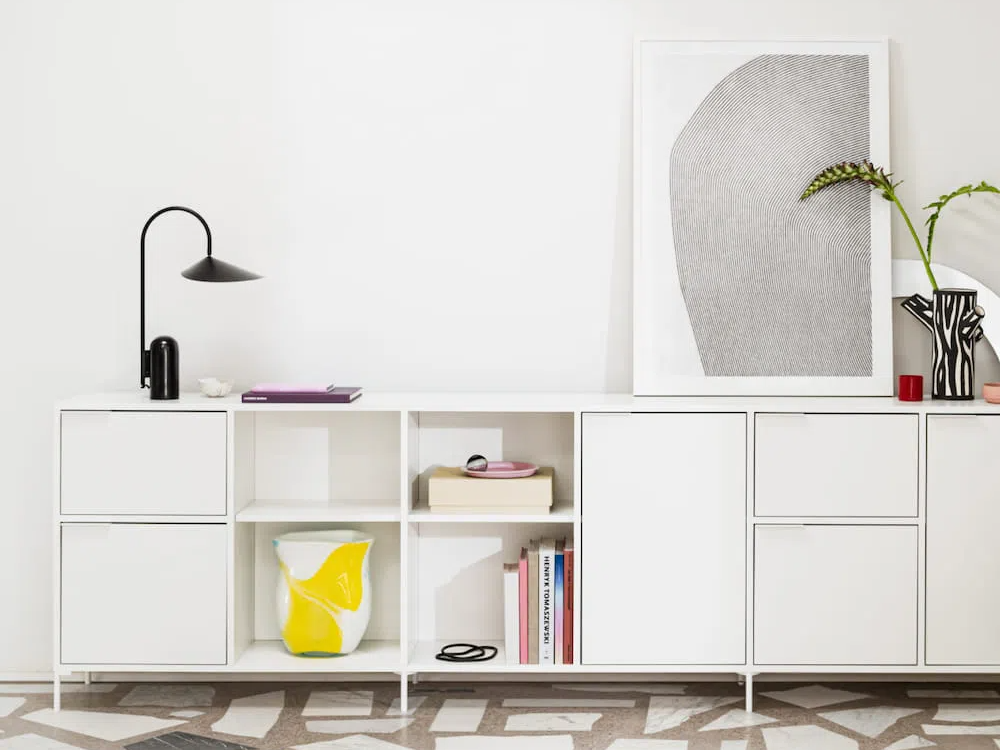 Credenza. Hutch. Server. Console. Sideboard…Buffet? As you cruise the internet looking at stylish storage furniture, you may have noticed these words being used for what looks like the exact same piece of furniture, but which is which? And what's the difference?
We too have seen these words being used interchangeably, so thought we'd put together a little guide to clarify which is which, and what is what. Here's the fun part: they're all essentially the same piece of furniture, with a few small differences depending on where you use them, and what they're used for. Still confused about the difference between a buffet and a sideboard? We're here to help clear it up. Or at least try.
A Short History of Sideboards and Buffets
We couldn't dive into the subtle differences between buffets and sideboards before taking a little journey into their history. So what is a buffet? Originally created by clever carpenters in Sweden to hold the many flavourful and fishy dishes that composed their expansive smorgasbord spreads, buffet was the name given to the narrow, table height cupboard unit placed to the side of the dining room that allowed people to pick and choose their favourite fragrant dishes before returning to their place at the table to enjoy. This nouvelle serving concept caught on in France and then spread across Europe, rapidly gaining popularity, until voila, the buffet was officially born. Created originally to help serve and present meals while leaving the dining table uncluttered, they were designed to have drawers and cupboards below their serving surface top that were used to hold unused dishes and serving ware (that possibly didn't fit in the small kitchens of the time) neatly out of the way, essentially acting as an auxiliary cupboard to hold what didn't fit elsewhere. Also known as buffet tables, they were usually found in dining rooms and kitchens, and could be with legs or without, with the main criteria being mainly that they offered convenient extra storage and a handy place to put things when it was time to serve. Some were ornate, some were simple, but they all served a very crucial and important function: creating space where there was none, and being a centerpiece to serve delicious meals that brought families and friends together. 
So what is a sideboard then? Get ready for it: a sideboard is simply a buffet…but in the living room (or any other room). This term originated in England, when two trestles would be placed in the dining room with a board balanced across them to offer additional space to serve dishes. Get it? Side…board, or a board on the side. But, eventually as most things do,  it evolved, being built with drawers and cupboards below for additional storage, until it eventually became a proud place to keep and display the family's prized possessions, such as fine china and silver serving bowls. Instead of being a place to simply serve food and store cutlery, sideboards were now a place to store and show off treasured items such as family photographs, board games, heirlooms and more. As such, they gained popularity as furniture for not just kitchens and dining rooms, but were found in living rooms, salons, home offices, and anywhere that could use a little extra storage, or that wanted a stylish place to show off a few shiny knick knacks. Practical and purposeful, they kept things neatly organised and accessible – and depending on the style – hidden away or displayed for all visitors to see.
Sideboard and Buffets: Design Differences
So if buffets and sideboards are essentially the same thing, how do we tell them apart? There are a few subtle differences when it comes to the two, and we'll walk through them now. First, sideboards were traditionally low legged or legless, with cupboards and drawers that reached to the floor (or nearly) underneath a narrow top. They can have solid doors and drawers, or glass or mirrored cabinets, sliding wooden sections, or accordion fronts, just to name a few stylistic differences. Some have open sections of shelving, while others are completely closed. The only rule of sideboard furniture seems to be that it should in some way resemble a cupboard and offer convenient storage. If there were ever hard and fast rules regarding the distinction between the two, they have been lost to time, or are only observed by the most staunch of furniture snobs. 
Buffets on the other hand (and to confuse things a little more, perhaps) can be described almost exactly the same as a sideboard, with the only difference seeming to be that buffets can have longer legs, and sometimes have an open cabinet placed on top to create a hutch, and were/are primarily used for or associated in some way with food, eating, or serving, tending to be situated mainly in kitchens or dining rooms.
Sideboards vs. Buffets: What Are They Used For?
As you're learning, the only discernible difference between sideboards and buffets seems to be what you're accustomed to calling it, or where you'll find it located. As convenient and practical extra storage, there's really no limit or hard and fast rules for their use. Their slim, useful design and wide range of styles means they suit a spectrum of interior design styles and can be used for a variety of functions. From Louis XVI-style furniture to midcentury modern (and more), there's guaranteed to be a sideboard or buffet available to suit your style and your needs – whatever they may be. While some people prefer to keep things traditional and display their fine china in heirloom hand-me-downs buffet furniture, others use their modern sideboard furniture to tidily tuck away video game consoles or record collections. Part of the enduring allure of buffets and sideboards is that they can be used for literally anything – and look great doing so.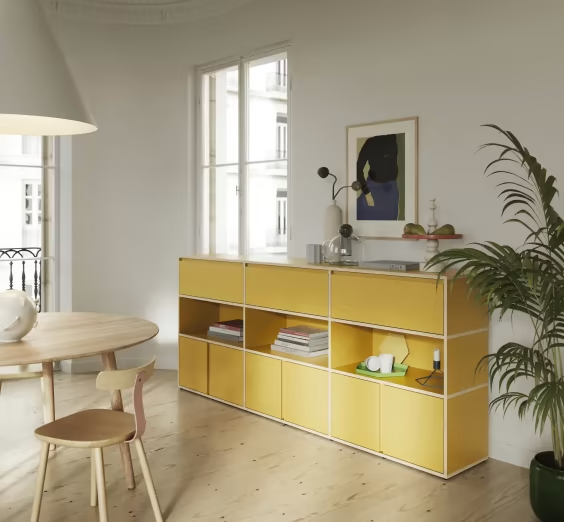 What materials can a Sideboard or a Buffet be?
We touched upon the almost indiscernible differences between buffet furniture and sideboard furniture, but you might be wondering if there are any material differences that set them apart? Again, not really! (Are you sensing a theme here?)
Sideboards and buffets can be constructed and crafted of virtually any material. While originally made of wood, or two trestles and a plank in England's case, this flexible
furniture can be found lacquered, natural, made with veneer and even crafted from a variety of more modern materials like MDF, metal, bent plywood and even molded plastic. Some sideboards have glass doors or mirrors, while other buffets have wooden doors inlaid with ornate details, or simple, efficient sliding ones. Some have open sections or mixed drawers and doors. As long as the material is sturdy enough, it seems it can be crafted into and called a sideboard. Or a buffet. 
Are There Any Size Differences Between Sideboards and Buffets?
As with most furniture, there can be size differences between the two. When it comes to sideboards vs. buffets, traditionally buffet furniture had slightly longer legs, and was often accessorised by an open cupboard hutch placed atop to offer even more space to show off the fine china, while a sideboard in the traditional sense was more squat, with lower legs or none at all. However, as time has blurred the distinction between the two, there seem to be fewer and fewer differences. That said, both buffets and sideboards both come in a wide variety of sizes – from short, narrow sideboards to long, low pieces that can stretch an entire wall length in size. No matter the depth or length, though, sideboards and buffets tend to reach maximum height at roughly waist height. Any higher and your furniture begins to venture into wall unit or shelf territory, which is an entirely different topic of furniture categorisation. Thankfully, with the ability to customise furniture easily online, sideboards can now be infinitely configured to the exact size you want – from short and squat units that fit snugly next to a bed, or long, lean storage that stretches the length of an entire hallway and holds a seemingly-infinite amount of stuff. 
Decorating with Sideboards and Buffets
No matter what name you call your trusty sideboard or buffet furniture, it's one of the home, office or workspace's most purposeful pieces. Their narrow profile and adaptable length makes them the perfect accessory for any space that seeks a little more storage that still looks effortlessly stylish. For example, with their roomy drawers and cabinets, children's rooms are the perfect place for a well-proportioned sideboard. Thanks to their low profile and easy-to-reach drawers and cupboards, kids can tuck away toys and treasures easily (and in some cases even climb on top, while parents can rest assured a top-heavy unit on spindly legs isn't threatening to tip over).
They're also of great use in nurseries to store the numerous nappies and wipes a new baby needs, as well as work as a comfortable changing station, when needed. Teenagers love sideboards for similar reasons – with their numerous cubbies and cabinets, they're a great place to store video games, magazines, makeup and more, and thanks to the huge range of available styles, teens can express their individuality with a sideboard or buffet that suits them and their room's style perfectly. Their use in the home is also practically limitless. Whether in a dining room for extra serving space, in a living room to hold a library of books, or a home office to hold important paperwork or office supplies, their adaptable, timeless style never seems out of place, no matter the setting, space or situation. 
The office, workplace or studio can also benefit from a beautifully-designed sideboard or buffet. Keep a buffet in the break room to store the staff mugs and snacks, or add a modern sideboard to your office's meeting room to support a large screen used for meetings, with cables and connectors all tucked neatly beneath. Printers happily live discreetly behind concealed doors, office supplies and consumables can be accessed easily by staff when needed, and ugly grey electronics can be kept pleasantly out of sight when not needed. Artists, creatives and entrepreneurs can all benefit from a well-designed sideboard, too, with the classic piece being used to great effect as stylish and effective retail display for shops and boutiques, serving as the ideal perch for art gallery installations, and being the ultimate flexible storage for all kinds of studio supplies. 
Schools and daycares alike can find use in the handy sideboard, too – especially when it comes to custom ones. With their long length and copious cubby space, these low furniture pieces are perfect for playschools, preschools, grammar schools, and more, providing the perfect place for each student to tuck away their bag, lunch, or rain boots as the serious business of play gets underway. We've even seen colleges and unis using sideboards to great effect, acting as places to store projects in progress, and giving each student a dedicated space to keep and organise returned coursework. A good sideboard's usefulness is only limited by the user's imagination.
Finally, decorating with buffets and sideboards is as simple as it gets. From maximalist displays that cram every cranny with objects, to minimalist decor done tastefully, there is a sideboard style or buffet look to suit quite literally anyone. From classic colours, wooden finishes and muted tones to bright, bold colours and modern silhouettes, buffets and sideboards make a brilliant addition to any room – and a brilliant backdrop to anything you care to display, arrange, curate or collect. 
Whether an antique heritage buffet nestled against a wall in a formal dining room, or a modern sideboard made just for you tucked under a telly in a modern, minimalist flat as a media centre, this flexible furniture has more uses than it has names, thankfully. Wherever you put your piece, and whatever you use it for, your sideboard or buffet will look brilliant, regardless of what you or anyone else may call it.