How to choose a TV stand: Your guide to the perfect size and style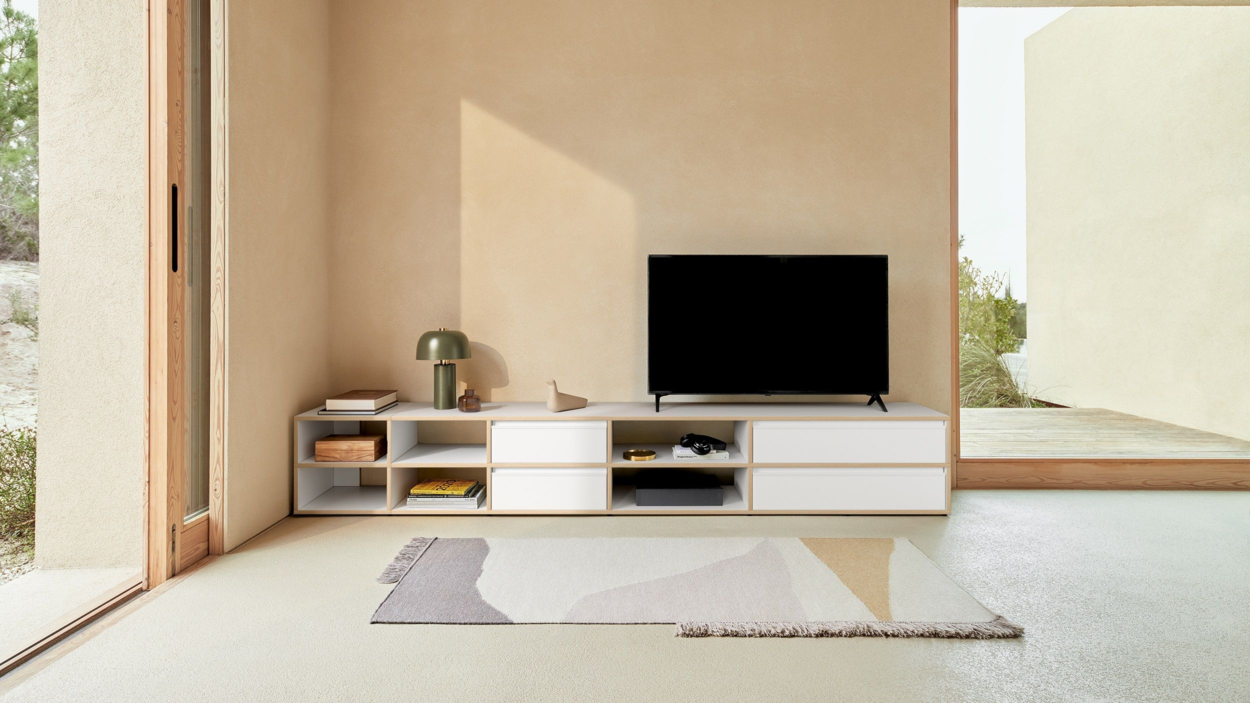 Gone are the days of one-size-fits-all TV stands – or worse– those awful corner units that every household seemed to have in the 90's. Thanks to easy-to-customise furniture that makes the perfect media centre, choosing a TV stand is easier (and more fun) than ever. We're here to help you decide which type of TV stand you should choose in a few simple steps.
What should you consider while choosing a TV stand?
You probably spent hours researching which telly to buy, deciding on whether or not a sound bar would be a great addition, and figuring out if you want to go all out with full stereo surround sound. You read the reviews, checked the prices, and got the telly you wanted. Now the question is: which type of tv stand should I choose? It may seem trivial, but choosing a TV stand can really pull your space's look together, and create the perfect setting for family movie binge nights, solo gaming sessions and more.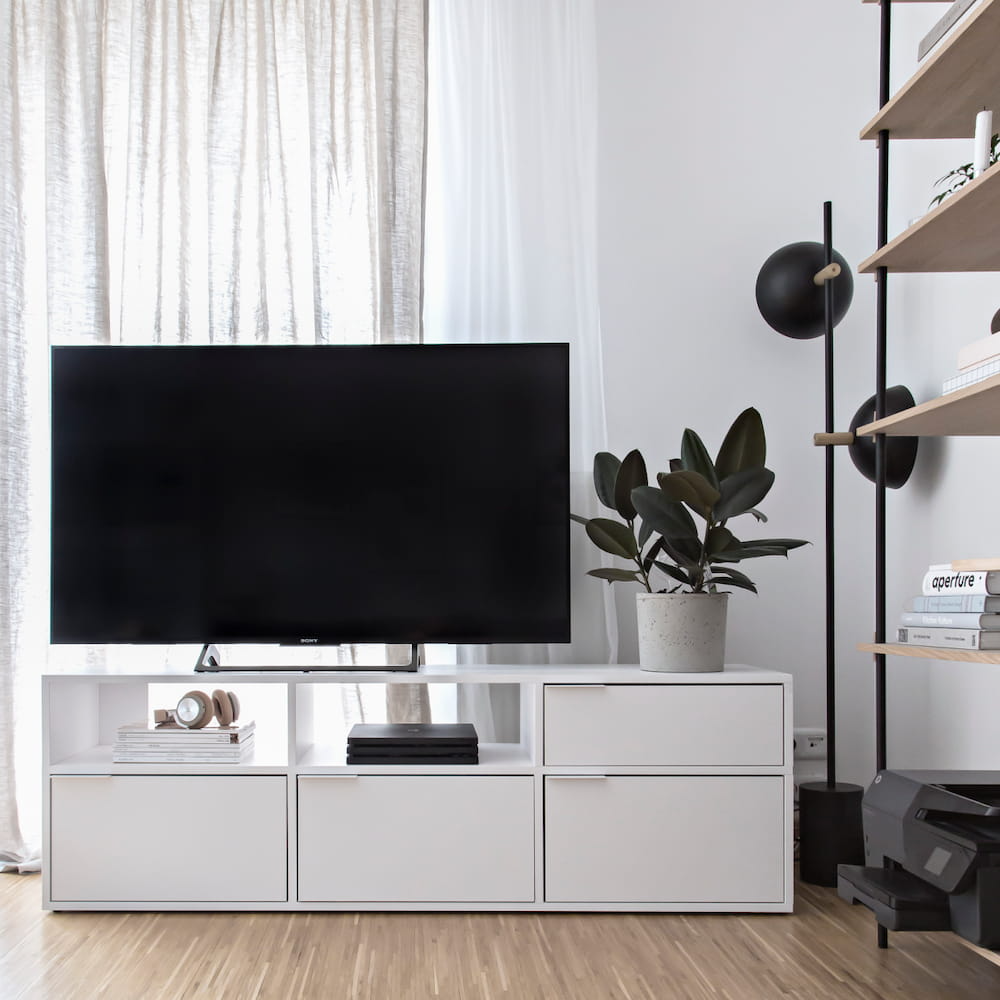 When it comes to which type of TV stand you should choose, there are a few factors to take into consideration. You'll want to make sure it's appropriate for the size of your space, as well as the television, but you'll also want to ensure that it has enough storage space for the things you need, too. When designing a custom TV stand, you get the advantage of getting to pick the number of doors, drawers or open spaces you need to really max out your space and make your TV stand truly useful. From game consoles to DVD players, remote controls, game controllers and more, a few (or a lot) of well-placed and well-considered compartments can help keep your TV stand neat and tidy, with everything you need tucked away. And, with a handy magnetic cable port, cables, wires and cords can be kept arranged neatly, to further streamline your stand. With the style of your storage only limited by your imagination (and your available space of course), you can design a truly functional piece of furniture to serve you for years to come.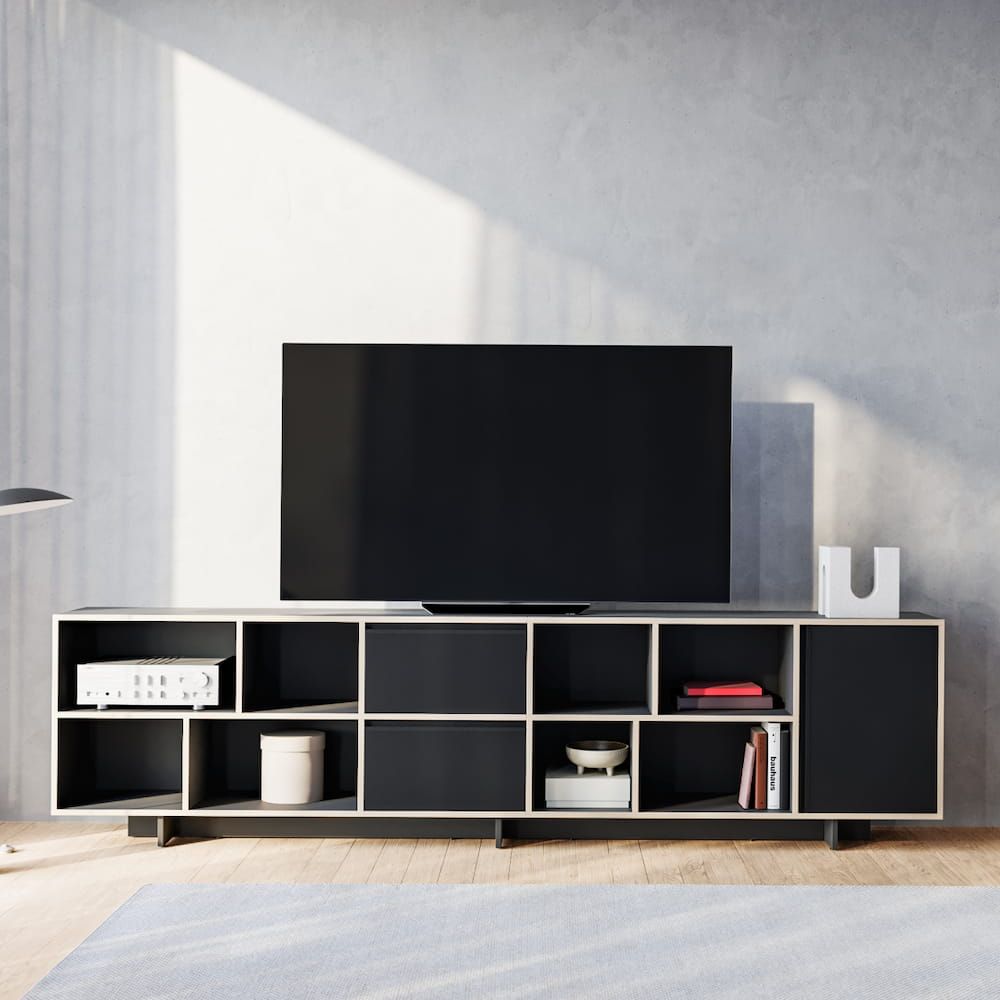 Find the true size of your TV
"But it's a 60 inch.", I hear you saying. True, you may already know the size of your telly, but did you know that this number refers to the diagonal measurement of the screen, not the actual unit itself? The size of a television screen is measured from the bottom left to the top right diagonal corner of the screen, not the width of the actual entire TV, so while you may have a 60" screen, the actual television body may actually measure more in width. This is why it's good to pull out the trusty measuring tape, and take an overall width, height and depth measurement. This way you'll know exactly how to choose the size of a TV stand based on the television you have. 
Find out the actual width of the TV
Take your measuring tape and measure from the widest point at left to the widest point at right in a straight line. Jot this number down. Then repeat for the height. Finally, you'll want to measure the deepest part, often the stand. If you are wall mounting, the depth is less important, but you'll want the height and width for sure. Now that you know the actual size of your TV, we can work out how to choose a size of TV stand.
How to find the correct size of a TV stand
We've all seen spaces like it – a tiny living room with a staggering 98" screen wall mounted and absolutely dominating the space with its overwhelming presence. We're definitely not here to judge anyone's decor choices, and if you decide you want a whole-wall television, that's totally up to you, but being aware and observant of the proportions of your space, your television size and your TV stand size can help your room to feel balanced and look more put together, while creating a place for entertainment that you, your family and guests can all enjoy.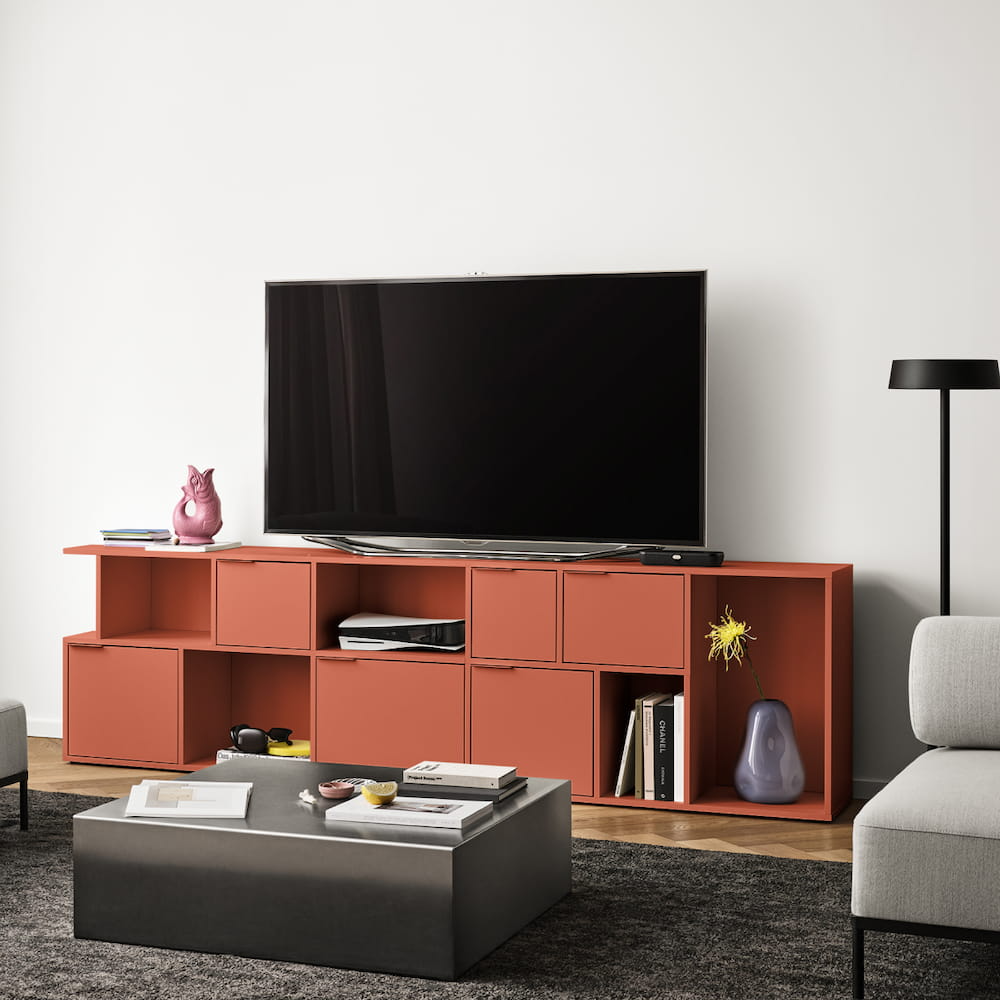 When it comes to how to size a TV stand, you'll want to account for three main things: your available space, your television size, and the size and style of your TV stand. 
Determining the right fit is easy. Hopefully you've already measured the size of your telly, so we'll start there. You'll want to allow at least 2-3" of extra space on each side of your television when choosing a TV stand. Any less and you risk your television making the TV stand feel top-heavy or unbalanced, as well as facing the risk that someone could bump the TV and send it tipping off the edge. You'll also want to consider the depth of your TV. A TV stand that is too narrow could mean the stand of your telly hanging over the edge, or the rear of the unit (which can get warm) being pressed right against the wall. You want your television to have ample space to both sides, as well as an inch or two at least in front and back for it to feel centered and safe. Wall mounted television? The size still matters! While you don't have to worry about tipping over, you still want your screen to feel balanced and cohesive with the stand below it. Again, sizing your TV stand at least two to three inches wider than your screen is a good rule of thumb to make sure nothing is off-balance, and you also want to be mindful of the height at which you hang it, as well, which we'll address in just a moment. 
Now that you know the minimum size needed for your television to not feel top-heavy, you'll want to measure the size of the space you're putting the TV stand. Do a quick measurement of the space you intend to put the stand (or even easier, use Tylko's AR app to see the piece you're designing live in your space – no measuring tape needed). Whether you have a whole wall of space or a cosy corner, designing a custom TV stand means you can easily create in a few clicks a perfect-fit stand that suits your space, screen and storage needs to a T.  Use the available space, the size of your screen, and your desired TV stand size to create, tweak and adjust a piece of furniture that feels good. Some people like oversized long and low TV stands, others prefer a more compact or upright solution. When it comes to choosing a TV stand, the choice truly is personal, and with thousands of ways to customise it online with Tylko, you can let your creativity loose.
Now that you've figured out the ideal width for your stand, let's talk about how to size a TV stand for the perfect height. Ideally, your television should be at a level that keeps your eyes looking straight ahead, without any upwards or downwards tipping of the head. Using the perfect viewing height of your screen, you can determine how tall you'd like to size your TV stand accordingly. You'll want a comfortable viewing pose so there are no sore necks after a marathon movie watching session. The same goes for wall mounted televisions. Although the height of your TV stand itself is less important in this case, you still want to mount the telly at a comfortable viewing height, and make sure the height of your TV stand matches accordingly. Too much distance between the telly and your stand can look disjointed, with a television appearing to float alone on the wall, while too close a distance can look crowded, and not give the screen enough space to "breathe" . Make sure to allow at least 2-3' space between the bottom of your television and the top of your TV stand to keep things cohesive. And, if you're a real fan of numbers, there are all kinds of charts available online that show the size of your screen and the best viewing distance and height, if you want to get super technical. 
When it comes to how to choose the size of a TV stand, simply remember your three main factors: television width, television height, and available space. You want all three to feel well-balanced, with a television that's at a comfortable viewing height, and a TV stand that's proportionate to the room and the screen.
Decide on the type of TV stand
Once the important part of how to measure a TV stand is completed, you can get into the fun stuff – which type of TV stand should you choose? TV stands come in hundreds of styles, and you're sure to find something you like. But, an even better alternative is to create the exact TV stand you want. With the easy online configurator, Tylko TV stands make choosing the size, colour, storage style and more simple. Sleek, streamlined and modern, and with a range of classic colours or bold and bright hues, as well as adjustable widths, heights, and depths, they allow you to dial in the exact details you want. Looking for a low TV stand with lots of doors? Done. A long unit with legs that has open sections for decor as well as drawers and doors to keep things neat? Easy. Figure out how much space you want for storage and be sure to factor this into your design. If you have kids and lots of video games, you might want several large door sections to keep them all tucked away behind. If you prefer open sections to place decor, keep that in mind, too. Drawers are great for keeping DVDs so you can quickly scan the spines, as well as tucking away odds and ends like chargers, spare batteries and remote controls. We've even seen TV stands designed with a designated snack drawer, which is a great idea for movie nights!
Not only is it super easy to create and configure with Tylko, being able to customise your own furniture makes choosing a TV stand fun, too. It makes it easy to design a TV stand that blends harmoniously with your space, instead of trying to get a one-size-fits-all solution to work – especially if you have an unusually-shaped room, or are working with limitations of space. With natural wood veneer options, bright modern colours, or classic monochromes, there's a colour to suit every style of decor, too. And knowing that your TV stand is crafted from sturdy birch plywood or other high-quality materials means you can count on a lifetime of good looks and television-supporting style that will never sway, sag or go out of style.
What are some decorating tips for TV stands?
Now that you've configured your perfectly-sized TV stand, making sure it suits your telly size and available space, we can dive into how to decorate a TV stand. There are so many ways to bring your TV stand to life as the centrepiece of your space, so why not let your TV stand show off your personality a little? 
The beauty of a TV stand is that it's essentially a blank slate to start from, and can be so much more than just a stand to place your TV on or above. It can be a personal art gallery, a place to show off a curated collection, and an elevated entertainment area that adds to the aesthetic of this communal space. 
A great tip to break up the square television/rectangle TV stand look is to play with shapes. By adding objects with curves and interesting silhouettes, you can soften the geometric lines of your TV stand. But, exercise caution – you don't want your decor to distract from the television. While it's tempting to place a lot of things on your TV stand, try to limit it to three or four objects, and play with height to give the eye something to travel over. A tall vase, a few stacked books, or a spiky succulent are all great ways to introduce shape, texture and height, for example.
If modern and minimalist is your style, we suggest keeping things neutral. Less is more with this aesthetic, so let your stylish TV stand do the talking, accentuated with a few subtly-hued decor objects like candlesticks, a stylish tray, or a plant. Why not introduce some natural elements, like wicker, marble or stone? Bronze, gold and silver accents look stunning with a grey or white TV stand, while a well-placed candle here or there can add sensual scent and style as you settle in for the latest crime drama.
On the opposite spectrum, if you're a big fan of colour, go with it! You've probably already chosen a colourful TV stand, so let that be the foundation of your design. Coordinate your decor to your furniture for a bold mono look, or add objects that are opposites on the colour wheel to amp up the fun. TV stands are a place for family and friends to gather and enjoy each other's company while being entertained, so don't be afraid to have some fun with it. 
Plants are a wonderful way to soften the hard lines of an angular television, too. Try adding a few plants of varying heights like a sansevieria or a tall peace lily, and several potted succulents. By grouping leafy plants around your telly, you soften the silhouette, while bringing the positive health benefits of green plants to your space – just be sure they don't obstruct the screen, and be certain to have dishes placed underneath to catch any stray drips when watering!
Finally, why not try something off-centre? The most common and traditional set-up for a TV stand is to center the television directly over the stand, but why not mix it up a little if you're feeling creative? If you have the space, a long TV stand with the television placed to the left or right in an off-centre position can look stunning – especially when paired with a large print or oversized framed poster, tall plants, or stylish decor of varying heights to help even out the look. It may not be for everyone, but a little asymmetry can elevate your space, if you're up for it. With this configuration, your TV stand could even double as an all-around media centre with the simple addition of a record player (and the addition of plenty of storage space for records underneath).
When it comes to deciding on which TV stand you should choose, we're all about flexibility and embracing the freedom to express yourself. The ultimate goal should be to create a space for entertaining (and being entertained) that's welcoming and comfortable, and where you and your friends and family can enjoy time spent together for years to come. Whether that includes a maximalist TV stand that's a raucous joy to behold, or a streamlined and sleek minimalist entertainment centre that Kubrick would appreciate is completely up to you – and that's the magic of custom furniture.