How to Choose the Best Desk for Your Home Office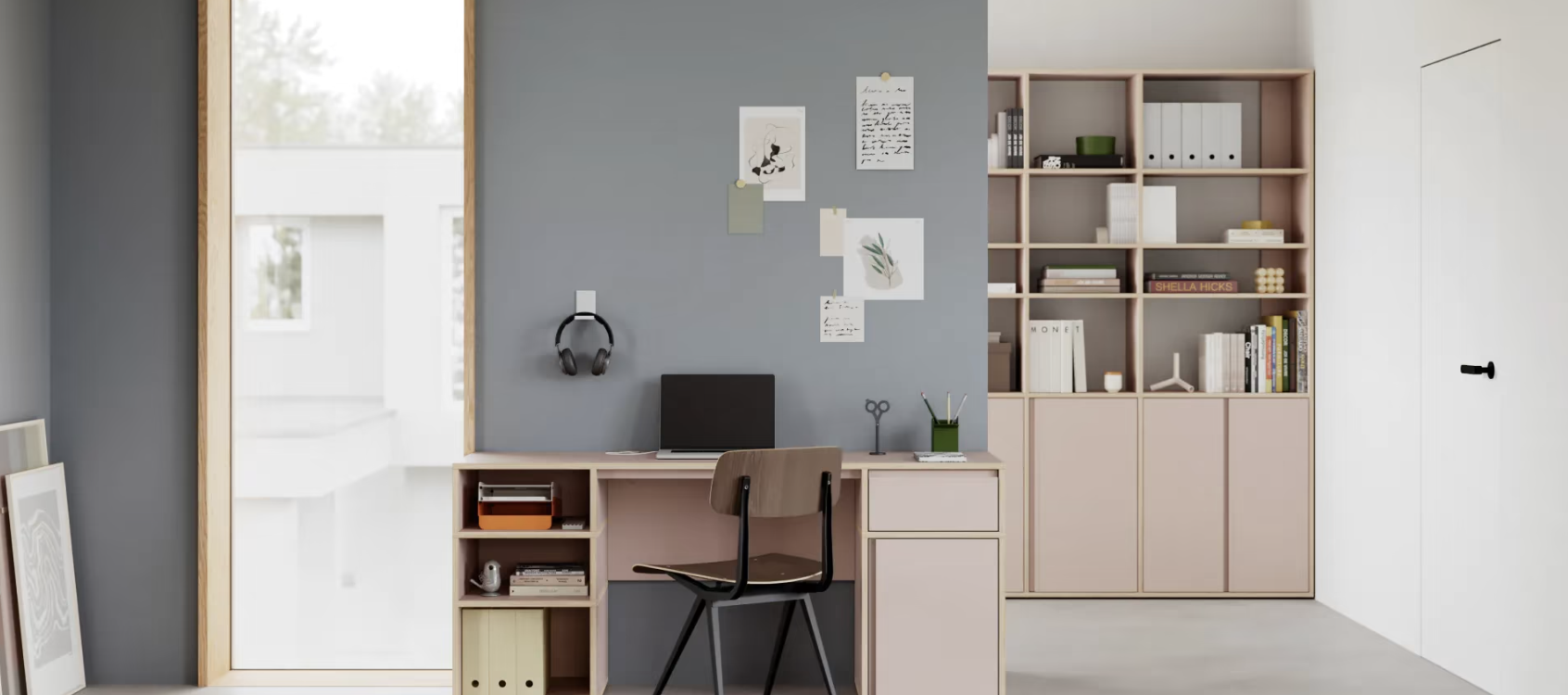 With an increase of hybrid and hybrid remote workers post-pandemic, finding the perfect home office desk has become more important than ever. Working desks for home play many different roles for different people: some people simply need a place to sit comfortably, others require a healthy standing spot, while others need the combination of style, space and comfort that allows maximum productivity. There are as many types of desk as there are people, but luckily we/re here with home office desk ideas and are ready to help guide you to the desk of your dreams.
Why do I need a dedicated home office desk?
Creating a comfortable, inspiring home office takes much more than wedging a desk and chair in an unused corner. You'll spend hours of the day in this space, and making sure you have enough space to spread out your work, get stuck in and still feel great is important. A dedicated space that allows you to focus and create your best work is essential for any creative, businessperson, entrepreneur or worker. While working from your lap, the kitchen counter, or the couch might work for a moment, there comes a time when a desk for the home office becomes a must-have.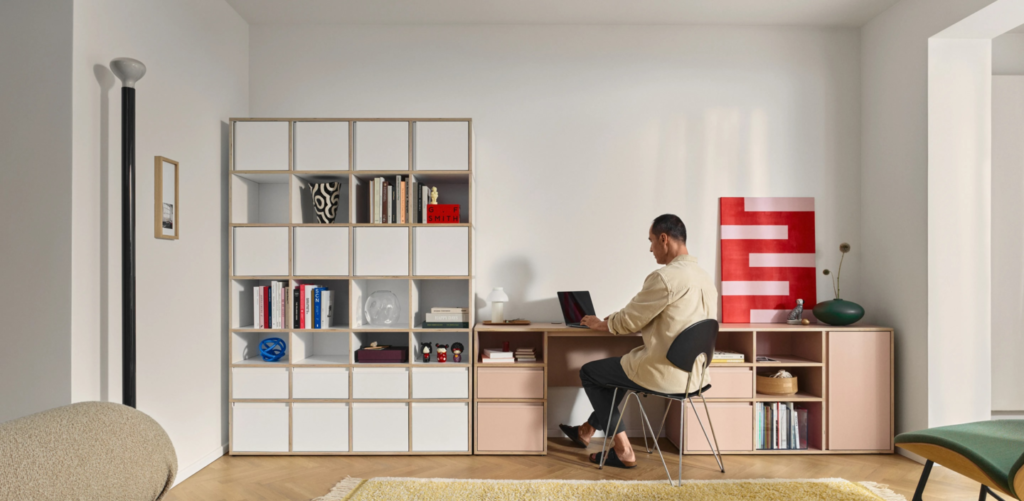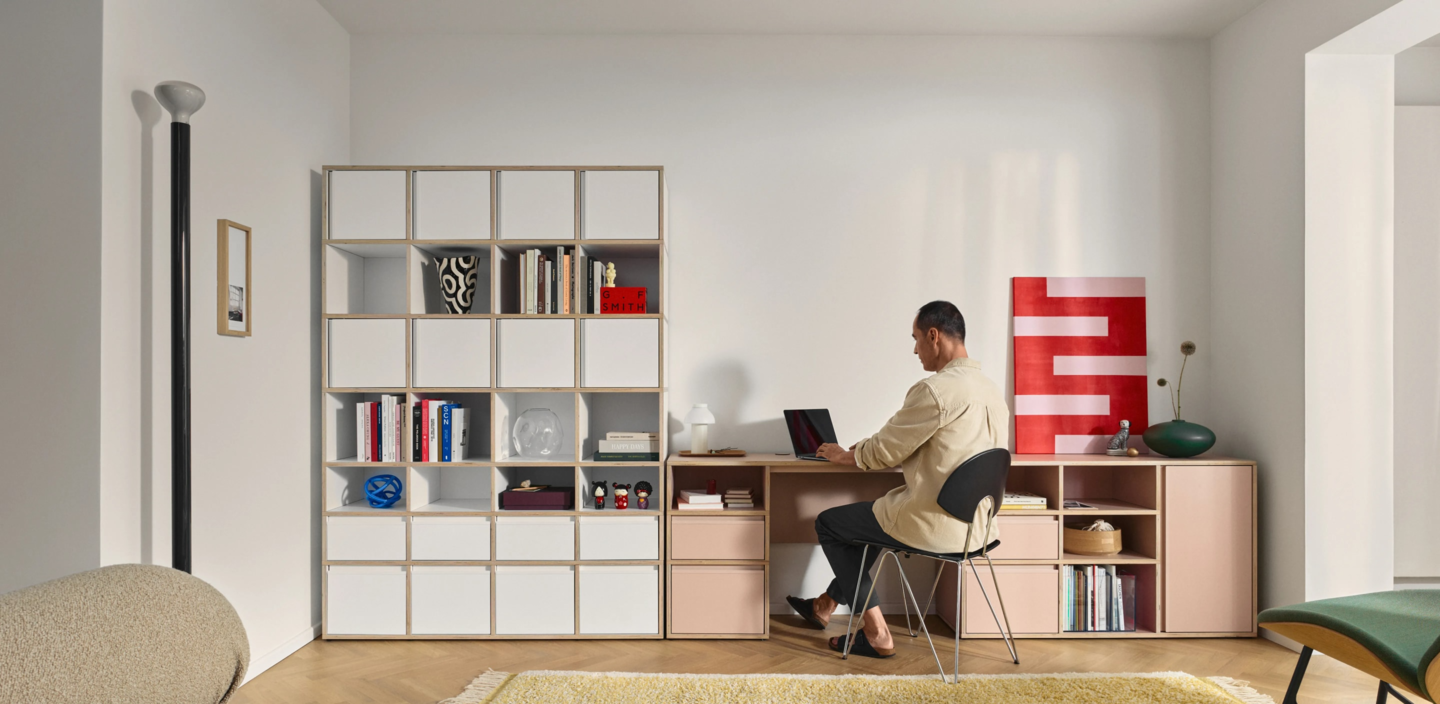 A modern desk for a home office can help in a myriad of ways, most importantly with your productivity. By carving out a space that is only for your work, you will be able to better associate that place with the focus needed to stay on task. It's hard to stay productive when your "desk" is also a dining table, with kids, partners and everyday life going on boisterously around you.
Creating the association of your home office space with a quiet, dedicated place to get to it will help you shift into that mode every time you sit down at your desk, cueing the "it's time to get to work signal" in your brain. Even a small home office desk that you use only for work purposes can help you to more quickly and easily slip into "work mode". This helps manage time better, and crucially – prevent frustration and burn out. There;s nothing worse than having a deadline or endless to-do task list, and not being able to get into the right state of mind to tackle it because you're distracted. It's also helpful to help you switch off from work mode too. Say you work from your bed, for example.
Your brain will begin to associate the bed with work, and you may find relaxing or decompressing after work has ended or even falling asleep difficult. Designating a specific area for work helps you to switch in and out of work mode easier, so you can enjoy a better work/life balance – something that many people are struggling with thanks to the increasing popularity of working from home. You may already be one of the people who have fully or partially switched to remote work, and have noticed how tough switching between work and personal life modes can be. A dedicated home office desk can help you to better do so.
Furthermore, a dedicated working desk for home can help you to stay organised. Many desks for offices at home have built in storage and smart features like cable organisers and charging docks that make it easy to stay tidy, work clean, and keep everything you need to be productive and positive all in one easily-accessible place. Hauling your computer, notebooks, chargers, pens and pencils, coffee, phone and more from one place to another as you try to work can get old fast. With a sensible, stylish home office desk with drawers, you can pick up right where you left off when it comes to getting to work – no hunting around for your meeting notes or where you left your mug.
Deciding to work from a dedicated home office desk also allows you more freedom to create a stylish space that you find inspiring and happy. Just because you're setting up a home office space, doesn't mean the beige, boring cubicle style of many corporate spaces needs to be echoed in your space. You can introduce colour and contrast, and let your personality shine with different types of desks and decor that reflects your taste, while still offering plenty of space to store office essentials away (like that ugly printer). 
Finally, a dedicated desk for an office at home can prevent injuries. We're not talking about broken legs black eyes, but rather the type of injuries that can occur from sitting uncomfortably on insufficiently supportive chairs or at tables of the wrong height, or from straining your eyes for prolonged periods of time because your computer is too far from where you're sitting. You might not notice right away, but working from surfaces that are not ergonomically-designed specifically for comfortable work can cause back, neck and shoulder strain, headaches, tension, joint pain and more.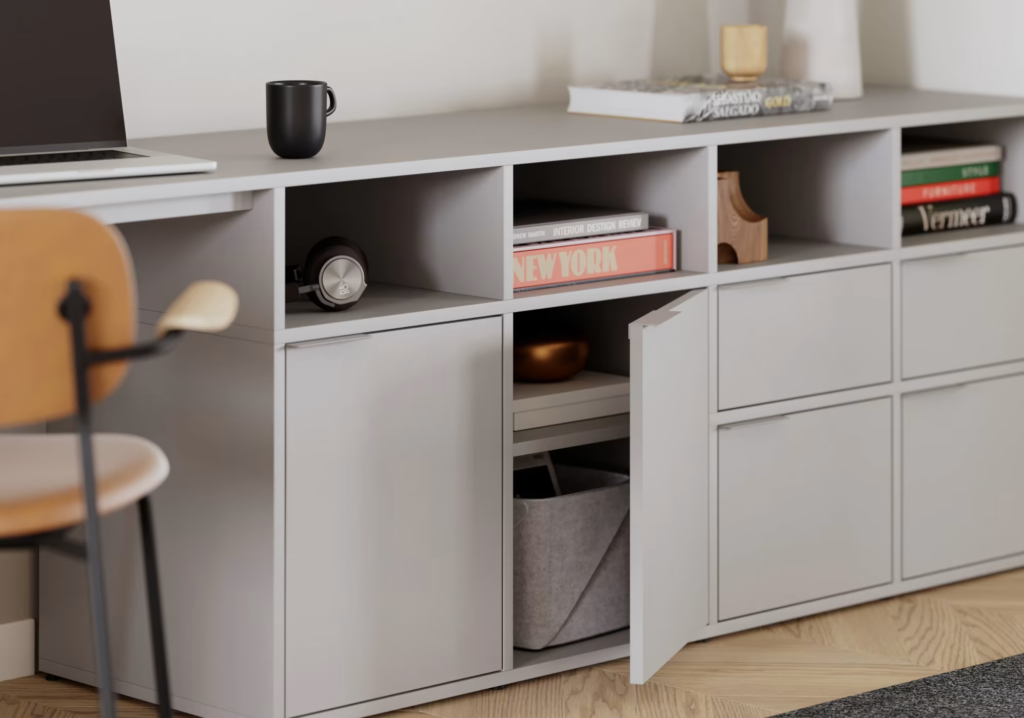 What types of home office desks are there?
From small home office desks to custom-designed whole-wall wonders, there are as many desks out there as there are people. One of the most common types of desk is referred to as traditional, and they look exactly as you'd imagine. Similar to a table with two legs or a base with a tabletop. Sometimes they have drawers, sometimes they don't. Another type of office desk for the home is a corner desk. These L-shaped desks fit snugly into a corner and offer "surround style" desk working space. Again, they can have drawers or not, and some have low shelves or trestle bases.
A small home office desk that works well in cosier spaces is a floating desk. Wall-mounted and without legs or trestles, these desks for the home office can fold down, or be suspended from brackets, and often feature some form of integrated storage like a slim drawer or recessed panel that can be removed to hold smaller items. Another popular small home office desk is called a ladder desk. It has two legs, can be wall-mounted or wall-leaning, and looks similar to a ladder, with the rungs being slim shelves incorporated above the desk surface for integrated storage and display. When it comes to home office desk styles, there are countless. From credenza desks that give a stately impression to vintage metal desks, rolltops, writing desks, programming desks and more, the range and types of home office desk are almost infinite. Luckily narrowing down which will work best for you just takes a few easy steps, and our home office desk ideas, of course. 
Finding the perfect home office desk style
Modern desks for home offices have come a long way. Whether a modern, minimalist white home office desk, or a boldly-coloured home office desk with drawers, there is a style, size and shape to suit everyone. After all, your desk is way more than just a place to dump your laptop.
When deciding on your desk, there are a few important factors to consider, including space. How much floor space do you have to work with? Whether you have an entire room as an office or are carving out a nook off of your dining room, measure how much space you have for your home office desk. Remember that you'll need room for a chair to move in and out easily, as well as have enough space to open any drawers or doors your desk may have freely.
Once you know how much space you have to work with, choosing (or designing) your dream desk gets a lot easier – especially if you decide to choose a custom desk, like those from Tylko. With 100% customisability, you can click, swipe and tap your way to a perfect-fit piece of home office kit. With adjustable widths, heights and depths, you can make sure even the cosiest of corners can fit a properly-functioning small home office desk, while bigger spaces can size up for truly stunning, stylish – and ergonomic– desk space. As well as choosing the width of your desk, you can customise the style of your storage to include doors and drawers, or totally open compartments. There are millions of ways to design your modern desk for your home office, and delivery is always free, with 100-day free returns, too, so you can try it out and make sure it's going to work with you, or they'll take it right back, no questions asked.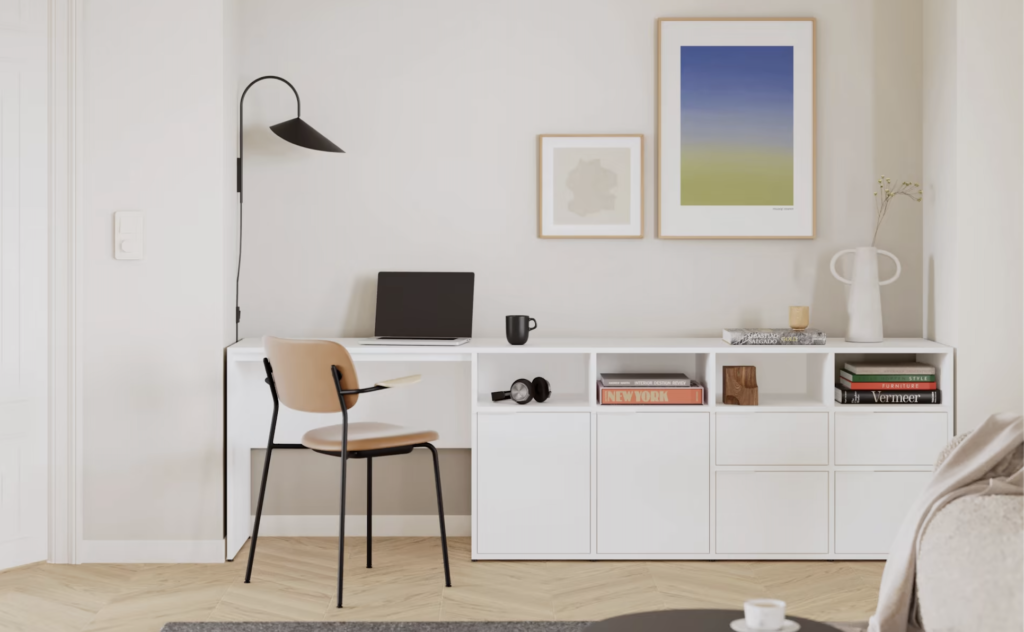 What features should my desk have?
Comfort is key when it comes to modern desks for the home office. A vintage desk may look beautiful, but how comfy will it be in the long run? Think about how long you will be at your desk on a day to day basis. If you're not planning to sit at it for longer than an hour or two, a home office desk that prioritises looks over comfort and function might be ok. But, if you work a full 8+ hours a day, you will want to consider the height of your desk, how comfortable it is to work at, and how you feel at it. Comfort at your working desk for home is key, and there are a few factors that can help contribute to it:
Light: Make sure your desk is in a well-lit area, or that you can plug in a desk lamp that provides comfortable, even lighting to prevent eye strain. A great feature to look for in your desk therefore is a cable port. Being able to corral wires for lamps, laptop chargers and more helps to keep your desk clutter-free and keeps things well-lit without cables criss-crossing your work area and adding to any unnecessary mess. Bonus tip: if you can place your desk near a window, even better. Not only will a window position illuminate your desk with natural light, stopping to take a look out the window from time to time can give you a little mid-workday reset. 
Height: Your desk should be at a comfortable height that works well to keep your head, spine and shoulders aligned when used with your chair of choice. Taller user? A custom desk that allows you to adjust the height might work better than an "off-the-rack" desk. Same for petite users. A desk that is built to your personal specs will be endlessly more comfortable than a one-size-fits-all solution. Your chair and desk should work together to make sure your head is not tilted more than 30 degrees up or down to help avoid eye, neck or shoulder strain. Be sure to account for your chosen chair height when deciding on your ideal desk height. Typing and sitting should be comfortable, without feeling like you're reaching up or leaning down. 
Size: We're not talking about the width and height of your desk in this instance, as the size and dimensions of your desk will largely be dictated by the available square footage you have in your office space. In this case, we are referring to surface size. Work with large blueprints or artwork? You might want a deeper desk with more desktop space to stretch out across. Use only a laptop and have only a tiny bit of floor space available? A narrower desk will work wonders by giving you the comfortable place to type and work on your laptop that you need, without hogging up valuable square feet in your chosen space. Tylko customisable desks come in two convenient depths – 40 and 50 cm– to offer flexibility for people who may need narrower options, which can really come in handy when you're working from home and trying to carve out a little home office space from what you have available. 
Storage: Finally, determine what type of storage you need, and how much. Deep drawers are great for art supplies, chargers, calculators and more, while swing-open doors are superb for concealing ugly office essentials like printers, docks, reams of paper and stacks of files that aren't needed. Only you know what you need, so do a desk audit, then design the storage you'll need accordingly. You can even choose open compartments when designing your working desk for home, leaving plenty of room to style your desk creatively, or just have everything ready to access. Creating a home office desk that works means making room for all the things you need to work efficiently and keeping it all easily accessible. Even if you have a small home office desk, you can cleverly take advantage of vertical space by choosing stacked storage, or a taller desk with more room for extra drawers and then accessorise your home office with wall mounted shelving or an extra bookcase, space permitting.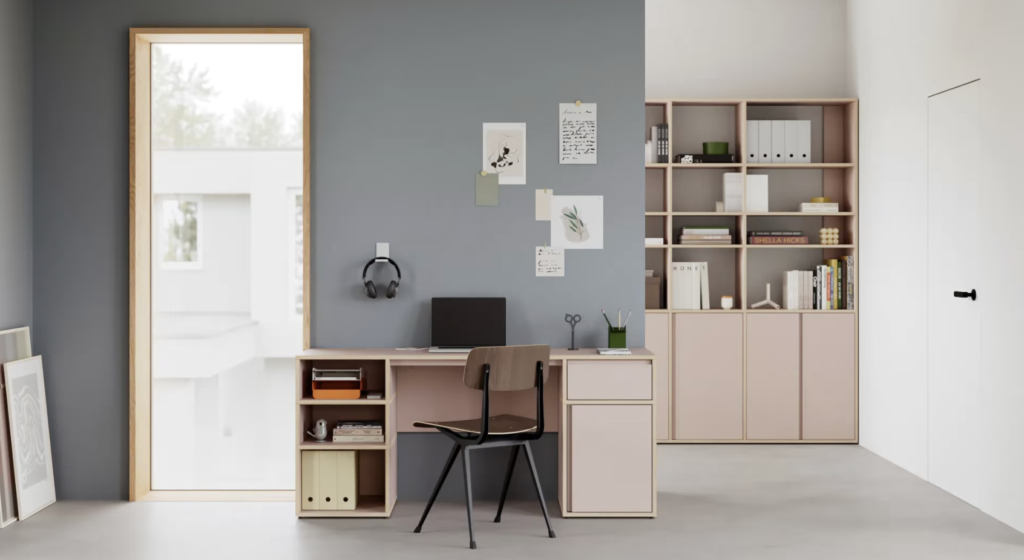 What makes a great desk?
When it comes to the best working desks for home and what makes a truly great desk, we believe it comes down to customisation. With so many people working from home, and each having their own unique way of working and unique individual needs, we believe custom desks for the home office are the absolute best way to make sure you love your workday. We may be a little biased, but by customising a Tylko office desk for the home, you can make sure your every need is met with a made-to-measure solution that's sure to make you greet the workday with a grin.
From custom sizing to ensure you're always sitting comfortably, to unique colours and finishes that can help make your home office feel inspiring and unique, a custom desk is an investment into your own work wellbeing. And with configurable storage options like optional doors, drawers and open shelving, as well as clever smart features like cable ports and more, you can design a modern desk that makes sense for you in just a few simple clicks on the online configurator. Crafted from responsibly-sourced materials and designed to last a lifetime, each sturdy home office desk is crafted from premium materials like northern birch plywood famed for its strength and beauty, and are assembled and completed with completely non-toxic finishes and materials to make sure your desk is 100% healthy, too. Choosing to design and purchase a custom desk that has every detail considered and is perfectly adapted to you is making an investment in your own health, productivity, and happiness. 
While you may think your personality, style preferences and decor might be the most important factors that determine the type of desk you decide to choose for your home office, remember to take into consideration your ergonomic health, the type of storage you'll need and how you will feel interacting with and working at the same desk for years to come. Following these simple guidelines and letting your needs and wants (balanced with the practicalities of the space you have to work with) will help you to choose a desk that you absolutely adore, look forward to using, and that helps you enjoy working from your home office desk on the daily.