Top Decor Ideas for Modern Hallways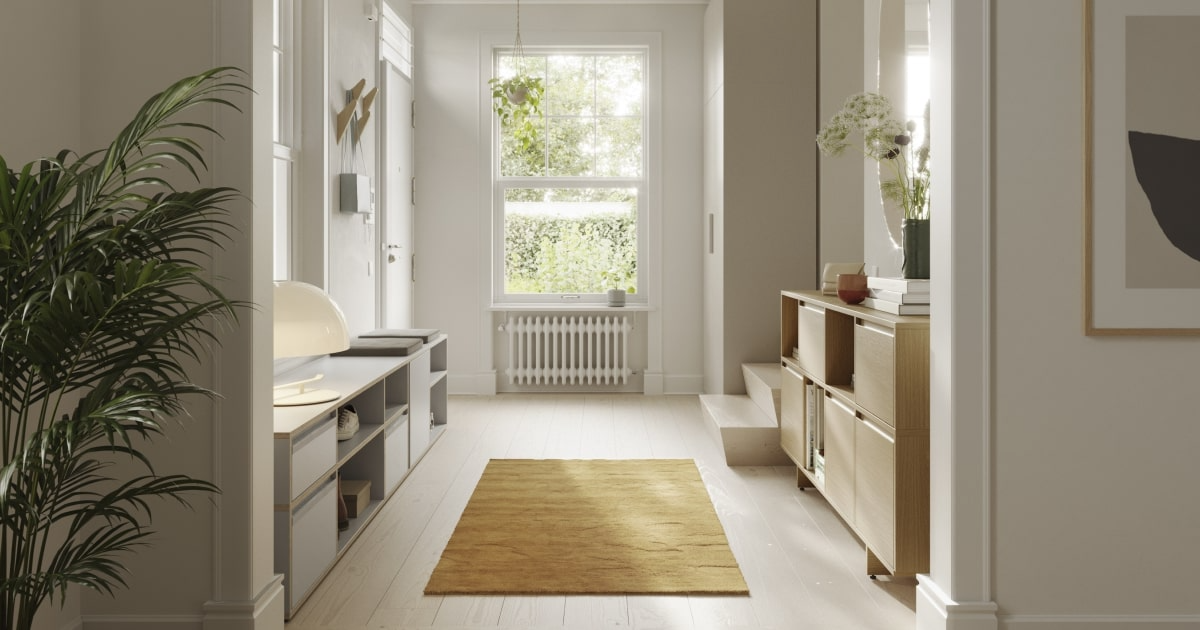 When it comes to hallway decor ideas, you might find a lot of the same information repeated everywhere you look: organise your shoes, get a coat rack, put your keys somewhere you'll remember.
Granted, these are all great tips, but what if you're looking for something more for your hallway organisation? We know that no two hallways are equal, and have come up with a list of hallway inspiration and decor ideas to help you maximise your hallway or entryway's space and style with flexible, creative storage solutions that still leave plenty of room for personal expression.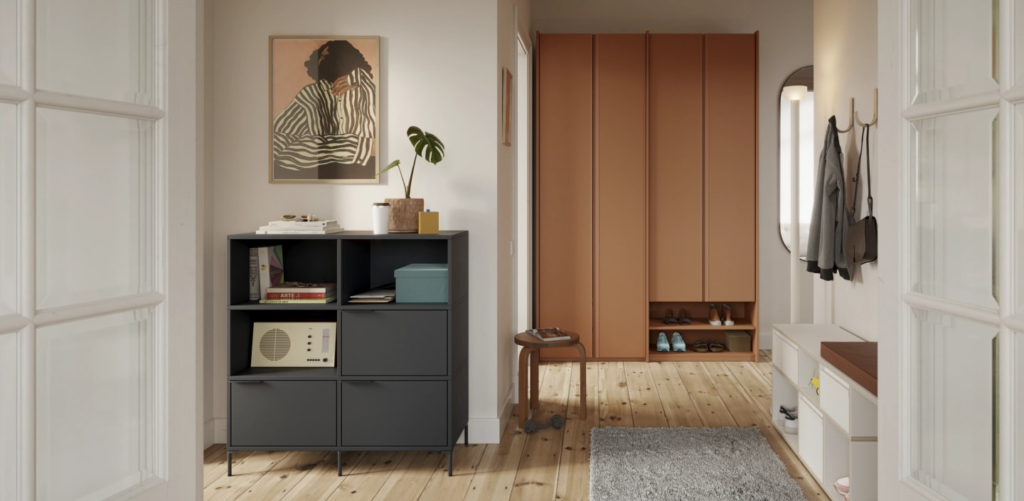 How do I approach hallway decor in a practical way?
Your hallway or entryway can really set the tone for the style or feel of your home. It's often the first space visitors see, and a well-decorated and welcoming entry should not be overlooked. Often a neglected space where shoes are kicked off and people pass through to get to "more important" areas, a hallway can be an important passageway that unites your home, sets a mood, or simply makes you sigh happily and say "Ah, I'm home.". Designing a beautiful hallway using your collected hallway inspiration can be a challenging part of styling this particular space, but with some clever decor ideas, tips and tricks, it will make the task of elevating a space that everyone must pass through easy, while leaving you with a hallway that's elegant, stylish, and welcoming. No matter the issue you're tackling – whether lack of light, lack of space, or an awkward or unusual layout, there are many ways to make your entryway a destination and we'll get into them here.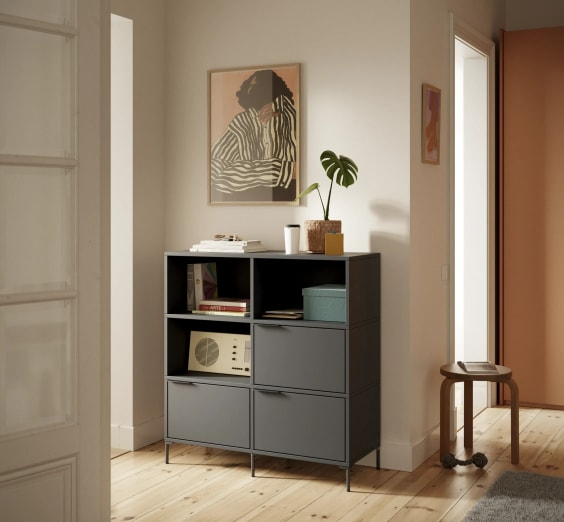 Considering how you want your hallway to look – and function– should be a priority before even looking for hallway inspiration. It's all well and good to want a crystal vase of fresh flowers on an ornate table in the entryway, or an all-white interior that would make Kim Kardashian jealous, but if your hallway is smaller or stuffier than would allow, or you have children who all play on a rugby team and regularly arrive home covered in grass and mud,  it's good to keep a realistic idea of what and what might not be attainable. While the professionally-photographed Pinterest images of hallway decorating inspiration are a good starting point to get your creative juices flowing as you begin to assemble decor ideas that you'd like to incorporate, you ideally want to begin with how you interact with your hallway personally, how it fits into your home, and how you want to make it look from a balanced and practical point of view. If you find yourself rushing down your hallway, late most mornings, you'll want an organised, tidied-away space to make the daily dash clear and hazard-free. If you like to drop your bags and heave a heavy sigh after a busy day, then slip your shoes off and rub your feet for a few moments every evening after work, you'll want to consider designing your hallway to incorporate seating as well as storage, and think about adding details that make you instantly relax – a scented candle or diffuser, or soft lighting whose glow greets you warmly. Size isn't everything when it comes to borrowing hallway decor ideas from your favourite blogs and design site, too. Small hallway inspiration can be scaled up, and vice versa, so if there's a look you just can't seem to let go of, think about how to make it work for the space you have. From bold colours to bright storage, smart shelving and storage furniture that maxes out space, and wardrobes that work overtime, your hallway can be just practical as it is perfectly presented, no matter the size, layout, or look.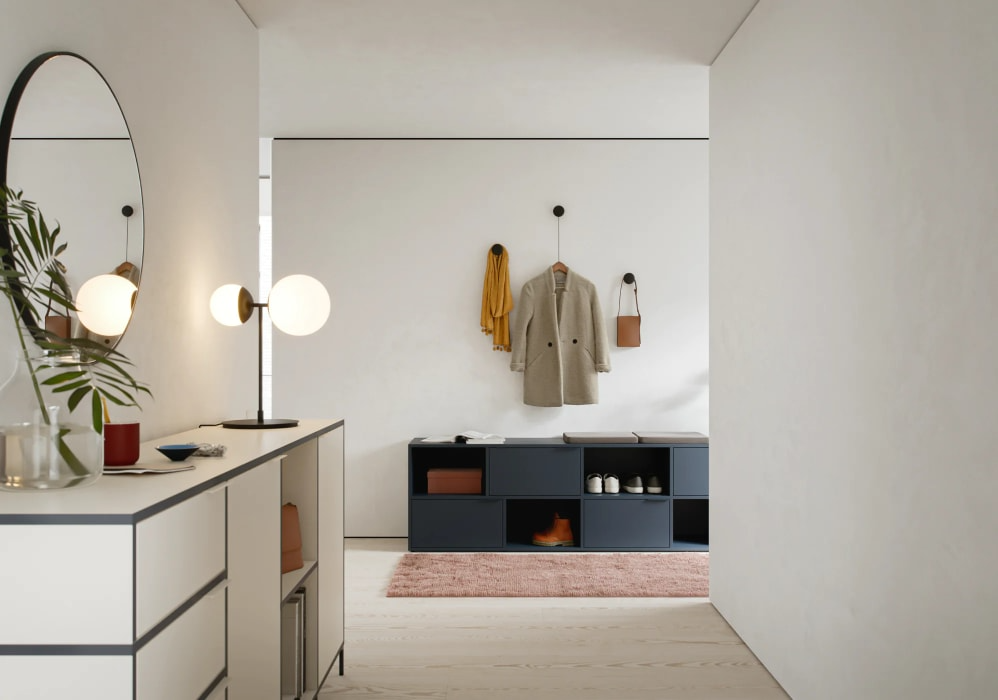 Another thing to consider, if possible, is your flooring. Adding a long runner can elongate a space, while vinyl flooring can protect floors from muddy shoes and rainy boots when the weather is nasty out. As with any rug or floor covering though, make sure it's held in place with a rug mat or adhesive stickers to prevent slips or spills, or get a professional to install it properly. Rushing out of the door but sliding face first into it instead is never a good look! For an entirely updated hallway decor look, statement tiles in stand-out patterns are a great way to add personality and a pop of colour, while helping to protect or preserve hardwood floors in high-traffic areas. And, if your hallway has a staircase, you can experiment with hallway decor ideas by painting the stair risers an exciting shade, adding a pop of colour to the railing, or getting creative and applying a different colours or pre-designed patterned riser adhesives to each step. Then, if there's room, add a green plant or two, a stylish umbrella stand, and stand back and admire your exceptionally good taste. As you can see, practicality and aesthetics can easily exist hand-in-hand, especially with the range of customisable furniture, flooring and even decor that make leaving your touch on this special space simple. 
How do I decorate small hallways?
Limited space doesn't mean you have to go totally stark or skip any decor. While you may not be able to physically fit a lot in your hallway, you can pluck clever ideas from larger hallway decor ideas and scale them to work as small hallway inspiration. Narrow layouts or awkward corners are nothing to worry about – especially with a range of custom storage furniture that can be made to fit perfectly, right down to the centimeter. Adding a little extra storage when you can can work wonders in a small hallway, and also free up room to experiment a bit more with decor. Using appropriate colour and proportion can help a small hallway to look and feel more spacious, and an important thing to consider is light. Brightening up walls with lighter shades and investing in light that illuminates the space with a welcoming glow will help the slimmest of spaces feel more open. Wallpaper with vertical lines can help to lengthen walls visually, and drawing the eye with directional art and details is a sneaky decorating trick you'll want to have up your sleeve. Exploiting the vertical space in your hallway is an expert move that makes more space upwards without taking up space floor-wise. Choosing furniture with a small footprint that's slim yet tall can help add critical cubic feet to cosy entries, and extra storage where you need it most. But, perhaps most importantly, before beginning any small hallway makeover, make sure you've sorted through any clutter and donated or sold anything you no longer need, want, or use. That goes for furniture, shoes, winter coats and more. Once you have a clean, or cleaner palette, preparing your hallway for its new or revamped look will be much easier. 
Put in a practical wardrobe
Ok, so now that you have some wonderful ideas for the decor of your hallways, what do we do when we need more space to actually put things away? Not every hallway is blessed with a deep closet, and finding space to store jackets, backpacks, purses, and rain jackets is always a challenge. Hands down, the bulkiest thing you'll find in your hallway will be the winter coats and jackets. They take up a lot of space, they're puffy, and they can hog up a lot of space even when hung on a coat rack. The simple solution to oversized outerwear? A modular wardrobe. I hear you saying "But we barely have space!", but you'll love the sound of this: thanks to Tylko's 100% customisable wardrobes, you can adjust the depth, width and height to your exact specifications, so even the slimmest of entryways or hallways can enjoy the benefits of sleek, concealed coat (and other stuff) storage. It's expert hallway organisation that you control, down to the last detail. With heights over 3 metres and widths up to 6, you can definitely go large. But, thankfully, Tylko wardrobes start at just 43 cm wide, too – perfect for a snug hallway, and for putting away coats, umbrellas and more. You can even add internal or external drawers for extra organisation, shelves to keep things separated, and design the whole thing simply by smart segment using the online configurator in just a few clicks. A well-designed and smartly-designed wardrobe can also double up as shoe storage, a lifesaver in spaces where both shoe organisation and hanging space won't fit. And, best of all, they are available in a range of modern colours and hues – from classic whites and greys, to exciting bolds, pastels, and even two-tone colourways, so every style of hallway interior can find something that works, while providing that much-coveted s-word: space. 
Solutions to keep shoes organised 
We've covered how a wardrobe can help keep coats and other hallway clothing and accessories corralled, but what do you do with that pile of shoes? If you have kids, you know the scenario: heaps of sneakers piled atop each other, creating an eyesore and a roadblock, and making getting out the door when you need to while hunting to find a matching pair take up valuable time. Here's where customisability comes to the rescue. A custom shoe rack will become the single most helpful thing in your hallway if you have a large family…or a large shoe collection. With adjustable widths, heights and depths, as well as optional open or closed storage, a custom shoe rack can add as much shoe storage space as necessary, or as space allows, and can also pull double duty as a comfortable bench to rest on while removing your boots. It also protects shoes from dust and sunlight, and can make getting out the door easier every morning. Open sections mean shoes are visible for grab-n-go ease, while closed sections of doors or drawers can help keep muddy football boots or wellies tucked out of sight, as well as handy accessories like shoe polish, dog leads or spare shoelaces handy. And, custom-sized shoe shelving can protect your investment. Sneaker collectors, stiletto lovers and even families buying new kids shows every few months as they grow know that shoes can be expensive. Keeping them put neatly away and protected can prolong their life. Investing in good shoe storage can not only help your hallway to stay organised and clutter free, and give your shoes a longer lease on life, it also has the knock-on benefit of protecting all the floors in your home. Shoes removed and put neatly away right at the front door mean less dirt, debris and grit gets tracked around the home – important especially in homes with little ones who play and crawl on the parquet or carpets, and extra important if you're not one of those people who enjoy hoovering every day.
Mirrors: a hallway must-have
You've probably seen similar hallway decorating inspiration online: a massive entryway with sweeping staircase and a glistening statement mirror. While it's a lovely vision, not all of us are lucky enough to have the space. But, that doesn't mean your hallway decor can't incorporate a mirror (or two…or three) regardless. Adding a mirror can help reflect light, illuminating hallways that get less sun, and are a stylish and practical addition to the last place you see before you leave home. Perfect for quick makeup checks, or to straighten your tie before you head out, a mirror in the hallway is a must. You can even add multiple mirrors to bounce light off one another and really open up the space. A round mirror above a shoe rack or slim console adds curving contrast to the straight lines of a front door. Placing your light source near or in front of it also helps to bounce more light around the space, especially after the sun sets.
And don't forget the wall decoration!
No hallway decor is complete without something on the walls. Hallway decorating inspiration is as varied as it is plentiful, and you've surely seen some decor that you decided you want to include. We already covered how a mirror can be a great addition to the hallway, but it doesn't always have to be hung. A large, framed mirror leaned near a door can look elegant, just as much as a smaller one mounted at eye level can. 
Another timeless trend for hallways is statement wallpaper. If your hallway truly is too narrow to accommodate even one piece of furniture, a statement wallpaper design can break up a solid wall to offer visual interest, contrast and movement. To make hallways feel higher, aim for patterns with vertical motifs. If you want to lengthen a hallway, choose something with horizontal lines. Be wary of colour though, dark wallpapers can close in on a space, making it feel dim and smaller than it really is. The same goes for a boldly coloured statement wall. It can ground a space and help to define it, but be cautious of colour choice so you don't accidentally shrink your hallway visually. 
Gallery walls are a brilliant way to display your favourite art, show off some of your personality, and set the tone for the rest of the home, too. Staggering large and smaller frames, or framed objects of unusual shape or size draws the eye across the gallery wall, while one or two straight picture ledge shelves with family photos, holiday shots or prints of artwork you love can look equally interesting. Want that farmhouse chic look? Floor-to-ceiling shiplap in clean white gives clean lines and is effortlessly neat, especially when paired with a shoe rack in a daring pop of colour like red or yellow, or a wardrobe of a similar bold hue. Filling your hallway with colour and character is a wonderful way to welcome yourself – and guests– to your home, and set a happy, bright, inspiring mood that can follow through for the rest of your house. A great rule of thumb is to anchor your hallway with a large piece of statement art (or a group of smaller art, like a gallery wall), so your hallway has a clear beginning and end. This helps to unify and ground the space – and, most of all, bring some of your personality into play. Adding fun and unexpected hallway decor that has personal significance like a pink flamingo you found in Palm Springs, or a framed poker chip from an exciting Monte Carlo holiday help to add a personal touch, but will also remind you of cherished memories and make you feel happy and content to be back in your own space after returning home to your hallway.
Your hallway is often the last place you see as you leave, and the first you see upon returning home. Leaving it as a dim, cluttered catch-all for shoes, house keys and shopping bags is not doing it – or yourself– justice. With a little preparatory hallway organisation and clutter clearing, paired with our hallway inspiration and ideas, you can easily revamp and revitalise your space for a hallway that makes you happy, every time you look at it.