How to Pick the Best Chest of Drawers for A Blissful Bedroom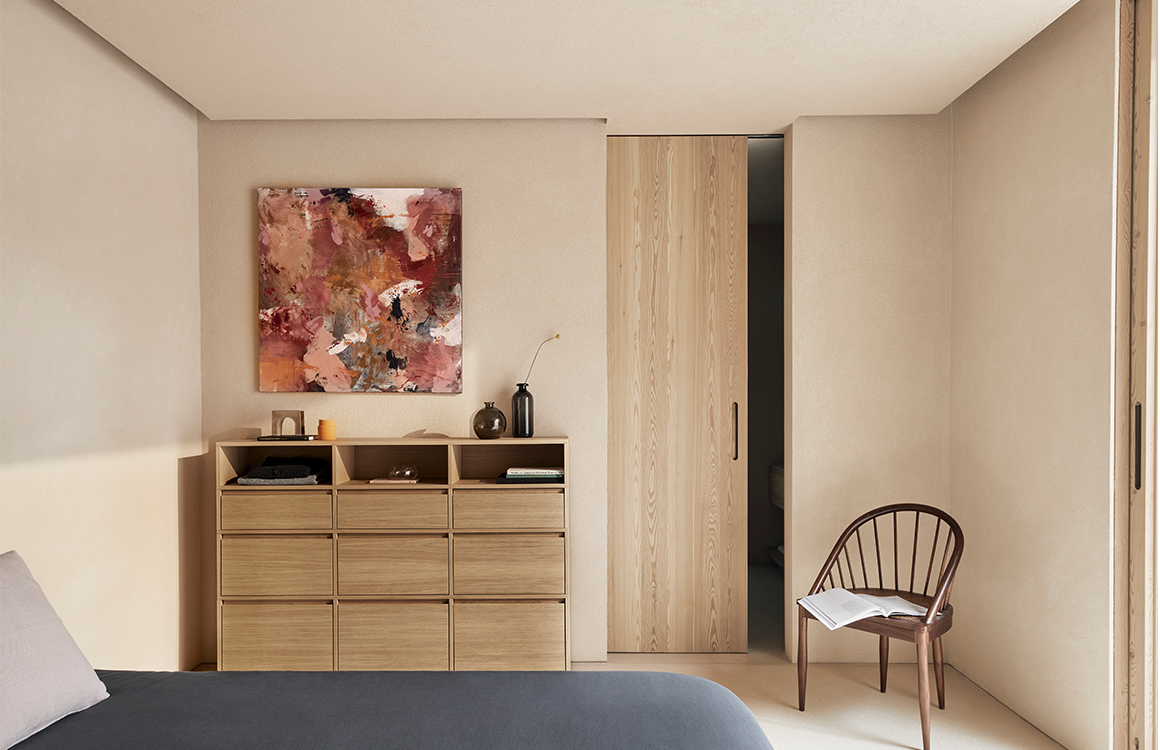 Let's face it: many bedroom chests of drawers just don't cut it. Some are incredibly cheaply made, and most are usually designed to be one-size-fits-some. These generic dressers are an impractical solution to the necessary bedroom storage you need, and can be more trouble than they're worth…and often require replacing in a short while. Luckily, we have the top tips and design ideas to help you pick (and design) the perfect chest of drawers for your bedroom.
So how do I pick a chest of drawers for my bedroom?
Chests of drawers are an important part of any bedroom suite. This piece of furniture is essential in establishing your bedroom style, while being a functional, helpful piece of bedroom kit at the same time. A well-designed small bedroom chest of drawers can maximise your available storage space while maintaining a relatively petite footprint – an absolute essential for cosier rooms, or they can be extra large and long to really give you room for everything you could possibly want to store. Unfortunately however, chests of drawers for the bedroom are often an afterthought. Most people tend to focus on the bed first, giving it pride of place, then follow up with a closet or wardrobe, and then, space- and budget-permitting, squeeze in a chest of drawers if they can. The humble dresser truly is a bedroom storage all-star, and deserves more than being an afterthought – it can function as a TV stand, double up as a dressing table, become a perfect bedside table, and even be there for when the baby needs changing, too. We believe a modern chest of drawers for the bedroom is a crucial part of any comfortable bedroom, so have assembled an all-in-one guide to help you in choosing and designing the perfect piece. We'll go over the main things you will need to consider when choosing a perfect fit bedroom chest of drawers, so you can make an informed decision when it comes to deciding how your dream chest of drawers will look, feel, and function, and avoid ever feeling buyer's remorse.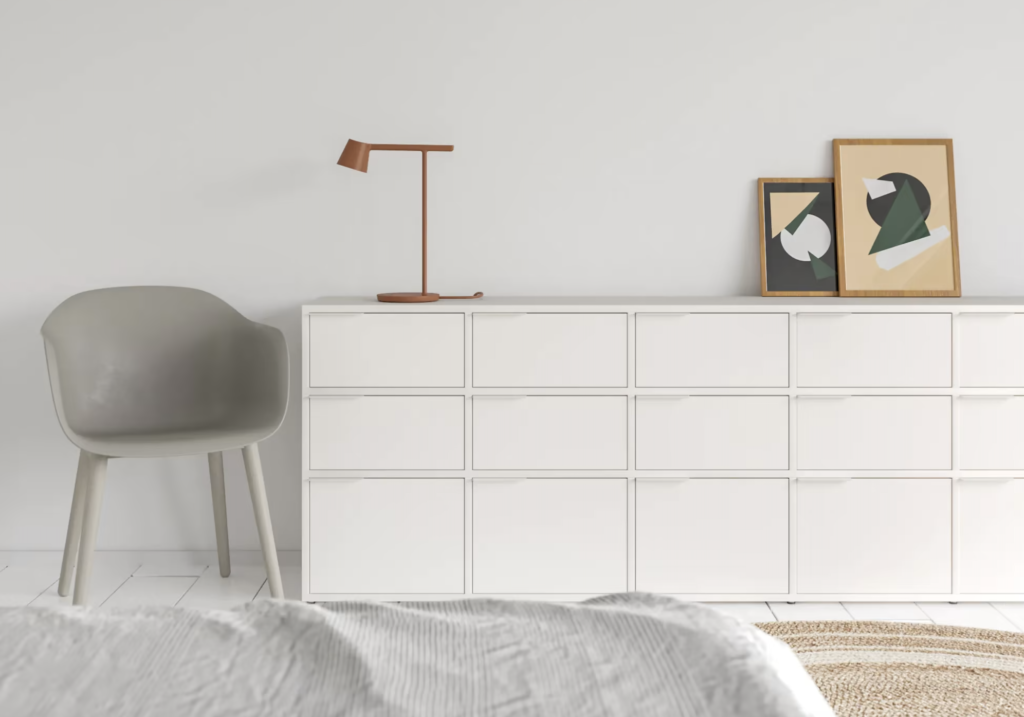 What should I consider when choosing a chest of drawers for my bedroom?
The four main criteria to consider when looking for a new bedroom chest of drawers are the following: the size, the style, the drawers, and what materials it's constructed from. We'll dive into each one in more detail, but before buying any chest of drawers for the bedroom, think for just a moment on how you intend to use the furniture. Taking a moment to carefully consider your storage intentions will save you time, hassle in the long run, and make your goals when buying a chest of drawers for the bedroom more clear. After all, you don't want to end up with something totally unsuitable! The key here is to not be led by impulse, but rather make smart choices when selecting now, so you'll have no dresser regrets down the line. Ask yourself what you plan to keep in your dresser. Will it be clothes? Underwear and socks, or bulky jumpers and winter woolens? If you're mainly planning on storing smaller items, your drawer size and depth can be less. If you're looking to tuck away bulkier things, you might want to consider a deeper, wider drawer style – especially if bed linens and duvets are on the docket. Plan to put a telly on top? You'll need to consider the height, especially if you plan on watching from bed. Want to mix your drawer storage with doors for bigger items like pillows? Luckily, designing a custom piece of furniture that covers every need is the most practical way to make sure every bedroom chest of drawer storage requirement is met. And, as luck should have it, Tylko makes it super easy to design exactly what you need.
Determining the proper size
This is a crucial part of selecting or designing your bedroom chest of drawers. Your dresser must not only fit in the bedroom, but it has to allow for free movement throughout the space, with no corners jutting out or walkways impeded. You'll also need to be able to easily open the drawers fully, so keep that in mind, too – no dressers pressed right up and facing the foot of the bed. The main idea here is to try to maintain some proportionality of the bedroom and your chest of drawers, while considering how you move within the space. Small space? Smaller dresser. Loads of room? Larger chest of drawers. The size you choose must fit the space comfortably, but also suit your needs. This is where playing with the height, width and depth of your modern chest of drawers for the bedroom becomes important.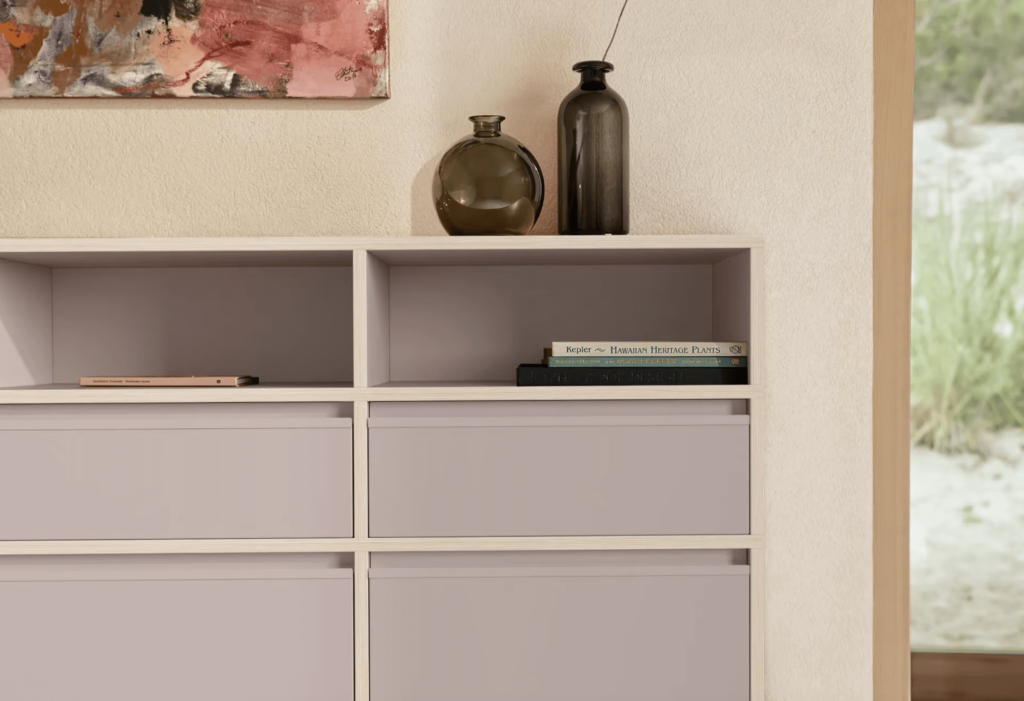 If your room is smaller in size, a tall, slim chest of drawers can be a game changer. Using space vertically is a smart way to minimise the furniture's footprint while maximising your drawer storage space. If you're working with a larger space, you have a little more flexibility when it comes to your dresser. A large bedroom chest of drawers can mean extra wide, a little taller than normal, or with as many drawers, doors or open spaces as you want to have. If you're choosing a chest of drawers for a child's bedroom, you'll need to consider height once again, but keeping smaller sized users' needs in mind. A lower chest of drawers is easier for small children and kids to use, giving them independence and easy access to their drawers – but be sure to fasten them to the wall, no matter the height!
The key consideration here, though, is room size. Start by using a tape measure to determine just how much space you have to work with. Remember, you might be walking around in the dark at some point, so you don't want corners that stick out or angles to stub your toe on right in the walkway. Also take note of electrical outlets, heaters or heat vents and other architectural details such as skirting board or door trim while measuring, to be as accurate as possible, and so that your chest of drawers will work around or with them. Measure your available width, minimum and maximum heights you'd potentially like for your dresser, and finally, the depth of space available. 
Finally, consider visually how you'd like your modern bedroom chest of drawers to look. An unusual-shaped dresser can change the entire look of a room, and even change the geometry of a space. A long, low chest of drawers adds horizontal lines and can make a space feel longer by drawing the eye's movement horizontally. Taller chests of drawers for the bedroom can draw the eye upwards, making a space feel taller and ceilings higher. High ceilings anyway? Consider a taller chest of drawers to balance the room and not make it feel bottom-heavy. A petite bedroom chest of drawers can make an already-cosy space feel less crammed, while choosing a narrow depth can help a room feel more spacious, as it helps the room to feel less crowded – all essential considerations when thinking about which dresser you'd like to bring into your bedroom.
How many drawers should my chest of drawers have?
This decision is entirely up to you, and more specifically, determined by how much you wish to store in your chest of drawers. Whether a tall, slim unit with 6 deep, stacked drawers, or a wider dresser with 4, 6, 8 (or more!) drawers laid out side-by-side, there's a suitable option for everyone – especially with Tylko's totally customisable bedroom chest of drawers that lets you adjust, tweak and edit until you have the ideal configuration.
Classically-proportioned dressers tended to have several wide drawers stacked on top of one another, but modern chests of drawers for the bedroom can now be built however you like. You can combine drawers of several sizes, stack rows of drawers, throw in a door or two, or even leave a few sections open for display space. The rules of dresser design are now that there are no rules! Again, you'll want to look at the things you intend to store, then determine how many drawers (or doors or open spaces!) you think you'll need. Bulky stuff = bigger drawers. Undies, socks, ties and smaller clothing items or accessories need less space. Let your stuff (after taking into consideration the available space, of course) be your guide when it comes to selecting your drawer count.
And, don't forget the handles! The bedroom chest of drawers is one of the most-used objects in the house – be sure your dresser is up for repeated, regular and comfortable use. Tylko uses colour-matched, aluminum handles that are a joy to grip, beautifully-blend into the design, and robust enough for regular use, for example. They also use premium sliding hardware with soft-close action, so the drawers are a joy to open and close, use after use. And – crucial for kids' rooms – no pinched fingers are possible.
How do I choose the colour or style of my chest of drawers?
There's no substitute for personal taste when it comes to the design or style of your bedroom chest of drawers, and there are no rules when it comes to your bedroom. It is your sanctuary, after all!  You may have a historic interior, a Scandi-inspired bedroom, or a wonderfully retro place to rest your head, so the best place to begin when it comes to your dresser design is to determine your existing "look" and design or decide on something that will match. You probably wouldn't put a modern dresser in Versailles and a rounded and ornate super-decorative Louis XVI chest of drawers might look out of place in a stark, minimalist space. Redoing your entire bedroom and have a totally blank canvas? Lucky! This means you can do whatever you want, and even build your entire bedroom interior around the chest of drawers!
Analyse your colour scheme, existing furniture style, and the look you're going for. While there are no hard and fast rules when it comes to interior design (it's your bedroom, after all), keeping to a "theme" in your bedroom can help make the space feel more calm, collected and restful. Clashing colours and interior styles can agitate the eye and cause visual excitement, while well-chosen colours and harmonious, wisely-chosen pops of colour can help unify a space and set the mood. If you're not sure about a colour in your space, ordering material samples, which Tylko makes super easy, is a great way to see how a colour or finish looks in your space before you commit.
The best part of Tylko custom chests of drawers, though, is the freedom of choice. With a range of colours – both neutral and bold– as well as a range of natural finishes, everyone can find a look and layout that suits their style. Going for a natural, neutral bedroom? A real oak veneer finish can add the soothing warmth of wood, while a white bedroom chest of drawers can be a neutral, elegant addition. Feeling a little more bold? Bring in a pop of bright yellow or Earth-tone terracotta to add a little more sunshine. And, monochrome lovers will be happy to know there are seriously sleek options, thanks to the matte black or midnight blue colourways, just to name a few. When it comes to which colour your bedroom chest of drawers should be, the answer when designing a dresser with Tylko is clearly whichever colour you'd like.
As for style, this is a personal preference again. A good starting point is the type of storage you want for your chest of drawers for the bedroom. Are you looking for straight drawer storage? Design a classic dresser. Want to show off your favourite objéts? Leave a space or two open for mix-n-match storage. Got some large things to store that do better behind a door than a drawer? Add doors where you need them. The beauty of being in control with your design using the Tylko configurator is that you decide every detail for a dresser that's 100% what you need…and 100% you.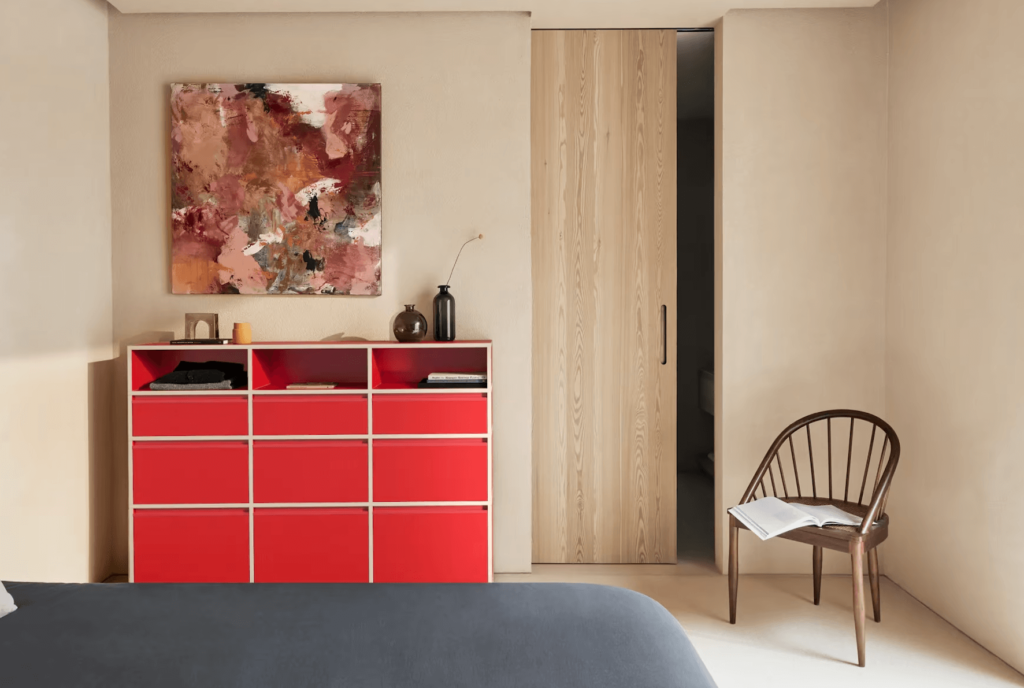 What's the best material for my chest of drawers?
Finally, we can't overlook material composition. It's all well and good to have finally found the perfect chest of drawers for your bedroom, only to find out they're made from cheap materials, using exploitative labour, and with questionable sustainability credentials. Modern chests of drawers for the bedroom need to tick all the boxes: they need to be stylish, they need to be functional, and they need to be produced to last with premium materials and sustainability in mind. While cheap and cheerful may seem like the best choice, it rarely is. Fast furniture can have a devastating social and environmental knock-on effect, with much of cheaply-produced and quick-to-fall-apart furniture ending up in landfills or fly tipped at the side of the road, and the people employed to create this furniture under-compensated, and in many cases, abused and taken advantage of. 
When buying a chest of drawers for the bedroom, you want to know that the materials were responsibly sourced, are of a high quality, and are non-toxic. Tylko ticks all three boxes. Using only sustainable materials like premium 13-layer birch plywood and natural board with real wood veneer, choosing the best high-quality hardware, and using non-toxic, family-safe finishes and glues, each piece is designed to last for a lifetime of regular use, with no nasties to worry about – and no need to end up in a landfill. Tylko bedroom chests of drawers are designed to become an heirloom piece, handed down over generations, and designed to easily disassemble and move with you, wherever life should take you, with no risk, ever. After all, humans spend an average of 8 hours a night in their bedrooms…who wants to be breathing in toxic volatile compounds or fumes from a cheaply-produced piece of furniture all night? 
The short answer? The best materials for any bedroom chest of drawers are therefore natural. Real wood. Natural finishes. And non-toxic finishes and glues. You should never have to worry about what went into your furniture, or worse – what those unknown materials could be doing to you or your family's health. 
There you have it! Armed with this new information, you should feel well prepared and loaded with bedroom chest of drawer inspiration enough to start dreaming up your ideal dresser. With Tylko's easy online configurator, you can click, slide and adjust your way to the perfect bedroom chest of drawers with zero hassle. You can even preview your chest of drawers live in your space with augmented reality, then tweak and adjust until you've got it exactly right. The best bedroom chest of drawers is the one that was made just for you, after all.