The Tylko Guide to Upcycling Furniture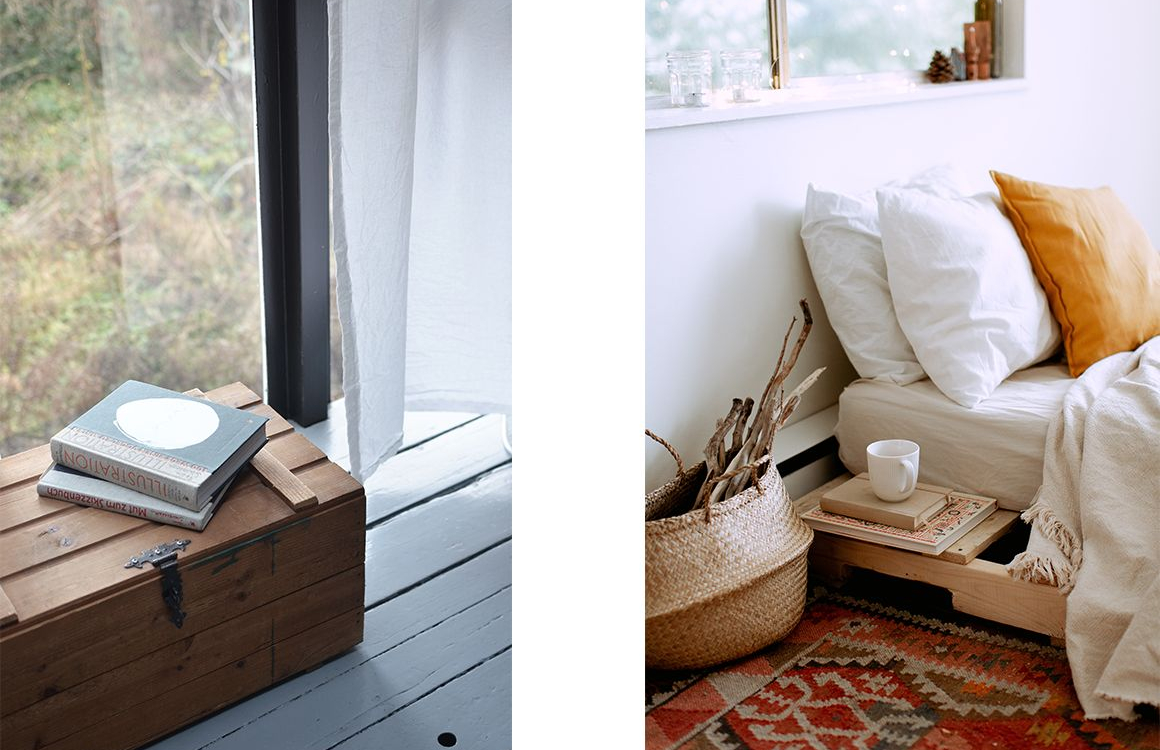 Giving your home a fresh injection of style shouldn't cost a fortune. In our latest guide we introduce you to the wonderful world of upcycling. Repurposed furniture is a plus for the wallet and for the planet. Let us show you how to upcycle furniture with some quick and easy DIY ideas.
Spending more and more time indoors has got us all thinking about a home refresh. There is nothing quite like the buzz of taking a tired interior and breathing new life into it. But how do we transform the spaces we live in without resorting to a time-consuming full-room makeover? Can we inject new energy without having to commit to a disruptive renovation?
Step forward Upcycling.
So, what is 'Upcycling'?
Simply put, it involves taking a dated, unloved or little used piece of furniture and repurposing or refreshing it to give it a second life. Rather than simply throwing an item away, upcyclers can add value to their unwanted piece with just some basic DIY and a touch of creative inspiration. Unlike recycling, upcycled furniture does not require you to break down a piece into separate reusable parts. Paint techniques, new handles, fresh fabric panels can all make a huge difference, transforming that tired old item into something contemporary and giving your room a brand new outlook.
What are the Upsides of Upcycled Furniture?
A Pocket-Friendly Solution
For those of a thrifty nature, upcycling offers the buzz of a new piece of furniture without the cost. Gentle on the wallet, the materials needed to rejuvenate that old chair or wardrobe can be in the single figures, especially when paint, glue or fabric purchased can be used again on another project. Personal style and visual trends change constantly, upcycling furniture allows you to switch aesthetics in an instant. Adding new palettes or patterns to your furniture avoids the need to buy new, keeping that budget intact.
A Creative Outlet
Upcycling furniture is the perfect project to channel all that excess creative energy. From planning to execution, remixing your old furniture is a great way to put your artistic skills to the test. At a time when we're all chained to the laptop, getting your hands dirty and creating something that you can touch and feel is a great stress-reliever. Bonus – at the end of your creative journey you'll have a practical, functional piece to enjoy for years to come.
Stamp your Personality
One of the major benefits of repurposed furniture? The chance to make a generic piece of furniture truly your own. We all want our living spaces to feel individual but that's increasingly difficult in a world that favours mass-produced. Upcycling furniture allows you to take that identikit piece and add colour, fabric or finish to your exact taste. No compromising on style, this is your chance to inject your personality into your home.
The Ethical Choice
Over the past decade we've all started to rethink the way we consume. While most people think of 'fast fashion' as the real culprit, home design has taken a similar path, 'fast furniture' creating a wasteful throwaway culture. The numbers speak for themselves. In the USA, 12 million tons of furniture and home furnishing go to landfill with only a tiny proportion being recycled. Upcycled furniture encourages us to buy less and dump less; a kinder, more ethical approach to home design at a time when sustainability is more important than ever.
If you're now sold on the idea, it's time to pick a project and get started. Take a moment to think about the individual rooms in your house. Is there a space which has become forgotten or tired? Perhaps your bedroom has simply become a place to lay your head and store your clothes. Maybe your living room has started to feel uninspiring and drab? Whichever your problem room, identify a piece of furniture that has lost its glow and found its way onto the 'Must Go' list. This will become your makeover target. Crucially, ensure it's a piece that isn't particularly precious (if you're an upcycling beginner it may be best to avoid those family heirlooms or high-value antiques).
– – –
Now it's time to create a plan. Formulating a roadmap before you get started is absolutely essential. Your scheme can be as restrained or as wild as you like, but whichever direction you decide to go in, you should have a clear idea of the end result in your mind. Make a list of all the necessary tools and materials beforehand and sketch out a basic set of steps to keep you on the right track.
Unsure where to begin? Check out our upcycling ideas to help kickstart your creativity:
Upcycle your… Sideboard
Particularly popular in the 50s and 60s, sideboards have managed to stay in style thanks to their simple mid-century lines and unfussy looks. If you're willing to do the work, find a bargain example in need of a little love and get creative.
Add a touch of colour by sanding the entire sideboard and coating with a new stain. From green to blue, deep brown to dark oak, a fresh spin on an old classic will liven up any room.
Installing new handles is the quickest and most effective upcycling technique there is. Create contrast by adding contemporary metal or leather handles to a traditional piece.
The wide doors of a sideboard are the perfect canvas to try out some new paint techniques. Bold stripes or geometric patterns will make an instant impact on a forgotten piece of furniture.
Upcycle your… Chest of Drawers
A chest of drawers is one of those essentials that we find ourselves buying to fulfill a practical purpose rather than it being a case of love at first sight. As a result they often end up as an afterthought, stuck in a bedroom corner looking increasingly shabby. The perfect piece to bring back to life.
The chest of drawers is the perfect place to apply an all-over paint job, a surefire trick to make your old piece almost unrecognisable. Be sure to pick the right type of paint for the unit's material and don't forget to sand down wooden pieces before you apply.
Adding a brand new top can be a great way to solve two problems with one fix. Chest of drawers often become scuffed and scratched on their top surfaces due to heavy use. A piece of frosted glass or a painted, made-to-measure piece of wood will hide any damage while changing the look and feel of the drawers.
Elevate your chest of drawers, in every sense, with the addition of a set of legs. Tapered feet will give the piece an airy feel as well as creating storage space beneath.
Upcycle your… Bookcase
One of the first things we purchase when moving into a new home, bookcases often find themselves relegated to the spare room once we get round to fitting made-to-measure shelving. An ideal piece to try out your upcycling skills.
Introduce colour and print to your bookcase with an interior refresh. Wallpaper, particularly leftover remnants, makes a great back wall liner. Remove the shelves, carefully apply the paper to your bookcase with the appropriate paste or glue and enjoy a brand new backdrop to your book collection.
Transform open shelving into a sleek cabinet by adding doors. Cut painted plywood or MDF to size, add hinges and change the entire look of your bookcase. A clutter-disguising solution that takes minimal work.
A surplus sturdy bookcase can easily be repurposed into a hanging unit to store clothes. Make sure the depth allows for the width of a hanger, remove the central shelves and secure a rail to the upper section of the unit. Repaint and reposition in the bedroom. A practical second life for unwanted book storage.
Have you recently upcycled furniture? Get in touch with your hints, tricks and tips.