TOP 5 bookcases you need at your home!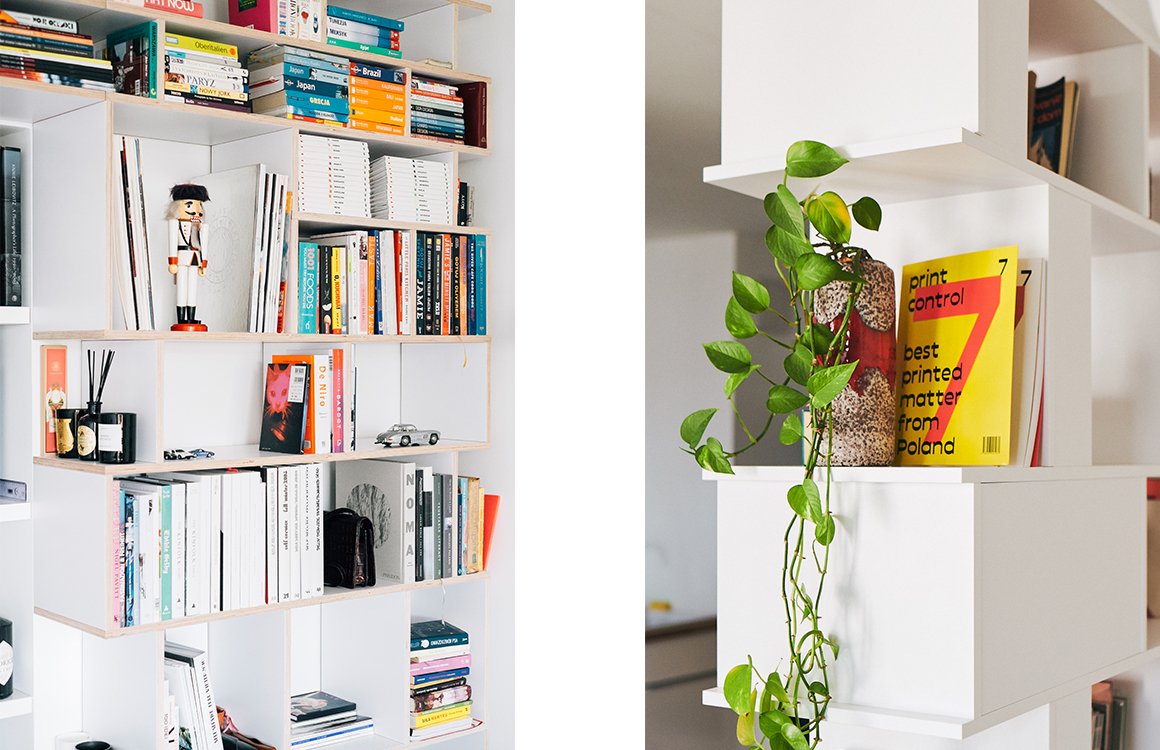 Nearly every one of us owns a bookcase. It's hard to find a home, office, or interior space without one, and they often can say a lot about the person who owns it. Bookshelves go beyond simply holding books, and the presentation and appearance of a bookcase can be incredibly personal – and important. A beautifully-arranged bookshelf can transform a space, and set a mood.
The top bookshelf trends of 2023 
Whether you're setting up a hard-working home office and want an inspiring and productive atmosphere, or simply curating a gallery of your favourite objects, bookshelves are a wonderful addition to any room. With their perfectly balanced mix of usefulness and style, they're handy for everything from holding paperwork to presenting your life story. They're truly a central feature of your home. We've gathered five styles of trendy bookshelves that people tend to have in their homes, in order to inspire you and help you pick the best modern bookshelf design for your space. 
When it comes to bookcases and bookshelf ideas, 2023 saw people leaning into more ways of sharing their personal expression, skipping overly-matching looks, and making sure their bookcase doesn't simply blend in with the rest of the furniture where it can get overlooked. Bookcases are having their moment in the spotlight, and rightfully so. A large bookcase can be a centrepiece, but so can a small bookshelf, and there's so much more to trendy bookshelves than just size alone. By carefully combining colour, proportion and size, as well as your personal aesthetic decor, your bookshelf can stand out, make a unique personal statement, and be a cherished piece you love to look at, year after year. Bright colours, bold non-symmetrical layouts and the ability to customise down to the last centimetre remain popular, while many people made the move towards a more minimal aesthetic, choosing natural finishes like real wood veneer and classic whites, greys and blacks as they simplified and streamlined their interiors, inspired by the ever-popular Scandinavian interior design look.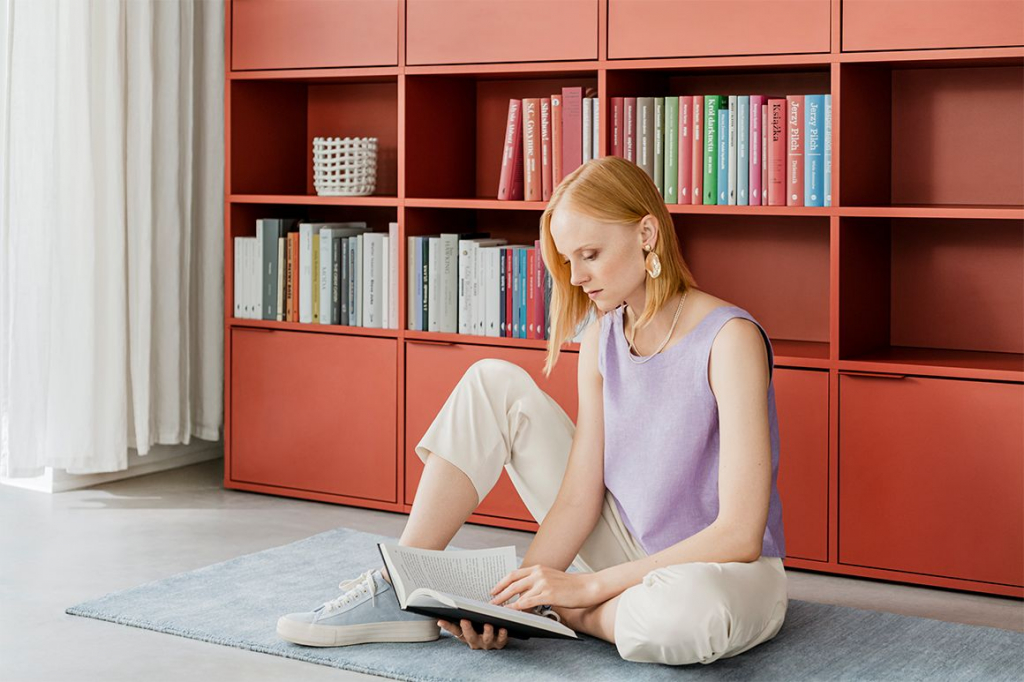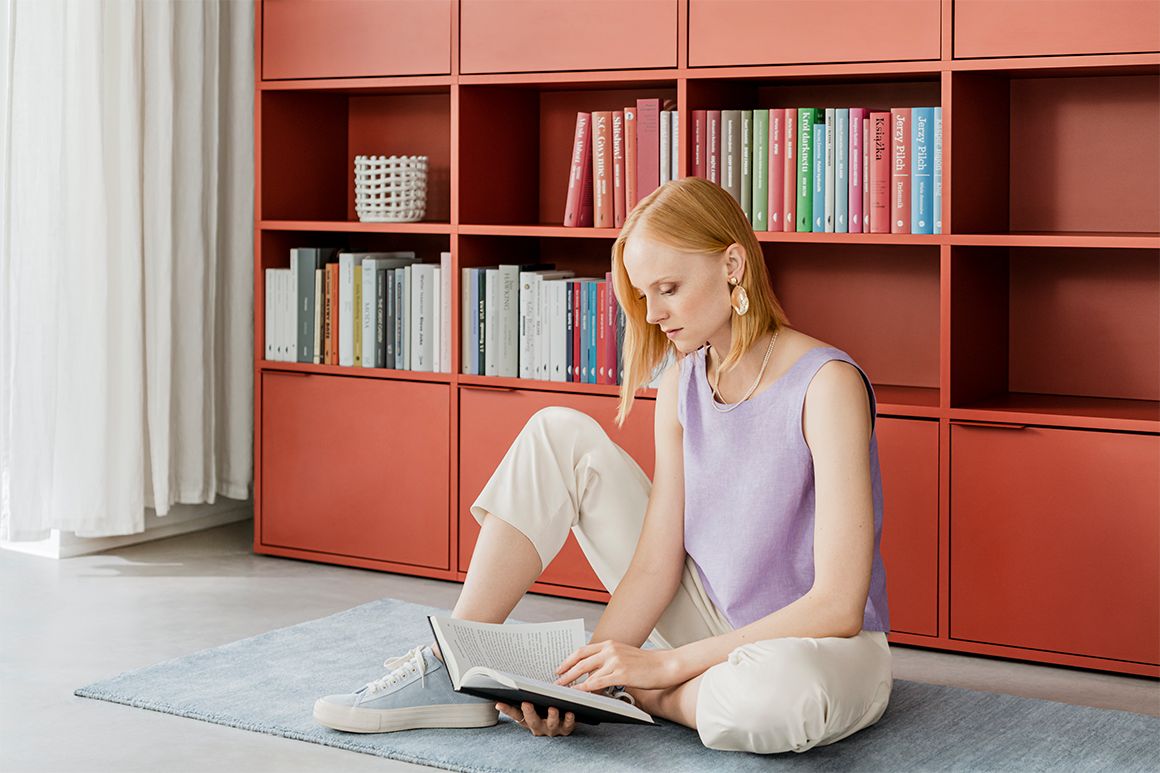 Another trend in 2023 and while shopping for modern bookcases is choosing furniture that embraces sustainability. With fast furniture's devastating environmental and social consequences becoming more apparent, people are increasingly pushing for responsibly-sourced bookshelves that are designed to last a lifetime (and not end up in a landfill) – but without sacrificing style. Luckily brands like Tylko make designing stylish and more sustainable furniture simple, and are enabling customers worldwide to design premium quality furniture that's crafted from responsibly sourced materials in just a few simple clicks. Transparency is also trending in 2023, with customers wanting to know where their furniture comes from, what's in it, and what impact it has. 
A big trend in 2023 – and every year– is the desire to create a unique bookcase that brings you happiness. After all, it plays a central role in any space, and designing and styling a modern bookshelf should bring you joy, from initial idea to the unboxing and assembly. It's all well and good to follow current trends, but ultimately what you like best and what makes you happy is what matters most. With full customisation, Tylko bookcases make dreaming up and designing your ideal bookcase a snap. Customers are embracing the desire for more personalised furniture, something that's truly them and not one-size-fits-all. The days of the same big box furniture shop shelf are over, and easy and affordable furniture that lets you put your personal stamp on it is rapidly gaining popularity – especially when the custom furniture is sustainable, crafted from responsibly-sourced materials, and designed to last a lifetime, not go to landfill.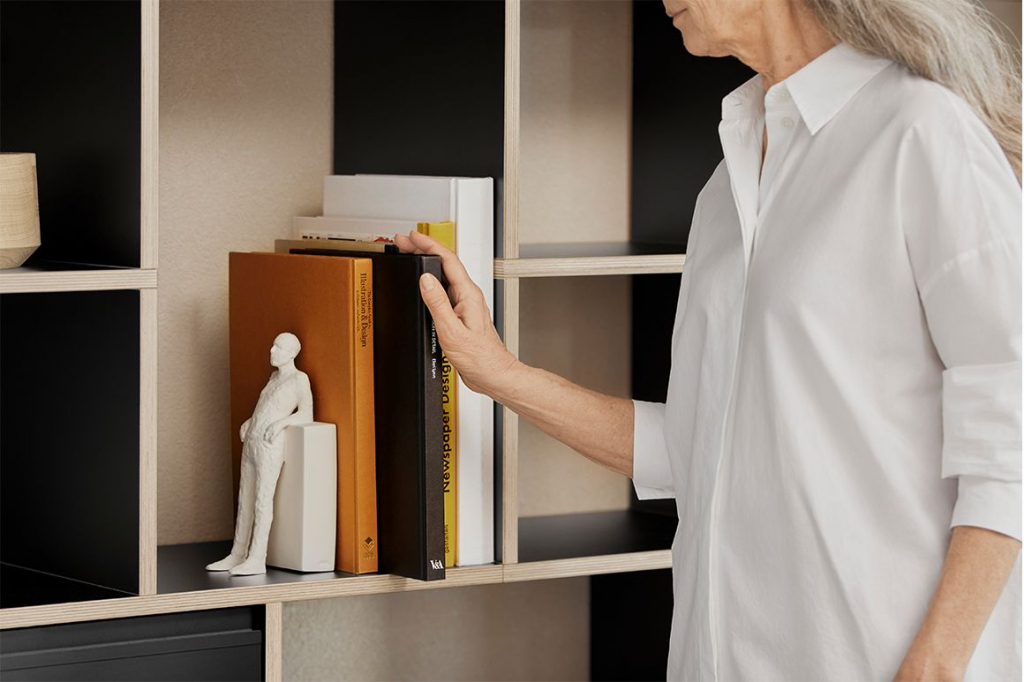 We'll walk you through our top five bookshelves to consider for your home, and explain why each one has merit – and how to make it your own. Before we begin though, ask yourself a few initial questions: What style or look am I going for? What is the functional need of this bookcase? Is it more decorational than useful? What room will it be in? Who will interact with it most? Am I looking for display, storage, or a mix of both? Once you have these questions answered, you'll have a much better idea of which bookshelves will work best for you, and a great starting point to find your new favourite furniture.
Bookshelf 1: Tall bookcases for modern homes
Creating a showpiece with a tall bookshelf in a modern home is easier than you think – especially with Tylko's expansive customisation options and easy online configurator. Whatever the size of your space, you can easily click and design your way to your dream bookshelf. With customisable heights up to 3+ meters and widths up to 4.5, a perfect-fit statement bookshelf is easily within reach – no matter the size you need.

Tall bookshelves are an excellent way of elongating a room's height. By drawing the eye upwards, they give the impression of vertical length, yet can simultaneously help an already high-ceilinged space feel more balanced. Large bookcases can also work to divide open spaces, create areas and sections in open-plan homes, and help foster a sense of proportion in rooms that might otherwise feel soaring. They make an elegant statement with their height, especially when tall and slim, and paired on each side of a doorway, or can be just as impressive when reaching floor to ceiling and spanning a wide width. Tall bookcases truly compliment any room, and are an essential and practical piece of storage and display furniture. 
Tall bookshelves also have the added bonus of providing more shelf real estate. With extra length comes extra shelves, so you can take advantage of this bonus shelf space to really let your personality show. The items you display and store on your bookshelves should always reflect a little bit of you, so let your creativity loose. Mix photos with holiday souvenirs, or with fun finger paintings by your toddler…or simply cram it top to bottom with your favourite books. Create an indoor garden with shelves bursting with plants, or keep it minimal with monochrome objects that have special meaning to you. Alternatively, you can add doors or drawers (or both) to create a monolithic look for a solid block of colour that's equally as dramatic. Or, mix open shelves and closed storage for a hide-n-display effect that gives you room to stash, store and stuff things, while showing off what matters most. Just be sure that your bookcase doors and drawers have room to open and close freely, without catching on light fixtures or ceiling fans, and also keep in mind the height of your bookcase and how it relates to its usability. A very tall bookcase with doors right to the top might be hard to easily open and access, so plan your closed storage sections accordingly. A good rule of thumb is to keep doors and drawers easily within reach on the lower levels of your tall bookcase, and open sections for display and decor (which you don't need to reach for often) on the higher levels. There's really no wrong way to style a bookshelf, however, and tall bookcases just mean there's more room to get creative – just make sure you follow the manufacturer's recommendation and mount them to the wall to make sure there's never a risk of tipping or tilting. And maybe invest in a sturdy step stool to reach the top!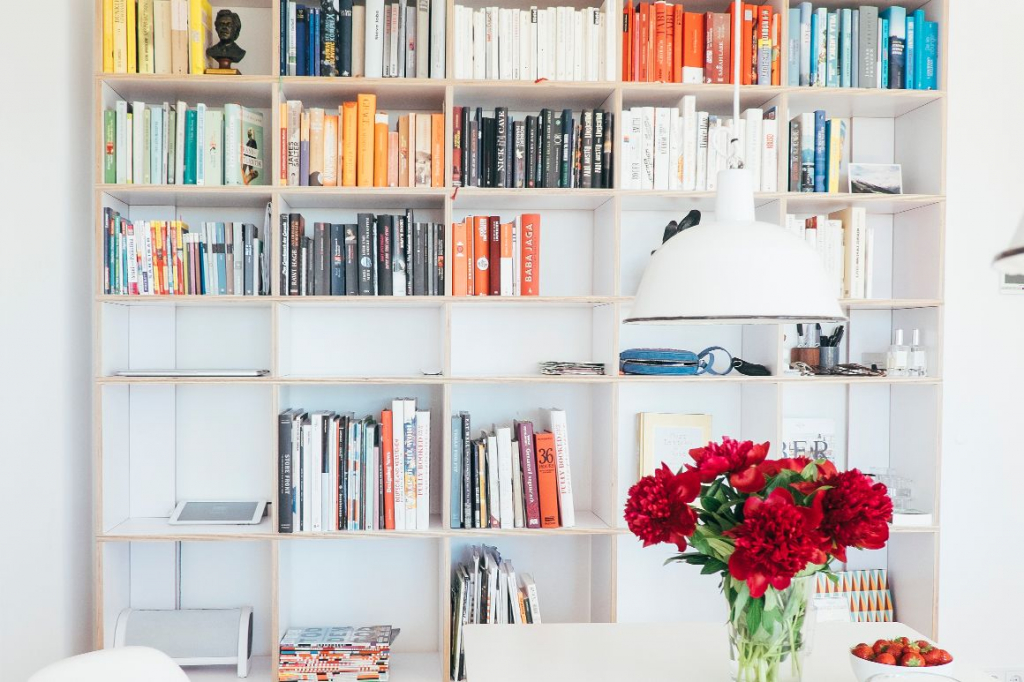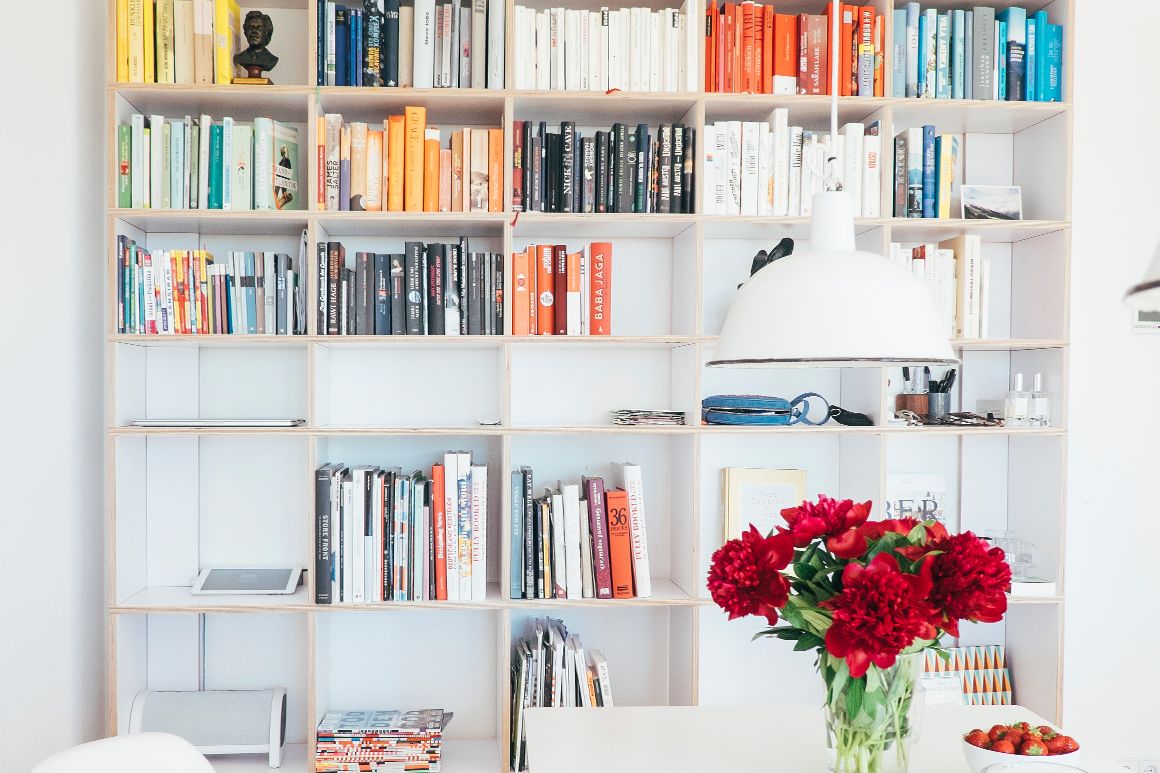 Bookshelf 2: Whole wall bookcases
For those of you lucky enough to have the space, a whole wall bookcase is a brilliant addition to any home. Equally stunning in the living room, bedroom, home office and more, a wide, wall-to-wall bookshelf is a wonderful way to make a storage statement. Stretching from one corner to another, these bookcases can look like built-ins, which adds an elevated look to any space. And, with Tylko's easy online configurator, you can easily design perfect fit shelves that will fit down to the cm. As with any oversized shelf, be aware of architectural elements like baseboards, electrical outlets and heaters, and design around them if possible. While a wall-to-wall bookcase sounds wonderful, if it blocks the heat, restricts access to a light switch, or prevents a door from opening, it defeats the purpose.

As with tall bookcases, a whole wall bookshelf has the added bonus of more shelf real estate. Whole wall bookshelves are brilliant for displaying book lovers' libraries, but equally adept at becoming expansive curated galleries of sorts. A white or neutral whole wall bookcase makes a perfect backdrop to colourful collections, and with a little imagination, can become rotating galleries. Whether photographs, ceramic vessels, plants or pottery, looking at your bookshelf as more than just a place to store books can open up a world of design possibilities. Not interested in treating your whole wall shelf as an exhibit? That's fine too. There's a whole world of bookshelf ideas to explore, and adding doors or drawers to close off your shelves is another statement in itself. After all, who says you have to have a perfectly-styled, Instagram-ready bookshelf? To each his own…and his own bookcase! Remember though, as with a tall bookshelf, a whole-wall bookcase that reaches wide and tall will need to have doors and drawers easily accessible on the lower levels. Reaching way over your head to get things you need can be a hazard! A little pre-planning of how you intend to use your whole wall bookshelf and what you intend to store and display will help you map out the perfect layout. With widths up to 450 cm, and customisable in increments of one single cm, you can absolutely make sure your whole wall bookshelf is a perfect fit for your space. Same goes for height – starting at 43cm and stretching to over 3 metres in height, you can really let your whole wall bookshelf stretch out! 
Bookshelf 3: Statement bookcases
Many people are not interested in a perfectly matching interior, and find that perfectly put together bookcases that match the other furniture bore them.  Luckily, with total customisation available at your fingertips, there is a whole world of unusual and unique bookcases just waiting to be built when you design your bookcase with Tylko. From gradient patterns and slant layouts, to two-tone colourways and way more, there are millions of ways to customise your modern bookcase so it's uniquely you. And making a statement doesn't necessarily mean you need wild colours or configurations for your shelf. A classic white bookshelf filled with neon decor is just as eye-catching as a big, bold red bookshelf, or even a bright sunny yellow one. Matte black can also be an exciting choice, or a midnight blue bookcase that puts a modern twist on stylish dark decor. Playing with colour and style in the Tylko configurator can help you to see what's possible, and the in-app augmented reality feature lets you view your designs live in your space, right through your device, so you can make sure the statement bookcase you've designed works before you ever place your order. Move it around, see how it looks in situ, try different colours and combinations and get creative! With infinite "do-overs", you can really let your wild side loose and try something virtually that you might be too timid to ever think of ordering before. You never know – it might be your new fave! Whether you're looking for simply colourful bookcases, or something more classic to decorate wildly with your own stand-out accessories, making a shelf statement is easy, fun, and a great way to shake up your interior design style. And with the fun configurator, there's no risk in letting your creativity run rampant.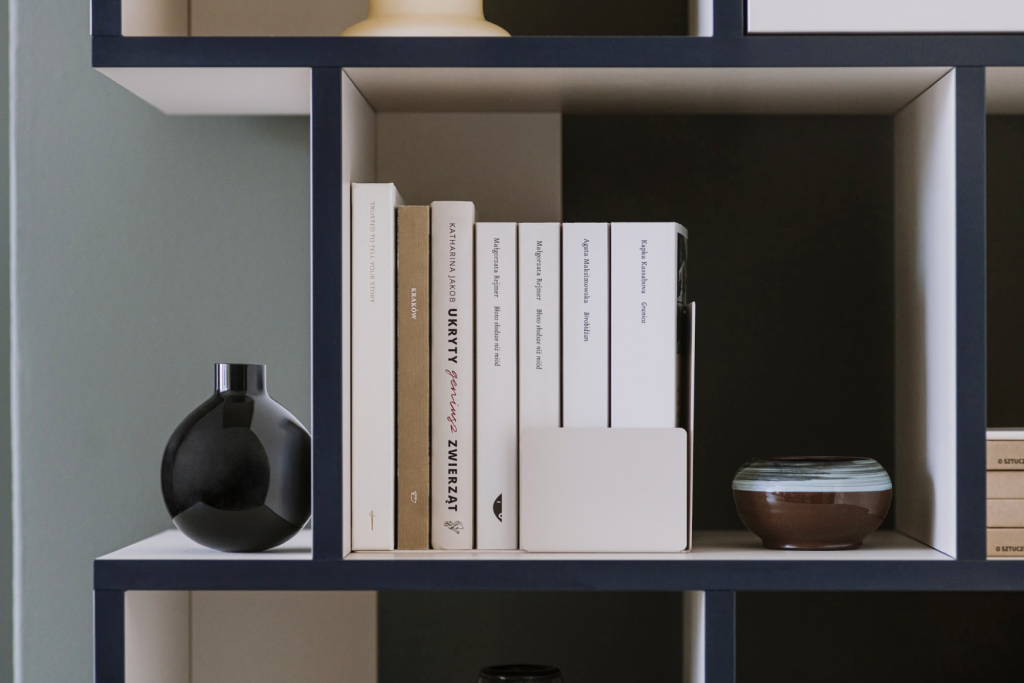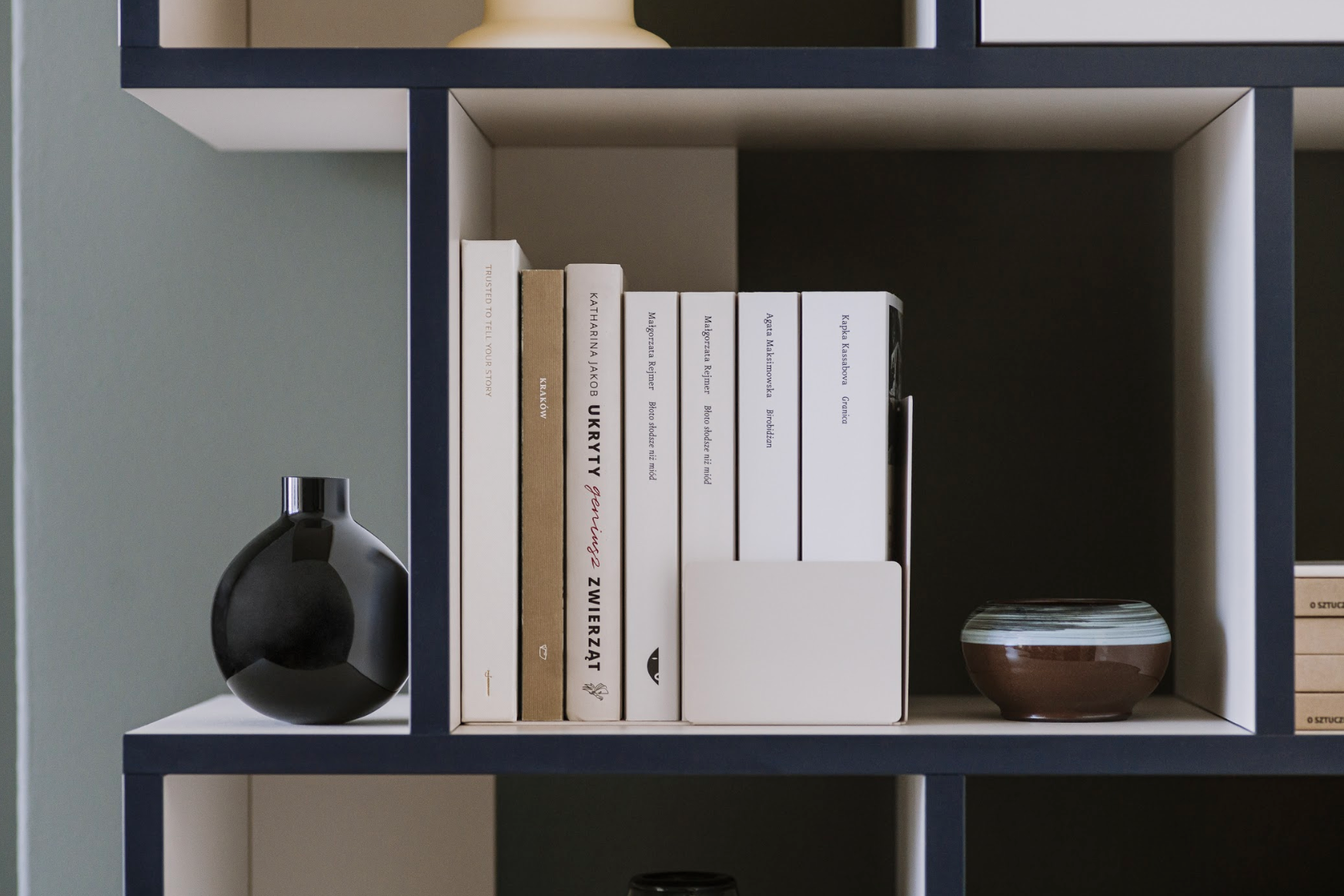 Telling your story in bookcase form with a statement shelf is a great way to let your personality shine, too. There are a few tips to help your statement shelf not stray roof ar, though. First, try to keep your finished styling consistent when it comes to arrangement and organisation. Even though you may want to make a bold statement with your bookshelf, a little attention to order can unite the entire design and really pull it together. And, after all, a bookshelf is a functional piece of furniture that should bring you visual joy…but also joy when you use it. If the appearance of your shelf has trumped the shelf's actual usability, you may have pushed your statement a little too far. No worries though, as nothing is permanent and it's easy to rein it back in. It's simple to switch up your shelf to tell a different story, or change the statement you're making with a few little tweaks. That's the beauty of a well-designed bookcase – it forms a foundation and makes it easy to shift aesthetics without it becoming a major project. A little reorginisation, a few new accessories (or replace them with others from around your home), and your statement shelf has an entirely new look. 
Bookshelf 4: Single bookshelves for small spaces
So what happens if you're dealing with a smaller space? Does a small, narrow bookcase even make sense? Our answer? Absolutely! There's a reason why nearly every home and interior has a bookcase somewhere. They're the workhorses of the home, playing both storage assistant and style elevator, and can help small, cosy spaces feel more refined and organised. Crucially, they add more space where there might be little to no storage, and using a narrow bookcase with extra vertical height can add heaps of storage without taking up much floor space. And, small bookcases can serve many roles in a cosy space: they can be used for books, but also to place a tv on top of. They can be a shelf, but also a bench, and they can be extra handy to store things behind optional doors and drawers that don't have a dedicated place anywhere else in a small home. The humble bookshelf is truly a chameleon, and knowing how to use it to maximise your space will make you a decorating superstar.

As with all bookcases, you'll want to start by analysing your available space, and what you need your bookshelf for. If you're a book collector living in a small space, you may want a narrow bookshelf with extra vertical height to hold every novel. If you're a record collector and need a vinyl bookcase to hold your albums, you'll want something with appropriately-sized sections to hold your 12" records. And, if you just want a lovely small bookcase to style and show off your favourite vases, objects and design decor, you can easily create something with Tylko in a few clicks. As with all shelves, though, be sure to account for sockets, skirting boards, lightswitches and other architectural details, so that your small bookcase is still a perfect fit. Using the Tylko configurator means you can design narrow bookshelves that start from just 30cm wide, with increasing increments of 1 cm for a truly custom fit, no matter your space. And with variable heights starting from 43cm, there's a slim bookshelf that's sure to work for anyone with limited space who needs one.

Playing with proportion can also help a cosy room feel more spacious. If you have low ceilings, a lower bookcase can help the ceiling feel taller. If you have small square footage but high ceilings, make the most of them with tall, narrow bookcases that draw the eye upwards. And, if you're really stuck for space in a narrow room, consider changing the depth of your small bookcase. Tylko offers three depths to choose from –  24, 32 or 40cm– so you can still design clever storage for slim spaces that won't cramp your style (or stub your toes!).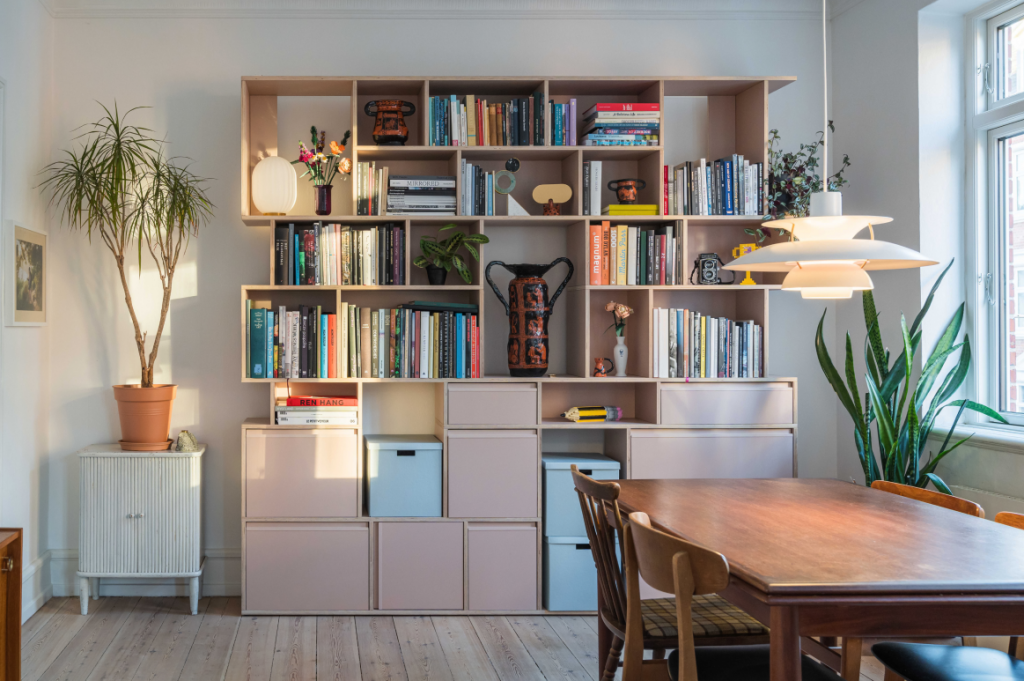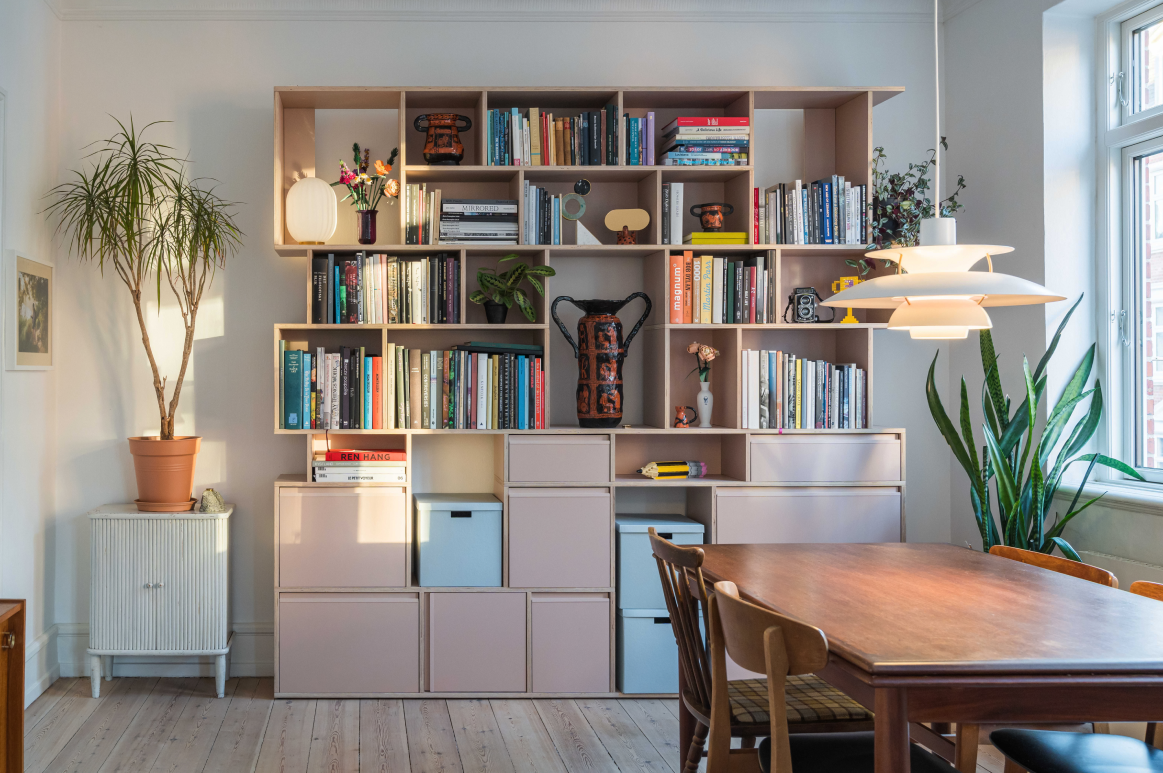 Bookshelf 5: Colourful bookcases for childrens' rooms
Every kid's room can benefit from a bookcase made just for them. Not only does a custom bookshelf make sense for childrens' rooms that are often smaller in size, they can also be personalised to be a perfect fit for the small human who will interact with it most. But size isn't the only factor at play here – with colourful bookcases that kids love, you can encourage a sense of independence and responsibility, a love of tidying up (it's possible!) and a sense of ownership that children love. And, with effortless design right online, kids can even get involved in the design and configuration. Let's dive into the different age groups and look at bookshelf ideas that are brilliant for every stage of your child's life:
Nursery: Your baby's room should be a peaceful and inviting place where they can rest, and you can feel at ease too. A functional and stylish bookcase can be a new parent's best friend – especially when cleverly designed for the lower levels to contain doors and drawers to hold nappies, teething rings, or other tiny human necessities. Open shelves above, for example, can hold stuffed animals, favourite books, baby monitors and more, so your nursery stays organised without ever feeling cluttered. Choosing a neutral colour or natural wood veneer can also help the nursery to feel calm and peaceful, while colourful bookshelves like soft pinks and sky blues are traditional ways to decorate that still remain popular. And, with customisation in width and height down to the centimetre, you can easily create a small or tall baby's room bookcase that works for your (and their!) needs. Ask any parent, and they'll tell you that along with babies come a lot of accessories. Consider what you'll want to store, the space you have to set up your bookshelf, and if you prefer more open or closed storage (or a mix of both), and then design accordingly. Deep soft-close, easy open drawers to keep onesies and clean clothes nearby in case of those little nursing messes, or easy-open doors that conceal stacks of baby wipes can come in extra handy. A mid-height bookcase can even be used as a baby changing table, with some clever design tweaks. With closed storage below to hold changing station supplies and a safe, secure cushion on top to make sure the baby is supported is another example of the flexibility of a modern bookcase. Most importantly though, however you decide to design and decorate your nursery bookshelf, make sure it is securely fastened to the wall to prevent any chance of tipping. In childrens' rooms especially, the importance of this step cannot be overstated.
Toddlers and kids: Everyone knows toddlers and children are curious. Growing up is exciting, especially when everything is new and you want to explore it all! Toddler age is the perfect time to get your child really interested in reading, and a colourful bookshelf that's comfortably designed and right at their height is a great way to go! With customisable sizes, depth and widths, you can easily design a bookshelf that's easy for your child to use and that encourages their independence. A great tip to get kids interested in the toys they already have rather than buying new ones constantly is to put their favourite and most-read books at close-by reaching height, and stock the other shelves with things they use less often. When they tire of the books and toys they're using most, you can rotate the contents of a tall bookcase out, so they re-discover the things they've not interacted with for a while. And, a colourful bookshelf not only makes plenty of space to stack their favourite books, toys, and so much more, it is a great way of adding a pop of colour to cool kids' rooms without needing to paint walls or make permanent or hard-to-reverse changes – especially if you live in a rented home where major interior switches can be frowned upon. As with a nursery shelf, doors and drawers come in handy for toddlers and children too, as they love to tuck things away and hide their toys as they play imaginative games. Soft-close hinges make sure no fingers get pinched, and non-toxic finishes and materials means every Tylko bookshelf is 100% safe for kids' to interact and live with. And, if your child is up for it, you can even get them involved in the design of their shelf! Let them pick a colourful bookshelf from the range of options, and include them in the design. They'll feel a real sense of ownership, and love seeing their shelf come to life. And, with easy snap-in assembly, they can even help with putting their shelf together. Each piece is colour-coded, numbered in order, and makes putting your childrens' room bookcase together feel a bit like Lego! 
Teens: Teens often tend to fall between the cracks when it comes to one-size-fits-most furniture design, and often it can be hard to find furniture that's designed to cater to their age group. Some furniture is simply too childish, in infantile colours, patterns or configurations, while other furniture can feel a bit boring, bland or business-like. Straddling the gap between childhood and adulthood is hard enough already, so choosing a custom bookcase for your teen is a great way to let their personality shine in their private and sacred bedroom space, while giving them the autonomy to decide on and even design exactly what they want. Whether it's a matte black bookshelf with plenty of storage for young adult novels, comics and manga, or a brightly-coloured bookshelf that displays sports trophies proudly, teens need to feel like their space is theirs, and what better way than getting them involved in the design process? With millions of customisation options available, every teen can find a bookcase that they love. Doors to tuck gaming accessories, cables and chargers away? Done. Deep drawers to hold art supplies or makeup? Easy. Ask your teen what they need, what sort of things they want to store or display, and work together to come up with bookshelf ideas that will work for their space. A long, low bookcase that holds a television and gaming station as well as books is brilliant, and a narrow bookshelf that holds schoolbooks, supplies and more makes sense for spaces that don't have room for a full desk. Teenagers spend a lot of time in their rooms, so it follows that making sure they have the storage they need in a style they love – or better yet, helping design themselves– is a surefire way to make sure they feel comfortable and cool in their unique rooms. And, with effortless assembly that requires no tools, they can easily put together their large bookcase all by themselves, and then get straight to the important work of making it their own. They'll appreciate the consideration you've afforded them…while you enjoy a tidier, more organised bookshelf. Win-win!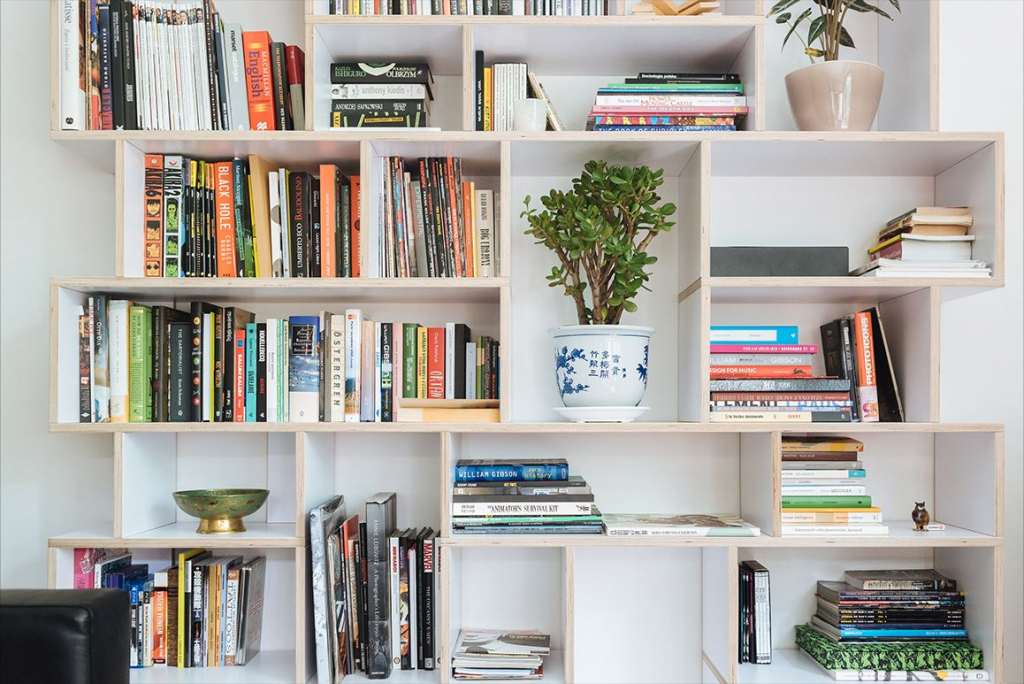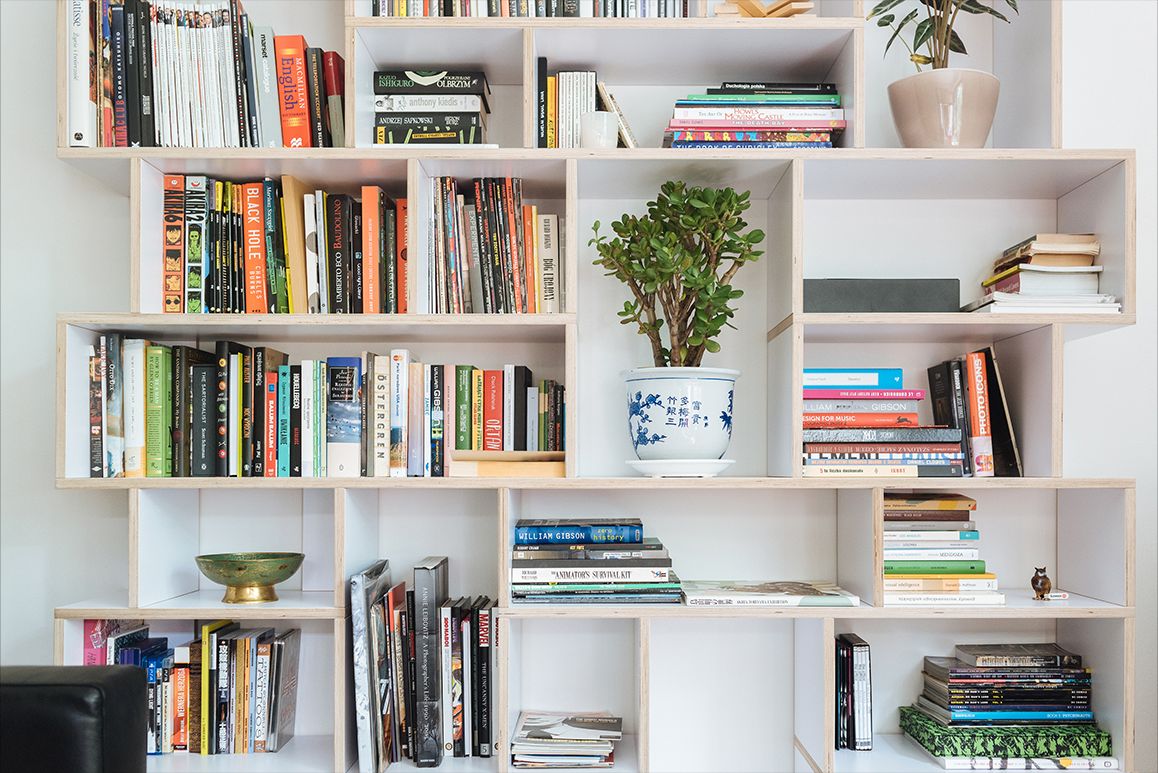 There are literally hundreds of bookshelves to choose from when looking for a storage solution for your space, and in the end it all boils down to personal choice. Thankfully, custom bookcases make dialing in your design effortless so you can find precisely what you're looking for, and bring home a brilliant bookshelf that suits your space and style for years of enjoyment.  And, if you're not in the market (yet) for your dream bookcase, or lack the space or budget for one of the five essential bookshelves we listed above, don't worry  – there are still plenty of ways to take a standard bookshelf and make it really stand out. It just takes a little personality, some clever organisation, and some canny creativity to make any bookshelf the centrepiece of your interior, and a brilliant way to show off your style.
Large bookcases;

Tall bookcases;

Tall bookshelves;

Small bookcases;

Narrow bookcases; 

Bookshelf ideas;

Trendy bookshelves;