Unique Ways to Style a Bedside Table

An crucial part of nearly every bedroom, and the ideal spot to keep bedside essentials close and corralled. But how often do bedside tables end up being overlooked – or worse – messy catch-alls for clutter? We're sharing our top bedside table decorating ideas, tips and design hints to help your bedside table become a thing of beauty, so you can wake up organised, optimistic, and ready to greet the day ahead happily – with no mess in sight, and beautifully balanced bedroom decor and bedside table styling, sorted.
How do I decorate a bedside table?
First things first: how are your bedside tables looking? No really, take a look. Are they mismatched? Chipped? Missing a handle? There's no point in styling a wonky or broken bedside table beautifully, so first make sure the foundation – aka the bedside table itself – is up to snuff. Your bedside table shouldn't be an afterthought, created from old palettes, a wooden box you found in the shed, or from whatever piece of spare furniture you had lying around the house. It should feel like it belongs, and was purposefully chosen for its spot. 
Start with the size. Is your bedside table appropriate to the space in your bedroom? Does it suit the bed width? Are you able to access any doors or drawers freely? A properly-scaled bedside table can change a bedroom drastically. A tiny nightstand in a huge room can look silly, while a massive piece in a cosy bedroom can feel hulking and out of place. Use your common sense when it comes to the size and proportion of your bedside table and try to make sure your space feels balanced and even.
If you feel like you might need a new nightstand or two, Tylko makes it easy to quickly (and in a few clicks) whip up a new bedside table that will work better for your space. If you tend to stack your bedside table with books, phones, headphones, or other bits and bobs, choose a piece that offers extra hidden storage while keeping items tucked and tidy and out of sight. This gives you the storage space and functionality you need, with a sleek, neat design. The top of your bedside table can then be used for stylish decor, while concealed storage gives you all the room you need to stash away books, lip balms and more. Want a more open look? Design one that has open shelving for extra styling space that's perfect for a stack of books, a low tray, or a photo frame or two. Need a mix of both? With a few clicks you can create a bedside table with both open and closed storage, for the best of both worlds. 
Next, look at your bedside table from a practical perspective. Everybody has different bedroom routines. What does yours look like? An oversized bouquet of dried pampas grass in a statement vase may look stylish, but if it's completely impractical and gets in the way of your everyday functioning, then it's not worth the time nor effort! Ask yourself what you need most by your bed. Extra reading light? A charger for your phone? A scented lavender candle to help you relax and drift off? When it comes to bedside table decorating ideas, less is always more, but practicality has priority. However, that's not a green light to keep everything you could ever possibly need nearby and ready to rock! Clutter next to the bed is never a good look, and it doesn't help your peace of mind either. Keeping a tidy bedside table that makes sense for your routine can help keep your bedroom feeling serene and also help you start and end your days right – so skip the meaningless knick knacks and decide with what you need to be comfortable first. Once you've narrowed that down, then you can add the zhush. We want to go for an organised style here, not "I might need it at some point so I'll just keep it here" chaos.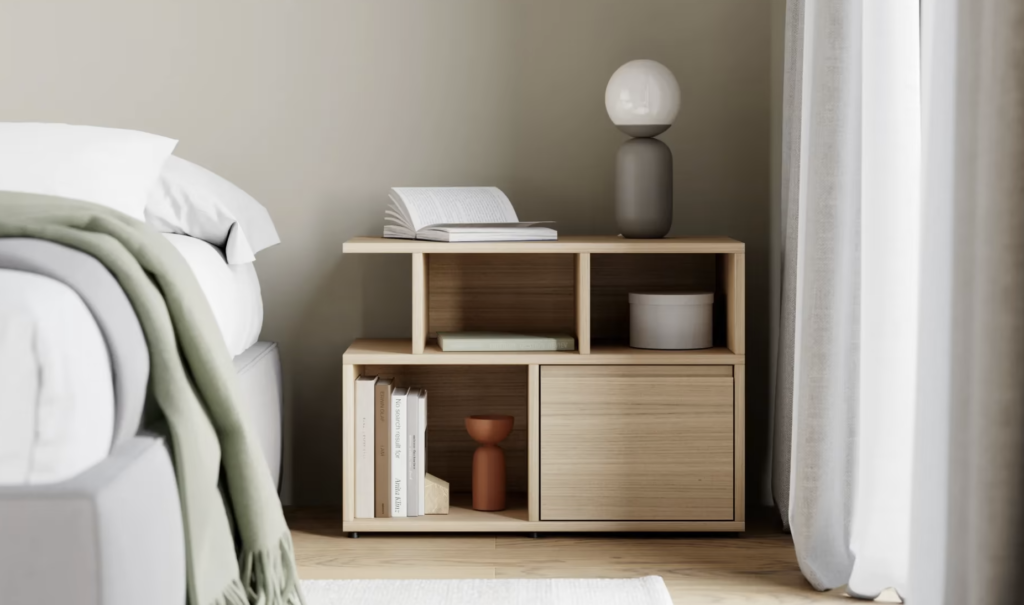 So, once you've got your balance and proportion feeling right, all chips dents or dings repaired or replaced (or a new bedside table designed and delivered free from Tylko), and you've identified what you need most bedside, you're ready. Thanks to this little bit of pre-planning, you now have a solid foundation prepped. Your beautiful and proportionate bedside table (or two) have everything you need and are ready for bedside table styling that will look – and work– wonderfully. Now we can jump into the fun stuff: the actual bedside table decorating ideas. 
Style with symmetry
When styling aesthetic bedside table decor, your first instinct might be to mirror your decor on both sides if you have two bedside tables. But you may want to keep a few things in mind: styling two identical bedside tables on both sides of the bed identically can look neat, but absolute perfect symmetry can be unrealistic. Bedside tables should be sisters, not twins. With space limitations, architectural features like windows and heaters factoring in, and, well, real life usage coming into play, a more subtle approach to symmetry is way easier, and might even be required. But don't worry – two slightly different nightstands can still look stunning And two totally different nightstands is a whole vibe, too. So know this: you have options! 
First, let's talk about colour symmetry. Matching colours, colour families, or pops of colour can work as symmetry too, giving a cohesive look to your overall styling. Whether your bedside tables match perfectly or not is really of no consequence, as you can use clever colour-matching or complimenting decor to unify them, or simply embrace the abstract and let them each have a life of their own. There are no hard and fast rules when it comes to styling a bedside table of course, but sticking to similar palettes or colour schemes can help create a calm, cohesive bedroom. Prefer a little more of a loose look? Play with colour and contrast as you like!  Your bedside tables should reflect you personally, so always include objects and decor that remind you of a special moment, were given to you by a friend or handed down through generations, or simply bring you joy. Whether old photos, shells collected at the seaside or even stones your toddler takes particular joy in collecting on your walks, these personal mementos make your bedside table decor extra meaningful, and make waking up and falling asleep next to them extra special.
Secondly, let's talk about object symmetry. If you're styling two bedside tables, you want to aim for similar heights when it comes to the objects you place upon them. Imagine a tall, slim lamp on one side, and then only small, squat objects on the other. Your eye would feel off-balance, and it could bother you. If you're adding a tall lamp to one side, try adding a tall plant or object of similar height on the other to counterbalance it. Or, if you need lamps on both sides, use the same lamp, if possible. And remember, we're not going for precise exact-to-the-millimeter height-matching perfection here. A little taller or shorter works too.  However, that said, if total symmetry is your preferred look, you'd simply mirror the lamps or objects as closely as possible on both nightstands. When it comes to aesthetic bedside table decor however, it's truly all a matter of personal preference. Some people prefer their bedrooms to look neat and prim, and perfectly mirrored on both sides, just like a recently-made-up hotel room, while others prefer a more lived-in, loose, and casual look. Decide on what aesthetic you're going for, then use symmetry accordingly. The principles of balance remain the same, no matter your choice of bedside table decor. 
Next, let's talk about the rule of thirds. This is a design concept that suggests the human eye prefers things grouped together in threes. A lamp, a photo frame, and a book, for example, or three vases of different heights. This rule can help you to "rein in" your desire to keep adding to your bedside table styling, and keep a balanced, pleasing aesthetic. Conversely, grouping two items, or just placing one item on a bedside table can feel sparse or lacking – like something is "off". Not only does sticking to the rule of thirds help you to refine your bedside table styling, it also allows for plenty of flexibility in what you're grouping. You can use it to try mixing textures that contrast, like metal, leather or wood for increased visual interest, or group objects that are themed together, like a framed holiday photo, travel memento, and flowers that remind you of the trip in a vase for example,  You can also use small decorative trays to elevate certain items like vintage perfume bottles, or give the eye a nice height difference between objects, like a classic flip clock on a stack of two books.
A general rule of thumb is to aim to group three things with three different (yet suitable to each other) heights. A tall lamp, a slightly less tall photo in a frame, and a slightly smaller candle, for example. What you want to avoid, though, is grouping something like an extra tall lamp with a very squat succulent in a pot and then something low and small like a tea light. Obviously – hopefully–  nobody is grouping those items, but that sort of height dissonance can throw the visual balance off. You want to use your design sense, or "eye",  to group things that harmoniously sit well together. Sometimes the only way to determine what works if you aren't blessed with "naturally" having an eye for design is to try, then try again. Add something, take it away, then switch it for something else until it looks and feels right. 
However, while you're switching and swapping, adding and taking away, be careful not to crowd the bedside table. It can be tempting to overstyle a nightstand, but remember that it still needs to be a usable, functional object, not just look pretty – or worse, become a crowded gathering spot for things with no sense of balance or reason. Crowding the space that you have available on your nightstand is never a good bedside table decorating idea. Instead, try to think of the surface of each object that touches the bedside table as one of your group of three. So, for instance, a lamp would count as your #1, a stack of books with a candle on top would be #2 (since only the one book touches the surface), and final decor item like a candle or small plant would be your #3. "But what if I have a sconce light?", I hear you asking. Easy. Use a tall object like a plant of large vase of flowers to break up the visual space between the light mounted on the wall and the bedside table surface as your #1. Then style as usual with your #2 and #3!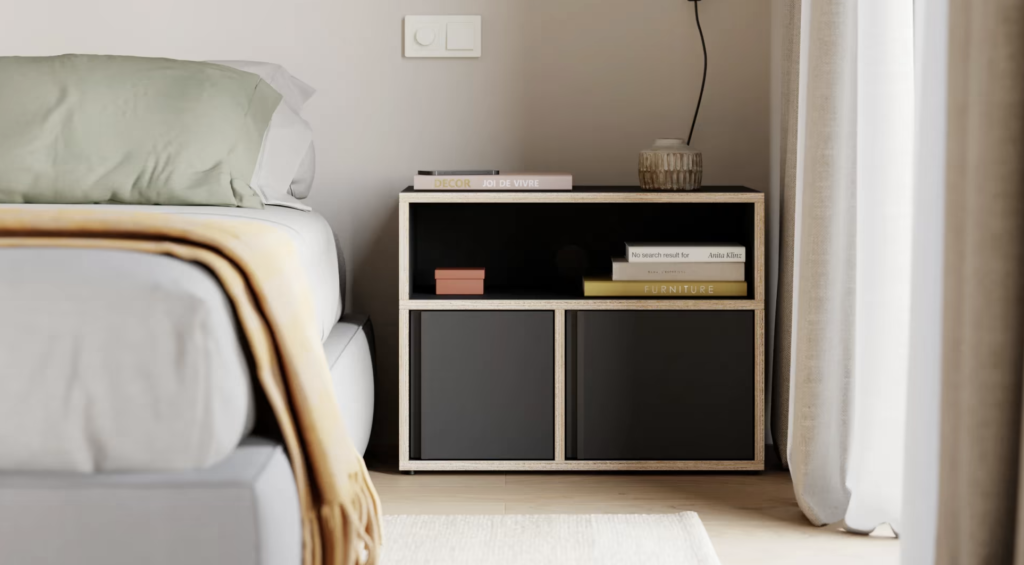 Include practical accessories 
We touched a little on this before, but your nightstand still needs to be usable, not just a hold-all for aesthetic bedside table decor. While a bare vintage Edison lightbulb lamp might suit your industrial chic decor, is it actually comfortable to read by? Is the light too harsh for bedside use? Does it blind you when you look at it, or worse get so hot you can feel it?  Does your charming vintage wind-up alarm clock that looks aesthetically on point actually wake you up punctually – especially when you neglect to wind it the night before? Style over substance is not what we're going for when it comes to how to style a bedside table. We want to carefully balance the beautiful with the functional. If you use hand cream and lip balm religiously every night before bed, why not add a little decorative tray to keep both easily on hand, or place the tray within a bedside drawer so it's always reachable. Same goes for medications. If you need them close by, it's best to keep them easily accessible and within reach, rather than face a sleepy stumble to the bathroom in the middle of the night to get them. While we all dream of a spotless bedside table, sometimes practicality comes first. But, thankfully, practical items can still be beautiful.
There are stylish modern clocks that don't need winding, and stacks of unread books with beautiful spines look beautiful, while a stunning jewellery holder to hold shed necklaces, earrings and rings for while you sleep can look elegant when arranged artfully and with love. Scented candles to help you sleep more peacefully, or scent diffusers to calm you down after a stressful day can all look lovely, too – and work wonders. After all, there's something beautiful about everyday life and its routines and rhythms, and there's a certain charm in imperfection. Your bedroom should be a place in which you feel relaxed and completely at ease – not a place where you're obsessed over how Instagrammable your bedside table looks. And, thanks to the hidden storage drawers and doors provide, you can still keep things that are a little less aesthetically pleasing (I'm looking at you, earplugs for partners who snore like they're sawing logs) tucked away and organised out of sight in your bedside table, so your nightstand style can still shine. No doors or drawers? Snag some cute organising baskets or bins and keep it all inside for instant concealment. Easy! 
Add some lighting
We talked about arranging lamps of matching heights and going for a symmetrical effect using them, but we didn't talk about the practicality of your lighting choices. Sconces and pendants are wonderful ways to free up more space on your bedside table, but if they're not an option, you'll need a lamp. As we said, consider the light source. Harsh bulbs are no good, but neither is a dim mood lighting bulb that you can't see by and barely rivals a candle. A safe choice is a dimmable milk glass globe or similar that gently diffuses harsh light, yet still allows you to adjust the brightness for different situations and bedroom moods. There's nothing worse than the harsh fluorescent glare of a dentist's office when you're trying to get romantic! 
Another thing to consider is ease of use. Wake up often to visit the restroom? It's essential to make sure the lamp you choose is easy to turn on and off without having to fumble through a minefield of useless decor to reach the switch. You might even want to do a test run before deciding on the lamp you'll keep bedside. Make sure it's easy to use, pleasing lighting for any situation, and of course, suits your decor. 
Thankfully, it's not all practicality over presentation when it comes to lighting. There are a huge array of lighting styles, sizes and shapes to choose from, and this variety really gives you creative freedom to further enhance the look of your bedside table styling. A metal lamp looks wonderful against the wooden texture of a natural bedside table, for example, while a bright white bedside table finish looks fabulous with a boldly-coloured lamp for a pop of personality. The choices are literally endless, but as with all bedside table decorating ideas, try to keep proportion in mind. A good rule of thumb is to not allow your lamp to take up more than a third of the width of your nightstand. You want the lamp to feel grounded and balanced, not hulking or oversized, as well as leave space on your bedside table to add other objects and decor. 
Don't forget about flowers
Not only are green plants and flowers proven to help relax the brain, relieve stress, send out soothing scents and purify the air we breathe, they look absolutely wonderful on your bedside table, too. A stylish vase with a beautiful floral arrangement can make a nightstand really stand out. The look, scent and experience of bright petals perched in a beautiful vase can add visual contrast, texture, and a mood-boosting pop of natural beauty to any bedroom. Similarly, leafy green plants can cleanse the air we breathe as we sleep, relax and destress, and wake you up to a mood-boosting dose of green. And, they come in a wide variety of sizes, shades, heights and more, and can be a great way to add visual interest to aesthetic bedside table decor that needs a little something more. 
Finally, don't be afraid to get stuck into your bedside table styling. You may need to move things around, step back and look, then adjust as you go, playing with different heights, colours and material textures to find what fits your style, and beside table needs. Try not to crowd the surface, and remember that when in doubt, take away rather than add. Keep in mind the balance between practicality and aesthetics, and remember that real estate on your nightstand is limited, so err on the side of caution when it comes to overcrowding. You may even want to do a "dry run" of the setup to see how it works when reaching for the light, shutting an alarm clock off and more from a sleeping position. If anything jostles, makes things awkward, or falls down, it should go. Finally, when you think you have it down, take a step back and look over your work. 
Your bedside table is the last thing you see at night, and the first thing you see in the morning. With a few easy bedside decorating ideas and upgrades (if needed), yours can be a true thing of beauty, while helping you stay neat, organised, and – best of all–  always nap-ready. Win-win.