Ceri Muller and Alexis Christodoulou: On Creative Fluidity

Creatives Ceri Muller and Alexis Christodoulou have turned their personal passions into successful careers, making waves in their respective worlds of ceramic arts and 3D design. We catch up with the pair in their cosy Amsterdam apartment to find out more.
Ceramist Ceri Muller's textured, organic forms seem to capture the true essence of pottery: organic objects that display the hand of their maker, natural, fluid, imperfect and full of character. A meeting of creative opposites, Muller's partner Alexis Christodoulou is a 3D designer imagining spectacular, colour-rich virtual scenes. His fictional landscapes feel simultaneously familiar and completely unknown. 
Both hailing from South Africa and now based in Amsterdam, the duo's differing skill sets have seen them forge prosperous individual careers: Alexis creates dreamscapes for the likes of Bang & Olufsen and Wallpaper* and Ceri keeps up with growing commissions for her unique, handmade sculptural objects.
We met up with the dynamic duo at their home, where they have recently welcomed a new Type01 Veneer, and discussed their backgrounds, their art and where their personal aesthetics intersect.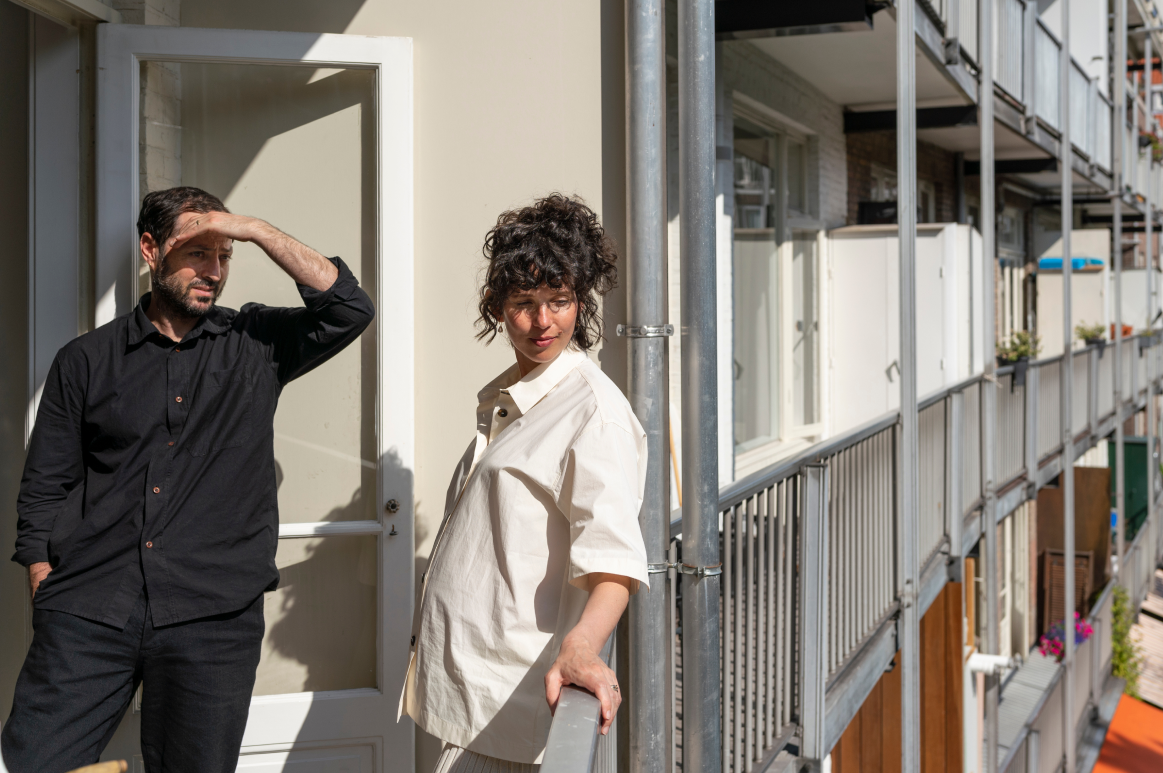 Ceri, Alexis – Tell us about your backgrounds, where did you both grow up and what did you study?
Ceri: We both grew up in South Africa, me in Knysna and Alexis in Cape Town. Alexis studied politics, economics and copywriting and I have a masters in fine art. 
Alexis – What first attracted you to the world of 3D design, specifically the creation of virtual interiors and 'imaginary architecture'?
I was attracted to 3D after seeing a friend use it and was fascinated with the process. I became a bit obsessed with teaching myself how to use it. The creation of virtual spaces and imagined architecture was something I sort of stumbled on along this journey. I kept wanting to make interiors but realised there was a lack of modernist aesthetics attached to these images, so I started to explore the possibilities.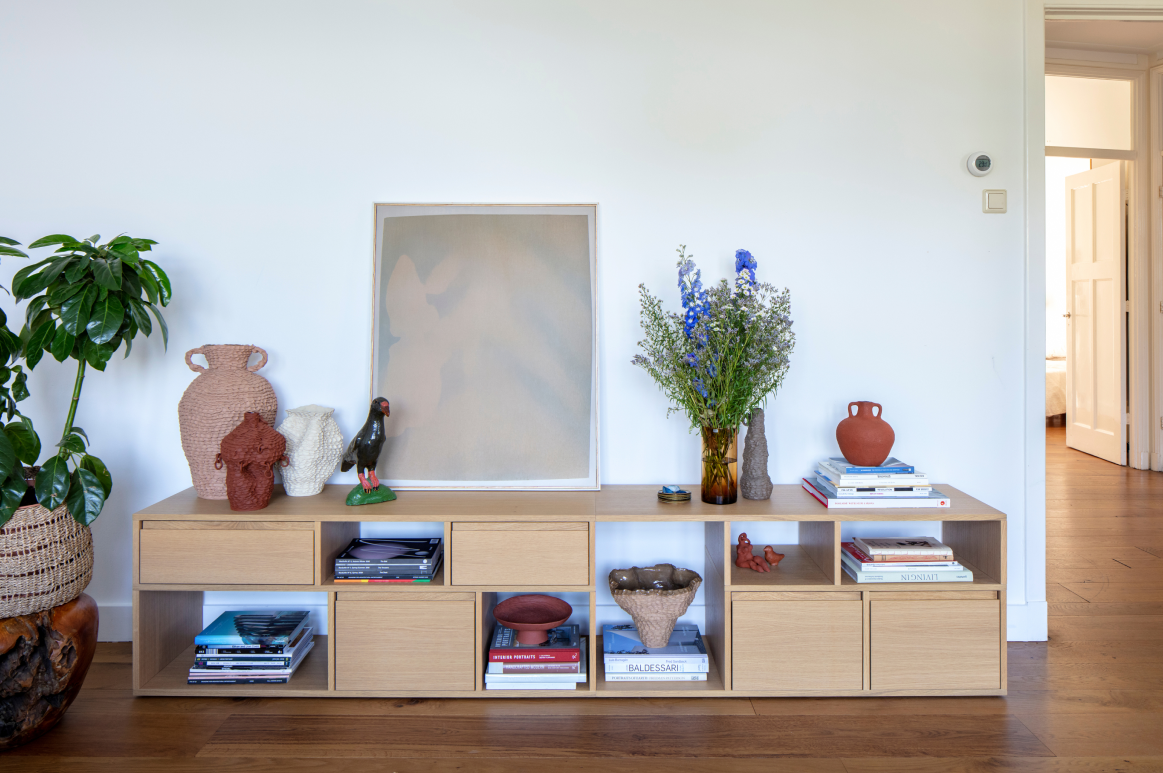 Alexis – Is there still a manual, hand-drawn element to your work process?
Very little nowadays, but I still use the iPad quite a bit to draw on and there are also some amazing pieces of software for it that are redefining how we use 3D.
Alexis – How have digital design tools and their rapid development over the past few years changed the way designers approached their work?
The world of digital design tools is often concerned with creating shortcuts for designers to streamline their work, to make everything faster and to allow them to make more money and more designs in a smaller amount of time. The good designers use these tools sparingly and will always find other ways to prolong their process and make sure that there is craft and attention to detail.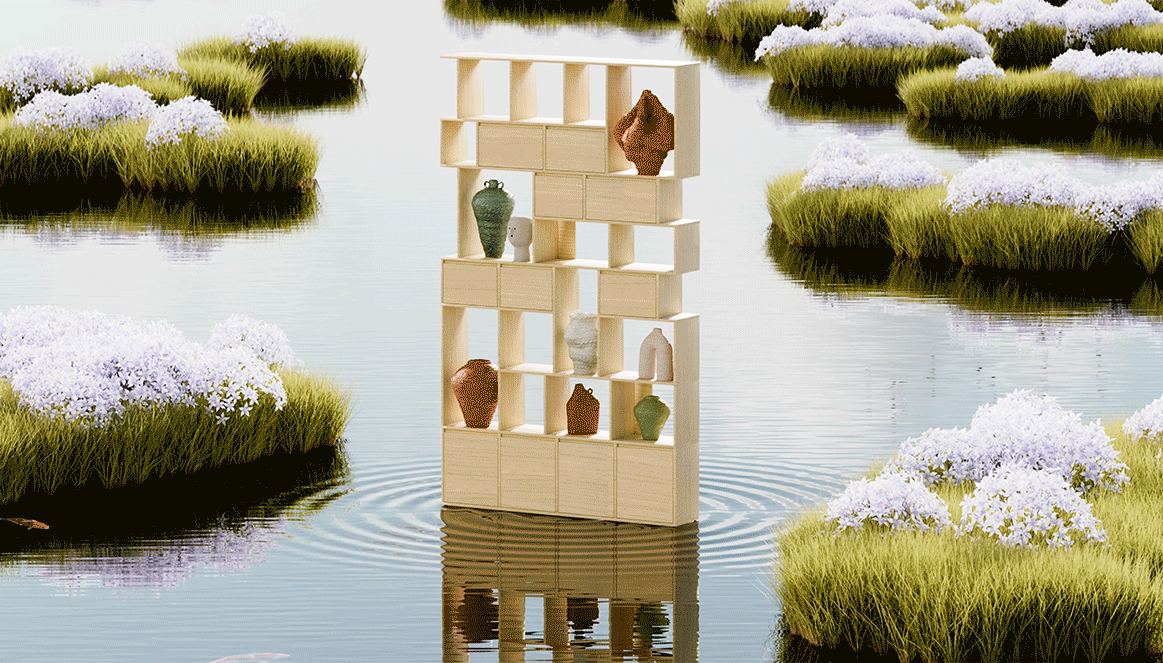 Ceri – Have you always been interested in handcrafts?
Yes! I grew up spending a lot of time making things with my hands. My parents always encouraged creative activities so we had a lot of fun exploring different forms of hand crafting from painting, making artwork from leaves and things we foraged in nature, candle-making, woodwork…we did it all! My love for handcrafting continued into adulthood, I find the processes to be incredibly soothing. 
Ceri – How would you describe your ceramic style to people unfamiliar with your work?
Tactile and textual, a celebration of imperfection.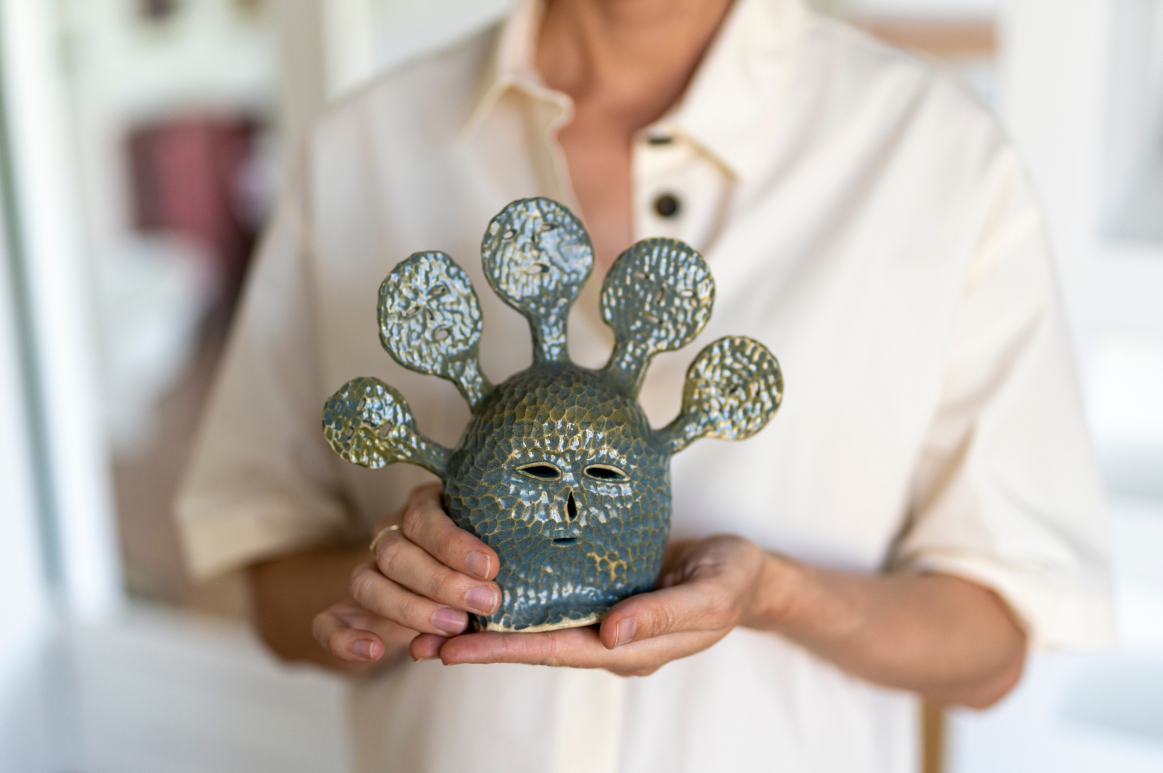 Ceri – When it comes to ceramics, would you say it's important to have a set style or do you prefer to mix things up and experiment? 
I think both are equally important. Sticking to a set style allows me to relax into the meditative process of making. Experimenting pushes me out of my comfort zone and into a space where I create new things that I either love or loathe. Intentionally or not, all the pieces I create do seem to make sense together. 
Ceri, Alexis – Where do you both find inspiration for your work?
We both tend to look inward for our craft. I've always built spaces out of a need to imagine myself in a surreal world, almost like playing a video game. Ceri's sculptures are very personal too, often exploring her own ideas of form and craft and using ceramics as a way to navigate thoughts and emotions.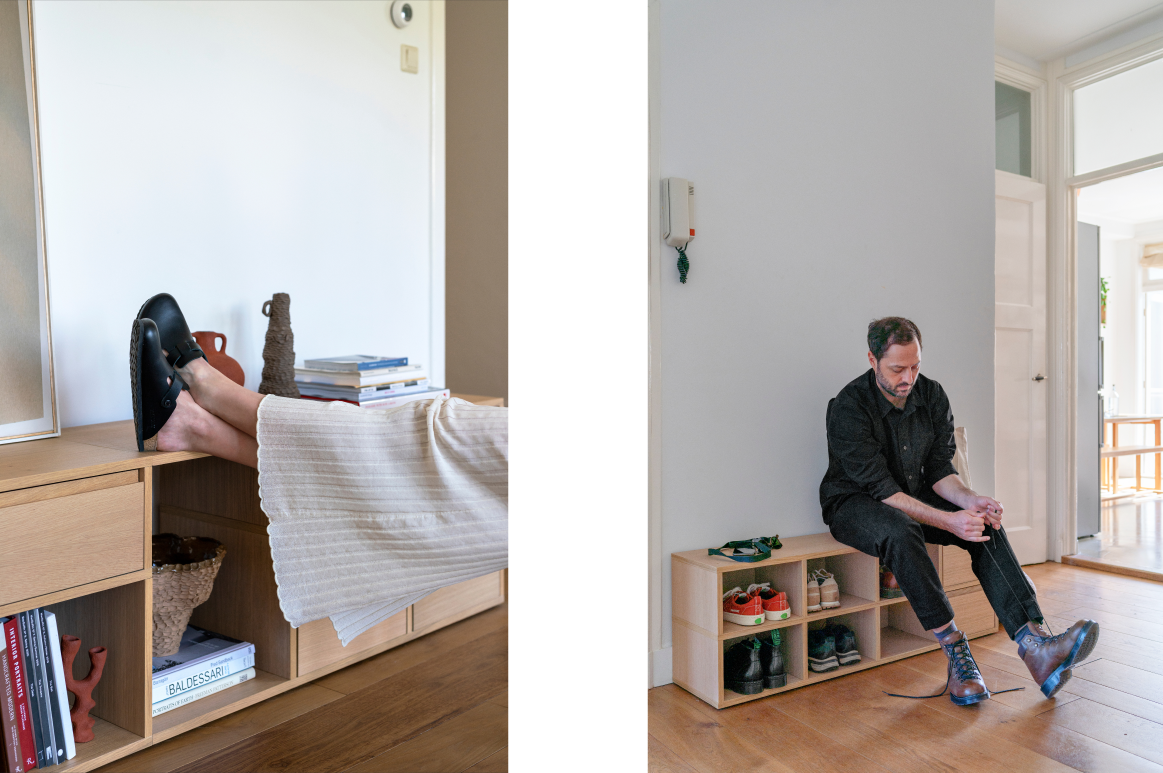 Ceri, Alexis – Do you often collaborate together on projects and if so, how do you find the process of working together?
We don't collaborate on fun work often enough! However, we own a 3D design studio together that we run and manage ourselves, so we do essentially work together all day. It's a tough process, especially with your partner. You need to find common ground for creative exploration and be fluid enough to let each other take the lead when necessary.
Ceri, Alexis – How would you describe your home in terms of its interior design aesthetic?
Good question. For a little while we had this idea that we wanted it to be farmhouse-futuristic. But then we didn't acquire enough farmhouse objects and not enough futuristic objects so we're in a grey area that we aren't quite sure how to define. Rather than setting out with a rigid aesthetic we have surrounded ourselves with quality interior pieces that we really enjoy and the result is a simple, cosy home that we both really love being in.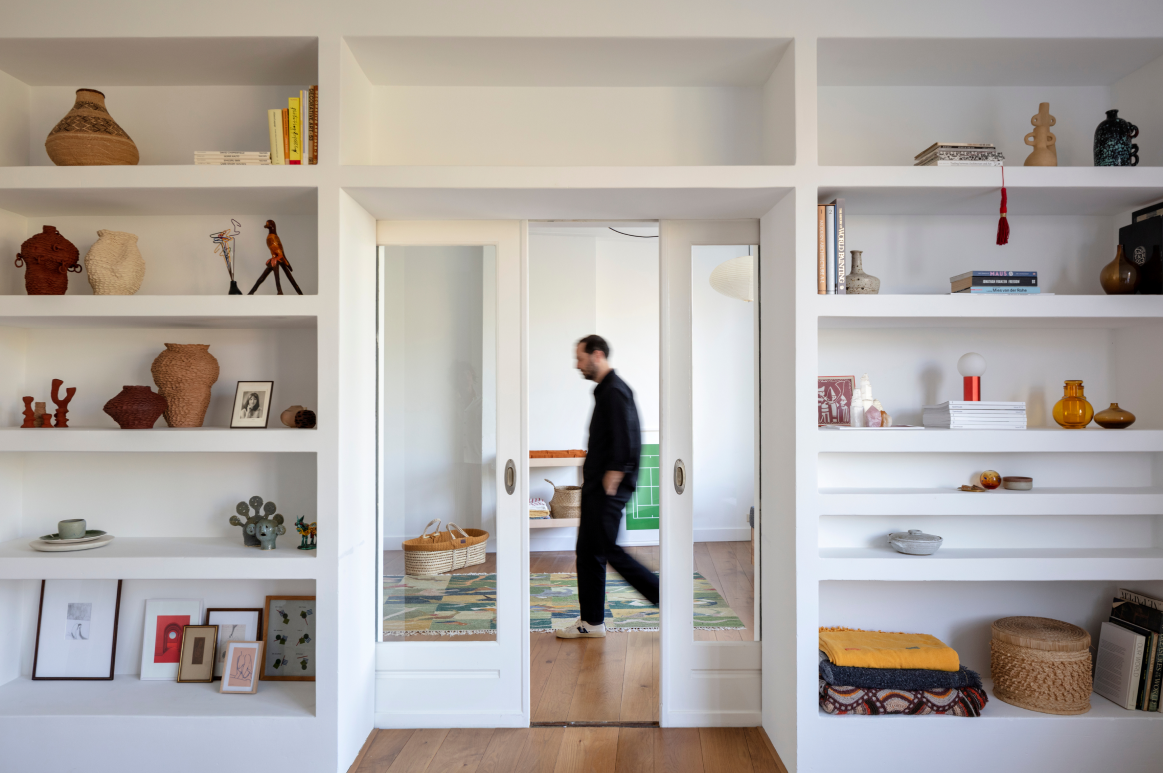 Ceri, Alexis – Would you say you share the same sense of style or is compromise key when it comes to your home interiors?
We see eye to eye on a lot of choices, but there are some compromises for sure. There have to be, it's what makes a home beautiful.
Ceri, Alexis – Tell us a little about the shelves you chose and why you picked this specific material and colour? How does it work within your space and how does it fit your lifestyle? 
We chose the natural wood veneer as we wanted it to be an extension of the raw wooden flooring throughout our apartment. In small apartments it's often a nice idea to incorporate colours and objects that blend to give an illusion of a bigger space. The sideboard in the lounge is also nice and low which suits all the other furniture in the room, nothing is above about 50cm tall. The shoe rack is a life hack in a city like Amsterdam. It's always raining so you need a nice, sturdy and neat place to keep all your dirty shoes.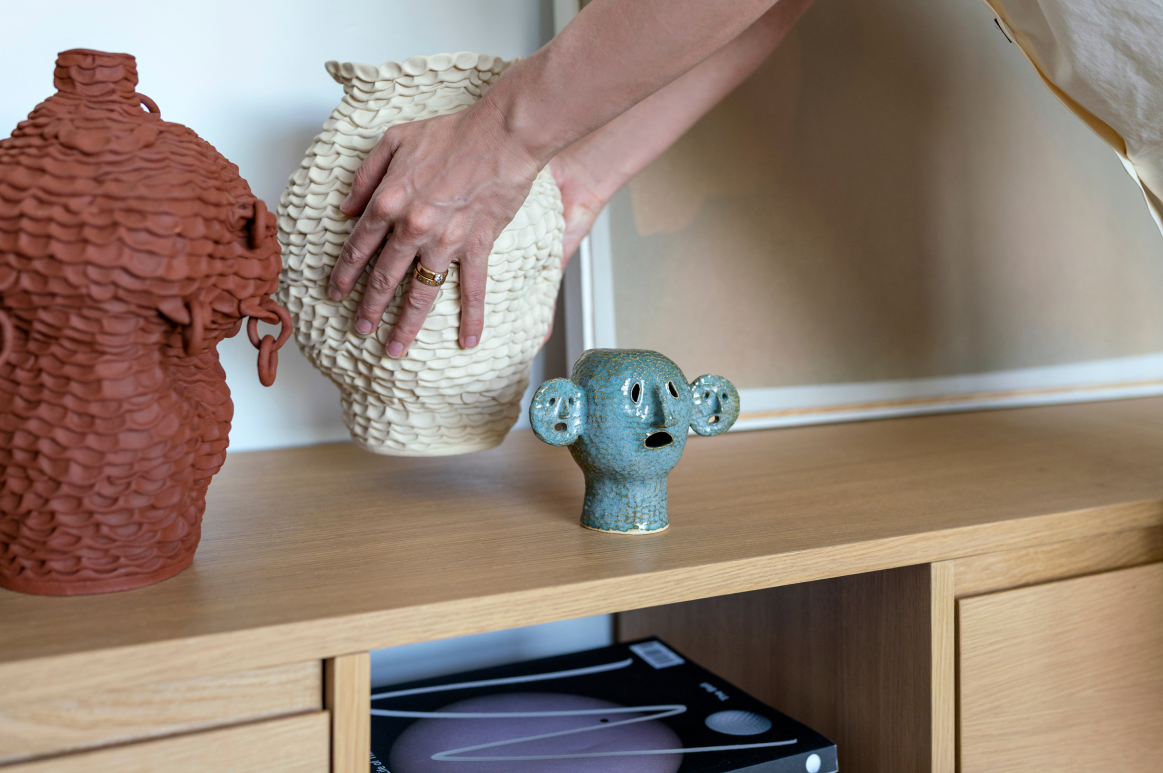 Ceri, Alexis – What did you think of the process of assembling your shelf?
We have a small business, and we work a lot, so assembling the Tylko shelves was really like a small holiday where we got to play with some adult Lego that eventually turned into a beautiful shelf. The whole Tylko system is such a pleasure to work with and the assembly process is a breeze. We might have to take them apart again so we can reassemble them.
Ceri, Alexis – You made the move from South Africa to Holland, how do the two locations differ and what does each one offer?
They're really two different worlds. We are starting to settle now in Amsterdam and love exploring the city with its culture, museums and beautiful architecture. It's a great first world city to live in and incredibly pretty, but nothing quite compares to the natural beauty of South Africa and the warm amazing people. Both are incredible and have their upsides.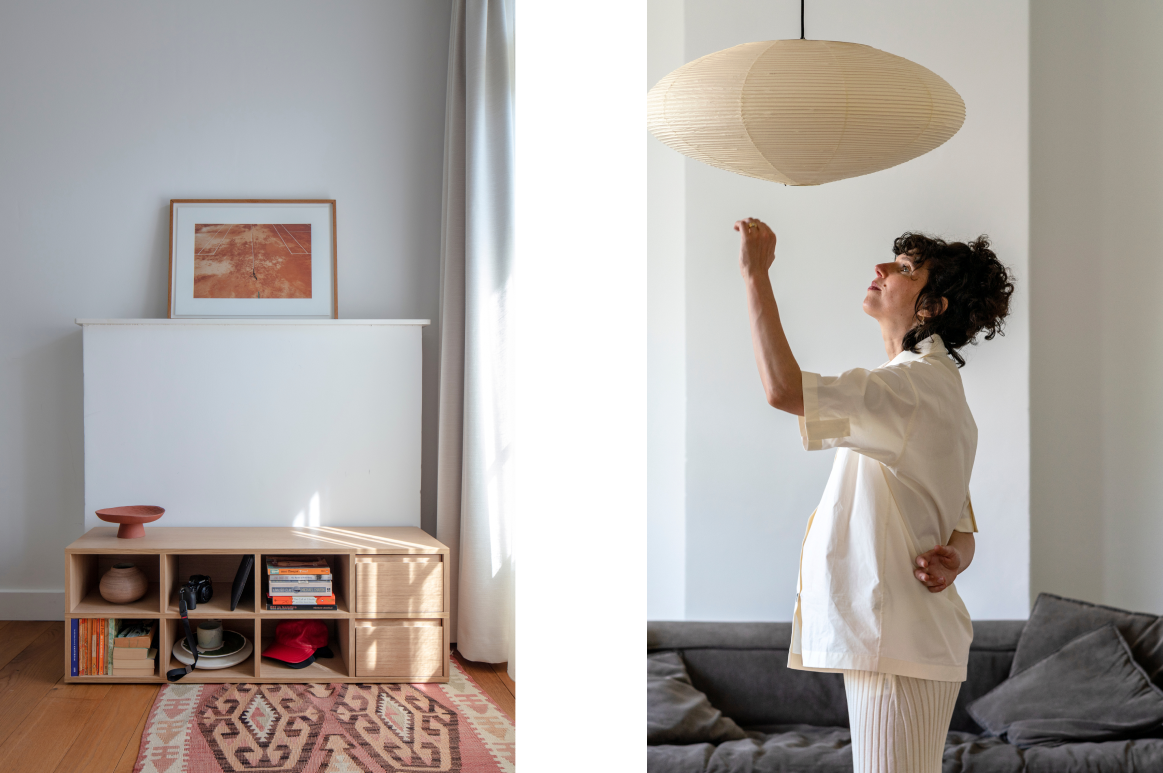 Ceri, Alexis – On your days off, how do you wind down? Any specific activities or places you like to visit? 
What days off? Haha! When we are off we generally spend our time going for long walks and cycles, visiting Amsterdam's beautiful parks and enjoying delicious food and wine.  
Ceri, Alexis – Are you collectors and if so, of what?
Actually, we really tried to stop doing any sort of collecting before we left Cape Town and we made a decision to try and live with as little as we could. We're not extreme minimalists, and we still have more than we need, but the idea is still there to only accumulate when necessary and when we do, it must be things that we really love.
Ceri, Alexis – What does "home" mean to you?
Soon, very soon, in about one week after the birth of our son, home will be wherever he is sleeping.