A new chapter with interior decorator Hélène Rebelo

A few years after our first interview, we reconnected with multi-talented interior decorator and curator, Hélène Rebelo, to discuss her new loft apartment, recent projects, and how following your heart and intuition, instead of focusing on one set vision, can lead to beautiful results.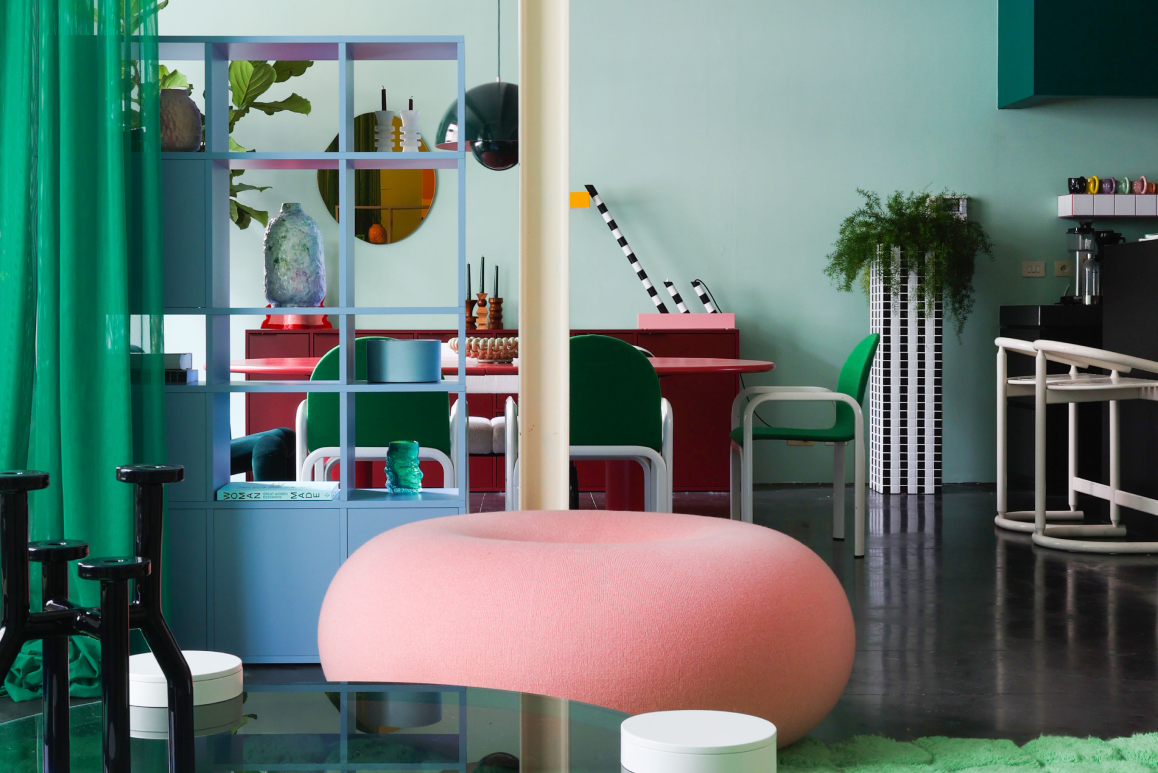 Back in 2019, we had the pleasure of meeting interior decorator and curator, Hélène Rebelo, when she had just moved to Brussels with her partner. During that conversation, we spoke about her background, her career, her love for colour and the design agency she had just launched, Cool Machine Studio.
A few years later, Hélène continues to live in Brussels, but has moved to a new loft apartment, which she describes as a laboratory— a place where she and her partner try out different ideas as they go along, by playing around with lighting, colour and furniture.
There's a beautiful element of free spirit in the way Hélène approaches her role as a decorator and sourcer: instead of focusing on one clear vision and goal, the multi-talented creative follows her intuition, allowing herself to be delighted by the world around her, and surprised by what special object destiny will lead her to next during her many explorations.
Curious to find out more, we caught up with Hélène to discuss how her style has evolved, her latest projects, tips for finding special objects, and of course the two Tylkos she recently designed for her new home.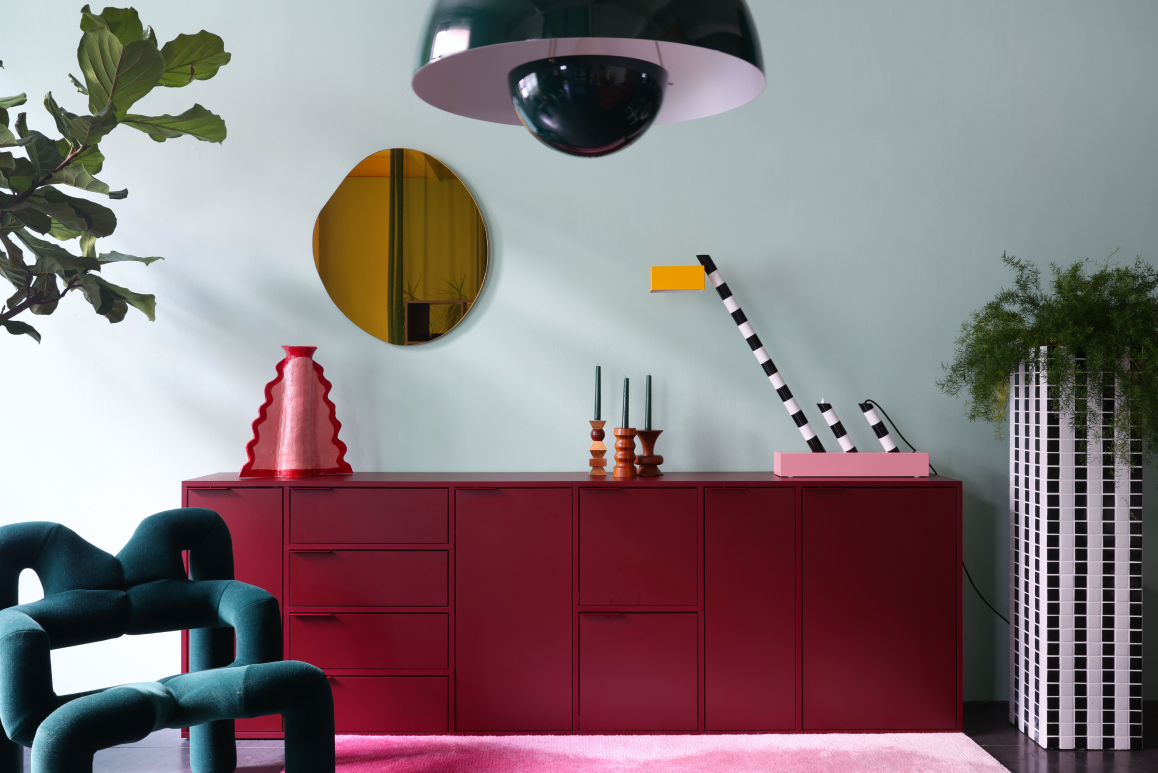 Hi Hélène, the last time we talked was in 2019! Can you tell us a little about what you've been busy with in the past years?
When we spoke in 2019 I had just moved from the French provincial town of Tours to Brussels with my fiancé. In the meantime, we moved into a new flat, which is still in Brussels. I also put my design and craft shop Cool Machine on hiatus on January '22. Since then, I've been looking into the possibility of reviving it in a different form, with a new lease of life. To be continued…
I wanted to take a break from entrepreneurship and devote myself to my passion for decoration: an activity that allows me to create a link between my love for vintage, second-hand furniture and ultra contemporary design. Since moving back to Belgium, I have been sourcing more and more furniture, which I then sell, and I sometimes work with professionals to furnish houses or hotels.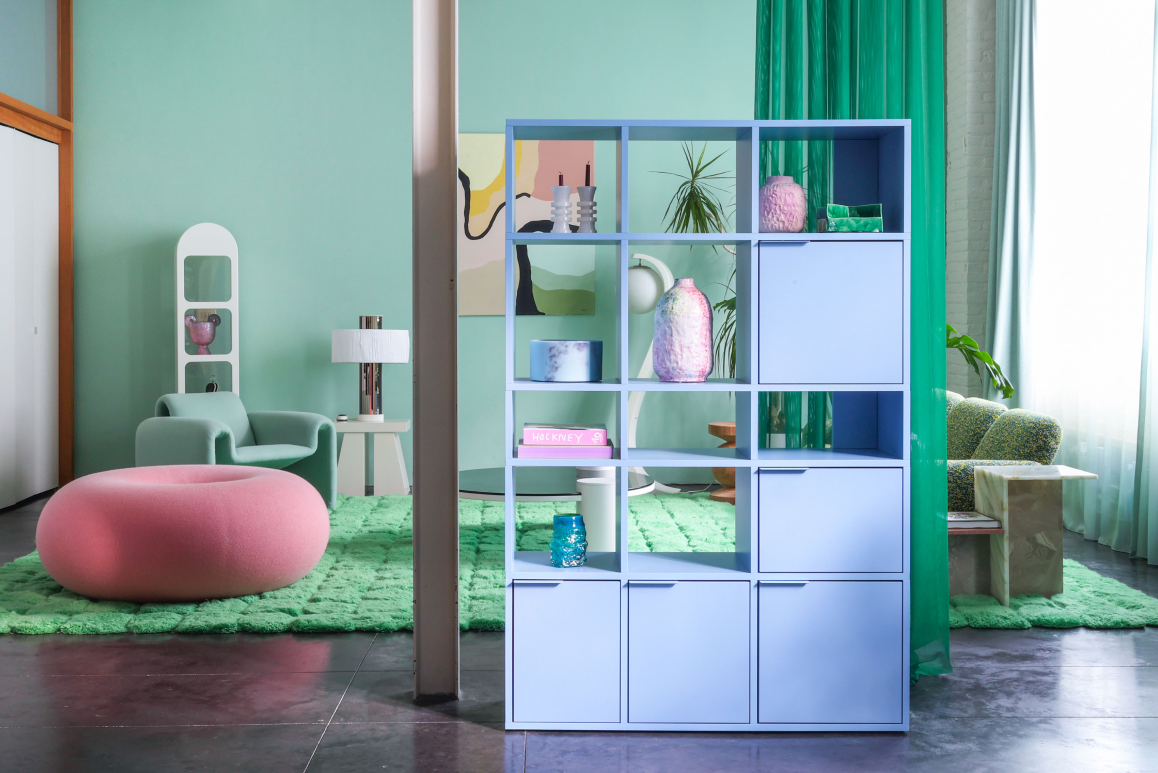 Do you think your interior design style has developed and changed throughout these years? How so?
I believe that a style never stops evolving. There are very present markers and pillars, but everything around them can change and that's what makes decorating fun, from my point of view. I work on the basis of my heart and the bargains that I find. In general I don't look for a specific piece, I like to be inspired by what fate puts in my way during my search.
The basis of my style is always very colourful. I just think that this has been reinforced in our new flat, as the location also lends itself more to it — it's an industrial loft that has been redesigned by an architect. The modernist, geometric structure works really well with our vintage furniture — they're from the 70s and 80s mostly. Our home is like a laboratory, the furniture comes and goes, the wall colours change…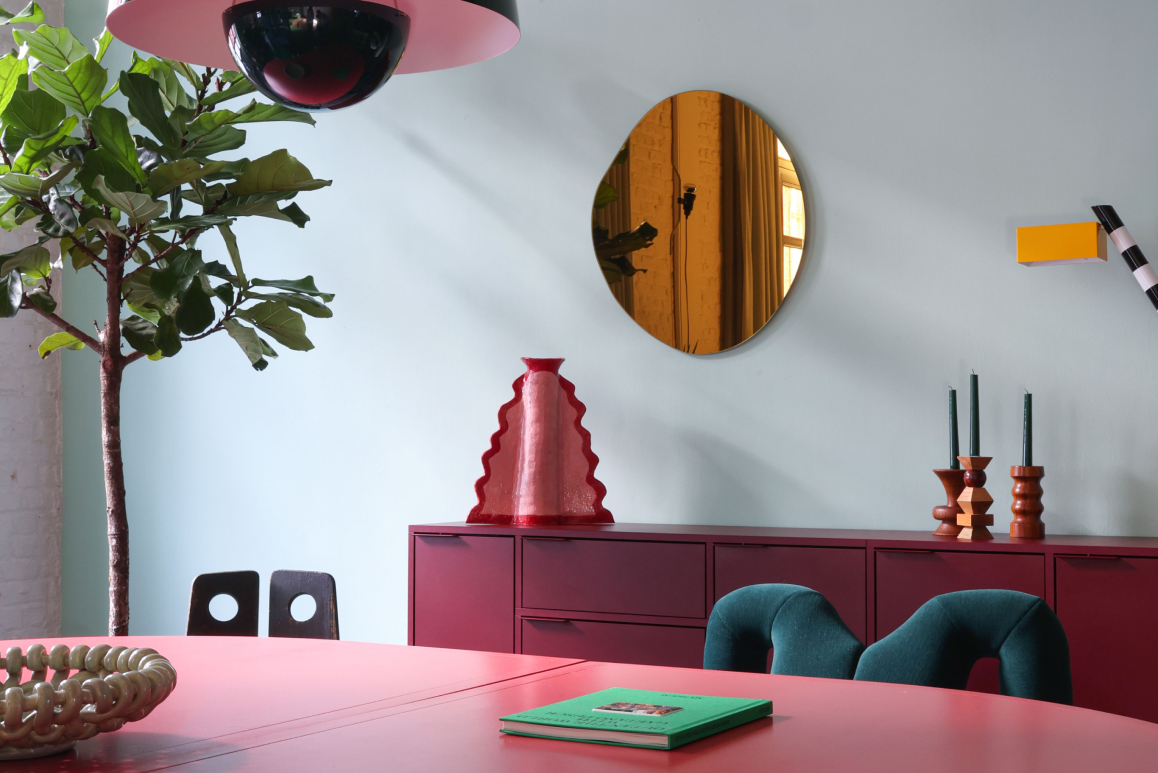 What or who has influenced you and your work lately?
My answer would be far too long if I went into detail about everything that inspires me or influences my work! Inspiration can come at any time, anywhere… I am inspired by the people I meet, the places I visit, the books I open, associations of colours or shapes. To let yourself be inspired and influenced is to be receptive to the world that surrounds you, a world that surprises and delights you!
Your new home is stunning. Can you tell us a bit about the process that went into decorating it? Did you have a vision for each space right away?
At first I had no vision. I buy a lot of second-hand stuff at the spur of the moment, and I don't think it's a good idea to have a super clear vision for spaces, as I might get frustrated when I don't achieve a goal. Also, I like to be surprised by what I find. Everything is built up as I go along. For example, the walls in our living room have changed colour three times in one year…
Although, two pieces have set the tone for the rest of our decoration: our vintage set of Orsay chairs by Gae Aulenti with their sporty green woollen fabric, and our modern painting by Julie Lansom. I also wanted to keep my vintage Castelli Plona chair in a smoky brown colour. The colours of these pieces were a starting point, especially for the bedroom and the living room.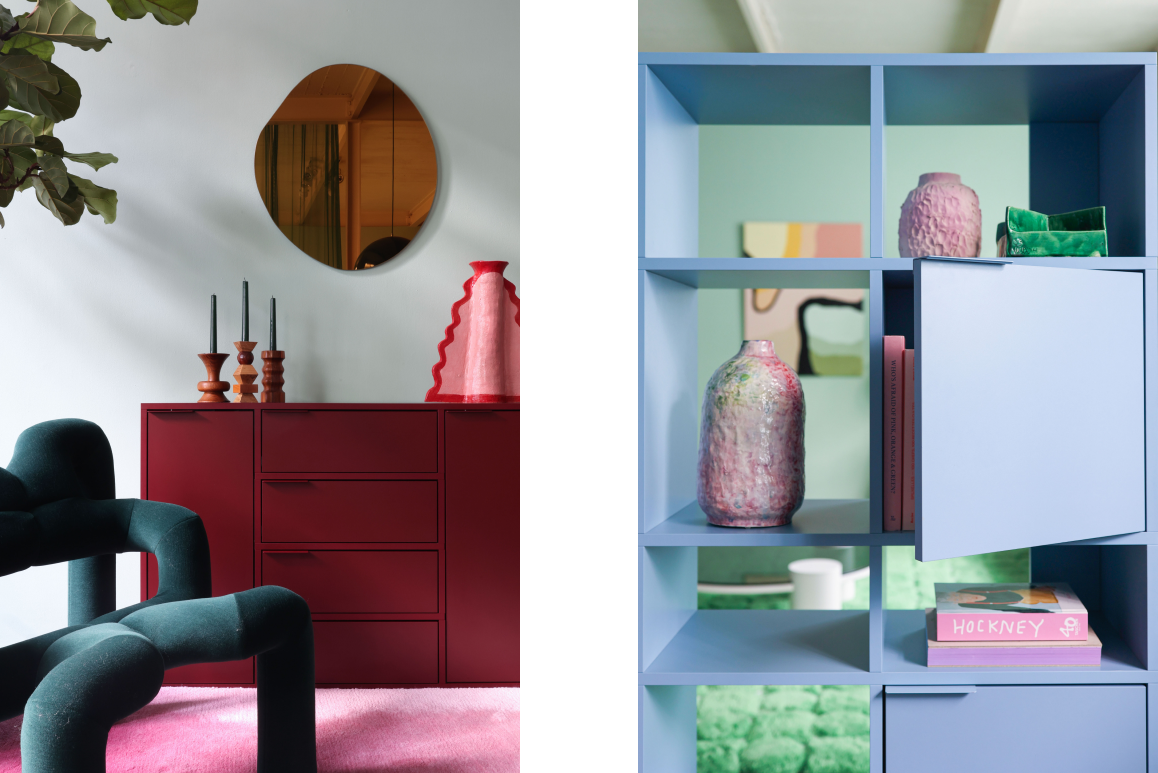 The colours you chose are quite brave. How did you go about selecting them, and what were you trying to achieve?
I've always dreamed of having a pink room in the house, so that became the bathroom, because it's the smallest room and we don't spend much time in it, so we're less likely to get tired of the colour.
Colour is very much linked to emotion for me, which is why colour or material very often guides my choices. All I know is that I love a lot of colour combinations. At home we only have three rooms and it's really not enough to experiment with everything I like, so I had to go for colours that I enjoy most in my daily life, on my clothes for example.
Your collection of beautiful objects has continued to grow. Where do you usually go out on the hunt for vintage design pieces, and do you have any tips for rookie collectors?
I look everywhere! In France I go to a lot of charity sales, sale depots and bartering events. I have a lot of good addresses that I like, in the region where I grew up in particular. I also go to a lot of flea markets — whenever I have the opportunity to travel, they're my first stop.
Each day, I also look at second-hand sales and auction sites. My best advice is to buy what you like and don't ask too many questions, just have fun! Objects exist to highlight your personality, your creativity — there is something reassuring about them. If an object makes you smile and feel happy, don't hesitate.
If it's a signed piece you've been dreaming about for a long time, for example, perhaps take more time to think about it and to look at other prices on the market in order to better judge whether it is indeed a good deal. Think of it as a great investment: these are pieces that usually don't lose value, or better yet, they sometimes gain value.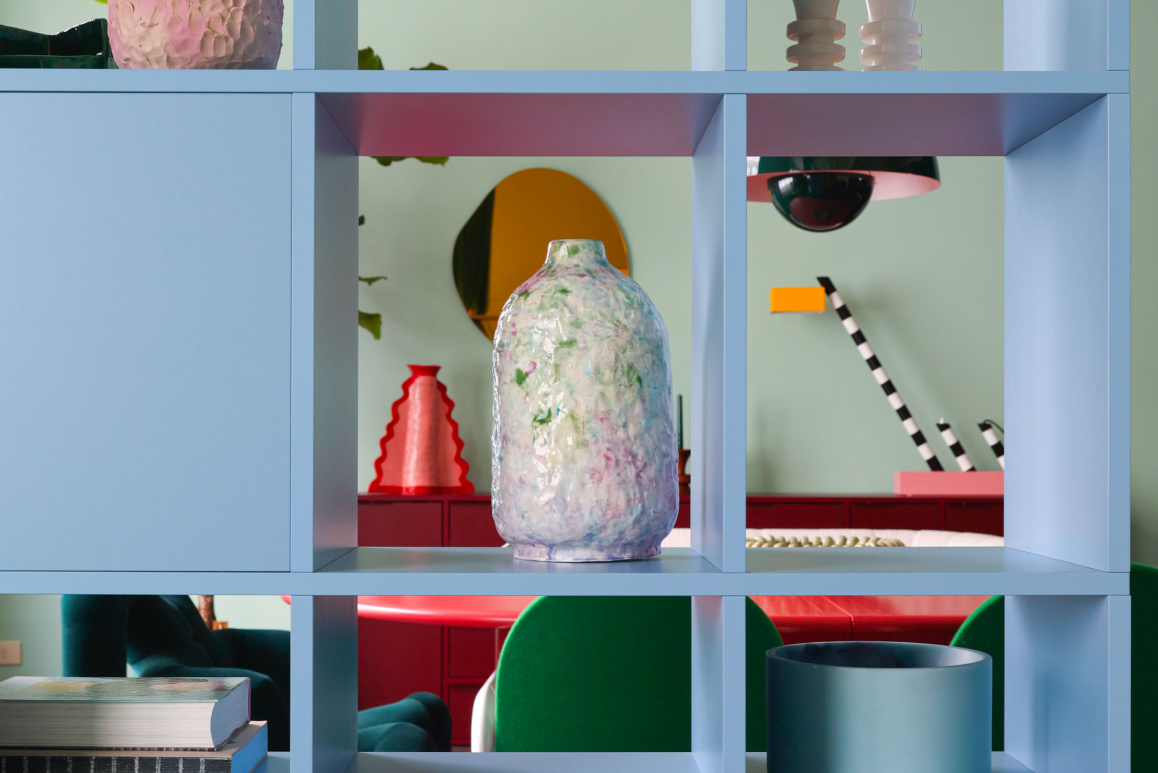 You designed two new Tylko shelves for your new home. How do they contribute to your space's visual narrative?
The Burgundy Red Sideboard  not only provides a lot of storage, but also adds a lot of depth to the room. I really like the way the almond green of our wall resonates with the plum of the Tylko cabinet. It also highlights the raspberry red of our dining table. Again, I made my decision based on the colours and what they visually provoke when combined. I never get tired of aubergine/pink/green combinations.
The Sky Blue Bookcase helps to create a bit more privacy in the loft living area, without cutting off the light or circulation. We also wanted to be able to move it around as we needed to, putting it against a wall or in the middle of the room. The pastel blue hue is more discreet and blends better with the rest of the living room — we didn't want it to stand out too much, but still wanted something with character.
Has the meaning of home changed for you in the past years? If yes, how so?
This new flat really allows me to deepen my ideas and experiences in decoration. This is the first time I have been able to go so far in my choices and tastes.
I have always spent a lot of time at home. Even before the pandemic I had been working from home for 5 years. I've always needed to feel good and inspired here since I'm self-employed. So my home has always been linked to my work: an office, a photo studio, a laboratory for my decorating ideas, a place where I sometimes welcome my clients… I would say that it is an increasingly important place. It is also sometimes a window into my universe, and sharing it allows me to collaborate on more and more great new projects.