Olka Osadzińska: The Berlin-Based Illustrator Rethinking Retro

Old-school influences and digital know-how collide in the work of this thoughtful creative in high demand.
Carving out her own space in a competitive Berlin art scene, Olka Osadzińska uses the city's seemingly endless energy to inspire her work while refusing to follow the dominant aesthetic. Calling on a unique set of references drawn from the past 40 years, with a particular nod to 1980s graphic design, Olka's work feels both familiar and vividly new. From glossy publications to automotive, sneaker design to movie posters, her decorative, multi-layered creations are instantly recognisable and much sought-after. Welcoming us into her home, Olka talks through her creative process, her endless search for inspiration and her responsible, level-headed approach to work/life balance.
Tell us about your background, where did you grow up?
I was born, grew up, attended schools and studied in Poland – born in Kraków, grew up in Warsaw.
I started with Medical School, obsessed with biology – I wanted to specialise in genetics. Instead, after a year I switched to Science of Culture at the University of Warsaw. This proved to be much more "my type" of science, my brain is most definitely wired better for anthropology of culture than for learning Latin names of upper limb nerve branches. This is the MA course I graduated from.
Illustration wise, I'm self-taught. I developed my practice through trials (many), errors (more), internships and chances people gave me, and which I took as opportunities to grow.
You're currently based in Berlin, how would you describe the city's creative scene?
I think it might be better to talk about the German creative scene rather than specifically Berlin. Unlike in other countries where most of the creative work is produced in capital cities, Berlin is just one of the cities producing amazing work – Munich, Cologne, Hamburg are just as prolific. German design studios are a leading influence in many fields right now, especially in art, high fashion and music, it's definitely a very hip aesthetic. Art directors like Mike Meiré, Mirko Borsche, Eike König, magazines like 032c and photographers like Vitali Gelwich are almost literally shaping the way we look at things because of the magazines, posters, brand identities and advertising they create for the biggest international brands.
When you add a super strong, international Berlin music scene, and on top of that the art scene, all driven by a very distinctive German, pragmatic approach, it makes it a very interesting thing to observe.
How do you balance hand-drawn and digital techniques? Do you have a preference between the two?
Well, it's a tricky thing for me to separate. I work in Photoshop, with Wacom pencil, so my illustrations are actually drawn with my hand, as if I was using pen and paper, but just on the tablet. So it's less about hand-drawing and more about using traditional techniques that I see the distinction between. 
I like both but digital work is definitely 95% of my practice. 
My preference for digital goes to a silly level, I'm more likely to create a mockup than take a photo of an object I actually physically own. I guess it must be related to wanting to fully control the form.
What are your favourite types of commissions? What specifically makes you say 'yes' to a job?
I like fields I haven't worked in before, clients who are open to experiment and who trust my vision, projects that have the funds to be realised and executed on a good quality level and things that answer to real demands and solve real problems rather than creating new ones. 
So, in short, things I haven't done yet and things I believe make sense doing. Projects promoting equality and tolerance, supporting the ideas of community, communication and care, definitely have my "yes" at this point in my career.
Where do you find inspiration?
Observing the world around me. Since I live in the country that happens to be in my top 3 in terms of creativity, this simple practice is definitely a great inspiration. 
Art, fashion, architecture and the history of all three elements – across cultures and continents. 
I also believe that you have to actively engage with the world to be able to stay creative, things happening in tech, sports or music definitely shape the visual culture. The same is true for politics. Here it's less about visual inspiration and more about context, but that can determine the very subject of what you'll be designing in the future. 
We're back in the age where "the artist has to be present" (to paraphrase the title of Marina Abramović's exhibition at MoMA) and "the eye has to travel" to quote Diana Vreeland.
How would you describe your illustration style to anyone unfamiliar with it?
Early 2000s aesthetic influenced by 80's & 90's visual culture. MTV, Bravo, Popcorn, Izabela Trojanowska and Miami Vice maybe mixed with Keeping up with the Kardashians and Japanese street style. If you put flowers on top and add some vintage botanical plates and Durer-style engravings you'll have a full picture. 
It's a lot. It's intense. It's rich and there is a lot of color in it. That's at least how it was in the past 15 years, who knows what will happen next.
What are the key career lessons you've learnt over the past 5 years?
I think at this point of my life I could actually write a book. Something people keep telling me I should do. As a general approach – put the effort in, trust your instinct, stay true to your values, educate yourself and make sure you act with integrity. 
As a practical approach – creative freedom is related to your financial stability. It's also a long term game and it's good to keep that perspective in mind when you evaluate your work situation. Don't let the short term troubles define you. Having friends who are lawyers helps. Having someone you can consult on financial matters in your field helps tremendously. Again, educate yourself in those fields.
Therapy is also a great idea – always. We don't have to, and maybe also shouldn't, try to figure out everything by ourselves in a world of this level of complexity, transformation and with such a pace of change.
Build your tribe. Connect with people. Respect others and yourself.
How do you wind down and relax when you're done with work?
It's a mix. Walking, reading, looking around. Going for a run, meditating. Watching Netflix or some silly stuff on YouTube. 
I would say listening to music and dancing, but going out in Berlin is such a serious business and happens at such hours that despite my absolute love for ass-shaking (and the Berlin club scene) as a form of decompressing, I'm taking a bit of a break from going out currently. 
In many regards this city has taught me how to enjoy life, and that you can have one.
Who are you art/illustration heroes?
Alex Katz, Andy Warhol, Picasso, Botticelli, Caravaggio, Jean Arp, Brancusi, Ola Niepsuj, Caterina Bianchini, Merijn Hos, Mario Hugo, Richard Kilroy, Beth Fraser, Cecilia Carlstedt, Kelly Beeman, Kalen Hollomon. Random order and oh my god, so many more!
How has the design world evolved in the past ten years and where do you think it will go in the next ten?
From my perspective the design world hasn't evolved as much as fashion, tech and graphic design did, stylistically, so I hope it will catch up.
What are your favourite locations for anyone visiting Berlin?
I love Soho House for its architecture and design, Betty n Caty for breakfasts, Gropius Bau for exhibitions, Parliament Quarter and Museum Island for walks, West Berlin for food – Madame Ngo, Tak Kee, KaDeWe, Paris Bar, Good friends. Potsdamer Strasse is an area I would like to explore a bit more.
How would you describe your interior design style?
Good quality materials, long lasting products, functionality, solid and well thought through design. I've moved around a lot and I'm not yet at the financial and life-stability level to "build" a solid home-like place for myself but Vincenzo De Cotiis, Martin Brockett, Vincent Van Duysen, Nicolas Schuybroek and stuff from Galerie Half are definitely my style. I could also just move into Ricardo Bofill's former-cement-factory-home-studio.
Are you a collector and if so, of what?
Books, gift wrapping papers, glasses (sunglasses and the ones for drinking), ashtrays (as objects, I don't smoke), soaps and art postcards (can't explain why). If I had the space and funds I'd collect, or just hoard, much more.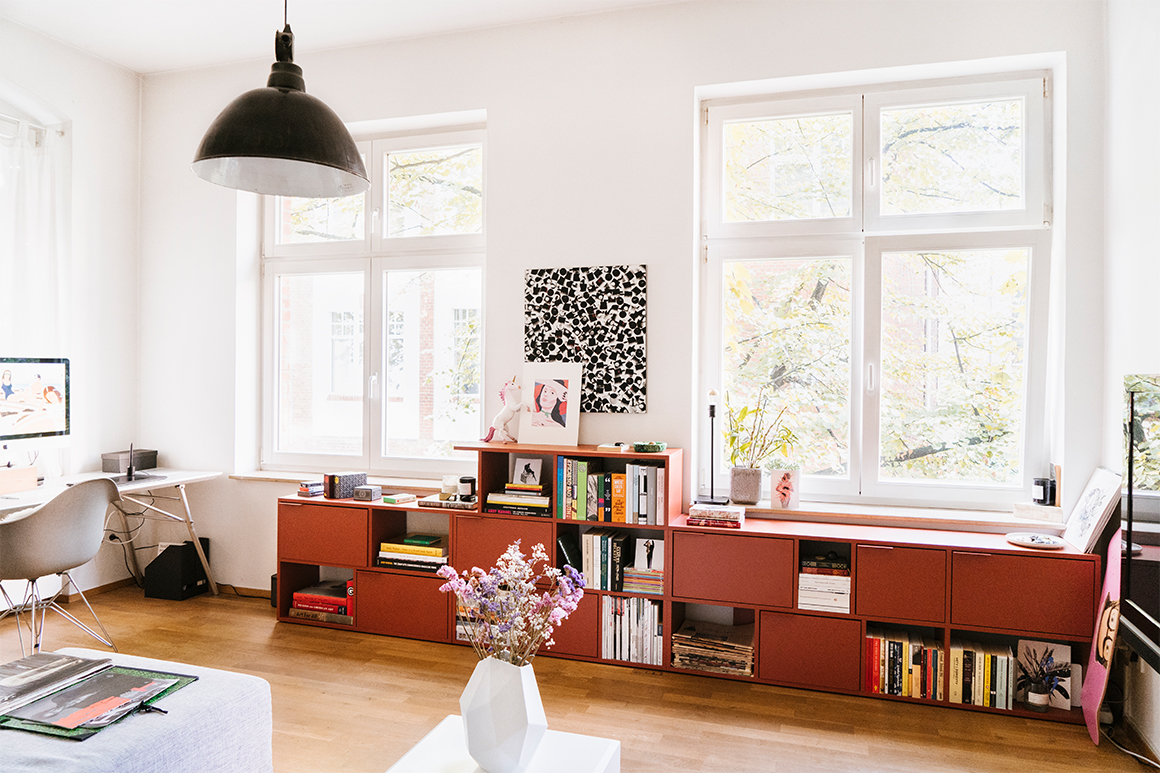 What does "home" mean to you?
Currently it means Berlin and the apartment I live in – which I love. Both make me happy and both are my places on earth. I also like feeling "at home" in places, I'm a creature of habit and tend to go to the same places over and over again.
How does your Tylko shelving work within your space and how does it fit your lifestyle?
In a way it made my home, a home. Tylko shelving has literally built the space I needed. And I put it together myself! I also fell in love with the way it's packaged, how sustainable and easy to recycle the packaging is while looking absolutely dope. 
It shows what I want to show, hides what I want to hide, balances my space and makes me happy when I look at it. It's just perfect.