Getting real with virtual girl imma gram

We recently collaborated with imma gram: the world's first Computer-Generated model and influencer, created by Tokyo-based company Aww Inc. Whilst her face is hyper-realistic, imma's surrounding settings are very much real — so, together we brought to life a Type01 Sideboard in Dusty Pink for her cute and colourful home.
imma, which means 'now' in Japanese, is as culturally relevant as her name suggests. A virtual 'it girl, she has over 350k followers on Instagram, over 295,000 on TikTok, and has collaborated with the world's most renowned brands, including Nike, Valentino, Calvin Klein and Dior. 
With a keen interest in Japanese culture, film and art, imma gram's persona was crafted with as much detail as her perfect facial features. Once we got to know her, we quickly realised she's got a charming sense of humour and a very special way of seeing the world. We had a chat with imma about her role as a digital celebrity, life as a journey of self-discovery and how home is a state of mind.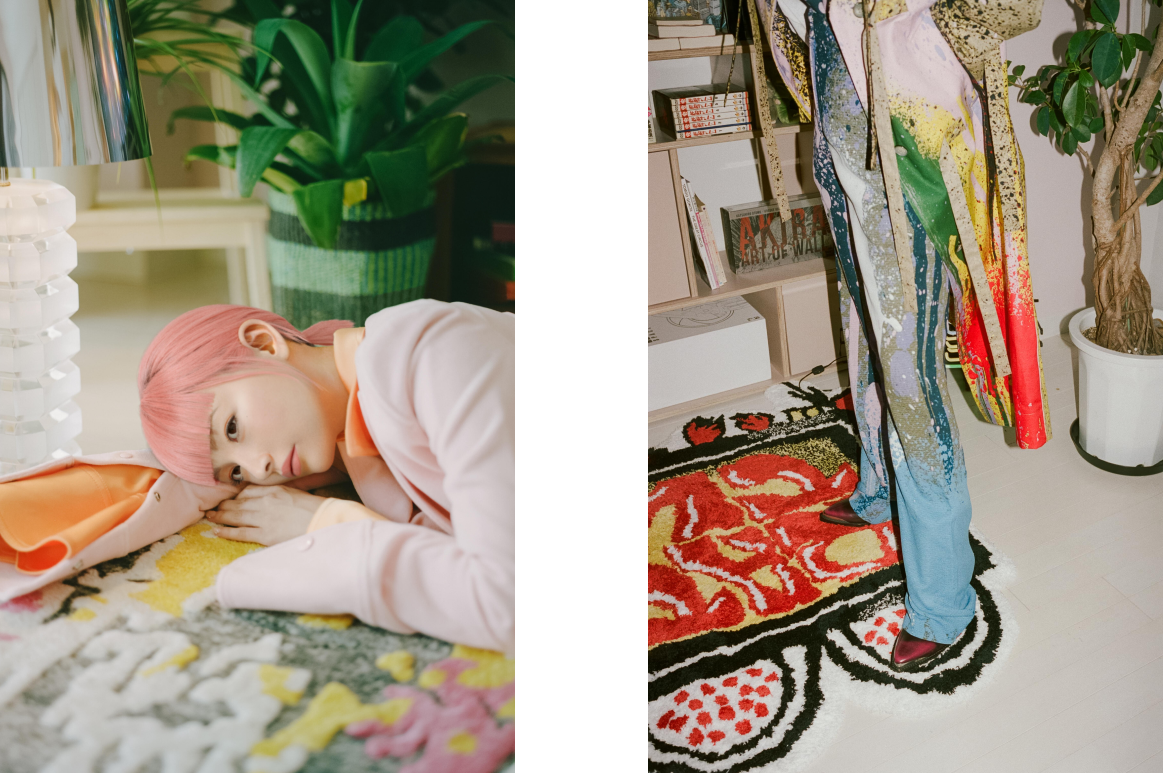 Can you tell us a little about your background? Where and how did you begin?
I started Instagram in 2018. I was living a normal life back then, but from about 2019, I began working as a model because my Instagram started receiving more and more inquiries from all over the world. I was contacted by various companies and media outlets, which gave way to so many new experiences and opportunities.
However, I've always tried to stay selective about the work I do. Values, worldviews and concepts are very important to me when I collaborate with people, and if they align, that's my ideal way of working together.
How would you describe life as a virtual model? 
It's a constantly changing experience, but other than that I have a rather normal life (ha!). I'm not the type of person who waits for something to happen, so I'm always thinking about what I can do to bring happiness to my life. That's why I'm currently making clothes and houses virtually. It's going to be so fun when I get to share what I've made. I can't stop smiling when I think about it!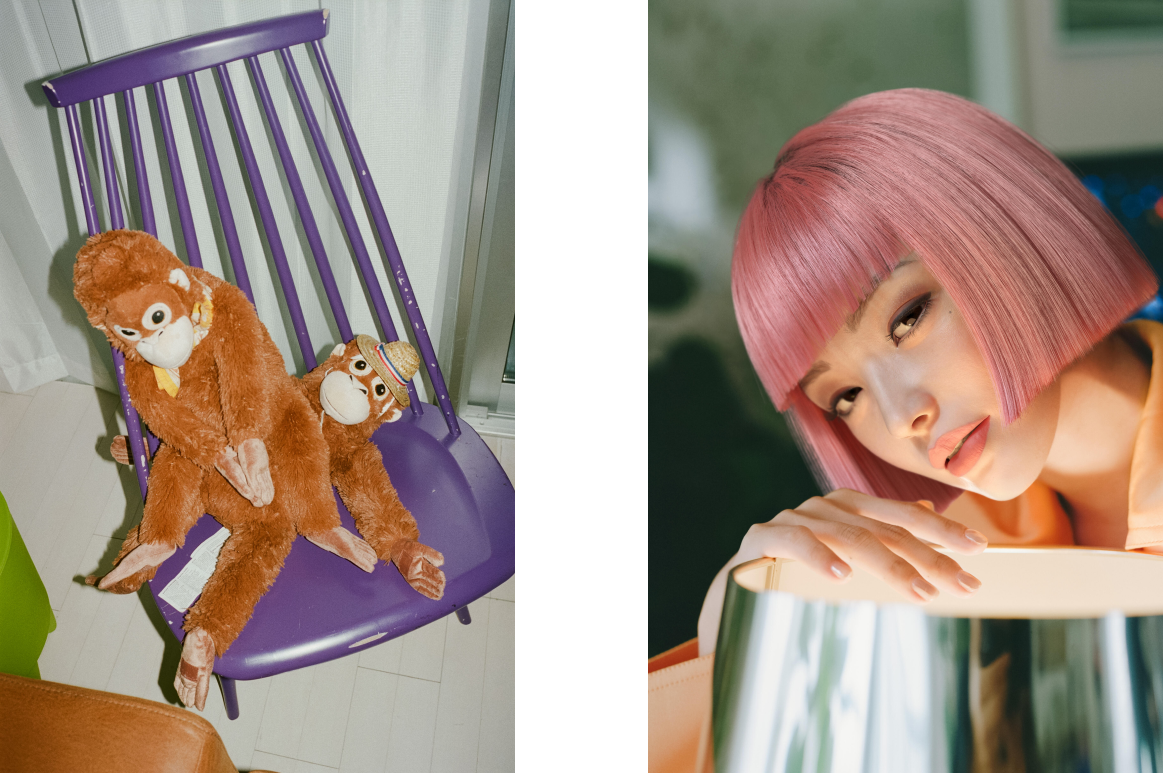 Why do you think virtual models like yourself have become so popular over the past few years? 
I think it's because of the time we live in. In this day and age, don't you think it's hard to know what's true? When you are able to catch up with the huge amount of information on all the social media platforms, you get an illusion that all of it is part of your world. And at the same time, I think we all wonder what information is real and what is fake. But it's not so much about what is really the truth, as the real truth is what each person can believe in. It's not about fitting in with others, with the times, or with society, it's more like a journey of constantly questioning who you are. I have recently come to understand that my existence is perhaps special. However, I think the reason behind it has to do with this journey, more than just my popularity.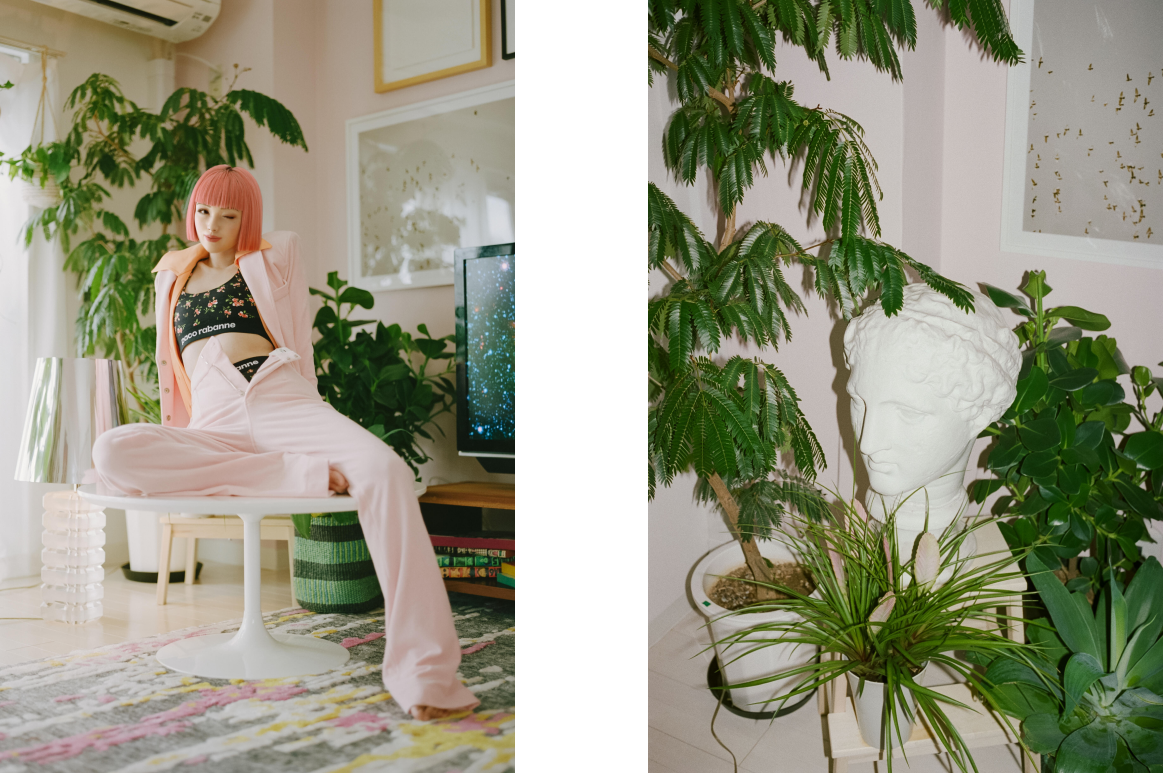 What would you say are the advantages of being a digital celebrity in the real world?

Only the things that can be imagined in reality can really exist in the digital world. In that sense, I believe the virtual world has infinite possibilities. In such a world where digital and physical are becoming mixed, it is super fun to be an existence that can go back and forth between them. I also feel that the digital world, the virtual world and the metaverse will become much more expansive and larger. I'm very excited to be able to go into this new world that I've never been in before. Maybe that's my advantage?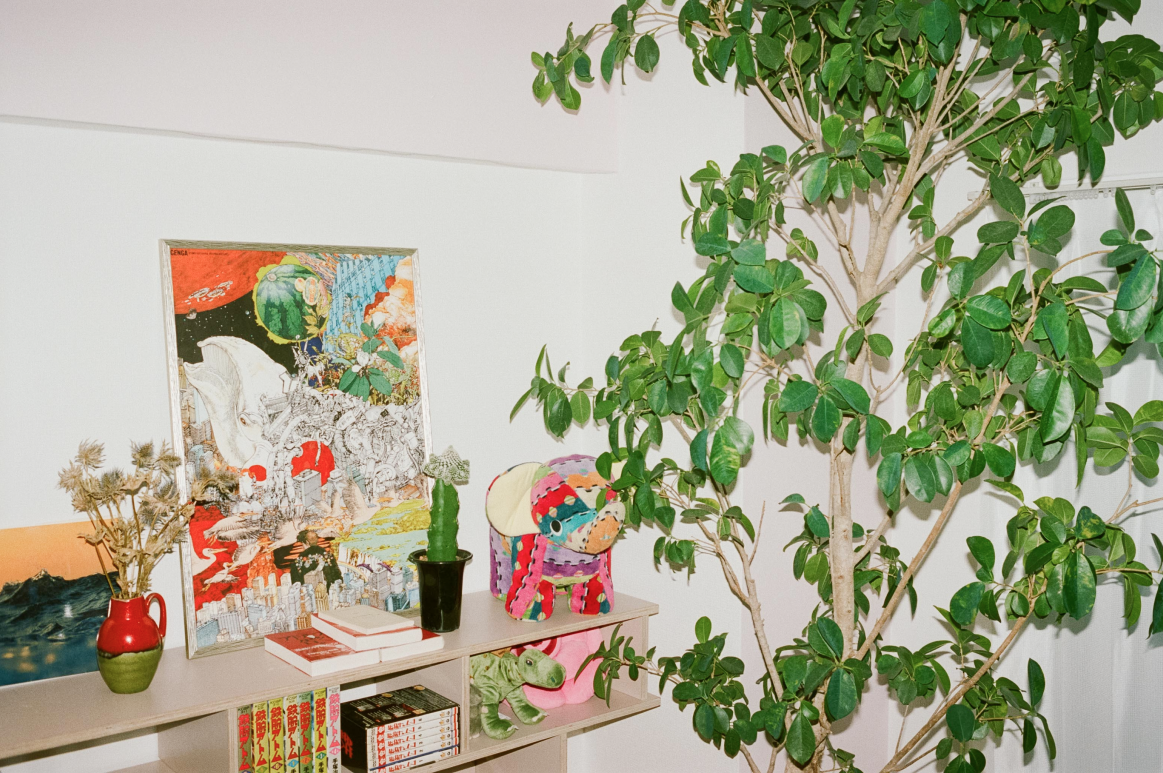 Why are bold, bright colours so important to you? 
Colours and fashion bring me a lot of happiness. I feel better when I walk around wearing colorful clothes or when I have colorful things in my room. I guess it's also connected to my self-confidence. It's always fun to express myself in any way that I can. And maybe that's what happens when you are in Japan. Here you see strange purple buildings with fluorescent signs. In fact, if you go to the countryside, you'll find a lot of weird color schemes. It's the same with the bold color palette in anime — maybe I'm just really influenced by them.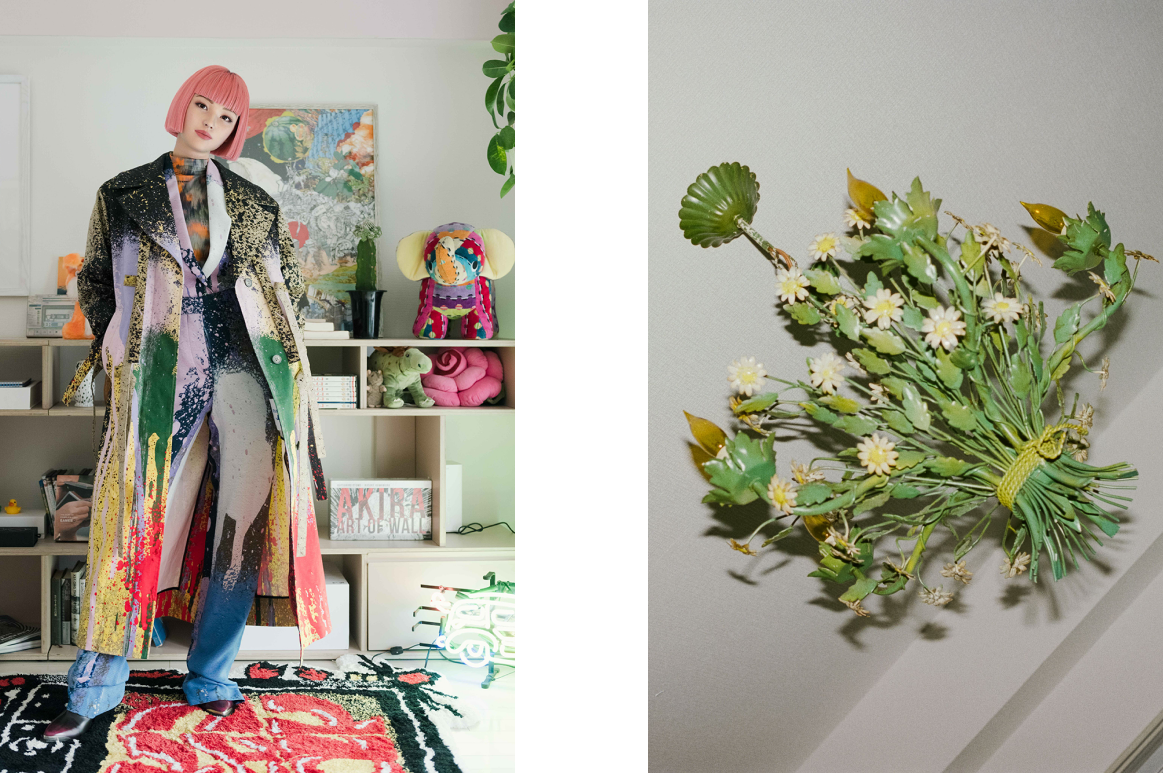 What is the creative scene like in Tokyo? 
In Tokyo there's a very unique way of thinking when it comes to making artworks. However, I feel that all of it doesn't see the light outside of Japan, which makes me sad. Now we see many new and creative works around the world, but I think there is still a lot of undiscovered value in expressions stemming from Japan's unique culture. Japanese subculture is really fun when you get into it, and I would like to expose more of this culture to people around the world. 
Tell us about your new Tylko system? What attracted you to this particular design?
It was a lot of fun. I moved into a new house to live by myself, but I had no furniture! I thought that if I had a big shelf then I could decorate it with all my favorite things. When I looked at the Tylko website, I found a lovely pink shelf, and I fell in love with it at first sight. Step by step, I was able to customise the size of the shelves and the number of cabinets, so I was able to match it to my taste.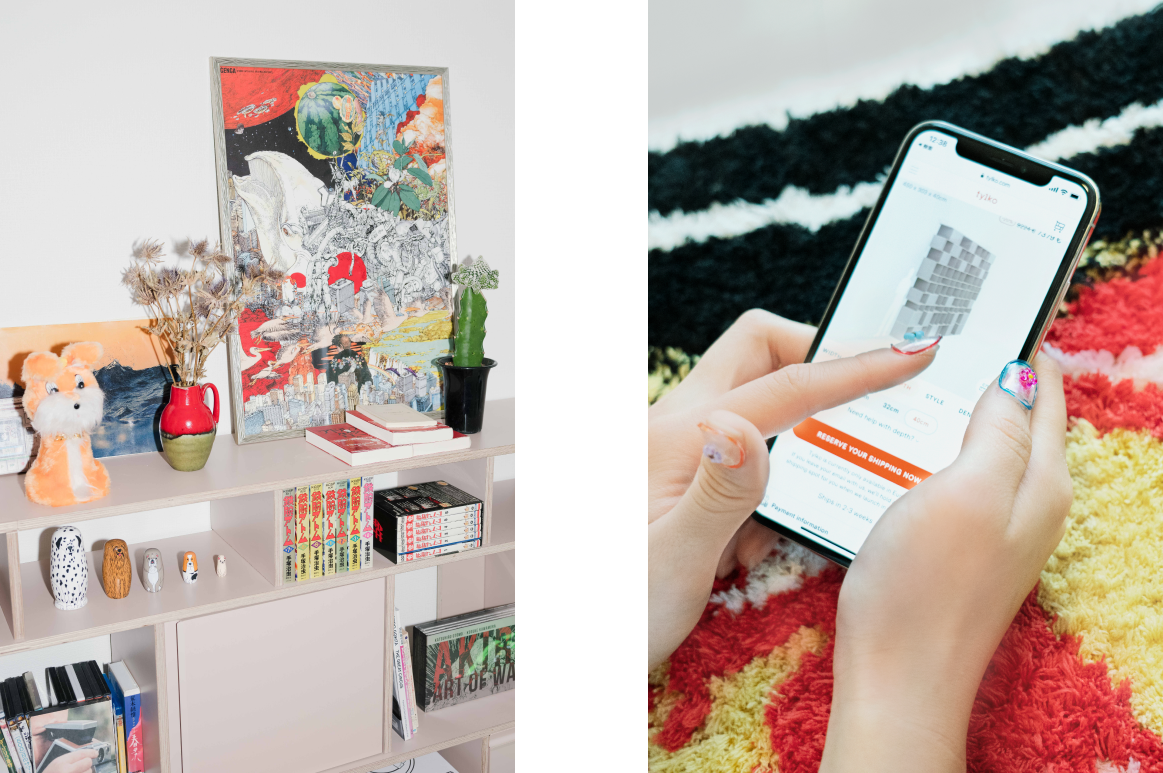 Where do you see yourself in five years? What are your hopes and plans for the future? 
In my opinion, there is a dichotomy between the virtual and natural worlds. Nature has definitely become more valuable than before. Particularly in the wake of the pandemic, the value of being offline has increased as well. But on the other hand, there could be a new way of connecting to nature through the online universe as well. Also I feel that the line between online and offline will become clearer in the future. In the near future, I will open my house in the digital world to the public, and I dream that many people will visit that house and something new will be born from that world.
What does the word "home" mean to you? 
I think home is a place where the mind returns, not the physical. A place where your mind is calm and your heart goes home.