Master the art of Scandi-chic with Johanna Wiemann

Looking to achieve a Scandi-chic interior? You'll definitely want to follow Hamburg-based influencer @scandinavian.interior on Instagram. Having mastered the art of Hygge — the Danish word for cosy, comfortable atmospheres — Johanna Wiemann has become the go-to source of inspiration for minimalist lovers around the world.
Combining beautiful natural woods, soft, calming tones, sculptural branches (think magnolias) and warm lighting, Johanna sure knows how to create beautiful, relaxing spaces. To find out more, we talked to the interior tastemaker about her style, staying organised, and how her four new Tylkos in Oak Veneer and White have helped her create more harmony at home.
Hi Joanna. Your home is so dreamy! How would you describe your interior aesthetic?
Calm and collective, with an effortless elegance and inviting, warm atmosphere.
Every room looks so pristine. Any pro-tips for staying organised?
I have to be honest here: when you look into my drawers, they're actually not that tidy! So my tip would be to get yourself some pretty storage solutions where you can hide the mess 😉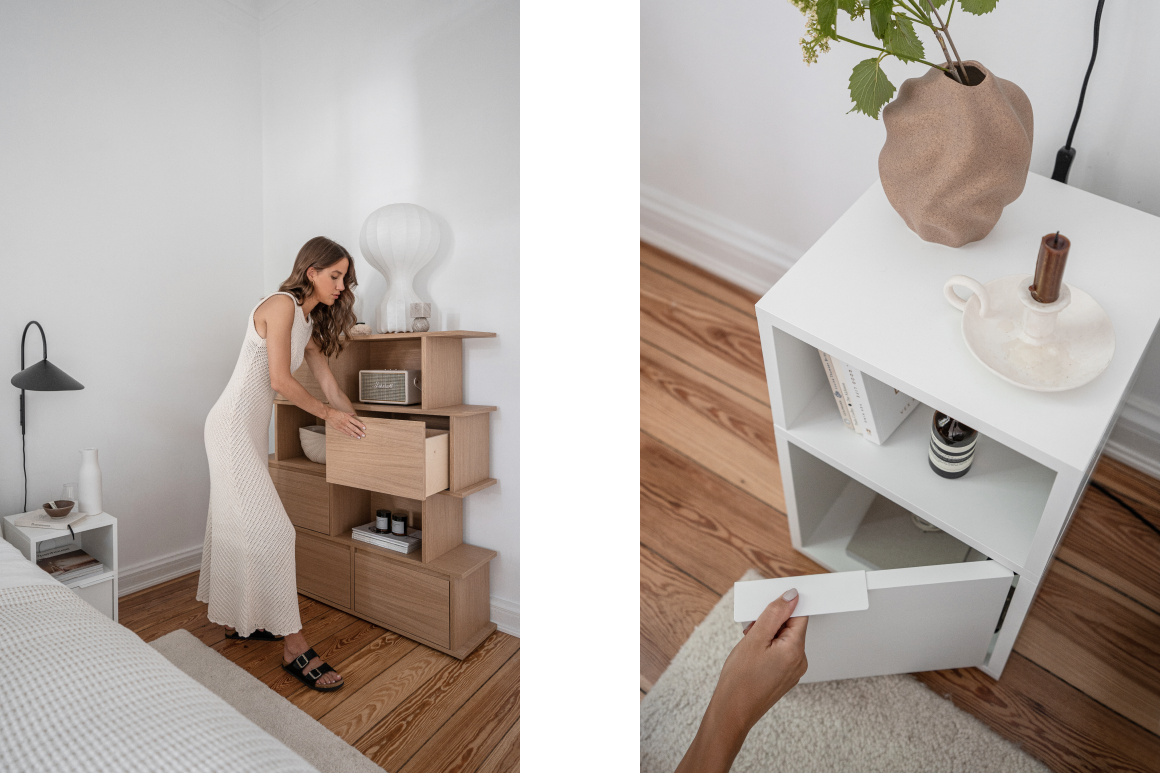 As you know, one of our greatest missions at Tylko is to help our customers create more harmony at home. What is harmony to you, and how do you translate that into your living space?
Harmony is when my mind can rest and my body relaxes. Since I have a busy mind and have trouble sitting still, I have tried to create a home that allows me to unwind as much as possible.
The bedroom is obviously a place to relax and recharge. Are there any specific elements that you have implemented in your bedroom that contribute to creating calmness, such as your colour selection?
When it comes to the bedroom, less is more in my eyes! An airy light colour palette, a rather minimalist decor and cosy textiles create tranquillity and a feel-good sensation.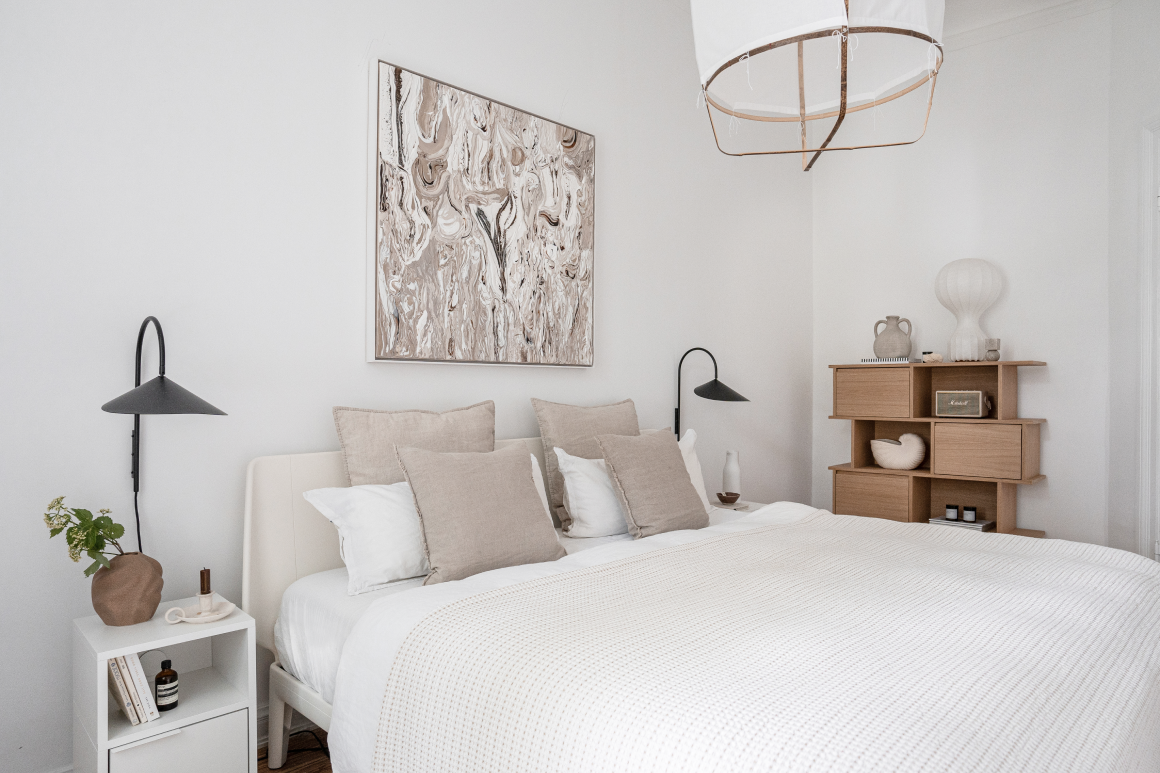 At Tylko, we see the living room as a space for communion, and where you can express your unique character. How have you created such an inviting place, and in what ways do you think your decor shows off your personality?
Through all the little details. Even though my interior looks quite simple, I love to add small touches that symbolise personal stories, as well as underline my character. For example, the large artwork I created myself during the lockdown, or a bowl I've owned since my very first apartment.
Where do you find inspiration?
The colours, materials and shapes of nature inspire me greatly, as do the impressions from my travels.
How has Tylko contributed to your vision, and how has it helped you feel good in your home?
Tylko certainly helped me create storage space that fits my needs, and my room's needs perfectly — both in terms of organisation and aesthetic. The storage I have chosen hides things, gives me room to decorate and contributes to a beautiful, homey feeling.
What does home mean to you?
For me, home is a place of serenity, emotions, freedom — a space where you can just be yourself.