Natalia Paszkowska – WWAA's Co-founder at Her Home in Warsaw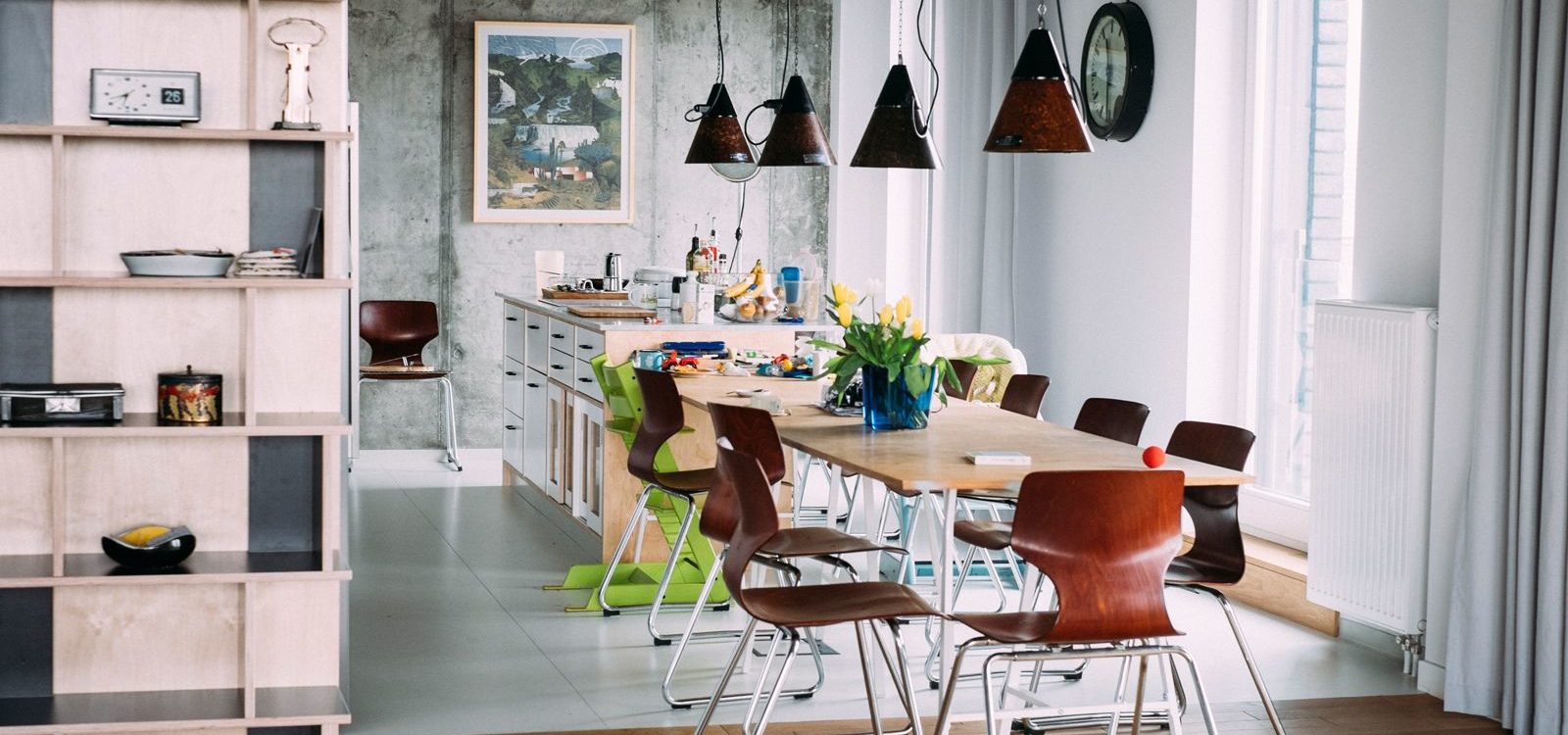 We visit the female half of a famous Warsaw-based architect duo WWAA, to see how her Tylko Shelf blends in with her spontaneously designed interior.
SoHo factory has become an inseparable part of Natalia Paszkowska's every day. This revitalized post-industrial quarter hosts both her studio and her home – the latter in a building designed by WWAA, the practice she runs with her partner.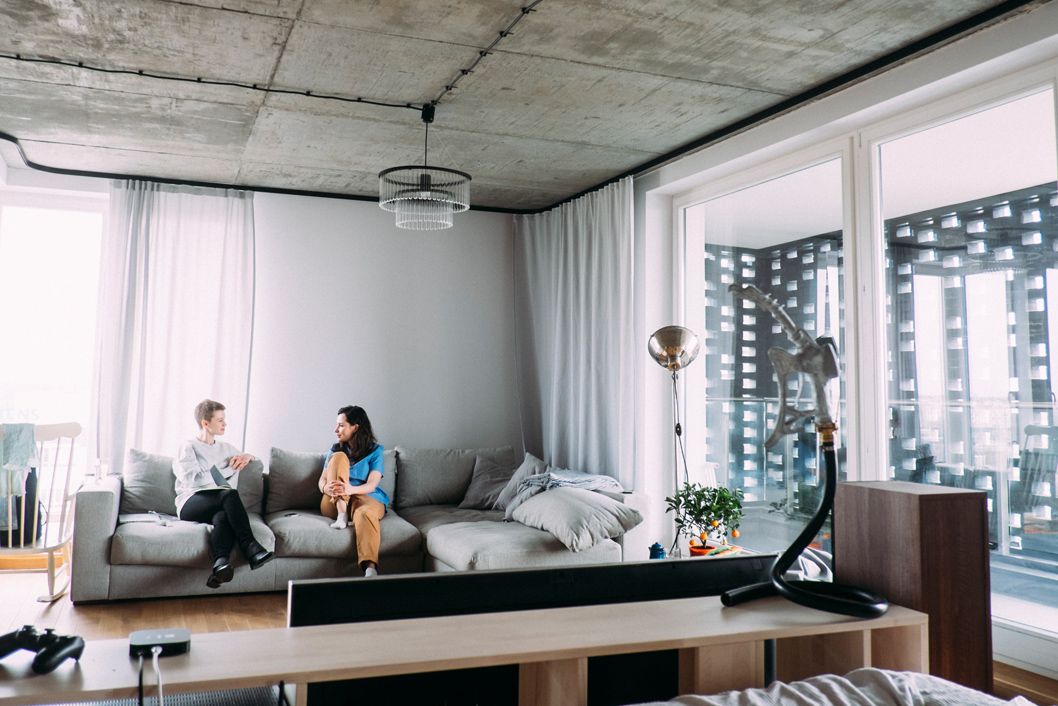 As an architect primarily involved in designing buildings, what do you feel the hierarchy between interior design and architecture is? Many architects tend to look down on creative disciplines that deal with a smaller scale.
When I was at university, this disregard for other creative disciplines was widespread among the tutors. Both Marcin [Mostafa, Natalia's partner] and I have always felt that it's pointless to prioritize one scale over the others. I feel that a well-designed, lasting piece of clothing that's accessible to a wide audience can have the same profound impact on our environment as a building. To me, all scales are equally important, but I don't think you can be an all-round designer. There are many multidisciplinary design studios, but I believe that eventually every designer develops their own sensitivity that makes them fit for a particular discipline.
You do take on a variety of projects, though, ranging from architecture to interiors and exhibition design.
But we don't design private interiors. We did take some commissions for private apartments when we first started our practice (every architect starts with these, to be honest), but we really struggled with them. There's a vast difference between designing private and public spaces. To me, a home should reflect its owner's personality, not the designer's vision. Even if it comes out messy in the end, it doesn't matter because it tells a story of your personal preferences. I don't want to be in the position of a designer that imposes a certain style on the client. I'd rather ask, 'What do you like?' I don't have the nerve to tell the client that they should get a grey sofa and a wooden floor because it will look good. However, such approach is unlikely to lead to projects that will show off my skill as an architect, so I prefer to stick to other commissions.
A public interior is a whole different story. When I design a restaurant, an exhibition ground or any other publicly accessible interior I fell that I'm the curator of the space. I know how to translate its function into its form.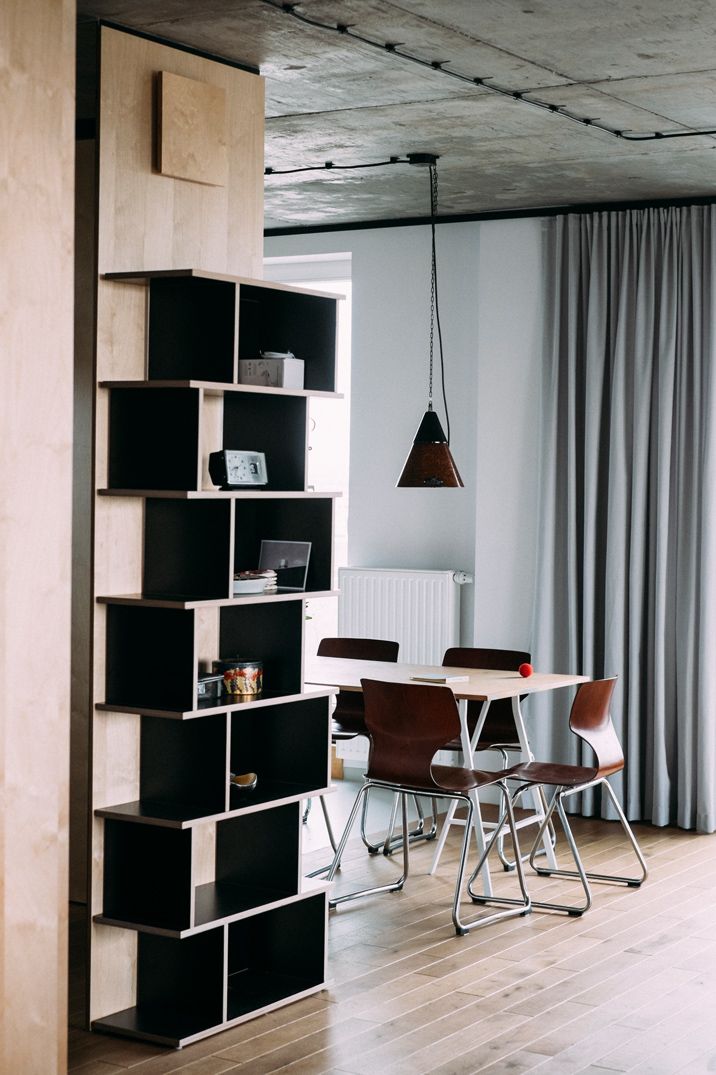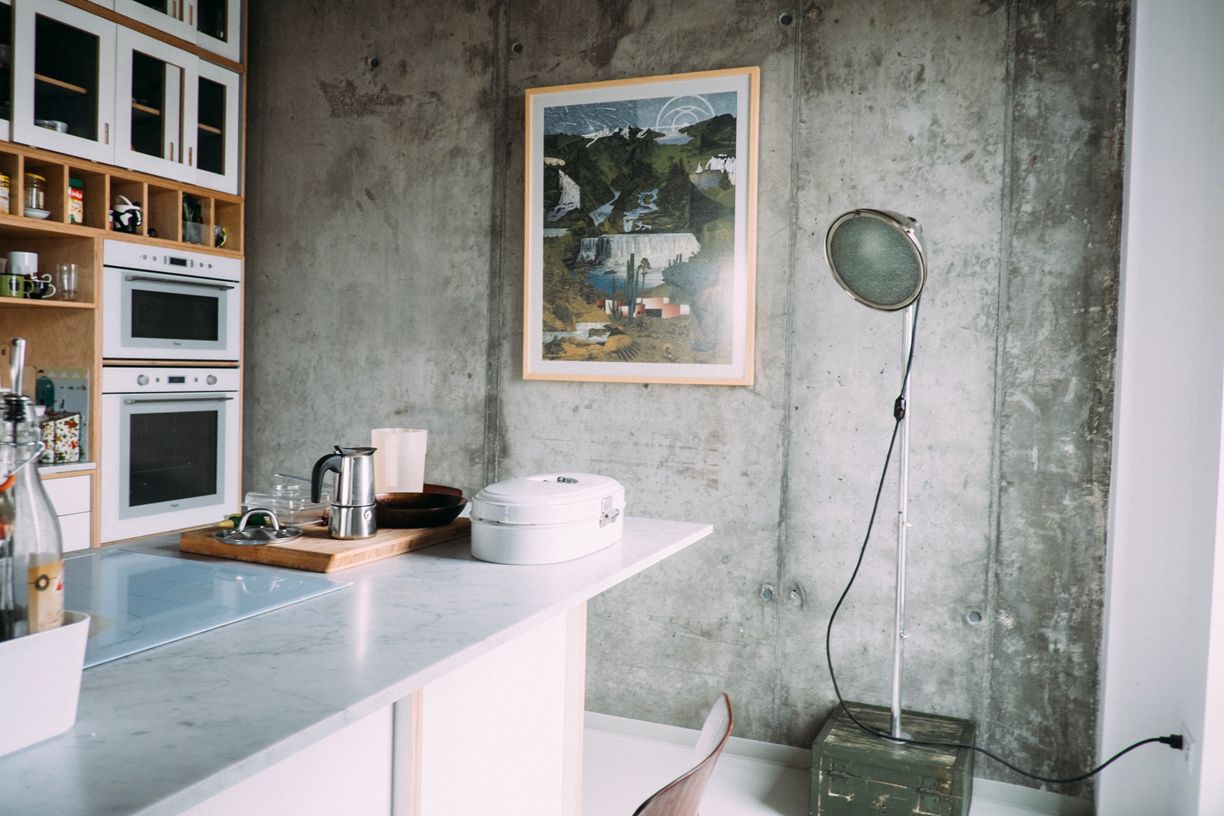 How did you design your own home?
In a rush! We moved in two days before I gave birth to our second child, with only a few boxes and a mattress. We had no doors, no kitchen, no furniture—only the floor and the bathroom. That meant that everything appeared when we were already living here, and I recommend this way of decorating a home to everyone.
T: Isn't it paradoxical for an architect to recommend decorating a space without a plan?
The way we did this was indeed without a plan, but it allowed us to instantly verify whether something was right for this space. It was the ultimate ad hoc design process. The only plan we had was how to divide this big open space into smaller rooms for our two children and us. We decided to keep the living room as big as possible and make the bedroom and children's room really tiny and cozy. We spend all our time together anyway, so these rooms are only used at night. When our second son grows older, we'll be able to cut a piece off the living room and add another room for him. For now we want to keep the common space as generous as possible.
What about the furniture? Are these all pieces spontaneous discoveries, too?
We designed the kitchen and bathroom shelves ourselves, and got a lot of the accessories at flea markets. Maybe it's because we're getting older, but we've really come to appreciate vintage finds. The lamps above the kitchen table have a very interesting story. We bought two of them at the flea market in Mauerpark in Berlin. I asked my dad to renovate them and he discovered that they came from a Rosa Luxemburg's factory. They originally had red bulbs that exuded heat rather than light and kept the hens warm. They're made from minced cloth mixed with resin and each one is slightly different thanks to this accidental material. We were so excited about this story that we traced down another four of them.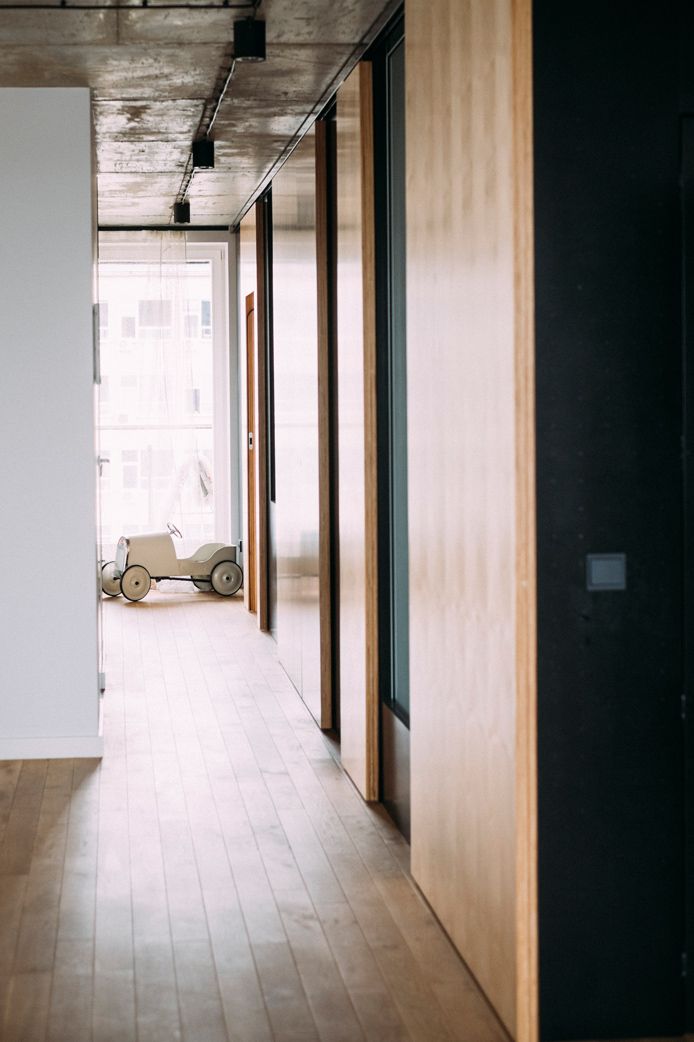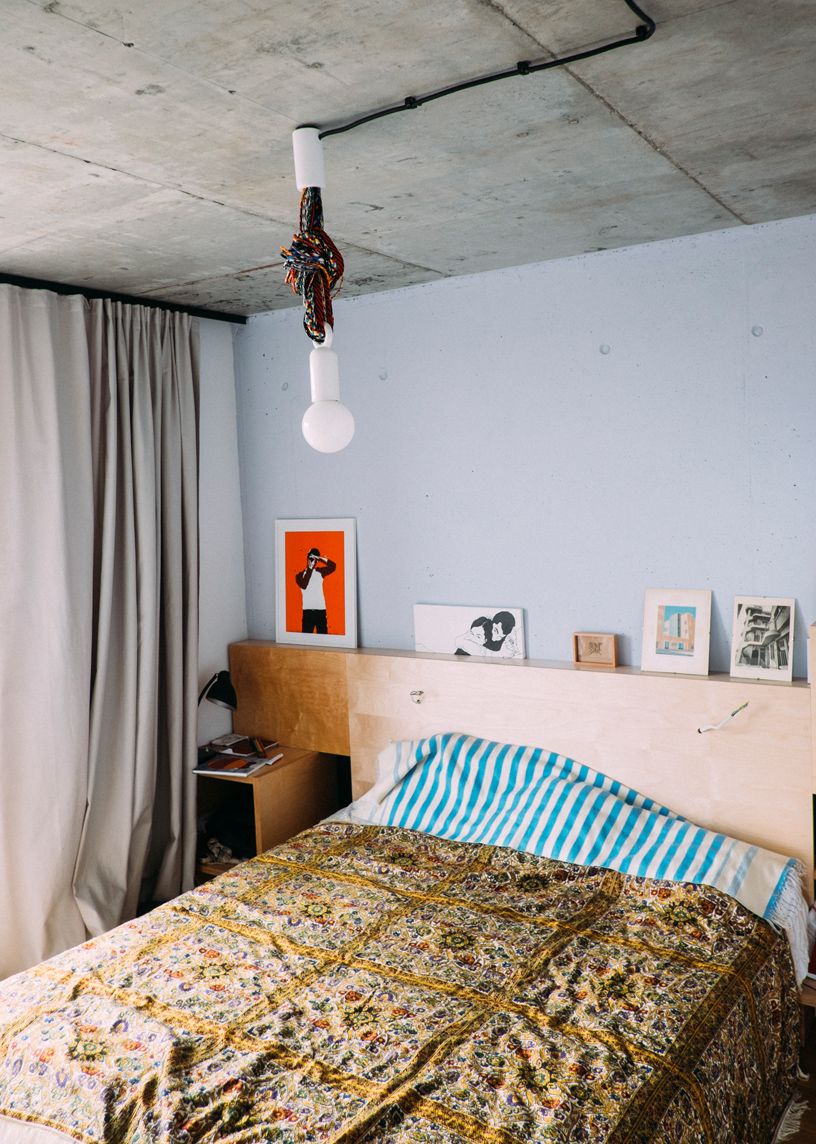 There's a vast difference between designing private and public spaces. To me, a home should reflect its owner's personality, not the designer's vision.
Back to bigger scale – you spend most of your time in SoHo factory. This revitalized post-industrial quarter is where you both work and live, the former in a building designed by your studio. But the neighborhood around SoHo is still pretty shabby, isn't it?
I think the shabbiness is not the fault of the architecture around here. It's the infrastructure in-between that's neglected. There's no well-designed public space, and the pavements are falling apart. It's striking how uncared for this place is. But as I stroll Kamionek, I'm falling in love with it over and over again. There are so many hidden gems of pre-war architecture around here. Old boiler houses and other industrial treasures that are off the main streets and almost impossible to find if you don't know where to look for them. The density of such buildings per square meter is really incredible here. I think that's what makes me a total fan of this quarter.
We first moved into this area when we founded our office in 2009. Our first studio was in a building very close to where we live now. Once we got kicked out of there we moved to another space in the neighborhood for a year and after than we renovated Komin [an old factory building where WWAA still has its studio]. But our first encounter with this place goes much further back that 2009. When we were still students, I used to have a summer job as a house painter in a warehouse nearby, and Marcin used to come here to buy woven labels from haberdashery wholesalers around here when he was working as a fashion designer. Years later, I look at the place where this warehouse stood from my bedroom windows. I would never have though that we'd grow so attached to this neighborhood. It must have been fate that brought us here.