Omocado Studio: Capturing the Everyday through a Minimalist Lens

Berlin-based photography duo, Mauricio F. Corridan and Olja Ryzevski, tap into the power of personal touch by incorporating elements of everyday life into their projects and blurring the lines between work and home to great effect. We catch up with the creative couple to find out more about their very modern approach to content creation.
The brainchild of couple Mauricio F. Corridan and Olja Ryzevski, Omocado has become a go-to photography studio for big name brands including Hermes, Gucci, Cartier, Samsung and Canon. The globetrotting pair connected in the early days of their careers, meeting as interns in Switzerland, and grew together creatively while discovering and defining their own individual aesthetics. A stream of collaborative projects led to the formation of their very own independent studio, allowing Mauricio and Olja to cement their shared vision.
Based between Amsterdam and Berlin, Omocado's cool and contemporary photography regularly features the duo themselves, whether at home in their beautiful apartment or exploring their favourite local stops. It's this unique and personal touch that gives the studio its creative edge in a competitive field.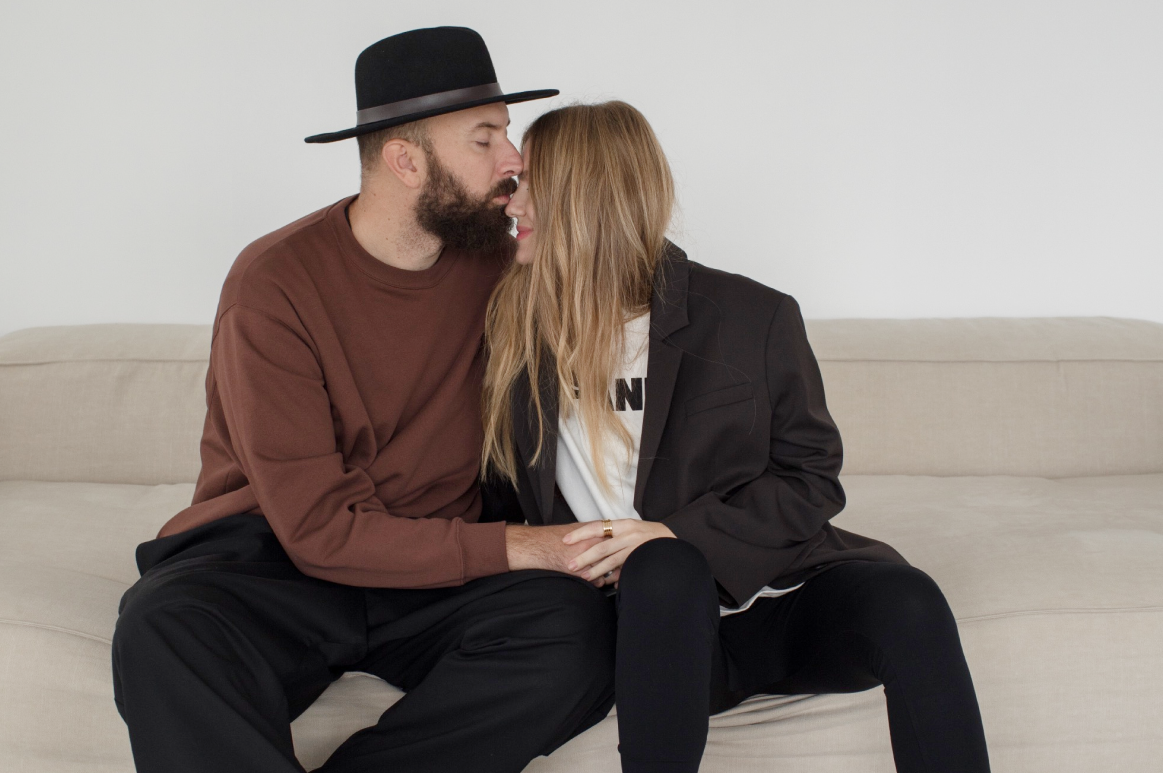 You both spent your childhoods travelling. Can you tell us a little about your early years? 
Mauricio was born in Ireland but moved to the Canary Islands when he was 10 days old. He spent his childhood traveling abroad and spent several summers in Germany learning the language. I was born in Siberia and grew up in Crimea and spent most of my childhood on the Black Sea before moving to Germany with my family in my teenage years.  
How and where did you first meet?
We met in Switzerland 10 years ago. We were both working as interns during the summer for the same company, and lived together from day one as roommates. Our house was on Lake Constance, which is the perfect place to spend summer. We have so many beautiful memories from that time! Later we both moved to Berlin where we eventually decided to study photography.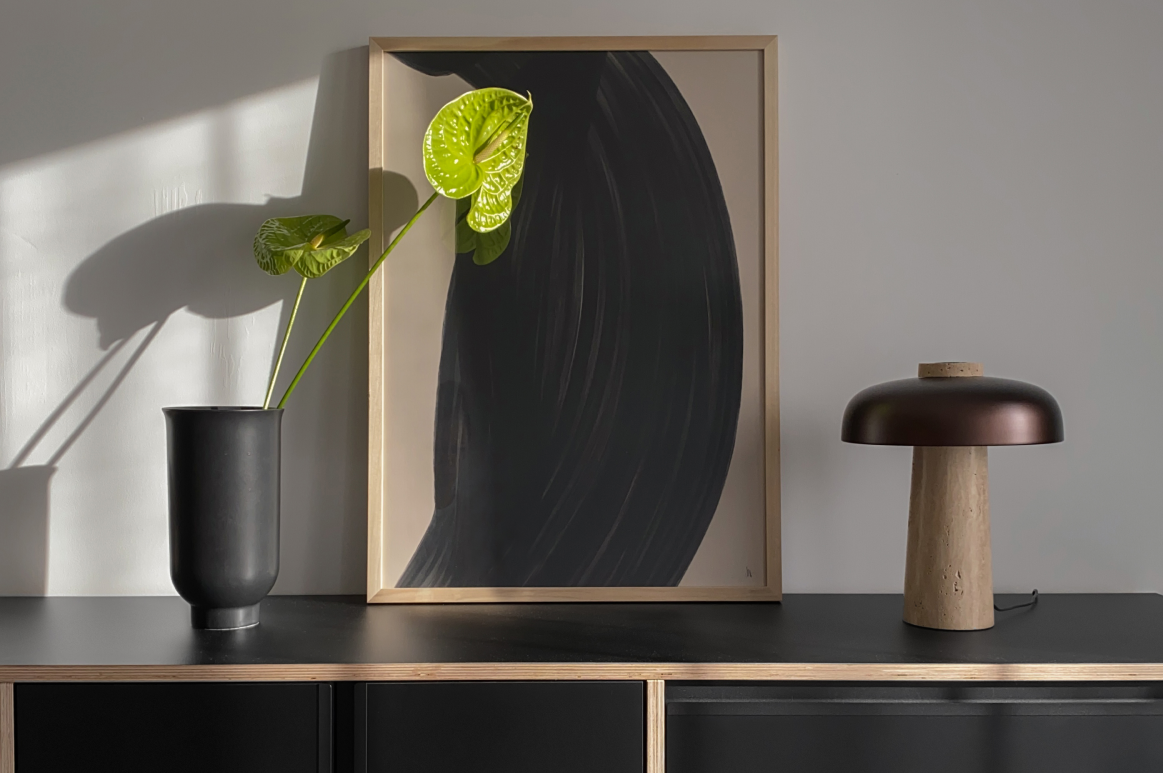 Your aesthetic is very minimal and monochrome. Can you tell us a bit more about your visual preferences?
We have a minimalistic approach in our work as well as in our personal lives. After studying photography, we both started to pay more attention to details, through the lens and in our daily lives. After years of working as photographers whilst traveling around the world, you start finding and developing your own style. Some of the inspiration for our minimal aesthetic is definitely influenced by the semester we spent living in Seoul, South Korea during our photography studies. 
Your home often features in your content. Is it important to have this personal element in your work and on your social media platforms?
Our work is very connected to our lifestyle and our way of living. We shoot at home a lot, which also acts as a little studio with concrete floors and good natural lighting which was really important for us. Since we are both interior lovers, we love to show how our space is evolving and changing. We enjoy sharing this with our community and those who follow us really enjoy being part of this personal aspect of our lives.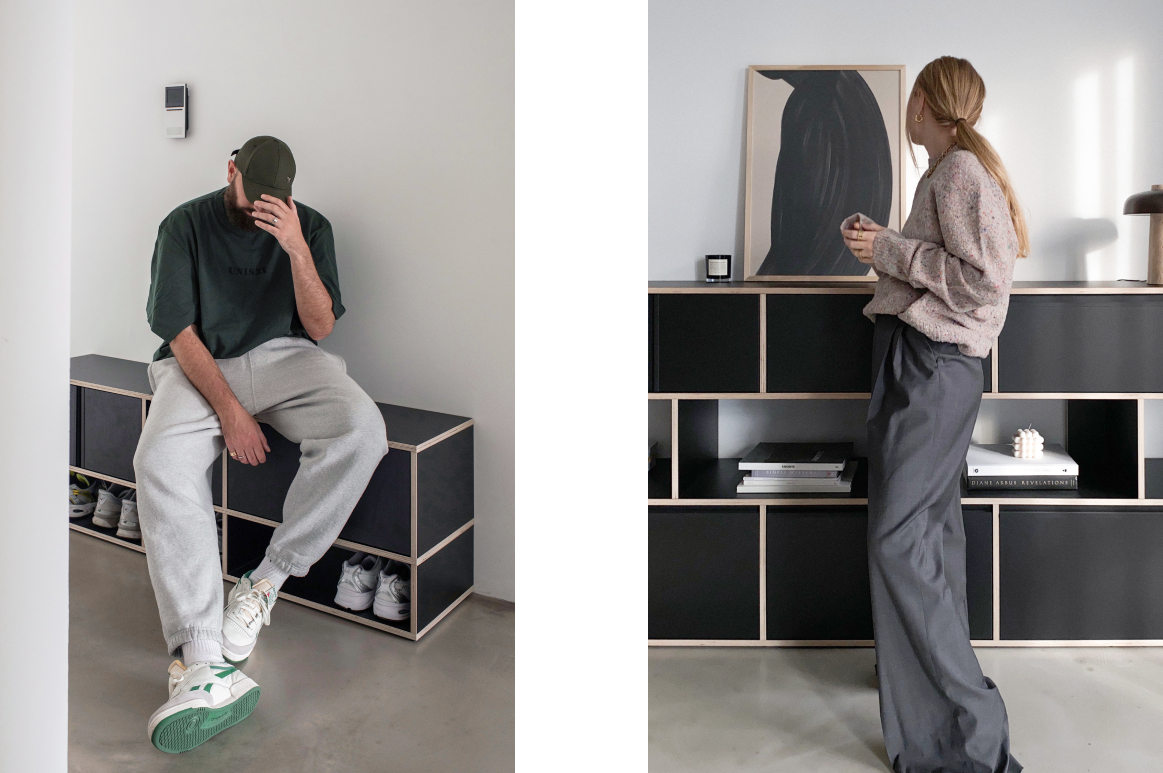 Your lives are currently split between Berlin and Amsterdam. What would you say are the main differences between these cities? 
Both cities are very different! We like that Amsterdam is much smaller, but still has everything you need. Amsterdam has great coffee places, which we would both otherwise really miss as the coffee scene in Berlin is amazing.
What's the secret to a successful working relationship for couples?
Team work. Listening to each other's ideas and input and finding a way to make both blend into one. Sometimes one of us will have an idea and the other will be there to assist and make it happen. It's not always easy as we are both different and don't always have the same approach, but at the same time we do have a similar vision.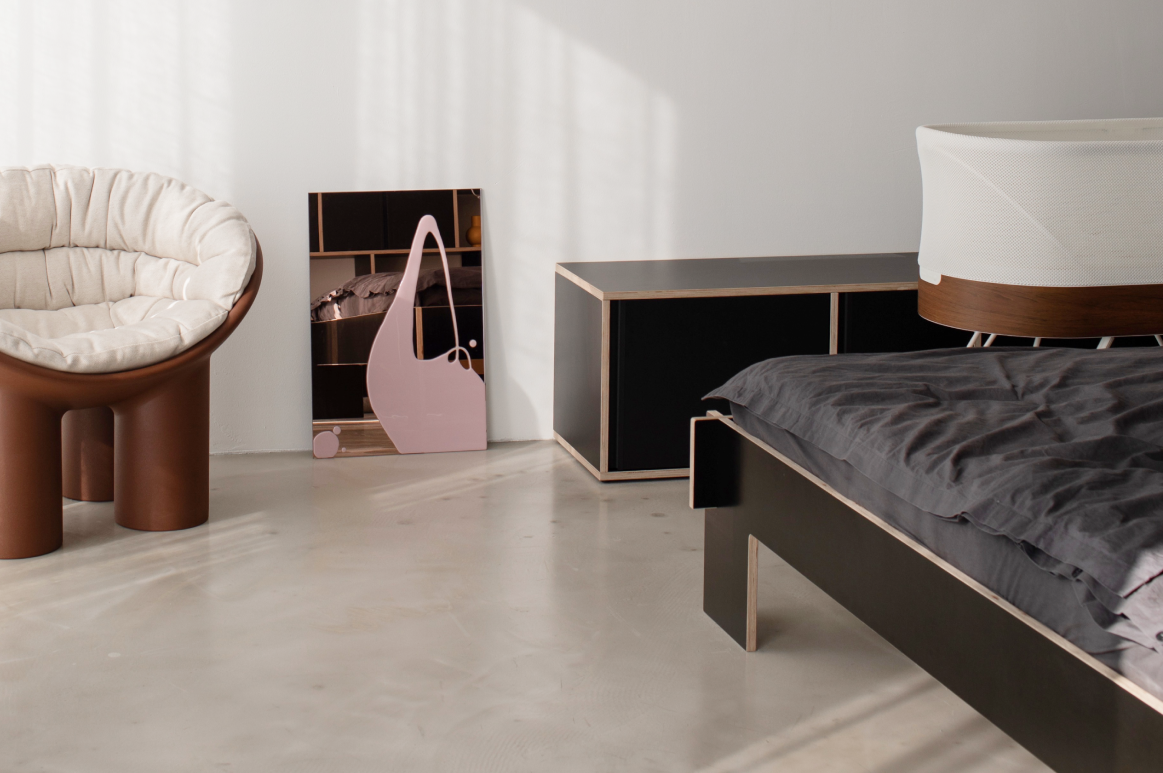 What made you choose this particular configuration and colourway for your Tylko shelving?
We both love black. Without really planning it, the Tylko shelf matches perfectly with our bed frame. Since we already have a few pieces in black in both our bedroom and our hall, we decided that our newest addition should be different and we love it in Oak Veneer. We had this piece in mind for our nursery room where we have other wooden pieces in different shades of brown.
You've lived with multiple pieces of Tylko shelving for a while now. What first attracted you to the system?
Firstly, the design is very eye-catching. Secondly, it's a very practical piece with a lot of space to store things. Also it's really easy to build. We also really like the full service and customer support — it has been honestly one of our best experiences with a furniture brand! 
What does "Home" mean to you?
Home is a tricky word for both of us. Particularly In Mauricio's case because he was brought up with two cultures and languages and has lived and studied in so many different places. In Olja's case, she moved a lot when growing up and changed schools many times. Currently home is basically where we're based as a family at the moment. We make new places our new home.