On experiencing beauty with curator Nella Beljan

Nella Beljan doesn't just see beauty, she feels it with her entire body — this intuition, we reckon, is probably what makes her such a talented curator. Nella recently designed four Tylkos for her home and showroom that highlight her bold, minimalist interior style.
Nella Beljan has an intrinsic knack for discovering beautiful things. Her refined taste led her to open her own gallery in Berlin, where you'll find a thoughtful selection of handcrafted art, sustainable fashion and vintage design pieces. Even if you don't recognise her name, you probably already follow Nella's very popular Instagram account: a never-ending mood board filled with cinematic homes, gorgeously-lit settings and cute pets that somehow match her aesthetic perfectly.
Nella recently designed not one, but four Tylkos for both her home and her gallery — "The result was so satisfying!" We spoke with Nella about her work, her refined aesthetic and how her Tylkos have elevated her visual narrative.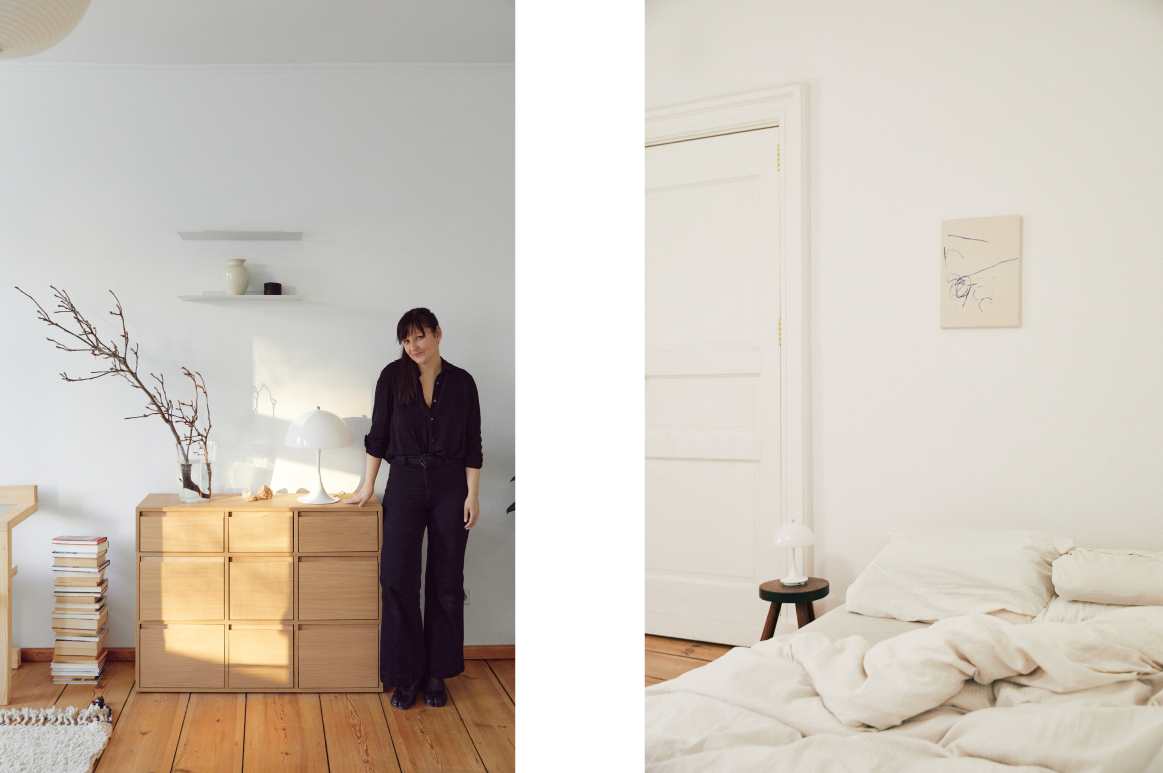 Hi Nella. Can you tell us a little about your journey, and describe what you're currently working on?
I'm a journalist, curator, social media strategist and content creator. I also run a gallery in Berlin that specialises in sculptures, handcrafted objects, vintage interiors and pre-owned or sustainably produced fashion from brilliant makers and brands across the globe. I only include pieces that I am absolutely devoted to, as I noticed from a young age that I have a natural talent to notice things before others do. Once I owned something, everyone else wanted what might have been overseen before.

You've got a very refined taste, and your style is often described as minimalistic. How would you personally describe your aesthetic? 
I really love a calm and pleasing environment. I also have a thing for sculptural shapes which always add a beautiful and unexpected twist to cleaner vibes. I like things tidy — so whenever my home gets messy, it's a pretty big sign that I am either working too much or a bit unhappy – or probably both.
My followers have told me that they can immediately recognise my posts on their social media feed, so I guess I've developed a sort of signature style when it comes to my taste. Whenever I sense something that I love, I can feel it with my entire body. This can be a beautiful photo, a great space or words that resonated with me. I get this strong feeling in my belly that just immediately tells me that something about it works very well. I am super grateful for this skill.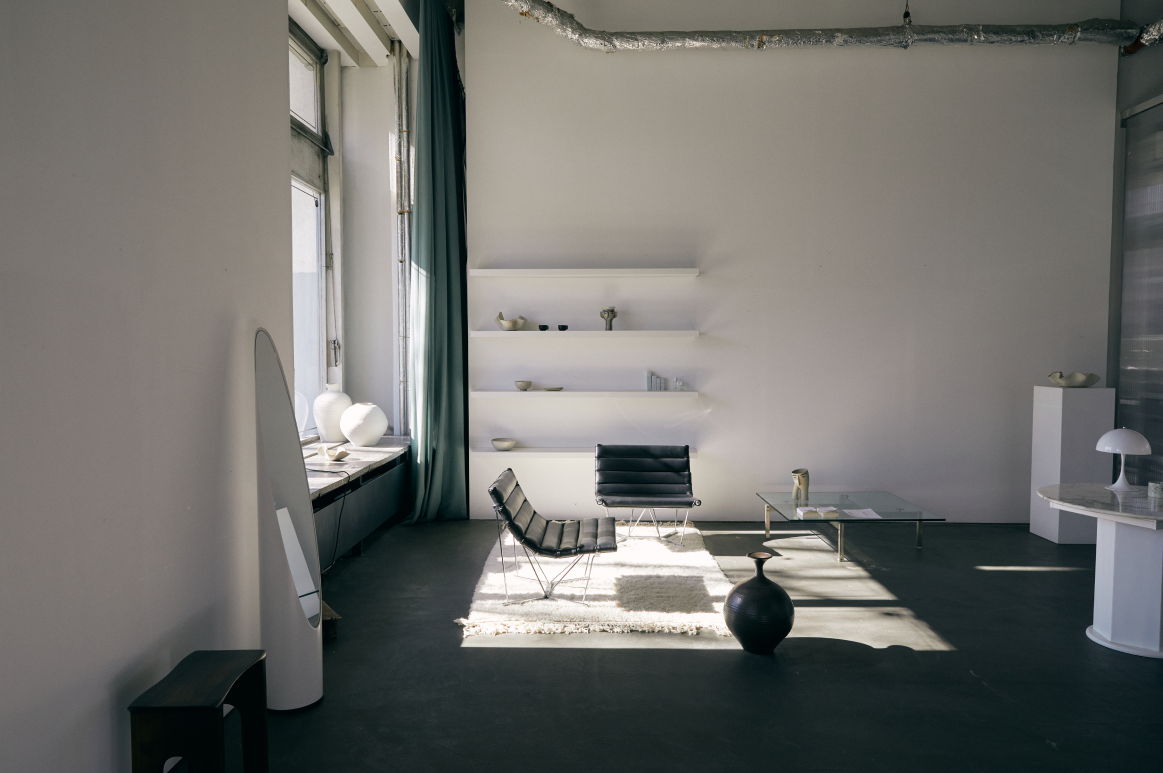 Is the way you style your home part of the same visual narrative as your gallery?
Yes, it is. I live in a typical Berlin Altbau, with beautiful bright wooden floors, old wooden doors, and walls that were re-constructed with the chalk technique that was originally used more than 200 years ago. Once I re-designed our apartment, it turned out so wonderful that I decided I wanted to create more of a minimal aesthetic in my gallery, too. The concrete floors and the industrial construction elements on the ceiling as well as the translucent sliding doors generate such a handsome contrast to some of the delicate pieces I curated. Also, the lighting in the gallery is amazing, too. Both my apartment and my gallery immediately spoke to me – I knew the very second I entered both spaces that I wanted them. 
What are your current favourite Instagram accounts?
 A long time favourite and still also one of my current favourites is @White__Sage. I also love @thepixelspaces @anothachoppa @latenightsinthecity @jularsdiary @Lauramialoranzi @felixruizdiez @somewhereiwouldliketolive @nowness @stephaniebroek @brendahashtag @thatcoolmoodbaord. Just to name a few.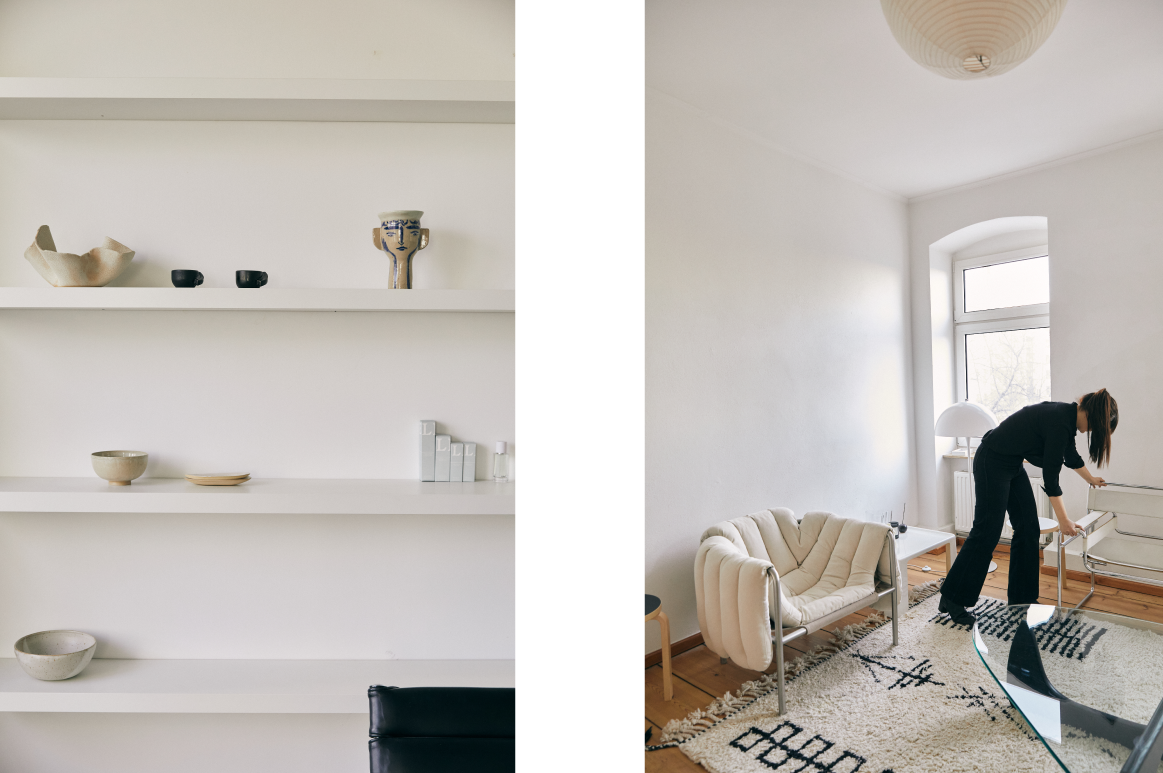 How do you rest and unwind?
I love to scroll through Instagram and just screenshot all the beautiful images I come across. I also love my coffee early in the morning and enjoying the sunset that looks so beautiful in our apartment. Chatting and meeting my beloved friends is something I couldn't live without. Also, we recently got a dog, and I really enjoy taking Cookie for a morning walk, just the two of us. But my all-time favourite way to unwind is spending time with my son — it's a true blessing.
What's your favourite spot to hang out in Berlin? 
I loooove the Canal. I have always been drawn to water and I love watching the reflections of the sun rays. I also enjoy the good coffee from La Maison at Paul-Lincke-Ufer, and I adore the architecture and exhibitions at Neue Nationalgalerie. I think my gallery is also a very nice spot to hang out as we always try to make sure that everyone feels comfortable whilst exploring what we've curated.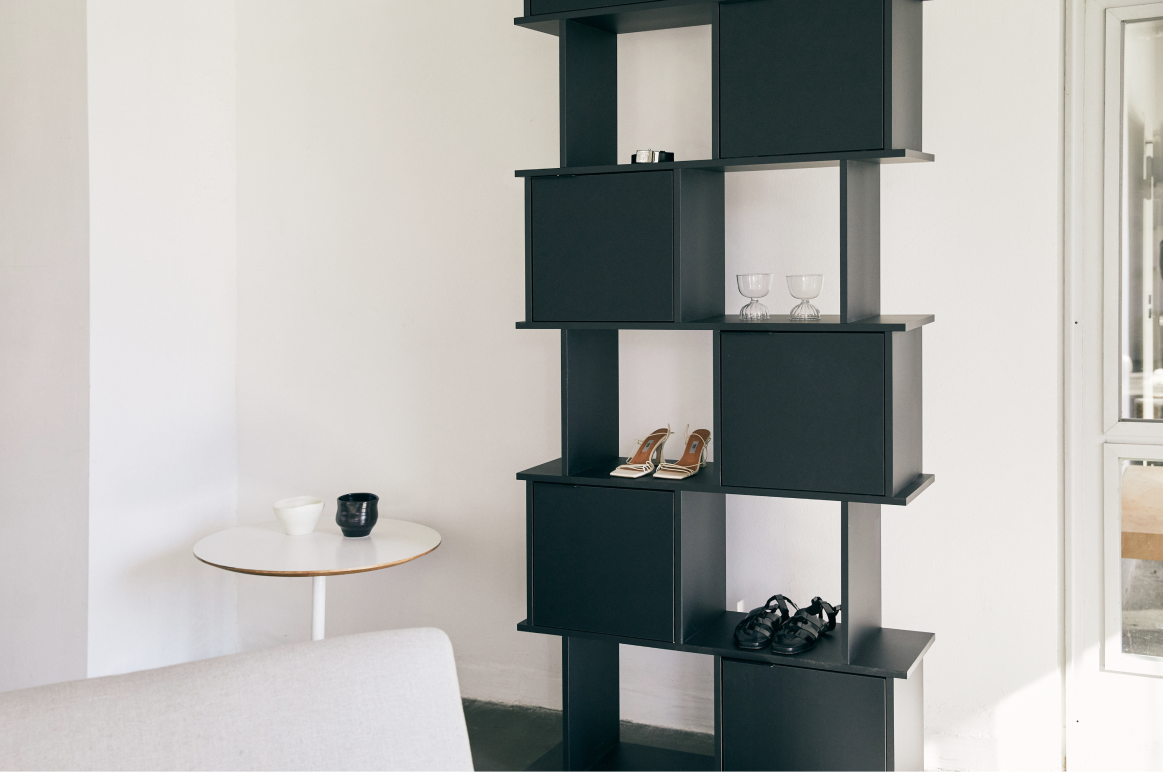 How do your new shelves contribute to your aesthetic and the overall feeling of your space — both at home and in your work? 
The result was so satisfying! I absolutely love how beautiful my Tylkos look in my home as well as in my gallery. The black Tylko in my hallway is such a game changer. After I had so many beautiful white pieces I felt like I needed a bolder, but still minimal element, and the black Tylko looks like a very elegant monolith. Same with the tall black Tylko at the gallery — I didn't have any vertical interior elements and it was a really good decision to include it. It is also super photogenic and this is of course perfect for me, as we also shoot editorials and content for social media. I do also appreciate the traditional Japanese vibe that the oak veneer Tylkos add to both spaces. Ceramics placed on both sideboards work particularly well and make me feel all Zen.
What does home mean to you?
I have always loved beautiful and calm homes, and our home is sacred to us. It was such a pleasure to handpick all the beautiful pieces that grace our place and both my son and I love what we've created. It feels very rewarding to live in an environment that is filled with beauty and provides peace of mind, where you can welcome your loved ones.