Sariety: The Munich-based Studio Taking a Serene approach to Digital Content

Content director Sarah Schaefer perfects the art of contemporary minimalism with each new project, her simple and serene imagery the very definition of 'less is more'. We catch up with the non-stop creative to find out more.
Munich-based digital creator Sarah Schaefer has had a busy 12 months to say the least. A hectic period for her content studio Sariety in the midst of global upheaval, she has recently embarked on motherhood, a new challenge that has encouraged her to seek a more balanced approach to all aspects of life.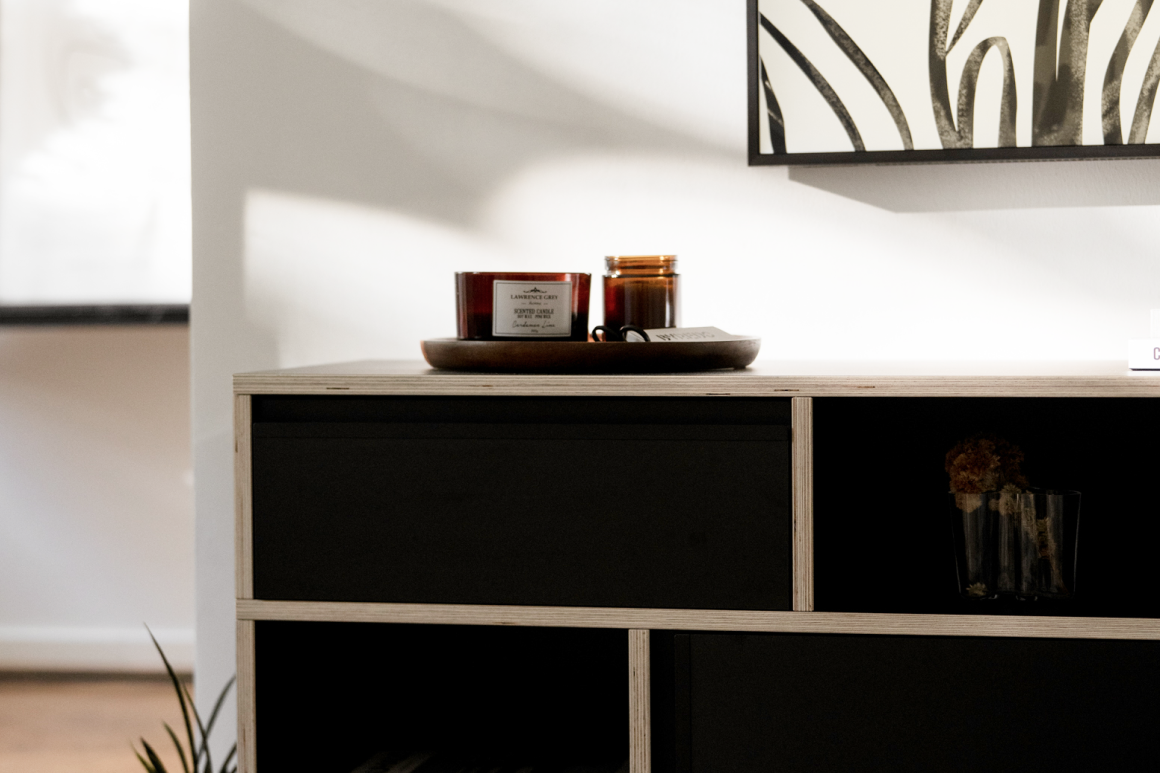 Working side by side with husband Ben, a self-taught photographer and videographer, Sarah has carved out a unique perspective, producing narrative-driven campaigns for brands, including Jil Sander, Arket, Jaguar, Marc Jacobs, Ace & Tate and Armani. Using her home, neighbourhood and her travels as her backdrop, this very personal approach to digital storytelling has earned her a loyal and ever-growing following on social media.
Her trademark cool and calm aesthetic showcases the versatility of a minimal approach to interiors and design, contemporary but timeless at their core. Introducing layers of texture and depth across a neutral palette, Sarah continually focuses on those all important quiet details. Her beautiful Instagram feed is almost meditative in tone, a visual sanctuary from the information overload that defines modern life.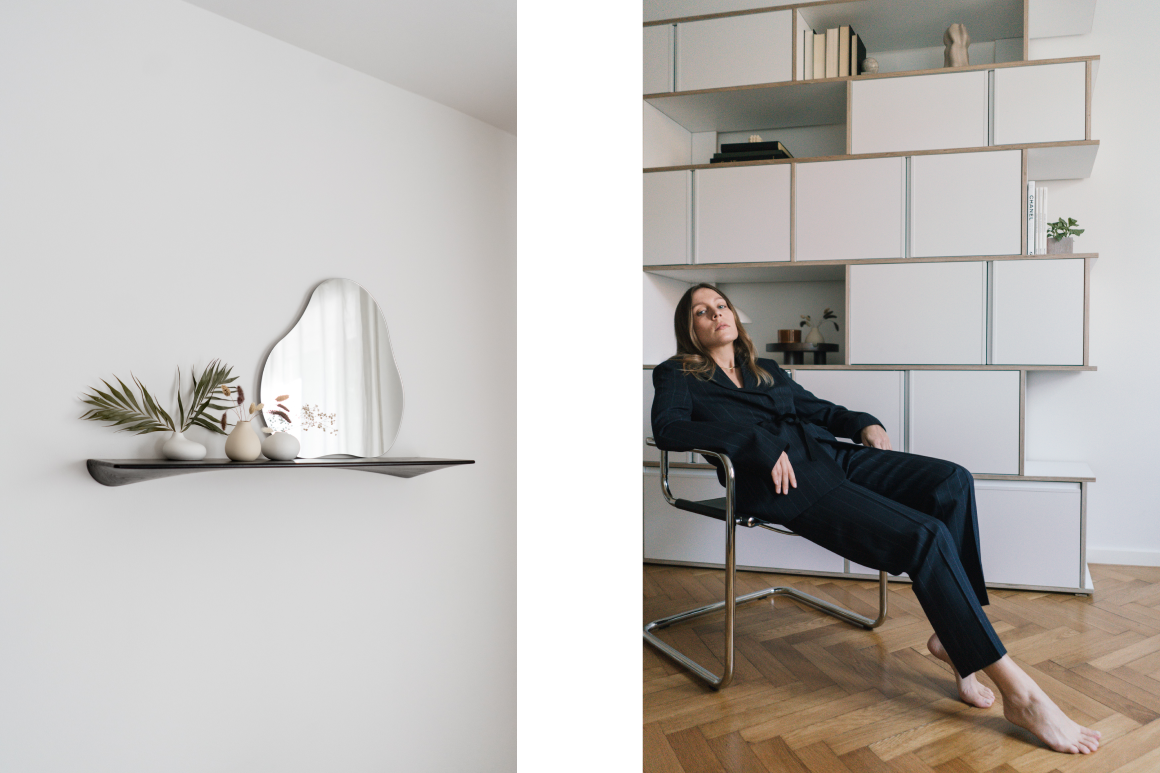 Showcasing a selection of Tylko furniture, we caught up with Sarah at her Munich abode to discuss slow living, freelance freedom and creating meaningful partnerships. 
Can you tell us a little about your background?
I was born and raised in a small village in Southern Germany, basically surrounded by forests and fields. I studied linguistics and transcultural Studies in Heidelberg and Paris and have loved different cultures and languages for as long as I can remember. I am a globetrotter at heart and can't seem to stay at one place for too long. Having spent some time abroad in California, Paris and Vienna, I am already looking forward to seeing where life will take me next. 
Who or what inspires you?
I usually find inspiration in everyday life. In nature, people on the streets, my surroundings, also in conversations or while browsing through magazines, or just daydreaming and fully detaching myself.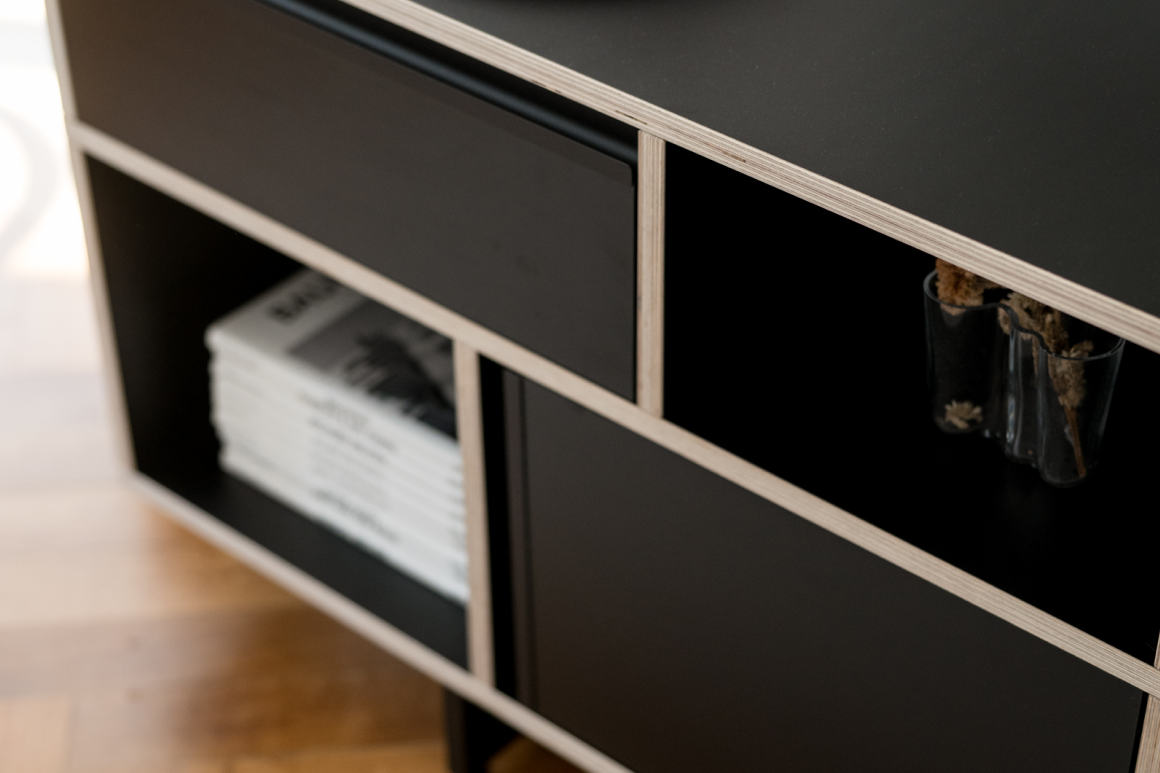 What was the starting point for Sariety? 
Sariety started out as an outlet for me to share my passion for fashion, travel and interior. I've always loved to write — even as a little kid I used to write stories and make them into little books. So a blog seemed like the perfect way to combine it all. My husband kind of had to teach himself photography and shortly became obsessed with it. So once Sariety became more profitable, we decided to focus all of our attention on what we love and started working on our own creative studio together full-time. We always liked the idea of working together and having the freedom that comes with self-employment. 
What attracts you to a project and is there anything you specifically look for in a collaboration?
I need to be passionate about a project and be able to 100% identify with it, or else it won't turn out good. It's crucial for me to feel comfortable in order to be my creative self, so building a strong relationship and seeing eye to eye with our collaboration partners is a must, and makes working together so much easier in general.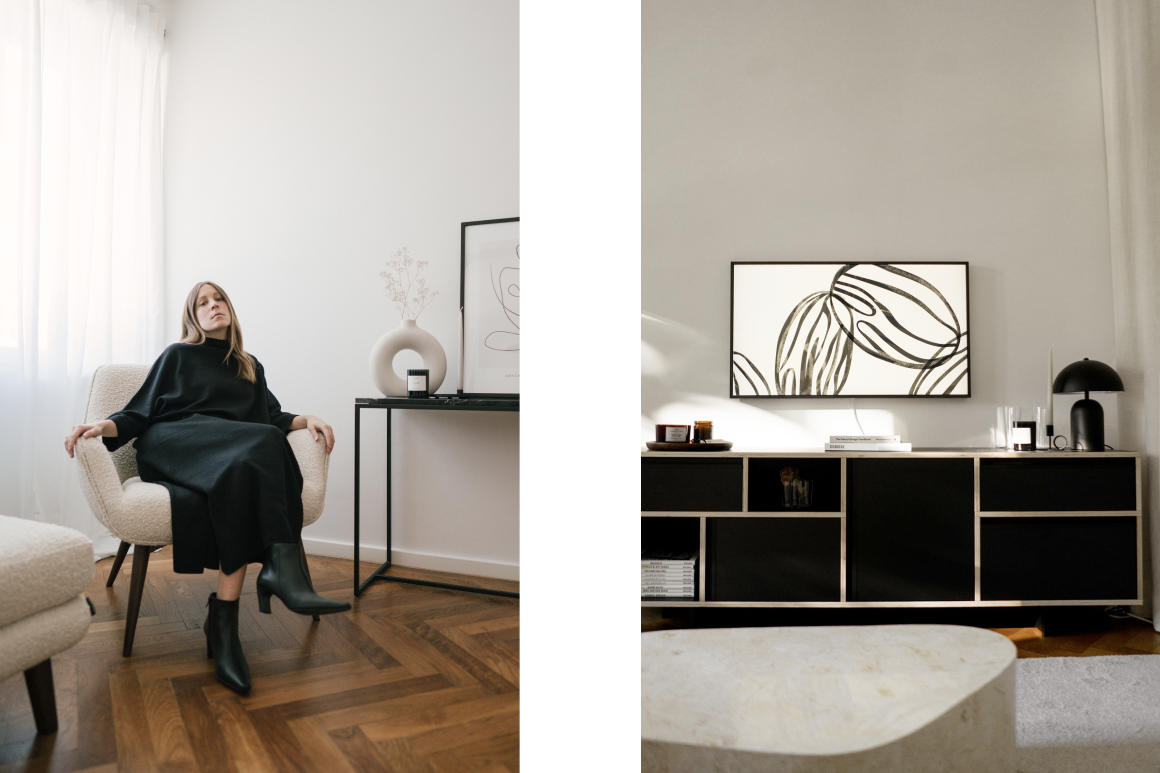 What's the key to creating really engaging online content?
It sounds trite, but I think being authentic and true to yourself is the key to engaging online content. You need to reinvent yourself over and over again in order to not lose touch with your audience. And especially in social media, it can be a fairly critical audience. It's not enough to take pretty pictures anymore, people want to know the person behind the content they like.
How do you think the social media landscape will change over the next ten years?
I think it will become a lot more thinned out and professionalised. Which I find important, because it's hard to keep up sometimes with the amount of content we're facing across all different kinds of channels and it is only increasing. I also think it will become more transparent regarding ads and how data is being used. 
What is the creative scene like in Munich?
Munich has a vibrant art scene and a great creative vibe overall. The city is beautiful and there's always something going on. However, I haven't gotten the chance to experience much of it ever since we moved here unfortunately. With Covid starting a few months after we moved and my pregnancy shortly after, we've spent most of the last one and a half years at home. But I can't wait to soak it all in once it's safe again.
How do you like to spend your days off? 
I love spending my days off in the countryside outside of Munich. I think because I grew up in such an idyllic surrounding, I need the calm and quiet of nature to fully be able to relax. The mountains are only an hour away from Munich and I love spending time at the lakeside, especially the Eibsee at the base of the Zugspitze. But ever since my daughter was born in early June, I currently don't have too many days off unfortunately.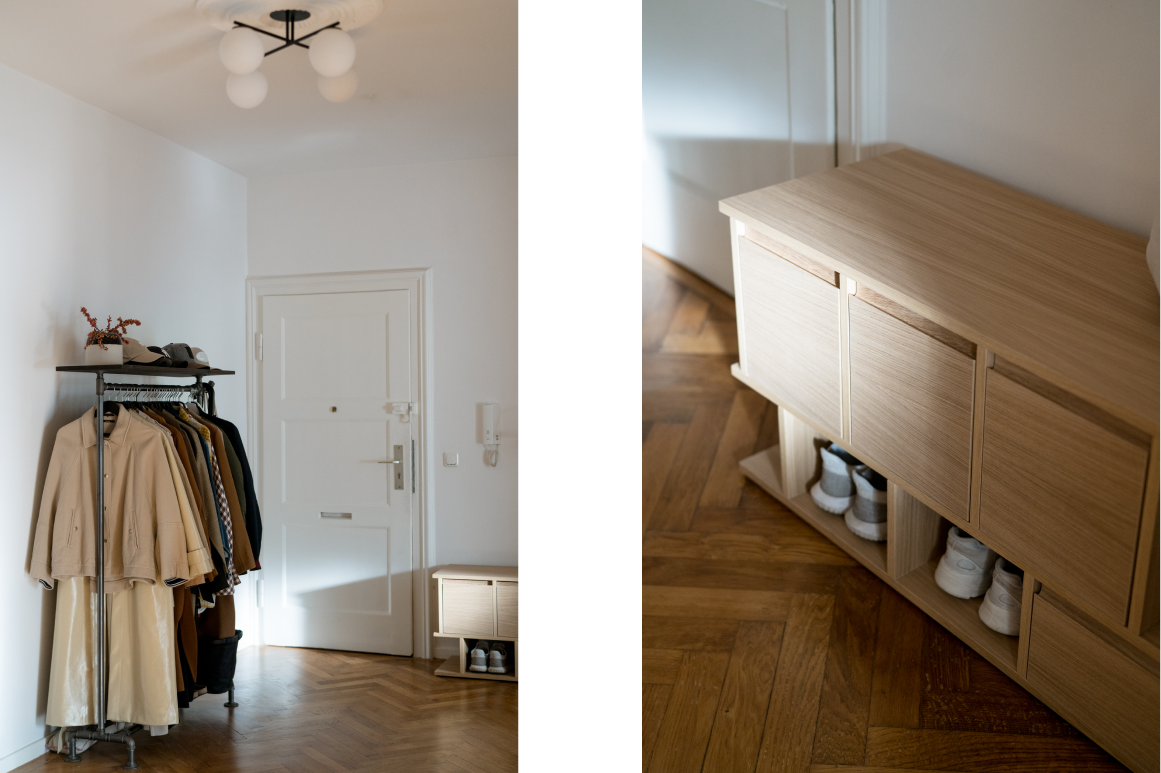 2020/2021 have been an unusual period. How has it affected your work?
We have learned to appreciate our work a lot more. Instead of being stressed out because of too much work like we used to, we are actually thankful for the projects we get. It has definitely been challenging at times, especially with the never-ending lockdown and trying to stay sane amidst all of it – especially while being pregnant. But it also made me realize how important it is to have a healthy work-life-balance and consciously take time off to recharge. Life had been so busy right before Covid hit. We'd been traveling throughout January and February right before the first lockdown in March, so it was definitely an adjustment, but  an important one.

Interiors feature heavily on your social media accounts and in your work in general, have you always been interested in home décor?
It actually all started when I moved into my first own apartment almost 10 years ago. I bought all sorts of magazines and made a pinboard with all my favorite pieces to get an overall idea of how I wanted my home to look like. My taste has definitely changed over the years, but I still love to browse Pinterest and my favorite online shops to update our flat regularly.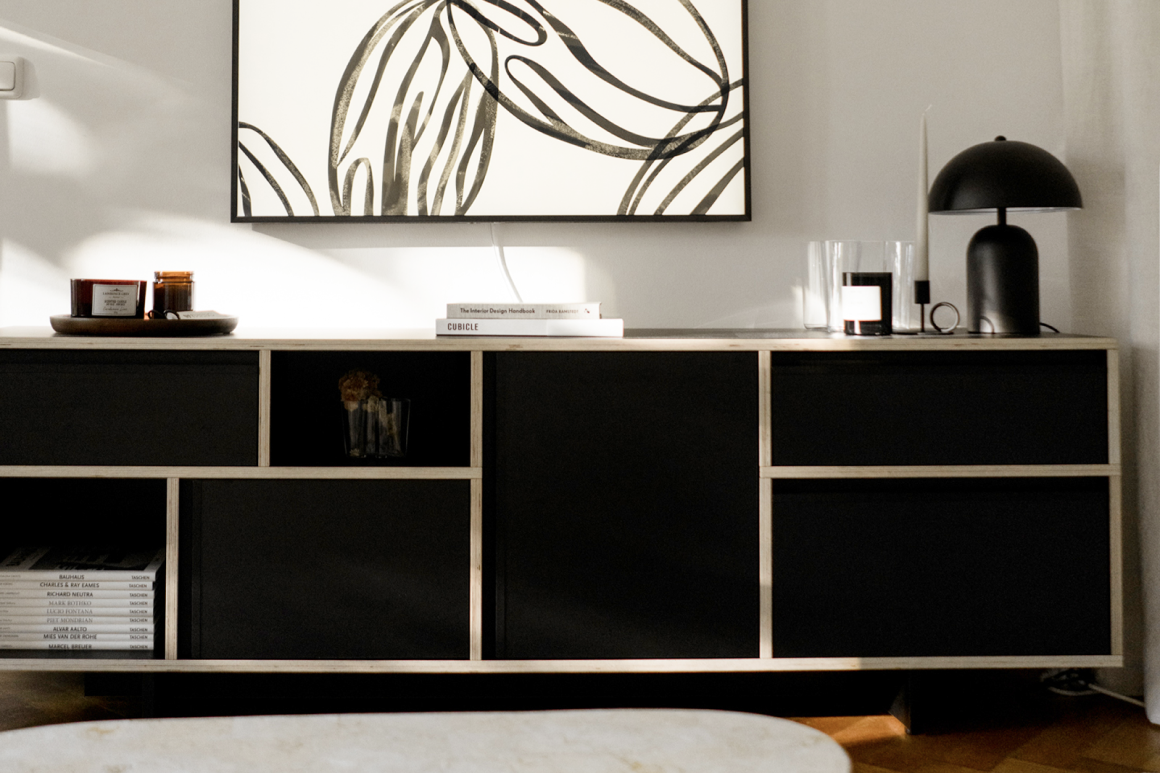 You have multiple Tylko pieces in your home — what first drew you to our shelving system?
The endless possibilities to customise your shelf exactly the way you want. I could spend hours trying out different options and configuring a shelf. I am also always impressed by how easily they are assembled! 
What made you choose this particular configuration and colourway for your latest Tylko piece?
Our living room furniture is mostly beige and black, so we thought that the black sideboard would complement our light rug and couch perfectly. I absolutely love the new plinth legs and always wanted a half open, half closed shelving for our TV sideboard. We also already have a white bookshelf and oak veneer shoe rack, so we kind of really needed another Tylko piece in black!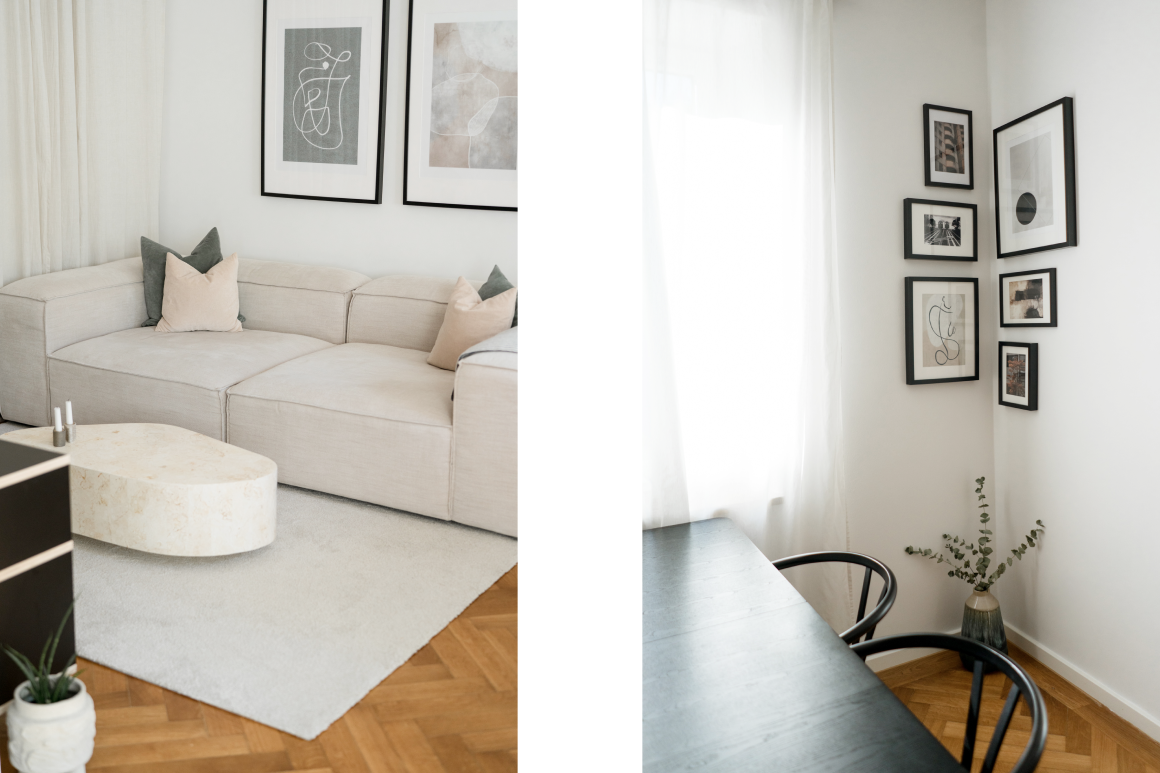 Are you a collector of objects? If so, what do you collect and why?
I love printed out pictures of beautiful memories that I can put in a photo album, because I think it has more sentimental value when it is something you can actually hold in your hands instead of just looking at  on your phone or laptop. So I guess you could say that I'm a collector of memories. I used to collect Starbucks mugs from all the countries and cities I've visited at one point, but it became a little too many and just took up too much space in our kitchen cabinet. I mean, who needs 30 something mugs anyways?
What does "home" mean to you?
Home, to me, is the feeling of absolute calmness and serenity. It is a place filled with memories and familiarity. Where I feel 100% at ease. Home is also my family, my husband and daughter, but also my parents and siblings and the place I grew up in.