Anna Koszur – Brand Strategist in Her House in Warsaw
You can live in Warsaw for years and never discover all the architectural gems it hides. Brand strategist Anna Koszur lives in one of them - a masterpiece of modernism tucked away at the end of Słoneczna Street.
The view from her top floor apartment is quite impressive and so is her determination to change this once-dilapidated attic into a cozy home. Some would be discouraged by the prospect of starting the renovation from scratch, but she took the risk and it paid-off.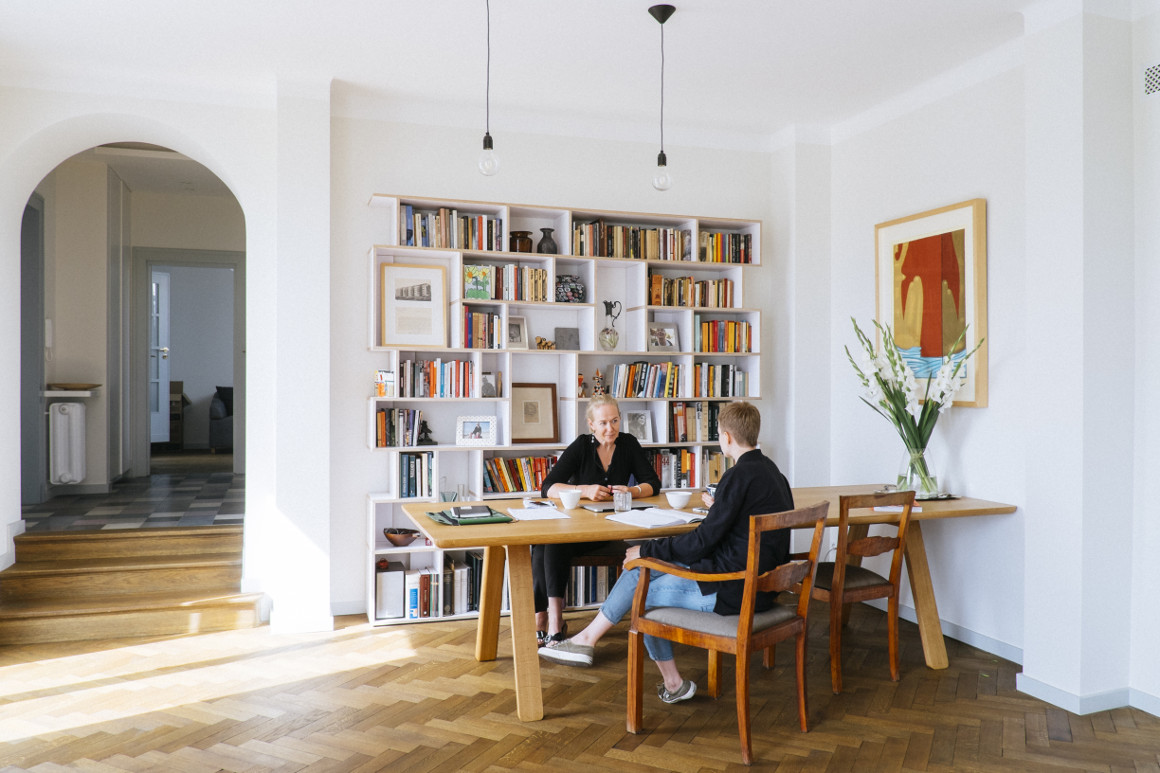 I: Rumor has it this building has quite an eventful past.
A: I still keep finding out new things about it. What I knew when I bought the flat is that it used to be the studio of architect Wacław Weker, who designed the whole house in 1928. Weker was the pre-war chairman of SARP [Association of Polish Architects] and his other projects included the reworking of the main train station in Warsaw, another residential building in Wiejska Street and a modernist single-family house in Gdynia. He was also the chairman of WKN [Warsaw's Skiing Club] between 1929 and 1939 and designed a hostel in Dolina Chochołowska in the Tatra Mountains.
What I didn't know, though, was that it is the first modernist residential building in Warsaw. It is a testament to Le Corbusier's idea of functional housing. It's built on a Y-shaped plan, which gives every flat the maximum exposure to sunlight.
I: In addition to the Y-shaped layout, there is also a very modern step-shaped façade.
A: This is another trick to let a lot of light into each flat. Coming back to the building's history, Weker was killed in 1944 in the Warsaw Uprising. After the war the flat was divided into three or four smaller units. Or so I gather from the locks in the doors and the old documents from the 50s and 60s that I found in the housing association's archives. When we bought it though, it had been standing empty for the past 30 years, serving as furniture storage. It was a ruin with no kitchen, a dilapidated bathroom and decayed windows, but the upside of it was that no one had ever tried to redecorate it. The old wooden doors and floorings were still there and we decided to keep as much of the original design as possible. We changed the layout very little. All rooms remained as they were, though we did change their function.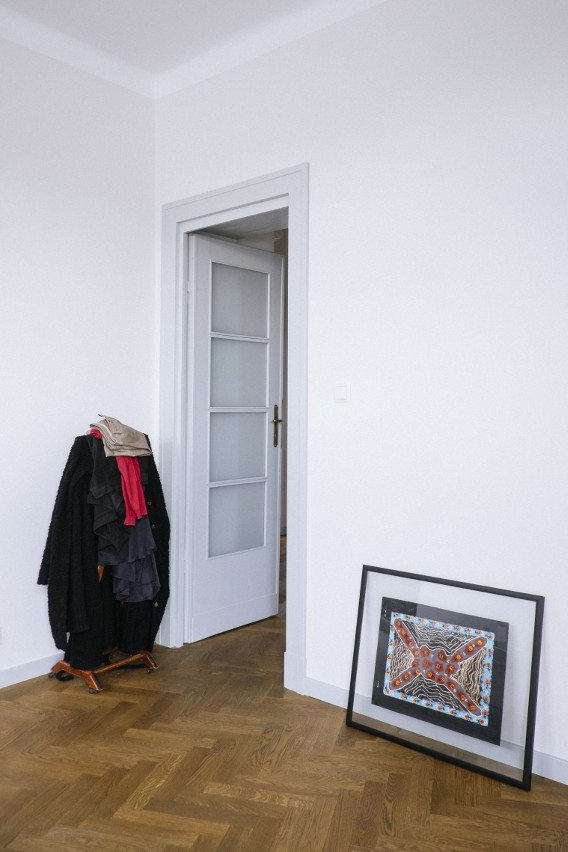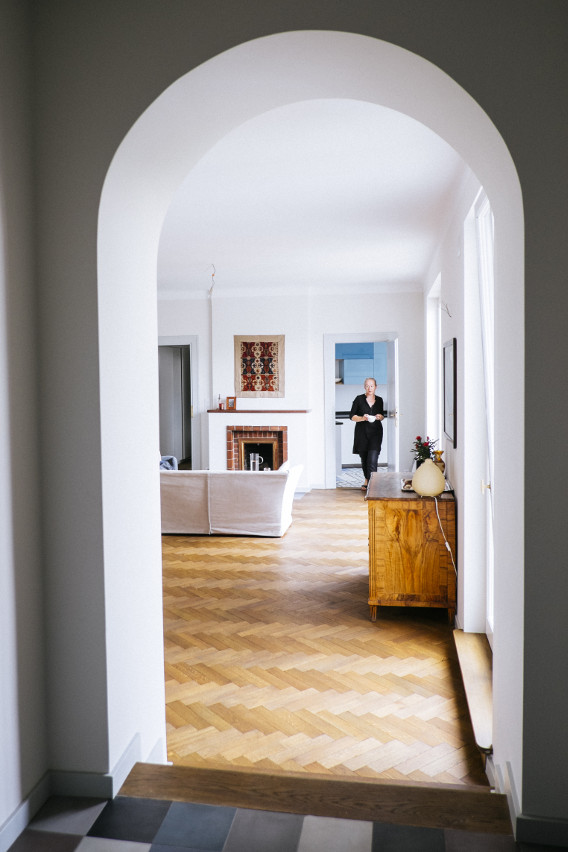 I have a lot of respect for how the flat was originally designed. Its layout is very modern.
I: How long did the renovation works take?
A: Five months, which is very short considering the fact that it's a listed building and the city's conservationist had to be involved in the renovation. We had the windows made to measure, all the electricity installed anew and the old wooden floors renovated. I have a lot of respect for how the flat was originally designed. Its layout is very modern. Unlike some other buildings from the early 20th century, it's not made up of three or four huge 30 sq. metre rooms. On the contrary, it has a large central area consisting of a living room and a kitchen and then three separate clusters of smaller rooms. We currently use one for the kids, one for our bedroom and one for the guest room and study. It's a historic flat with a layout that encourages a very modern lifestyle. Another great addition to it is the roof terrace, almost the size of the flat—a rarity in the middle of the city.
I: What approach did you take to decorating the flat?
A: I teamed up with my friend Kasia Chodkowska-Fornalik, who is an interior decorator. It's a shared project. There are a lot of her ideas here, but also a fair amount of my style. One thing I definitely wanted to avoid is for the flat to look too polished. While renovating the flat my husband and I knew that we wanted it to have a lived-in feel, we didn't want it to look as if we have just moved in. Some flats look very new once the decoration is done and only acquire their character after someone has been living there for a few years. We wanted this vintage quality right from the start. The patchwork of furniture that we have here is to some extent the antithesis of design, which dictates that everything needs to match. I don't like the idea of having chair sets that match the table, or armchairs in the same tapestry as the sofa. Few pieces in this room were bought especially for it. Most have been with me for a while now.
I: What are your favorite furniture finds you have here?
A: The sofa, for example, is from the Finnish embassy in Warsaw. My aunt used to work there as a Polish teacher in the 70s and 80s and at that time the embassies frequently sold or gave away furniture they didn't need anymore. The chest of drawers belonged to my husband's grandmother and it's a masterpiece of intarsia. There's no rule for where the furniture comes from.
The kitchen, which is very patchworky, was my husband's idée fixe. He wanted a kitchen where every shelf is different. That's why the fridge is freestanding, the upper shelves were made to order by a local carpenter, the lower shelves are from Ikea, the table comes from my old apartment and the additional storage shelving was made by Wiesław, a jack-of-all-trades that ran the renovation. Every part of the kitchen is different and it's thanks to Kasia that it all works well together in the end.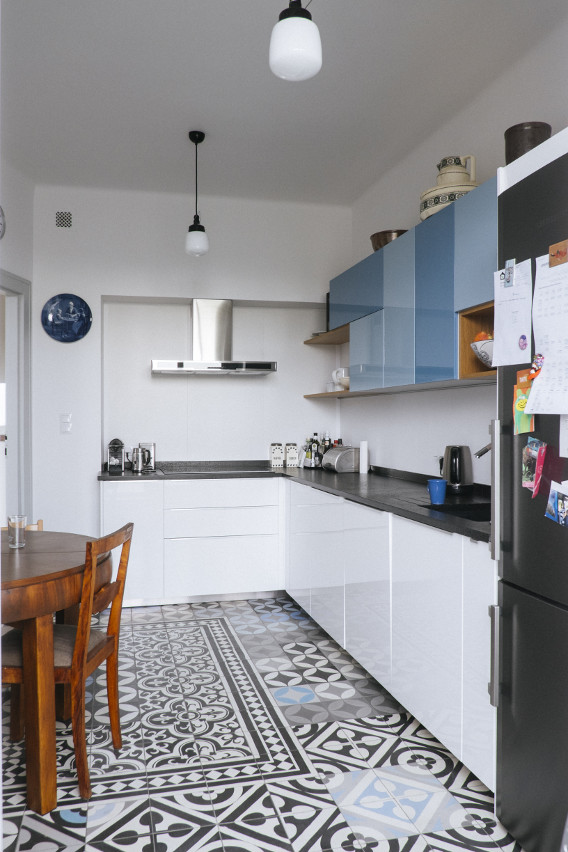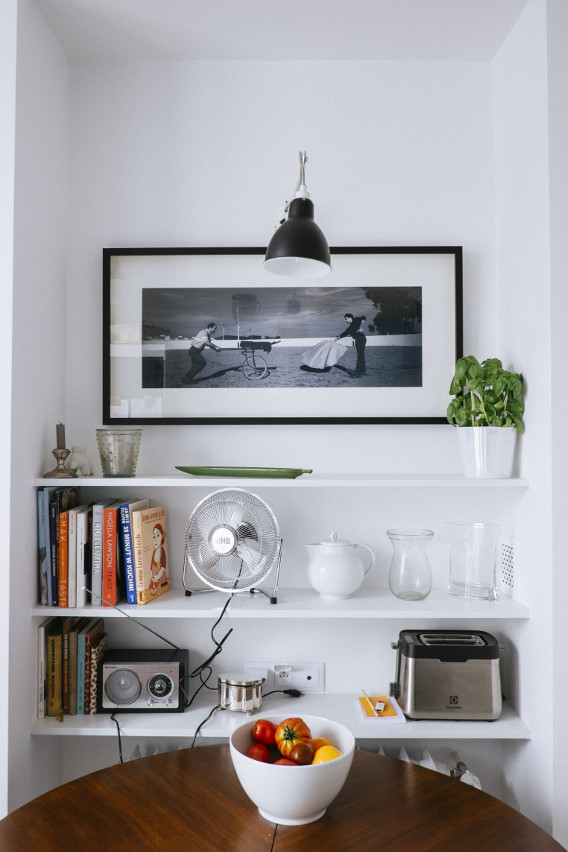 I: The kitchen also has quite an impressive floor.
A: The kitchen floor is made from tiles sourced from the Polish manufacturer Purpura. The company was founded by a woman who wanted to bring back the traditional tiles made from cement and colored with a tinted marble dust. We've laid these tiles in the hall, bathroom and kitchen and in each of these rooms we used a different pattern. In the bathroom, the tiles form together a pattern of intersecting circles, very popular in pre-war Poland. What we used in the kitchen is the so-called second quality patchwork, which is basically a set of tiles that have minor flaws. When ordering, you can only specify the color palette, and what you'll get is a surprising mix. We ordered cold hues: white, grey, black and blue. The building's cold grey façade has inspired me to use similar hues in the flat. It's again thanks to Kasia that we managed to arrange a harmonious pattern out of them, after having struggled with this jigsaw puzzle for two days. It may look a bit chaotic but it matches the style of the apartment quite well.
Generally, while decorating this flat I had the idea of using as many Polish products as possible. The Tylko shelves are another example.
I: What do you like most about them?
A: What I really like is the design process that allows me to manipulate the size of almost every single cell and expose out-of-size objects, such as this denunciation from 1964—a treasure from the housing association's archive. I found it so hilarious that I had it framed. I also have quite a personal relationship with plywood, as I remember my dad making a plywood shelf for our family home.