Magali Elali & Bart Kiggen: Storytellers on a mission to dig deeper

Delving into the homes and lives of creatives across Europe, Magali Elali and Bart Kiggen combine thoughtful journalism and beautiful imagery for a winning formula.
Partners in life and work, Magali Elali and Bart Kiggen are the Antwerp-based duo bringing "slow journalism" to our rapidly moving digital world. The brains behind Coffeeklatch, an online magazine full of beautiful homes and engaging stories, writer Magali's considered approach to journalism finds the perfect match in Bart's informal and intimate photography. Beyond the web, the couple explore our relationship with plantlife in book Greenterior and are soon to publish an ode to our beloved four-legged friends with Wild at Heart. For the Love of Pets and Beautiful Homes. With a creative studio on the go and a curious toddler to keep them even busier, Elali and Kiggen find a moment to welcome us into their envy-inducing home/studio.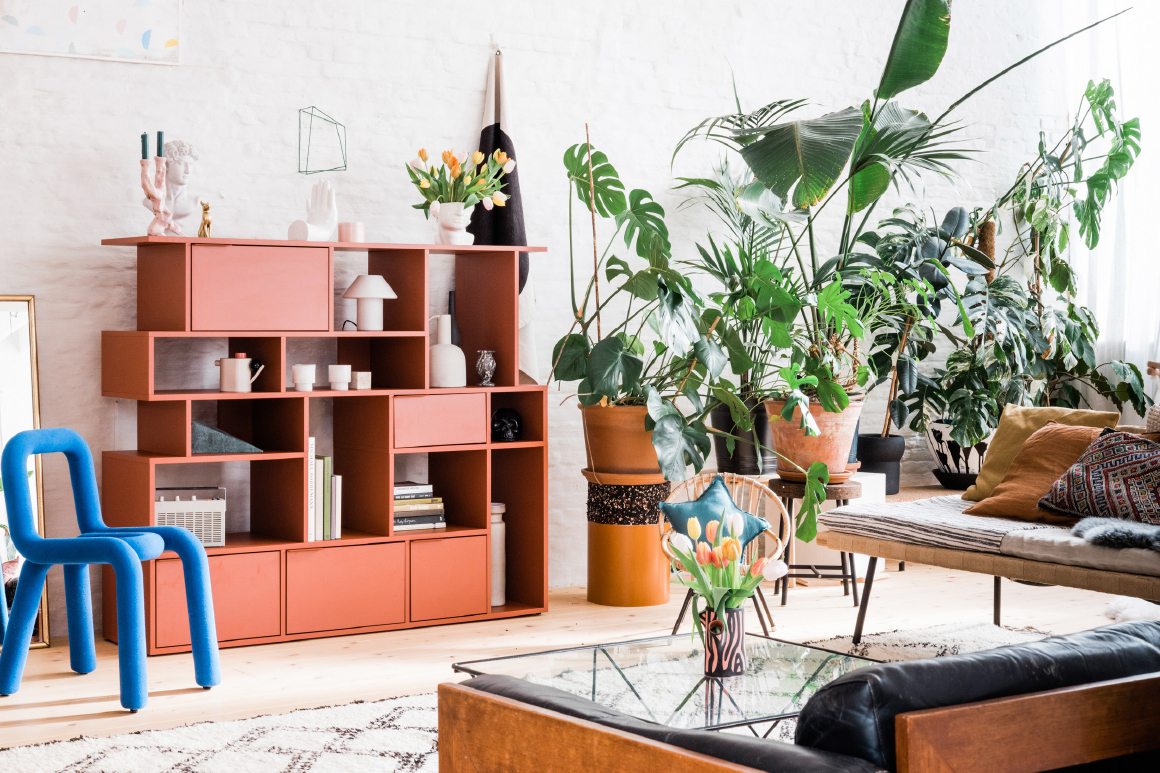 Magali, Bart – Tell us about your backgrounds, where did you both grow up and what did you study?
M: I'm a trained art historian. I studied at the University of Ghent, but I was born and raised in Antwerp, the city we call home.
B: I'm a graphic designer. I came to Antwerp to study and never left.
Magali – What drew you to journalism in the first place? Were you always interested in people and storytelling?
M: I'm a very social and easygoing person. Starting a conversation comes very natural to me. Moreover, my background and interests allow me to talk about a wide array of topics. When I decided to use my social skills to interview interesting people, it all fell into place.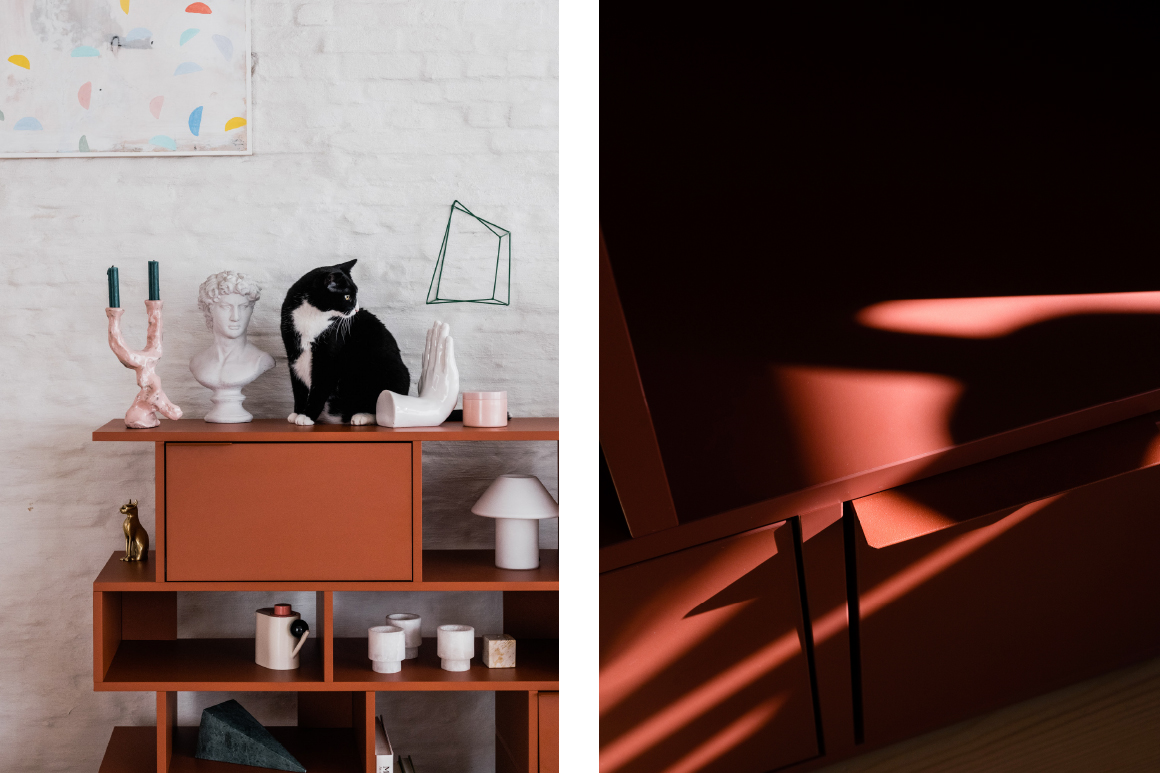 Bart – What attracted you to design and interior focused photography?
B: Good question. I am a graphic designer and got involved in photography by accident. My job as a graphic designer is very hectic, so I guess I like the serenity of photographing design and interiors. It's the same kind of calmness we want to create in our studio space.
Who are your photography heroes and why?
B: I like work by William Eggleston and Saul Leiter. But also Francois Halard because he's got a very different approach to interior photography. The real heroes are those who risk their lives to report the news. Frontline photographers who cover war stories, the refugee crisis, etc…
Magali – You spend a lot of time inside other people's homes, what have you learnt about our personal connections with our spaces?
M: Our personal space is often a reflection of how we feel and see the world. In it, we surround ourselves with objects, colours and materials we feel comfortable with. Every home element tells a story and shares details about its inhabitants.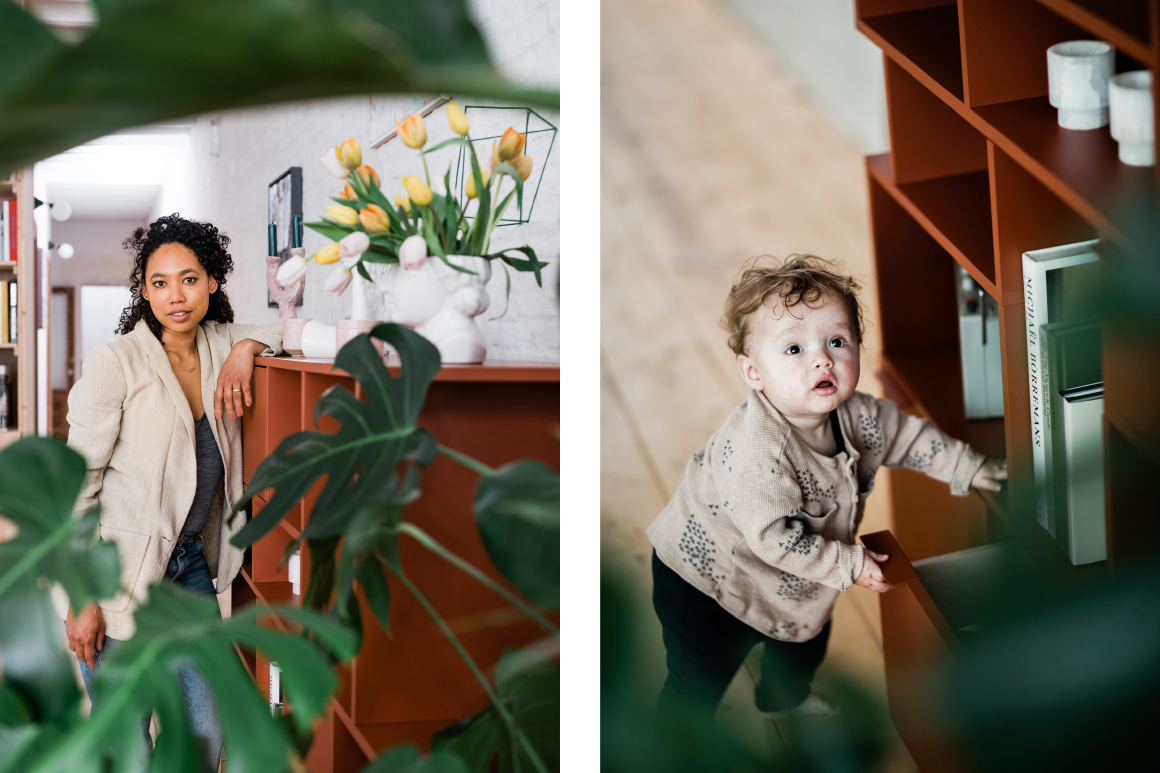 You teamed up to produce a book about living with plants, why do you think greenery has become such a big part of how we decorate our spaces?
M: Houseplants were big in the seventies, and they are back as key decorating elements. We saw this when making our book, Greenterior. People buy plants to style their interior but also to reconnect with nature. I like it when plants transform a room into an interesting indoor landscape. I'm not talking about green windowsills, but plants that take up a lot of space, like furniture does.
Magali, Bart – Your book is one of many joint projects, as a couple, how do you find working together?
M: We've been working together for 9 years now. We started collaborating after dating. So we don't know any different. Working as a couple has its challenges. It's very demanding. We have tried many times to separate our personal life from work, but we just can't seem to be able to do it. Moreover, we live where we work. It's just the way it is.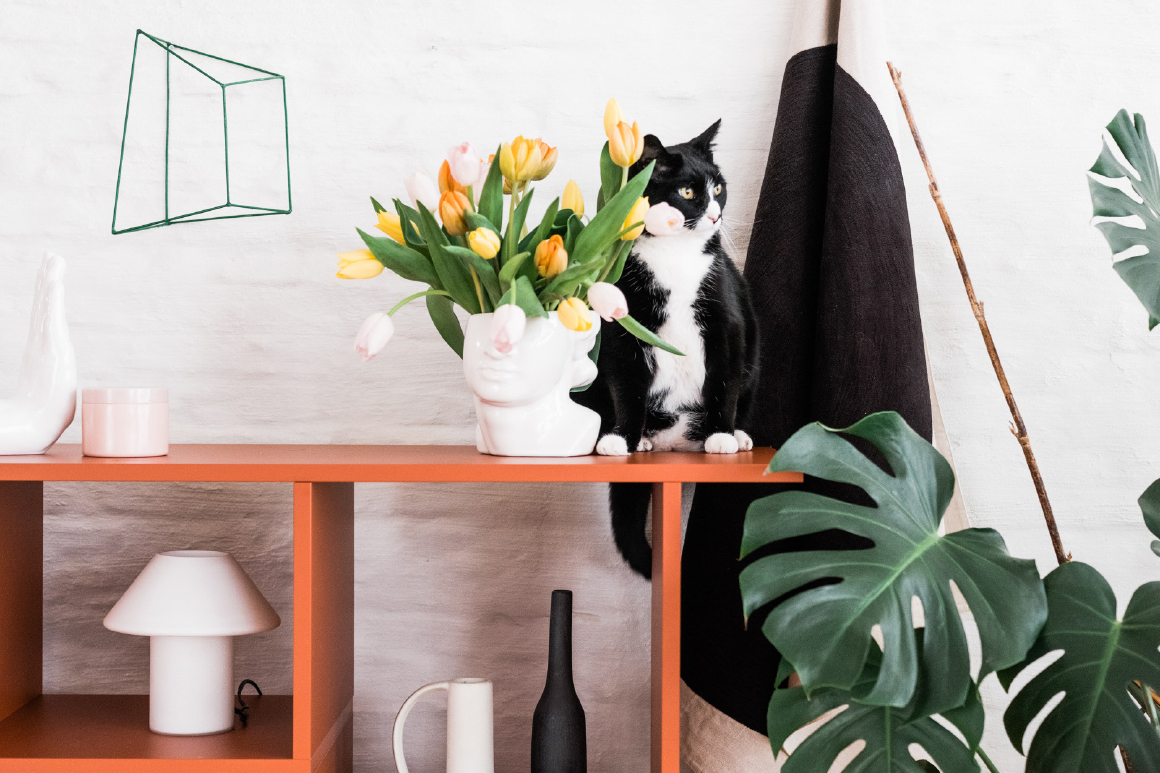 Magali, Bart – How would you describe your interior design aesthetic?
M: We love clashing colours and materials, big leafy plants, flower arrangements, cats and ethnic details. We bought an old factory building that we are now renovating and converting into a home, an office and a photo studio. Our home has an industrial vibe. It is very open, light and spacious. It's quite the opposite of fragile, which is good with a baby crawling around.
Do you share a sense of style?
M: Luckily, we share the same aesthetics. We like the same things, the same books, designers, and artists. When we go to the market, we come home with the same flowers.
B: Tulips for life.
Magali – You talk about your blog's "Slow Journalism" style, can explain what this means to you?
M: It means taking the time to chat and to really get to know your subject. I don't like doing an interview to promote someone's film, music, or product. I like to talk about life, work, kids, plants, pets and the balance everybody wants but never achieves.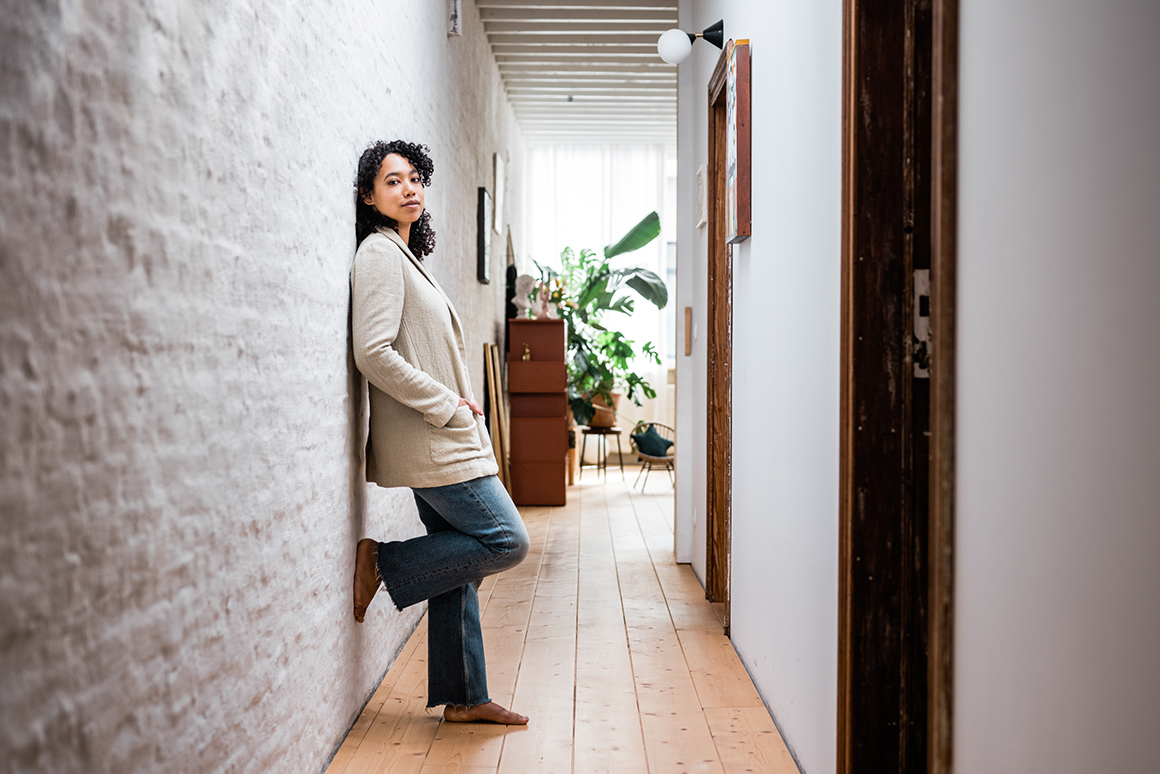 Magali, Bart – How has the design world evolved in the past ten years and where do you think it will go in the next ten?
M: I think it's going too fast. It takes ages to save up just to buy one single designer piece. When you think of it, you only need one table or one set of chairs in your lifetime. I don't get the fast pace and the voice of precious materials that no-one can afford. I think customization, eclecticism and timelessness are key.
What are your favourite locations for anyone visiting Antwerp?
M: My favorite store is The Recollection. For lunch, I suggest heading down to Local Store. Grab a coffee at Brand Bar, have a drink on the terrace of De Walvis and enjoy a dinner at De Rode Zeven.
Are you collectors and if so, of what?
M: We are cat hoarders. We have three felines, but we used to have a lot more. Our previous home was located next to an abandoned warehouse where a bunch of strays lived. Nobody cared about castrating and sterilizing them, they just kept on feeding them.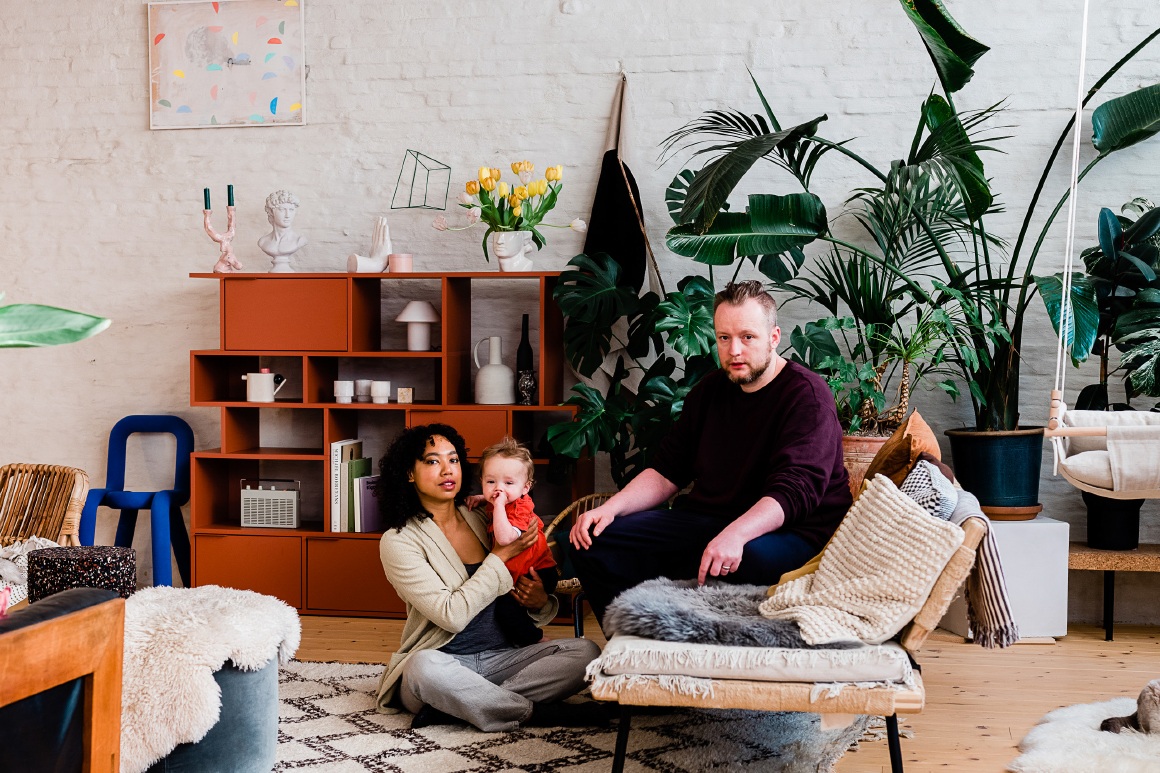 What does "home" mean to you?
M: It's a quiet place where you can put your feet up, enjoy spending time alone or with your family, and connect with who you really are or want to be.
What are you currently working on?
M: We are about to publish our second book: Wild at Heart. For the Love of Pets and Beautiful Homes, a book that celebrates the connection we share with animals in our homes. It's a book for animal and design lovers.
How does your Tylko shelving work within your space and how does it fit your lifestyle?
M: It perfectly fits our interior. I'm smitten with the colour Terracotta, which matches our plants and the brown and beige palette in our home. The big shelves are perfect to stock our son's smaller toys and cars. Although we said we would never allow ugly colourful plastic games in our home, our son adores them and wants nothing else.