Doors You'll Adore: 5 Reasons You'll Love Our New Shelf Feature

Stashers, storers and cubbyhole lovers - say hello to our new shelf with doors!
Open shelves are the perfect way to display the things you cherish – but what about the stuff you might not want on show? Here are 5 reasons why our new doors are just what you need:
Stash & Save
Utility bills, shopping lists and the odds and ends that end up on counters and tables – all part of everyday life and all a bit….messy! With our new door feature, you can easily create closed-off cubbies to keep the clutter contained.
Easy, As Always
Tool-free assembly is our thing, and we've made sure our new doors are just as easy to install too. Simply pop them into the sockets and you're done. Snap together and store – just as simply as always.  
A Unified Front
Sleek, color-matched perfectly to your shelf and with stylish handles carefully designed by our design team – your shelf just got even more streamlined. It's minimal design for maximum storage.
So Long, Slamming
We considered the design down to the last detail – from hinge to handle. Soft-close doors that won't slam or swing out, scratch-proof finishing, comfort-grip handles…we don't take shortcuts at Tylko. (We also hear the words "extruded aluminum" in our sleep now.)
Pick & Mix
As if the configurator wasn't fun enough already, now you can add and subtract as many doors as you like. They adjust automatically to your proportions, so whether you want full-coverage or a few closed cabinets, the choice is yours – completely!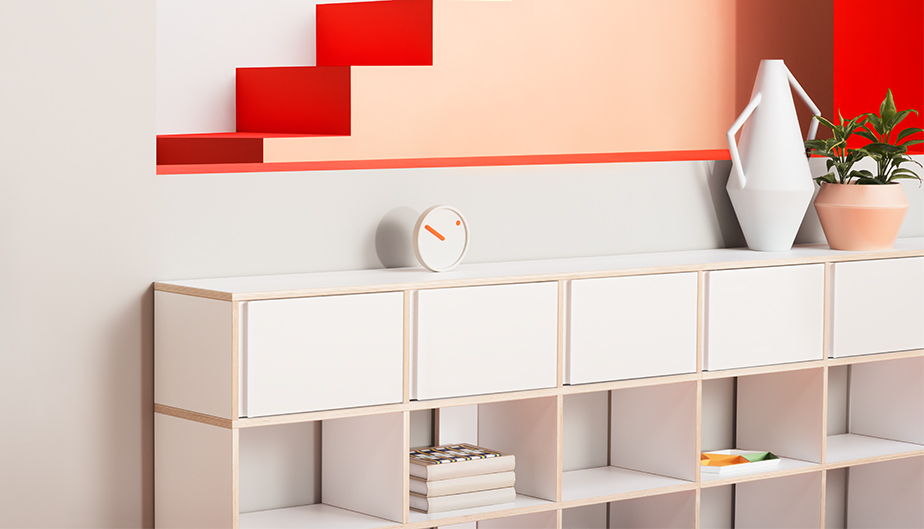 When our customers talk, we listen. You asked for concealed storage options, and we're proud to now offer doors as an easy addition to any shelf you can dream up. Life may get messy, but our doors never will. Design your shelf – with doors – today!