Introducing the Tone Wardrobe: designed by experts, inspired by real life

Marking the launch of a whole new category at Tylko, we're excited to finally reveal our very own forward-thinking take on bedroom furniture: the Tone Wardrobe.
Delivering smart organisation right where it's needed, the Tone Wardrobe applies our trademark innovation and customer-focused design to an essential piece of furniture — making the often-tricky task of bedroom organisation a hassle-free and style-conscious process.
Since our launch in 2015 we've sought to stay one-step ahead, creating premium products that fit seamlessly into busy modern life. Balancing style with substance, our collections make storage quick and intuitive, allowing you to focus on the things that matter. The new Tone Wardrobe follows the very same principles.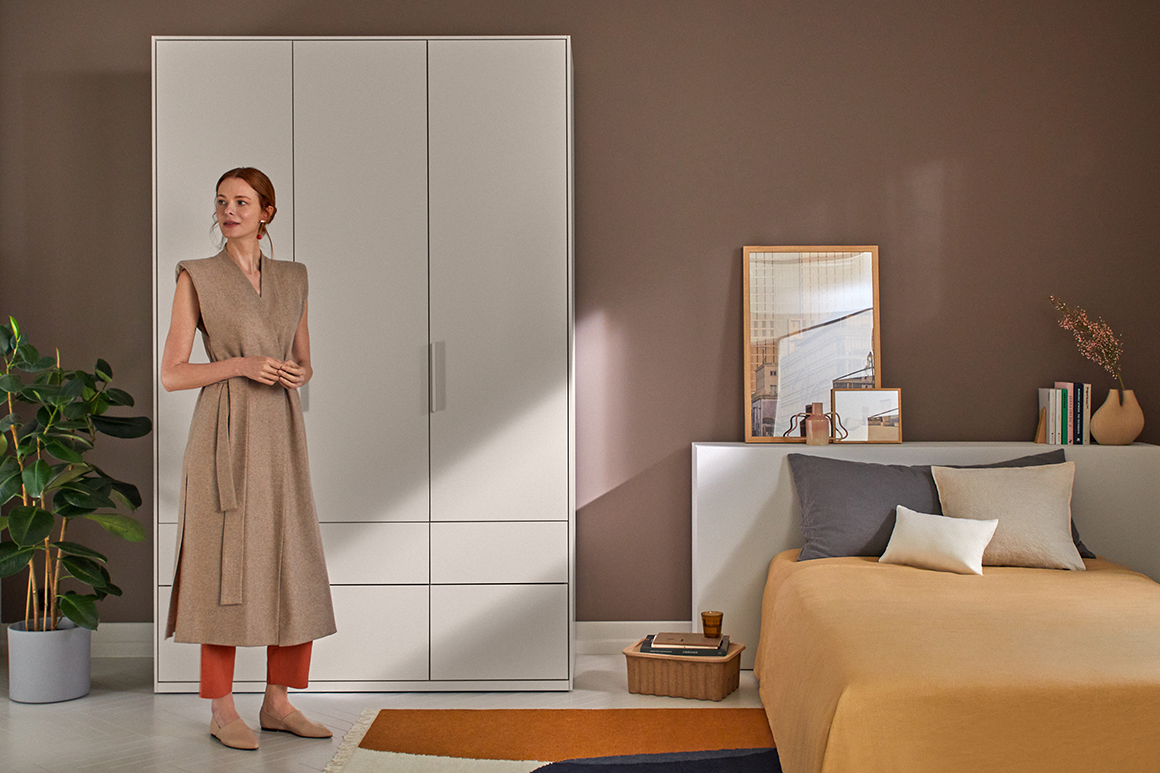 Extensive exploration from our research and development team has uncovered the ways in which we use and interact with our wardrobes – what worked and, importantly, what didn't. It became clear that a solution was needed that sat neatly between a fully bespoke fitted system: expensive and time-consuming to fit, and an off-the-peg wardrobe, more accessible but lacking in personalised functionality and quality of build. 
So, in response, we imagined the Tone Wardrobe. Quality visible throughout, this customisable system meets its users needs at every single detail: designed to fit around you and your home – no-compromises needed.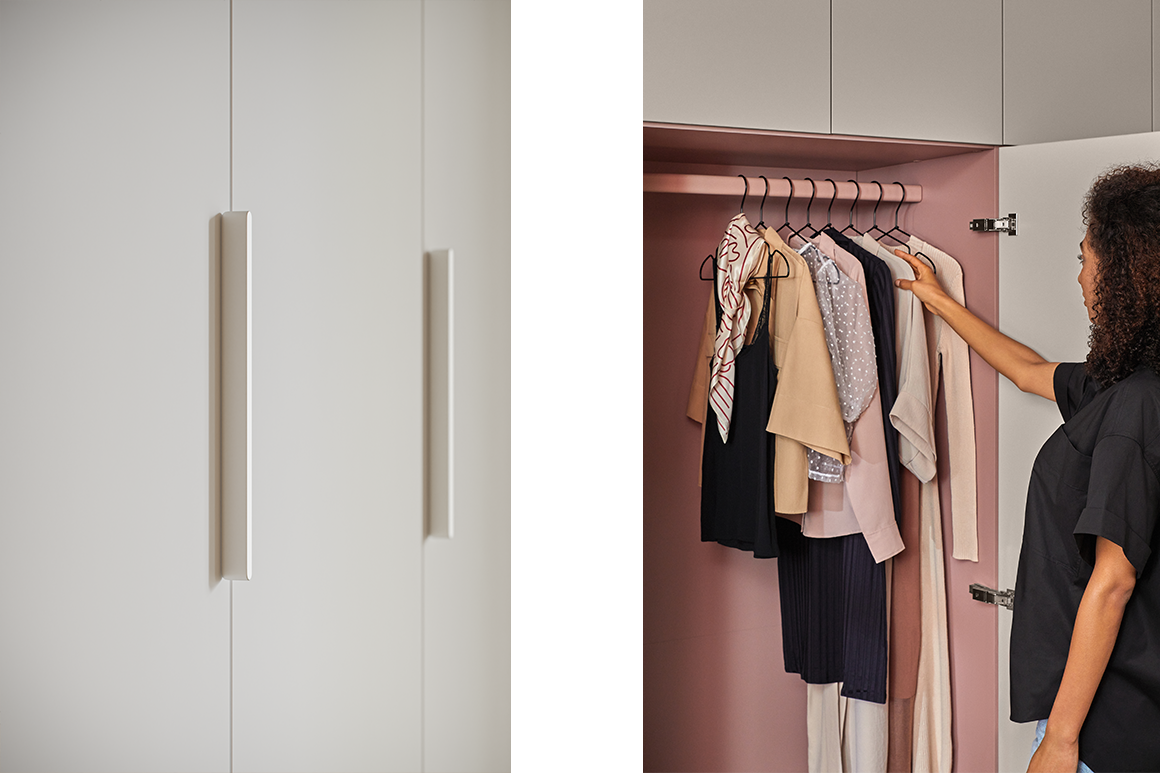 Tech-driven, people-focused
As with all our furniture, you're in control. Thanks to our intuitive online configurator, you're given the necessary tools to experiment with size, colour and layout before you buy. With parametric design thinking built into our systems, expect perfect proportions every time. Maximise every centimetre and completely transform the way you organise with complete confidence.
Available in two smart depths: 53cm for slimmer storage or 63cm for full-depth comfort, no matter the size of your abode, there's an ideal fit. Next up, width, and here the Type03 really shines. With measurements starting from 40cm extending to an impressive 600cm, decide whether you want to create a single cosy corner wardrobe or a striking full wall of storage.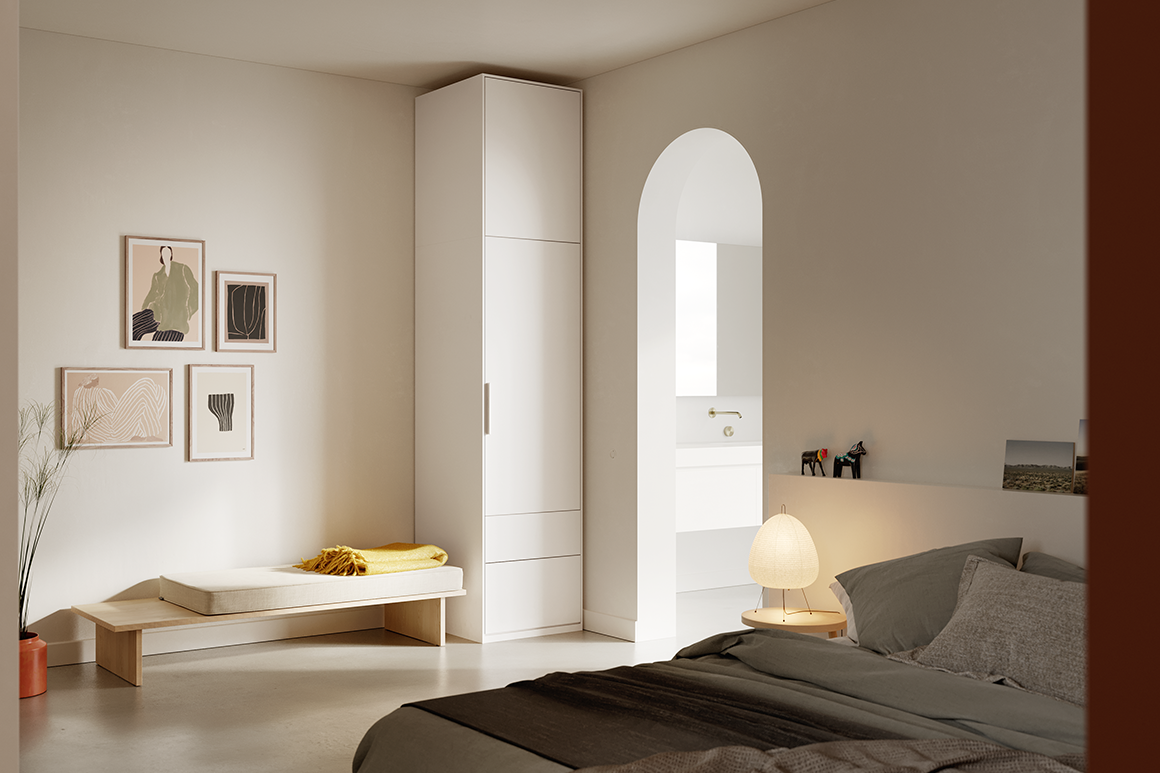 Harmony through Colour
With its larger dimensions, we understand that looks are essential when it comes to your wardrobe. Intentionally designed as a sleek and minimal backdrop to everyday life, we've selected a range of shades designed to go the distance while remaining quietly contemporary.
You can choose the clean and classic White, warm and inviting Cashmere Beige, sleek Graphite Grey, or a stylish combination of Cashmere Beige and Antique Pink.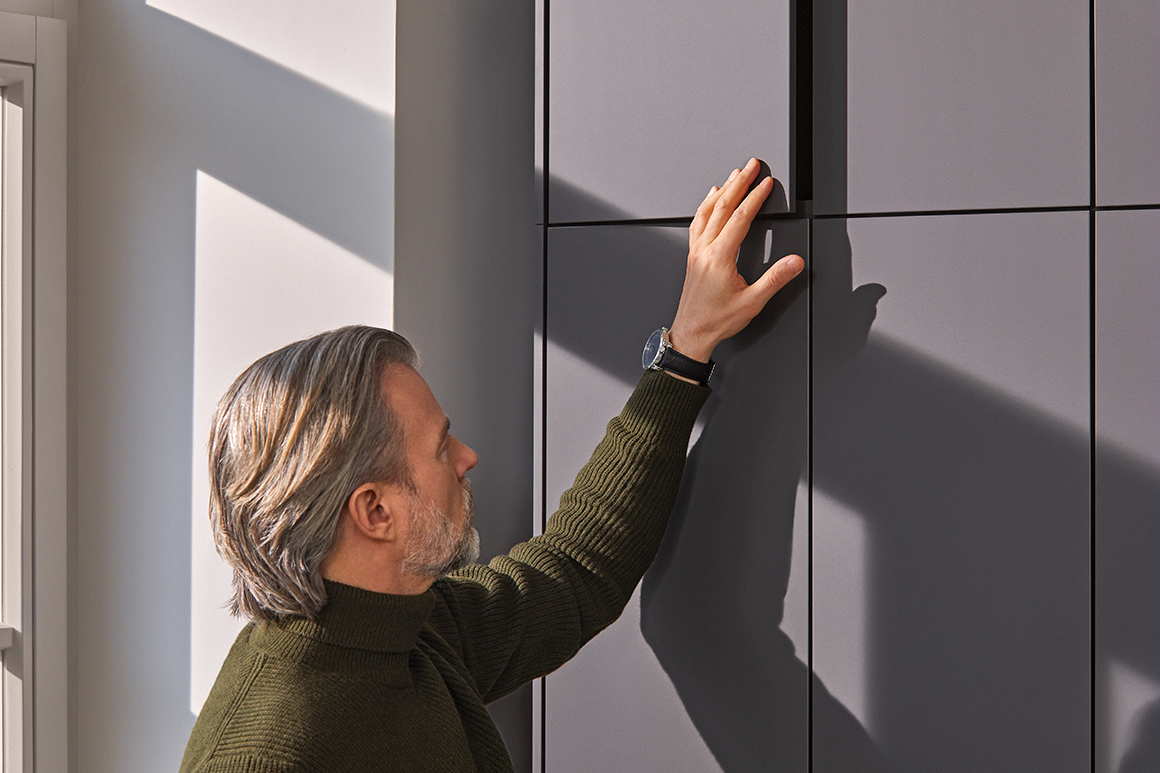 Good looks, built to last
Stripped back and simple, the Tone frame employs graphic lines and restrained elegance. Form and function in balance, durable, high-quality materials ensure your storage will remain stable and strong through the years. 
For this collection we have selected premium medium-density fibreboard (MDF) recognised for its stable and dependable performance. Opting for a streamlined aesthetic, all trims are sized perfectly to lend the wardrobe a visual softness, emphasised by the material's modern matte finish. Maintaining the minimalist theme, subtle colour-matched aluminium handles sit comfortably in the hand, gently textured for a tactile finish.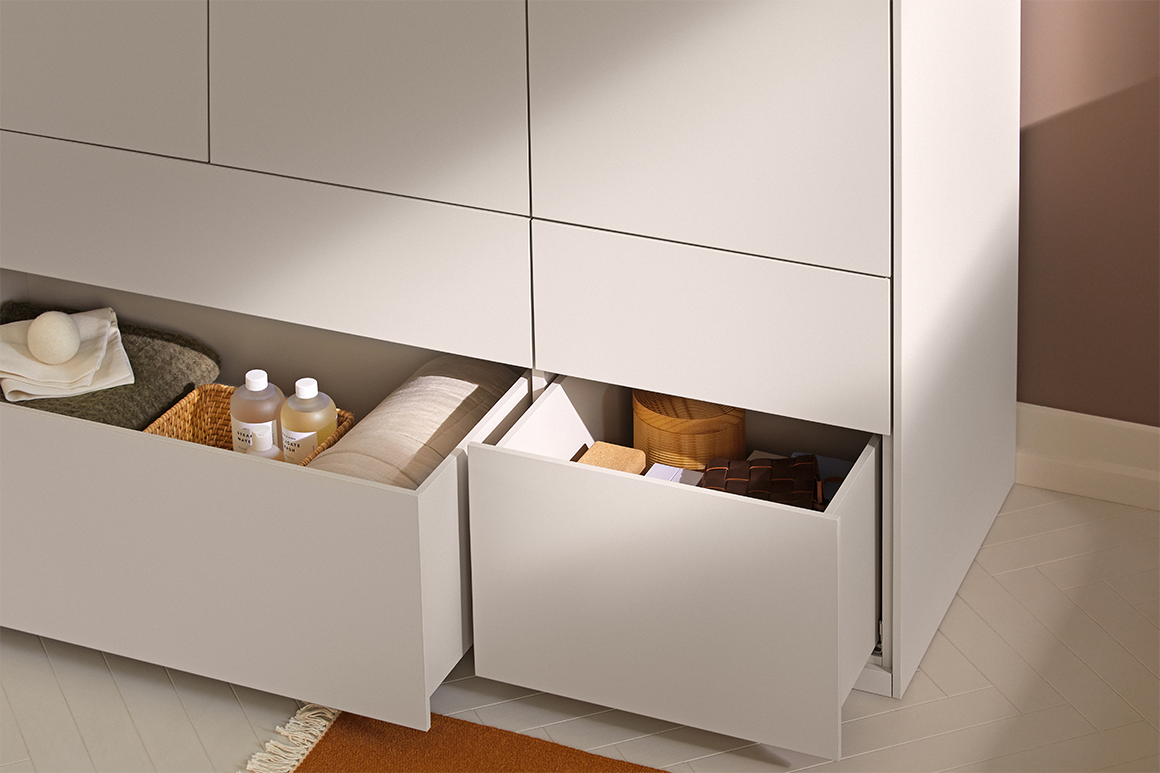 Super sleek, hyper functional
The real innovation takes place inside your Tone Wardrobe. Tylko's in-house design team have selected 16 essential segments, versatile and hardworking, all pre-set and ready to customise in our intuitive configurator. 
Colour-matched, soft-close drawers, both internal and external, hold everything from jewellery to paperwork. Our sturdy aluminium rails are placed at the ideal height for easy access — requiring no screws or nails, they simply slot into place via our unfussy click-in system. Shelving can be adjusted to store folded garments, and overhead, push-to-open compartments are perfect for concealing luggage in-between weekend getaways.  
Once you've stored everything away, slim, self-close doors keep belongings hidden from sight: minimal and discreet on the outside, hyper functional on the inside.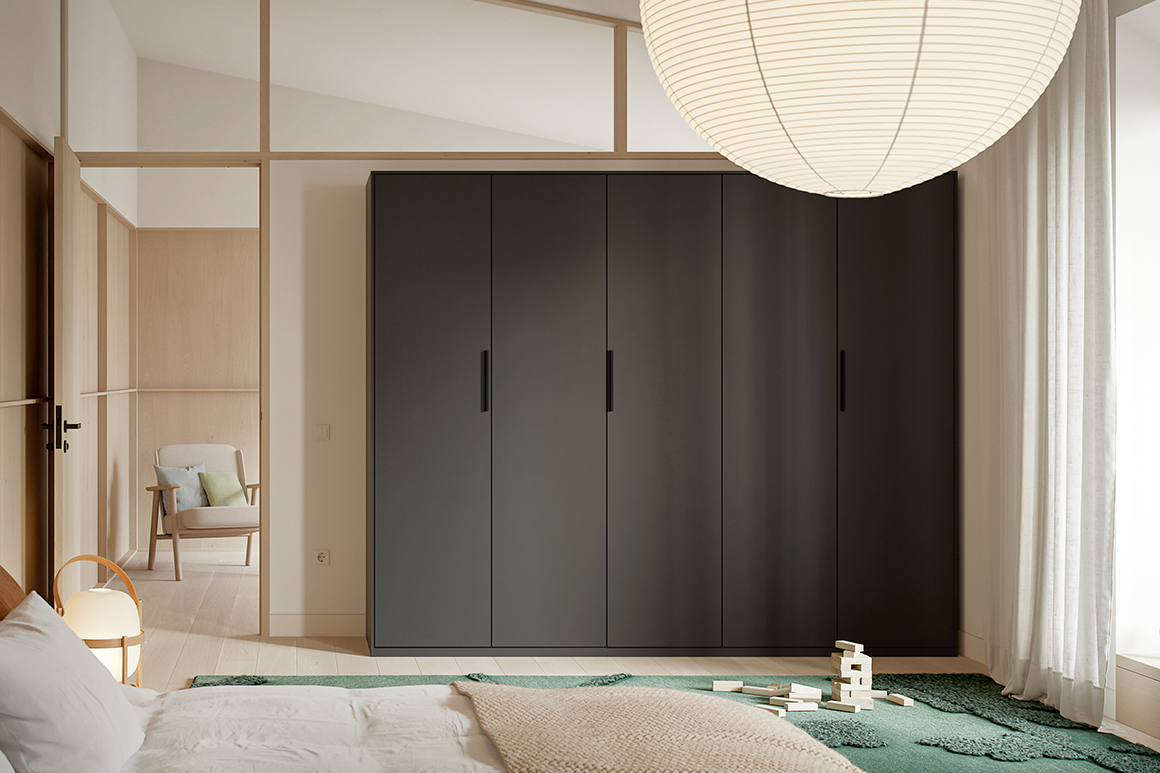 A mindful experience 
Our meticulous approach extends way beyond the product itself. As with all our furniture, we've made the Tone purchasing process as stress-free as possible. The wardrobe also comes with a quick and easy, free of charge assembly service — our team of professionals will do the job upon delivery, and responsibly take care of any leftover boxes. 
Consciously sourced materials, sustainable practices and a commitment to maximise recyclables and minimising waste – we take our responsibility towards both customer and planet seriously. Rejecting fast-furniture culture, our collections are built to last, encouraging customers to buy better, buy less. 
Ready for action? Discover all the details that make the Tone Wardrobe stand out from the crowd.