Igor Kubik x Tylko: A Playful Approach to Creativity

A master of his craft, we sit down with Warsaw-based illustrator Igor Kubik to discuss his feel-good signature aesthetic.
As a form, illustration often lends itself to the humorous and upbeat. Perhaps because of its association with our cherished childhood cartoons or simply because of it's more free flowing style, it's the ideal way to express fun and warmth. 
Igor's work encapsulates this spirit. Sketching from an early age, spurred on by a love of comic book capers, Igor's work sits perfectly balanced between a sense of youthful innocence and knowing sophistication. It seems his formula is a popular one, finding fans among the likes of Vogue, Campari and Raffles Hotels, all having tapped into his singular style for campaigns and editorials.
A mix of retro 50s and 60s, abstract portraiture, folk art and plenty of full on colour, Igor's playful creations were the perfect match for our bold Type 02 line. Creating three stylish scenes for our shelving, we sit down with the artist to get a peek behind the process.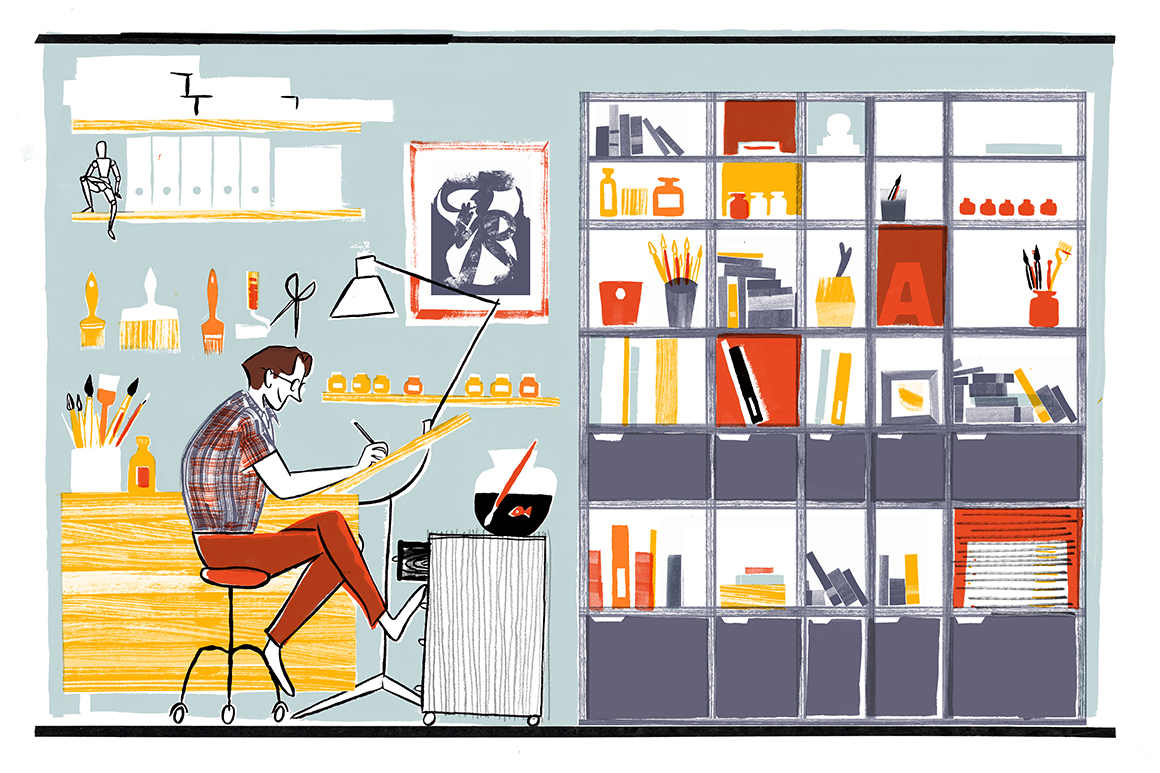 ON BEGINNINGS & SIGNATURE STYLE
Following a path set from an early age, Igor discovered the power of graphic storytelling and never looked back. Transforming a childhood passion into a fully-fledged career, those early comic book influences set the tone for a personal style that continues to serve him well to this day.
Can you tell us a little about your background? Where did you grow up and were you always interested in illustration?
I grew up in a small town called Radomsko in the center of Poland. I was passionate about drawing from early on. My first fascination was Japanese comics, which pushed me to create my own drawn stories. When I was 15, I moved to Warsaw and continued my studies at art high school and then at the Academy of Fine Arts, where I earned my master's degree at Grazka's Lange Illustration Studio in 2017. Now I work as a freelance artist. 
How would you describe your work to someone who was unfamiliar with it?
I think that when you see a picture full of positive emotions, created in the traditional technique, you'll know this is one of my illustrations! I think my work is focused on people, relationships and situations. I like to simplify forms, but my work is also full of details. In my illustrations I like to put a link to art history or design. I try to reflect on the nature of the times in which I create, like a visual journalist.
Your illustrations feel genuinely upbeat and humorous, is it important to keep your work positive or is this just part of your style?
I'm a positive person, so in my drawings I focus on giving something nice to people. I think you could say it has become part of my style.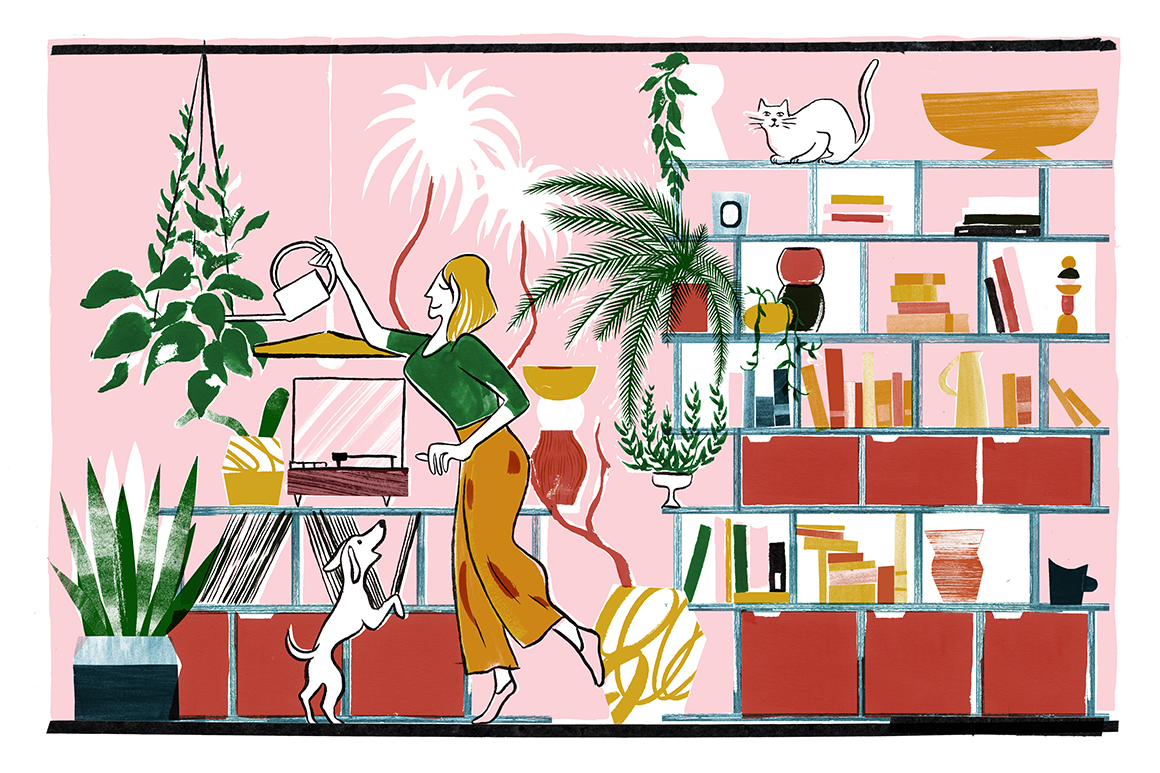 ON MIXED MEDIA
Constant experimentation and an open-mind have resulted in an artist skilled in a range of mediums from risographs, sketching and cut-outs to digital design and painting. Igor's desire to find just the right tools for each individual commission has led to a rich portfolio reflecting this illustrator's curious nature. 
You work across lots of different mediums, is it important to keep your work varied and do you have a preference between handmade and computer-aided design?
At the beginning it was all hand created. I start each drawing with a traditional sketch. I try to avoid designing illustrations in my mind or on the computer. Drawing is the most important process for me and then all visual and semantic rhymes are created. Often, by accident I find a small clue then follow it to the final concept. I don't have a favourite medium, I like using everything. It gives me many possibilities to create my own language. I want to use a medium that matches the topic. At the end of my work I use a computer to correct and complete each piece. I wouldn't like to define my style by just one technique.
Your portfolio includes some amazing animations, what are both the challenges and the advantages of working in this area?
I like when the illustration is fresh, created quickly, on impulse or emotion. Animation is something completely different, working on a short sequence takes a long time and it teaches me patience and determination. What I like about animation is that the effect is part of a very long process and it is often a very pleasant surprise in the end.
What's your dream future project?
I don't have one; really nice projects appear in front of me quite often. I go with the flow and my eyes are wide open to new ideas.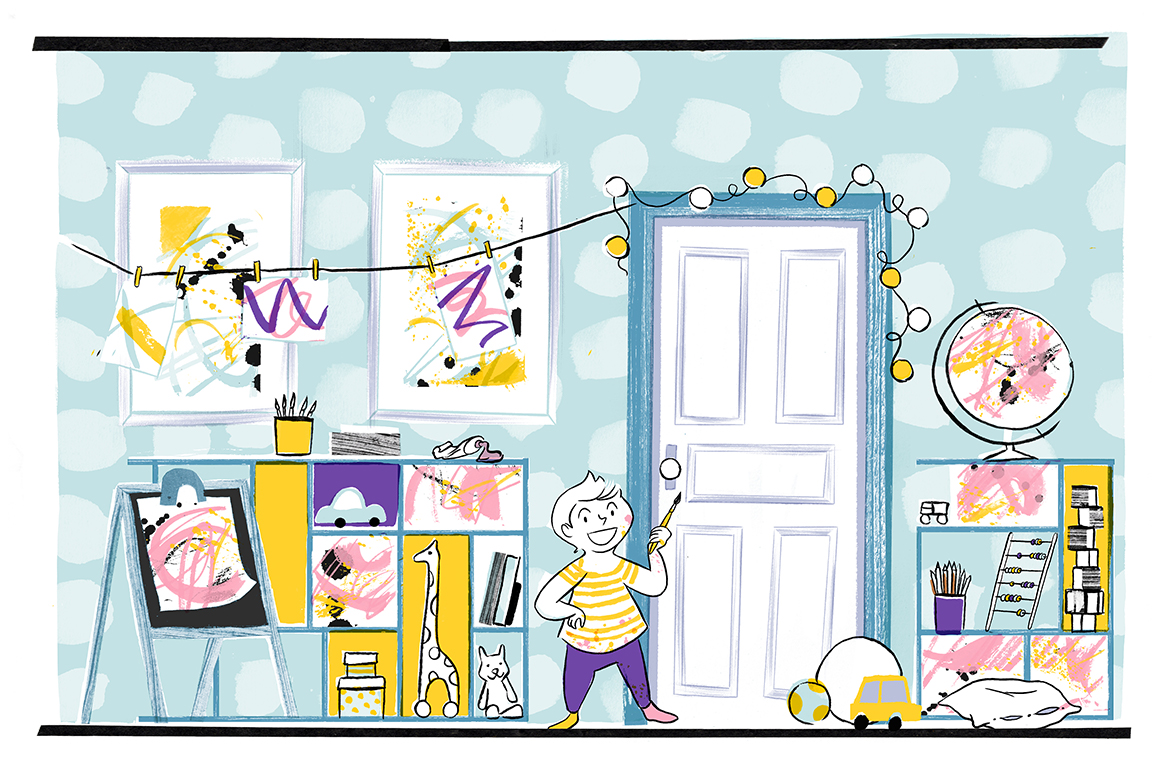 ON COLLABORATION
Partnerships represent a chance to play with fresh concepts as well as push boundaries. For Igor, collaboration is a means to develop himself as a creative, tapping into a new source of ideas and pulling out something completely original and unexpected. 
How did your collaboration with Tylko come about?
Tylko contacted me with a proposal to cooperate on creating illustrations for their Type02 bookshelves. I have been following the company for a long time, so immediately, with enthusiasm, I accepted this offer. I quickly came up with some ideas for illustrations. The brief was very open which gave me a lot of freedom to create images.
Is collaboration an important part of your practice?
Yes, very important. I love meeting people and talking about work, confronting different ideas and creating them together – then, something new is really born.
Can you describe the images you chose to create for Tylko?
I remember when I was a little boy and I created doll houses in my bookshelf. A Type 02 bookcase would be perfect for such fun, so I decided to play with the illustration like that. As a result, I created 3 scenes connected with me. A place for work, play and home living.
ON HOME & HEROES
A reflection of his professional style, home is the coming together of Igor's favourite things, with a particular focus on mid-century that feels equally present in his work. No surprise then that his design hero hails from that golden age, an icon whose fondness for fun has clearly inspired Igor's light-hearted touch.
How would you describe your own interior design style?
My interior is an exact combination of all the illustrations prepared for Tylko. It's a large mix of antiques, '60s design, modern forms, art and a lot of plants.
Who are your design heroes?
Bruno Munari. He is probably my greatest master – he was a total futurist in every field in which he created. I'm very much impressed by his thinking and the way he combined pictures with words. Everything in his designs is so simple and for me this is the most difficult thing.