Introducing Tylko Type01 Veneer: Essential Design with Nature at its Heart

The secret is out and we're thrilled to finally introduce the latest addition to our product family - Type01 Veneer.
Placing the spotlight on natural wood finishes and incredible craftsmanship and quality, all of Tylko's tried and tested technology comes together in two fresh finishes, Oak and Ash. Fully adaptable, fully customisable, constructed with premium materials, this stripped back collection lets simple, authentic surfaces take centre-stage.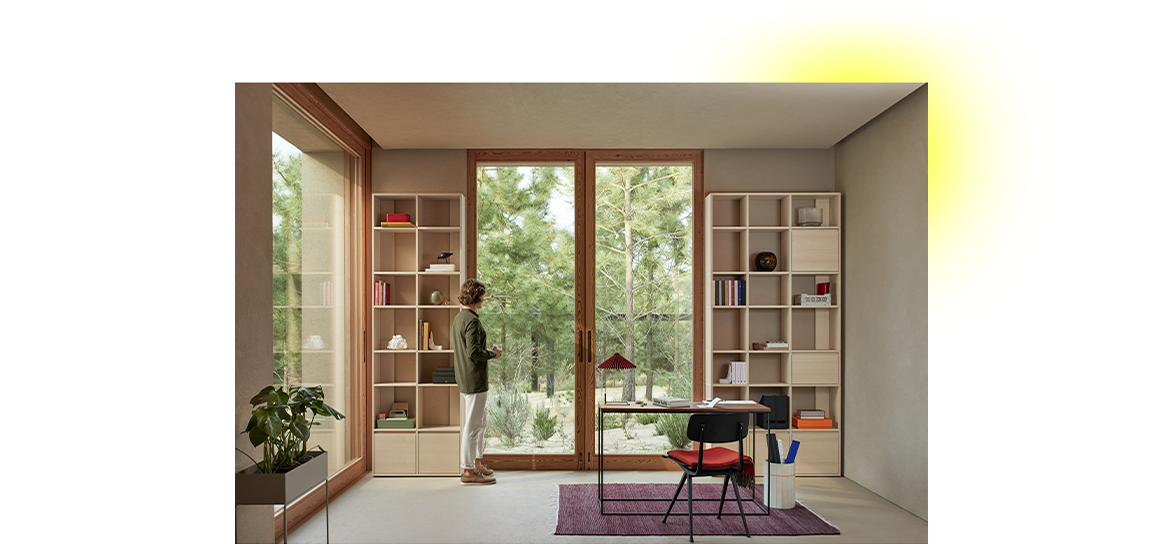 A Focus on Grain
A desire to celebrate natural surfaces in all their uncomplicated beauty became the driving force behind this newest release. While the Type01 and Type02 bring both minimalism and maximalism with their respective colour palettes, our internal design team aimed to offer the customer an even wider range of hues and materials.
The addition of Type01 Veneer brings an entirely new dimension to the Tylko family. A warm and immediately tactile surface, light Ash and a honeyed Oak evoke a sense of quiet and calm, bringing the outdoors in. A reminder of the beauty and diversity of nature itself, no two grains are alike, each piece unique, full of individual character.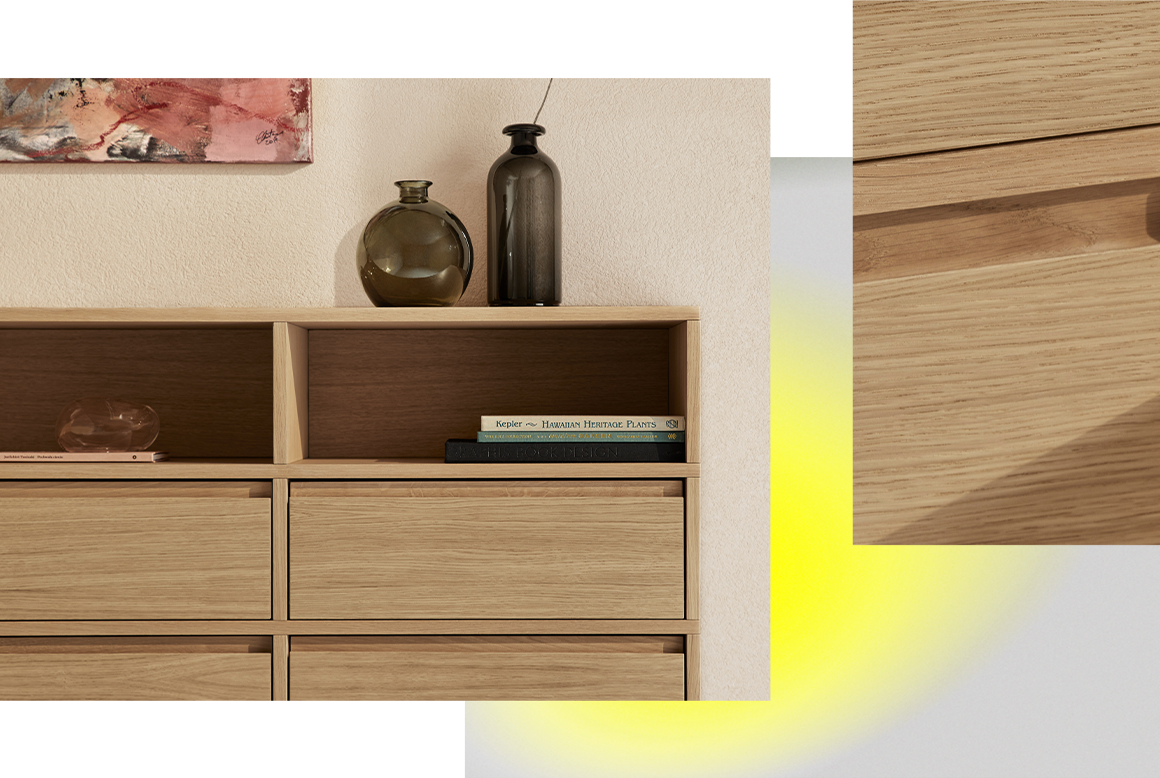 The Details
For us, quality is everything and Type01 Veneer represents the purest expression of our commitment to excellence. Each panel begins as a solid, hardwearing particleboard that is then wrapped in a top layer of real wood, either Oak or Ash. Our chosen veneer has been sourced in Europe, keeping the welfare of the planet at the centre of this new design. Finally, a water-based, non-toxic lacquer is applied to each piece (alongside toxin-free glues), protecting and enhancing the grain while keeping the hands-on experience a healthy one. In terms of durability, the surface is scratch-resistant and fingerprint free, all you'll feel is the soft and natural texture of wood.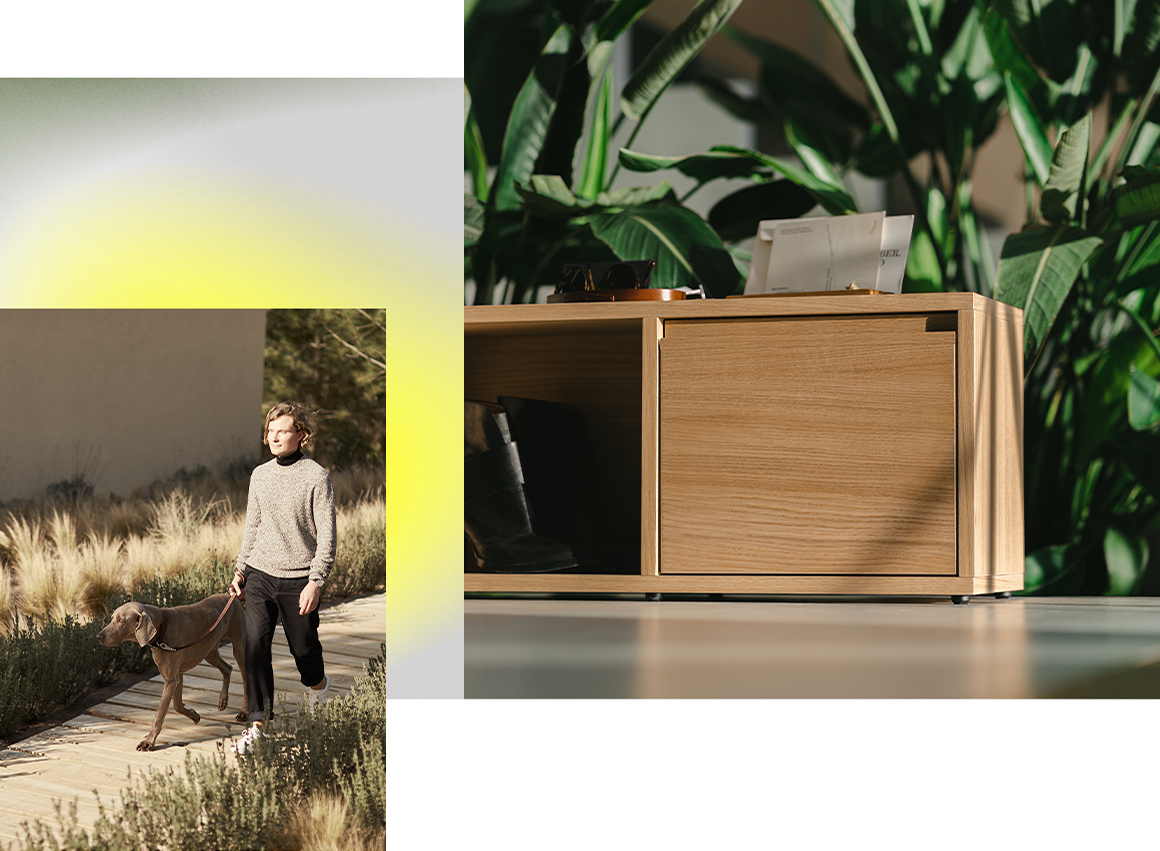 Great care has been taken to balance form and function, the Type01 Veneer matching user-friendly and intuitive design with understated good looks. The first point of contact, the handles are crucial in both practical and aesthetic terms. This new range introduces brand new discreet, integrated handles in waxed solid wood, recessed to allow for easy and instinctive opening and closing. Sitting flush against each door and drawer, they create an uninterrupted line across the unit, allowing the beauty of the grain to shine.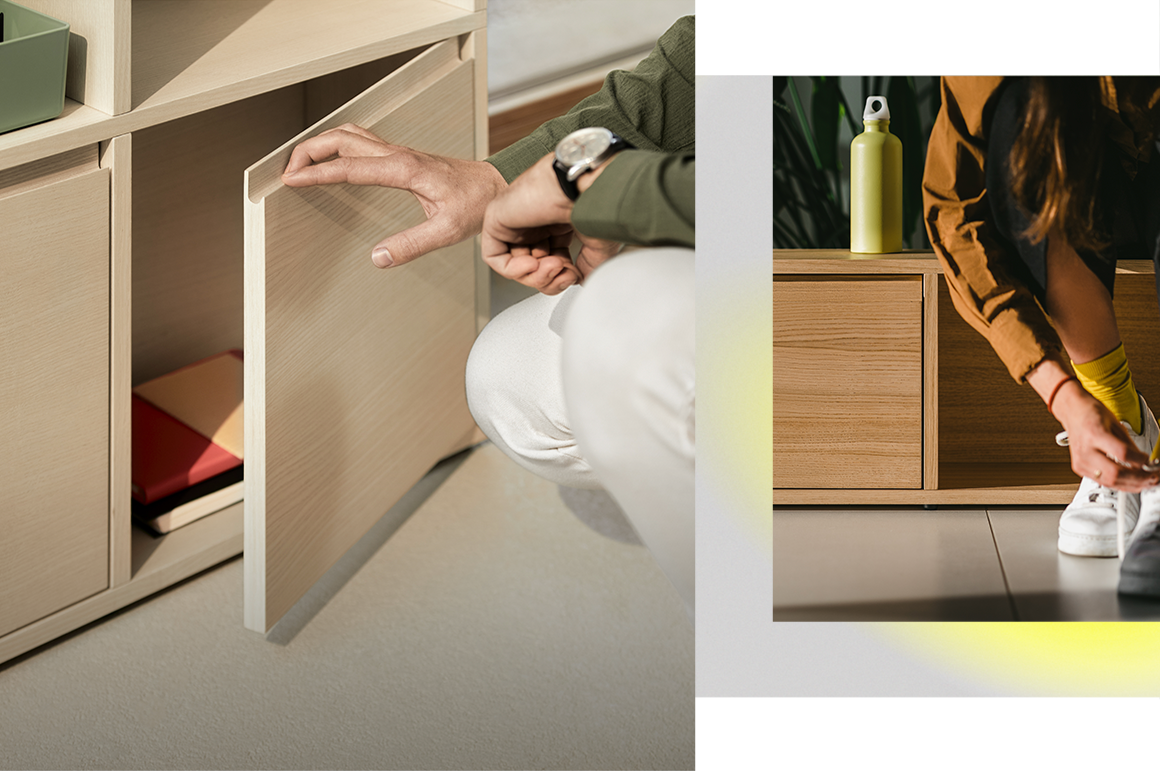 Responsible Design for the Long-Term
Inspired by clean and classic furniture design, Type01 Veneer is all about longevity. A perfect companion to your chosen décor, be it stripped back contemporary, mix and match mid-century or bold and expressive, these sophisticated wood shades slot seamlessly into any environment, defying trends or passing fashions. We encourage you to enjoy your furniture for years to come – when you move, the Type01 Veneer can be easily disassembled then reassembled in your new space with no compromise to build or stability.
With looks designed to last, just as you'd expect with real wood veneers, your shelf surfaces will age subtly and beautifully over time, making each piece uniquely yours. A more conscious and ecologically responsible approach to buying, we create a product that combines high quality, timeless style and multi-use functionality, eliminating the need for repeat "fast furniture" purchases.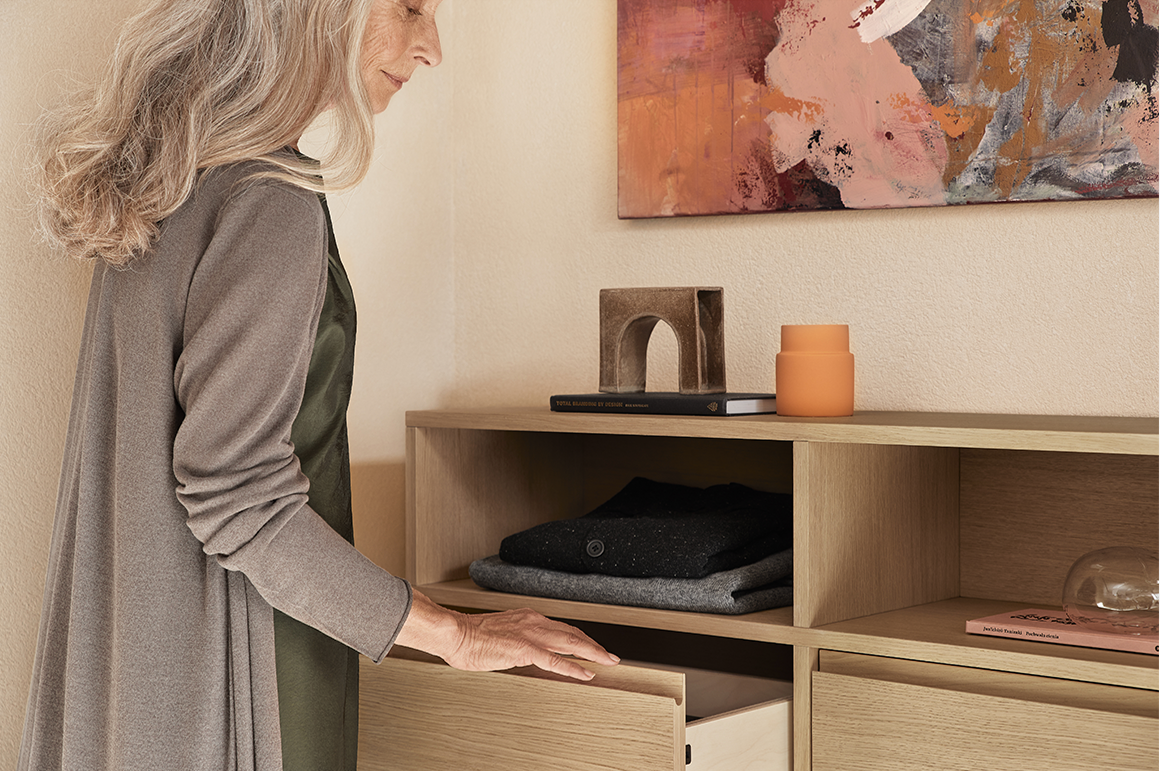 This green thinking extends right across the business too. Produced on-demand, we use tech-driven cutting to reduce waste, only making what is actually needed. Type01 Veneer originates from EU factories, reducing its carbon footprint, arriving at your door in 100% recyclable made to measure packaging with the minimum of plastic used. This journey continues as we explore a range of smart methods to create beautiful furniture that puts both the customer and the planet first.
From Build to Use
Type01 Veneer uses the same future-thinking self-design to self-build concept as our previous products. Reimagining the way we approach flat-pack furniture, incredible quality is combined with endless customisation and a no-fuss assembly process. Tylko's online and in-app tools allow you to, not only adjust the configuration and size of your Type01 Veneer shelf down to the centimetre, but, through augmented reality, virtually view your creation in your space at 1:1 scale. Putting together your furniture is a breeze with plain language instructions, colour coded snap-in connectors and clearly labelled components.
Type01 Veneer is currently available in a range of categories including bookcase, tv stand, sideboard, chest of drawers, wall storage and more. Whether you're after drawers or doors, back panels or an open design, we have you covered with a size range that includes 23 to 383cm in height and from 70 to 450 cm in width. Our famed layout styles: Gradient, Pattern, Grid and Slant offer further opportunity to personalise and optimise your furniture. Whatever your organisational need, there's a piece to fit, whether its clearing clutter or displaying your most treasured items.