Ruohan Wang: The Berlin-based Artist Exploring Humankind in Technicolour
Ruohan Wang invites us inside her Berlin studio to talk colour play and transforming the Type02 Sideboard into a harmonious backdrop for her bold creations.
With an innate understanding of the power of colour, Berlin-based Ruohan Wang infuses each and every piece with a palette of eye-popping shades. A painter, illustrator and visual artist working in both two and three dimensions, hand created and digital, Wang draws inspiration from the humourous interactions that make up our daily lives. A swipe through her wildly popular Instagram account tells the story of an artist happy to switch mediums. From a special edition Nike sneaker to eighties-tinged animations, her intelligent take on quirky graphics defy categorisation.
Bold and uniquely expressive, the Tylko Type02 Sideboard made the perfect custom piece for Ruohan's studio. Catching her shelf creation in action at her light-filled studio, we meet the artist to discuss creative beginnings and defining style.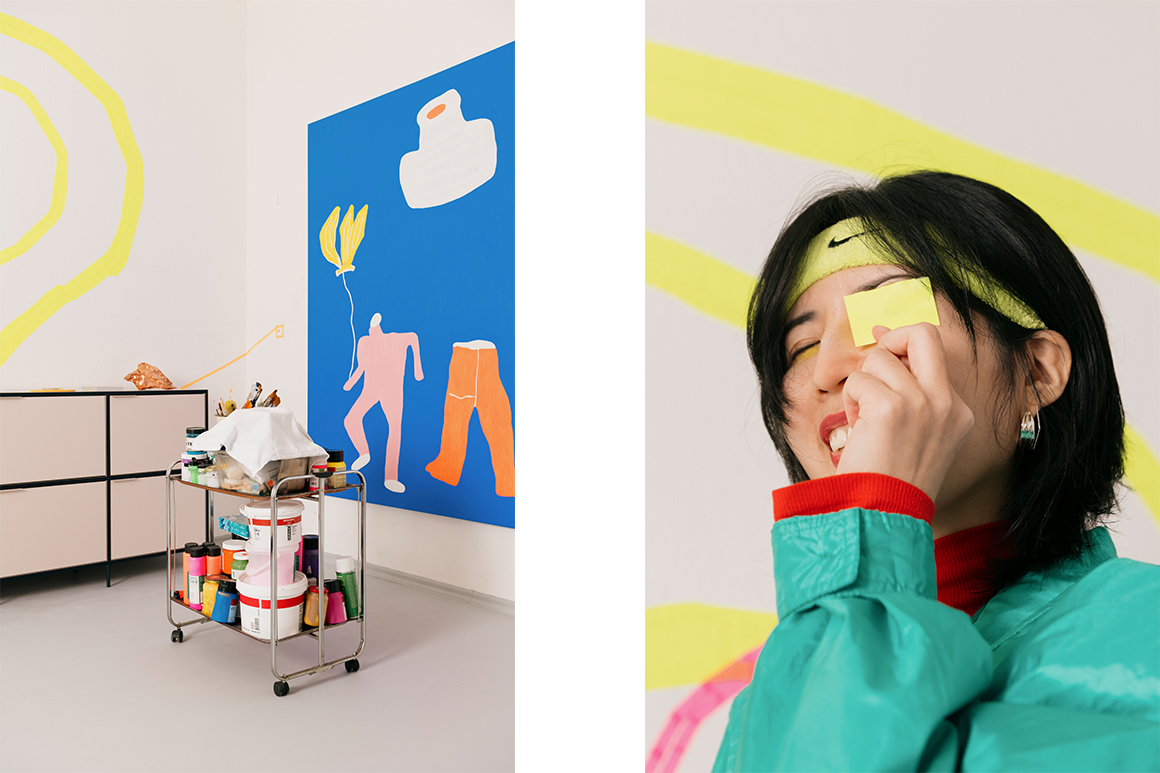 Can you tell us a little about your early years? 
I drew as a kid, almost every school holiday I went to drawing school. At the same time I learned different skills such as piano, calligraphy…but drawing was the only thing I continued with. At high school in China I decided to learn and study abroad. Visual art and illustration were the directions I chose because for me they sat perfectly between design and art. I was lucky enough to be able to study illustration under Professor Henning Wagenbreth at the University of Arts in Berlin. After graduating in 2017, I worked as a full-time artist on various projects – prints, painting, public art, installation, fashion and objects. In recent years I've worked on several collaborations with galleries and brands. 
Have you always been creative?
Because of my parent's work in architecture and engineering I had access to lots of building materials in my childhood and I would create and build tiny models with them. I designed lots of festival posters from primary school to middle school. These things were really influential for me and I think this practice helped develop my work today.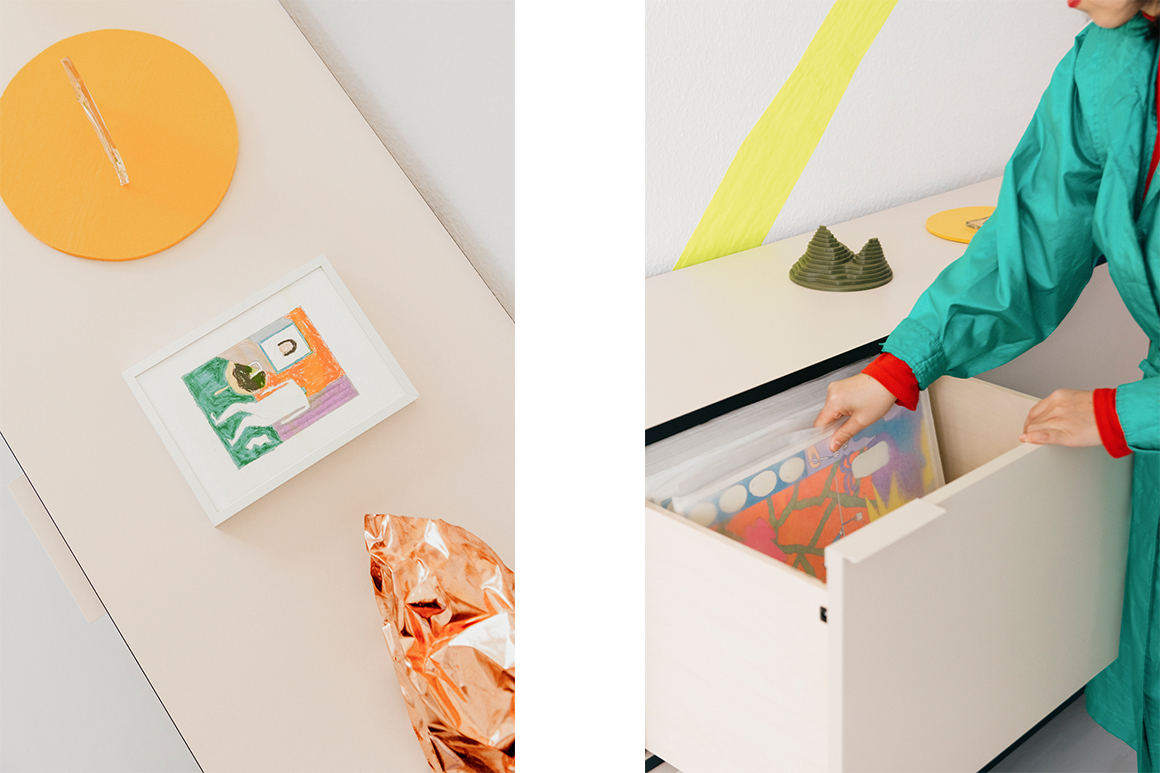 How would you describe your work to those unfamiliar with it?
When it comes to describing my artistic style, it's difficult for me to put it into words. I think the most moving aspect of art is the simplistic nature of humanity. From a technical point of view my work focuses on an interactive experiment between illustration, objective and improvisational aesthetics.
What would you say was the central theme of all your work, is there one idea or concept that ties every piece together? 
I have been working on prints and painting, public art and installation, fashion and object. For me they are different mediums and scales, but the same topic: the moment which catches time, movement and energy transformation, since everything is in the transformation of energy through movement. The content in my work is always about the simplistic nature of humankind, the interaction between humans and nature and some objects' essential properties and functions – for example, legs for moving non-stop.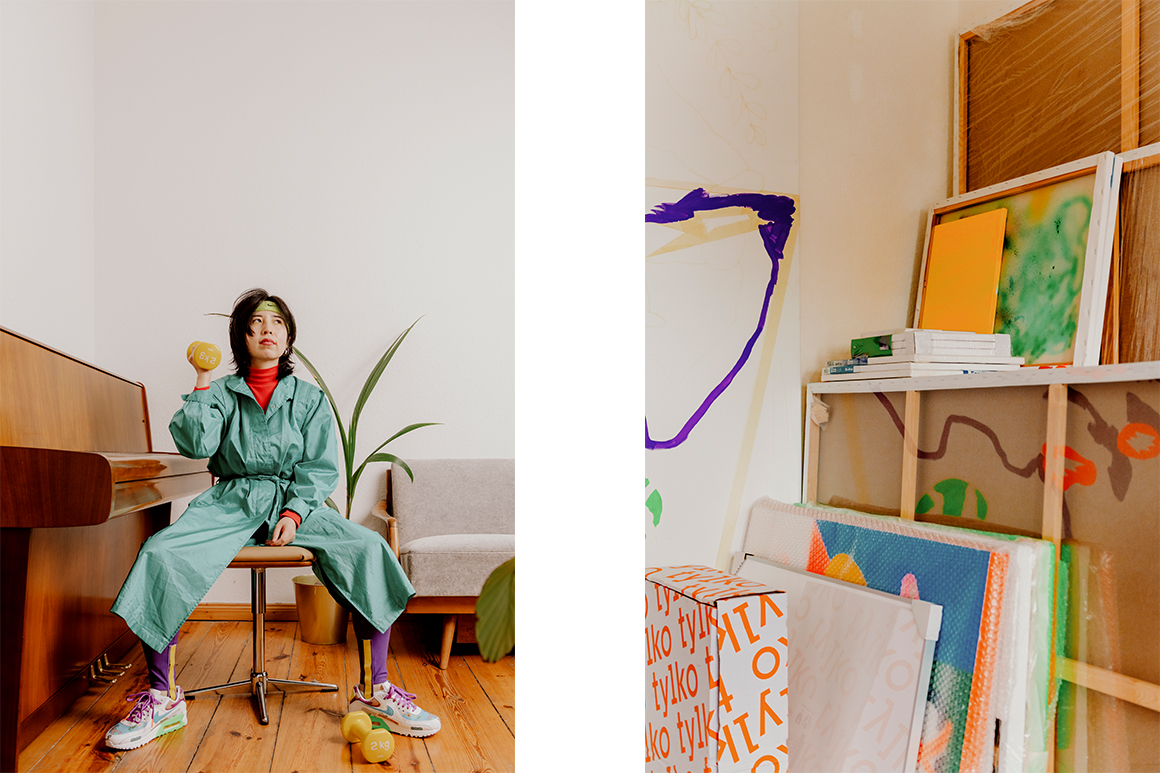 Your art spans multiple forms, illustration, animation, sculpture…do you have a preferred medium?
My preferred medium is sculpture or object, something I can touch and craft. These projects allow me to use all my skills, they challenge me but are always such fun. 
How important is humour in your work?
Humour is very important in my work. For me it's the best way to represent an illustrative scene. Humour allows me to connect with my audience.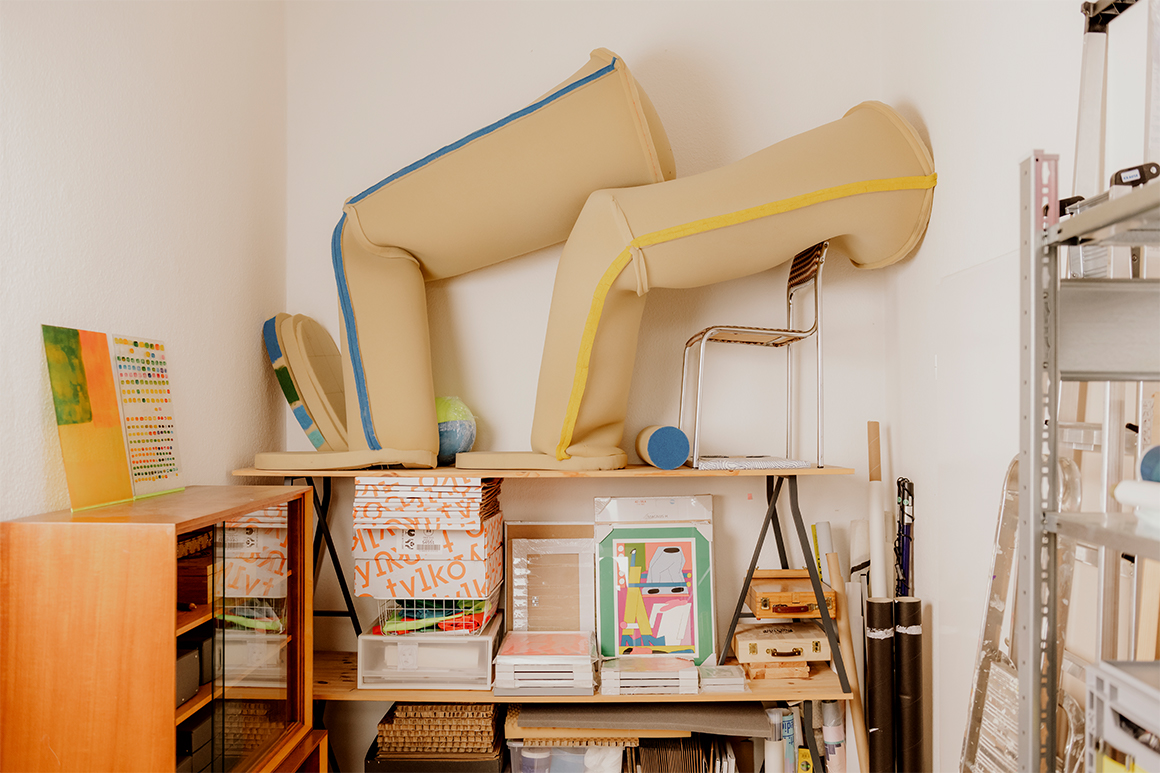 2020 has been an unusual year to say the least, how have recent events affected your work?
During the lockdown I have reorganised my studio and really thought about my future career. Gradually I was able to enjoy creating more artworks, particularly about the human anthropocene in nature.
Colour plays a huge role in your work, can you talk us through the ways in which you use colour and its personal significance to you?
Since studying visual communication, colour has become a wonderful way to visually communicate a feeling, at the same time It's also like math, following a certain logic. My studies at the University of Arts in Berlin under Professor Henning Wagenbreth gave me a solid foundation in colour logic. I followed the theory of silk print, looking at how the overlaying of colours brings more colours into one piece, so it looks colourful but harmonious because each one is related. I tend to explore the maximal possibility of colourful aesthetics. I want to see how far, is too far.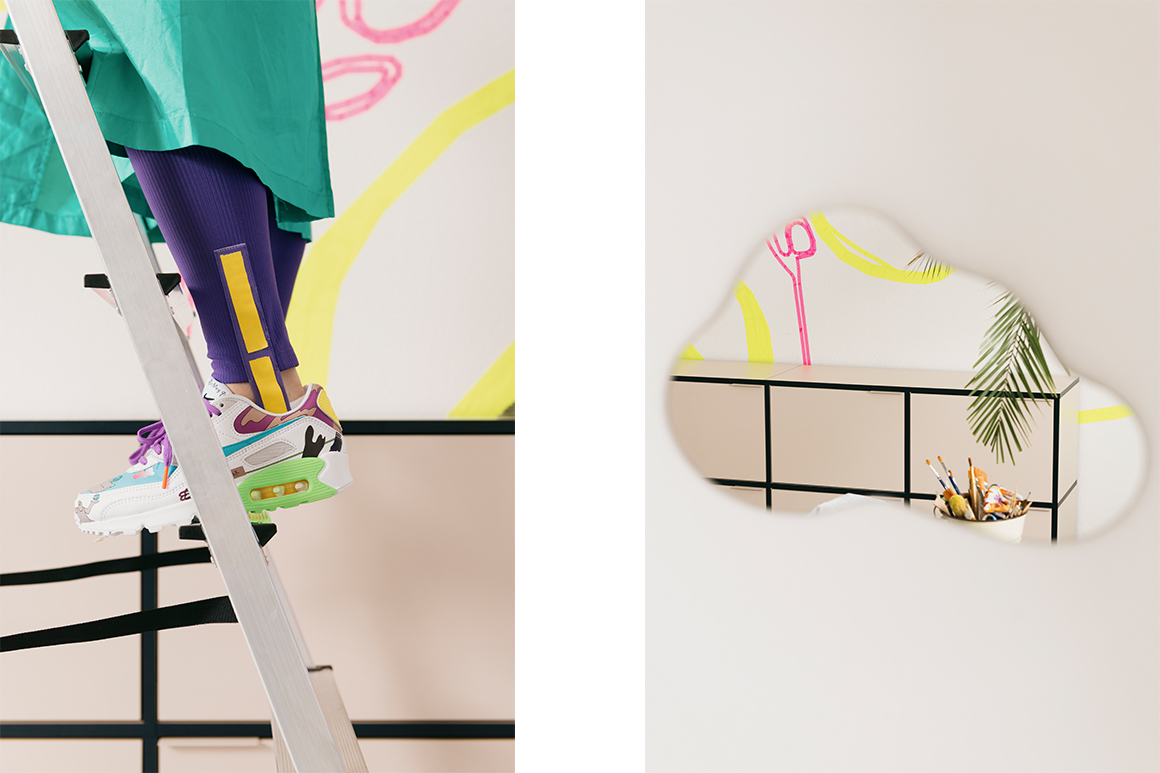 The Type02 Sideboard has become a large part of your studio set-up, how has this new addition fit into your workspace and how are you using your sideboard?
I'm really happy to have the Type02 Sideboard in my studio. I put it against an empty wall where it fits perfectly with my palm plants and poster chest. I love the artistic aesthetic of the design, the color combination brings more orderliness and clarity to my work space. It's very useful because of the spacious interior of the drawers. I use it as a treasure chest, organise art prints, books and art collections inside. I have ten deep drawers for different uses, It feels like I have much more space in the studio. 
What made you choose this particular configuration and colourway for your Type02 sideboard?
Most of my works are very colourful. The Sand color works as a perfect intermediate color for the whole space and the dark blue is like the outline of a drawing. The color combination of sand and dark blue brings more harmony, comfort and orderliness to my work space.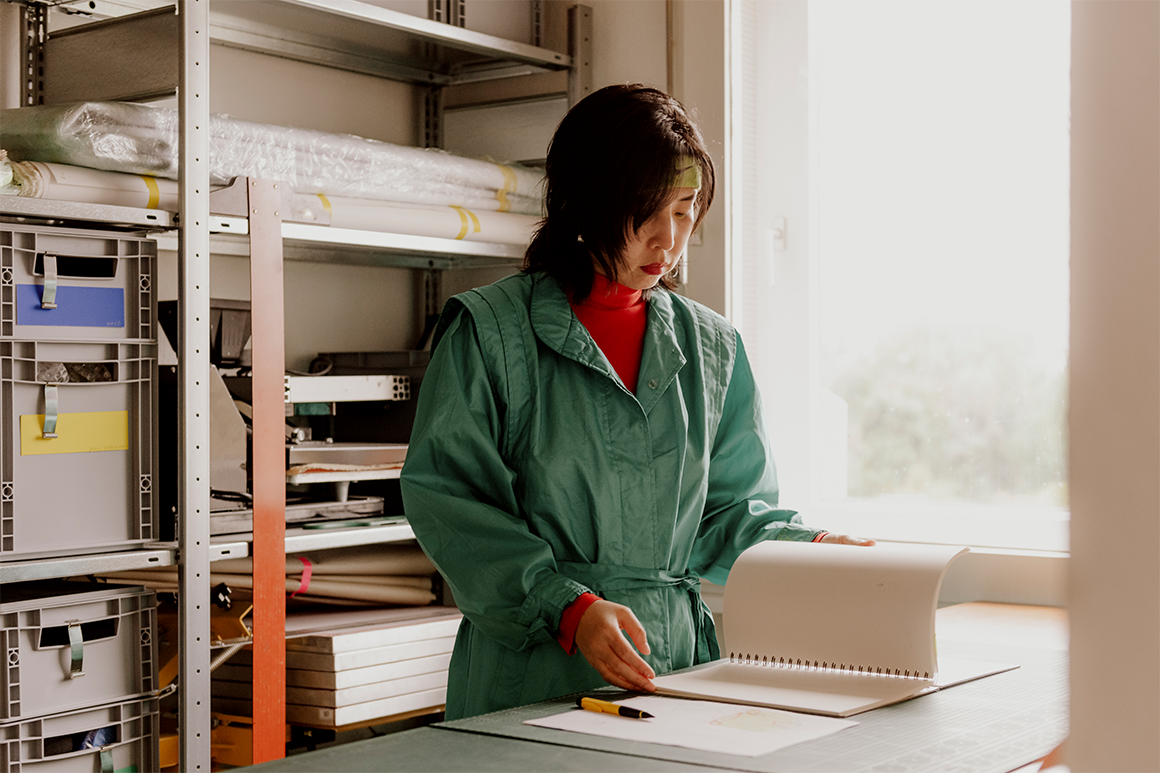 You have a really strong Instagram account and following, what role does social media play when it comes to showcasing your work?
Neon colors are the most important thing in my work and the RGB colors of a phone display screen represents them very well, online  is an ideal way to show my work. Social media for me is a great place for a digital archive and a digital timeline, one that is open to all. 
Who or what inspires you?
My Professor, Henning Wagenbreth inspired me a lot through silk printing and storytelling. The funny things that make up daily human life inspire the content of my work as well. 
What does an average working day look like for you?
I'm a nightingale. My working day usually runs from noon. In the day I focus more on regular emails, meetings, craftwork and social media, but from the evening to the late night I enjoy doing creative work and writing.