Tylko x Charlotte Taylor – Imagining the Perfect Home

A rising star with a singular aesthetic, we catch up with London-based artist Charlotte Taylor to talk growing up with good design and making the most of collaboration.
Passionate about architecture, Charlotte Taylor's dreamy interior and exterior set-ups play with reality, merging familiar structures and locations with imagined scenes. Forming multiple versions of her ideal home, the London-based creative's distinctive palette makes use of carefully chosen pastel tones, a trademark style that has proven immensely popular among collectors of her work. Creating a sense of warmth and depth, the near 3D quality of her illustrations make stepping into the image feel like a possibility, and trust us, you'll want to do exactly that.
Co-founding Dellostudio with designer Oscar Piccolo, Taylor has lent her talents to the likes of Farrow & Ball and Paloma Wool to name a few. An avid collector of source images, her personal and work Instagram feeds are a delight to scroll through, packed with weird and wonderful modernist homes that suggest a sharp eye and a true appreciation of the limitless possibilities of interior design. 
A perfect fit for our colour-rich Type02 collection, we called on Charlotte to create two bold illustrated sets for two shelving creations. The results? Perfect dreamscapes that might just have you reaching for the pink paint.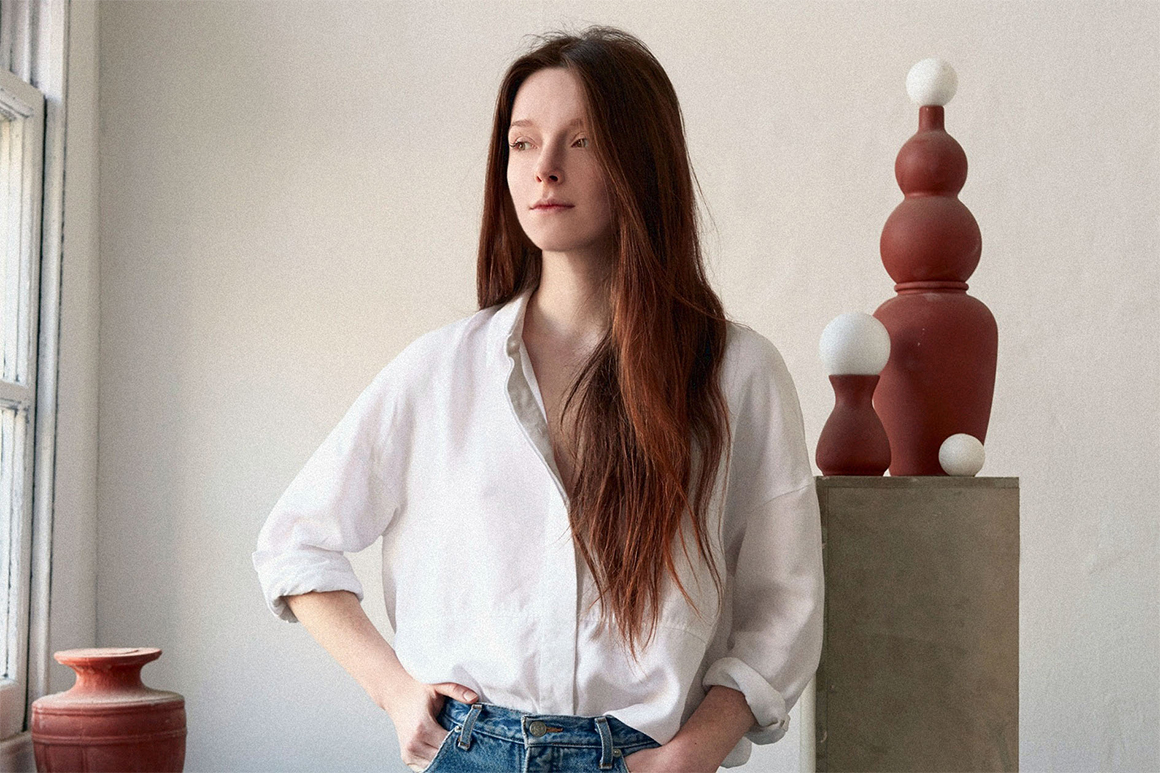 ON EARLY INSPIRATION
Surrounded by good design from an early age, Charlotte's interest in all things 'house' stretches back as far as she can remember. A solid foundation allowing her to explore and develop her own likes and dislikes, her formative years paved the way for the development of a unique and self-assured style that simply just works.
Can you tell us a little about your background? How did you get started within the world of illustration?
I was born and raised in London and I'm from a creative family. I have been exploring the subject of architecture since a young age where my fascination for buildings and space began. Illustration is part of my research process that developed into something more solid rather than accidental.
When and how did your interest in architecture begin?
I have always had a very strong connection to the house and the notion of home. I grew up in a rather architecturally peculiar house that sparked my curiosity for spaces and places. 
How would you describe your work to someone who was unfamiliar with it?
A collection of objects, spaces and concepts that inhabit the realm between fictive and real, with roots in both design and art. My illustration in particular encapsulates the world of my work, an idealistic and imagined personal interpretation of architecture.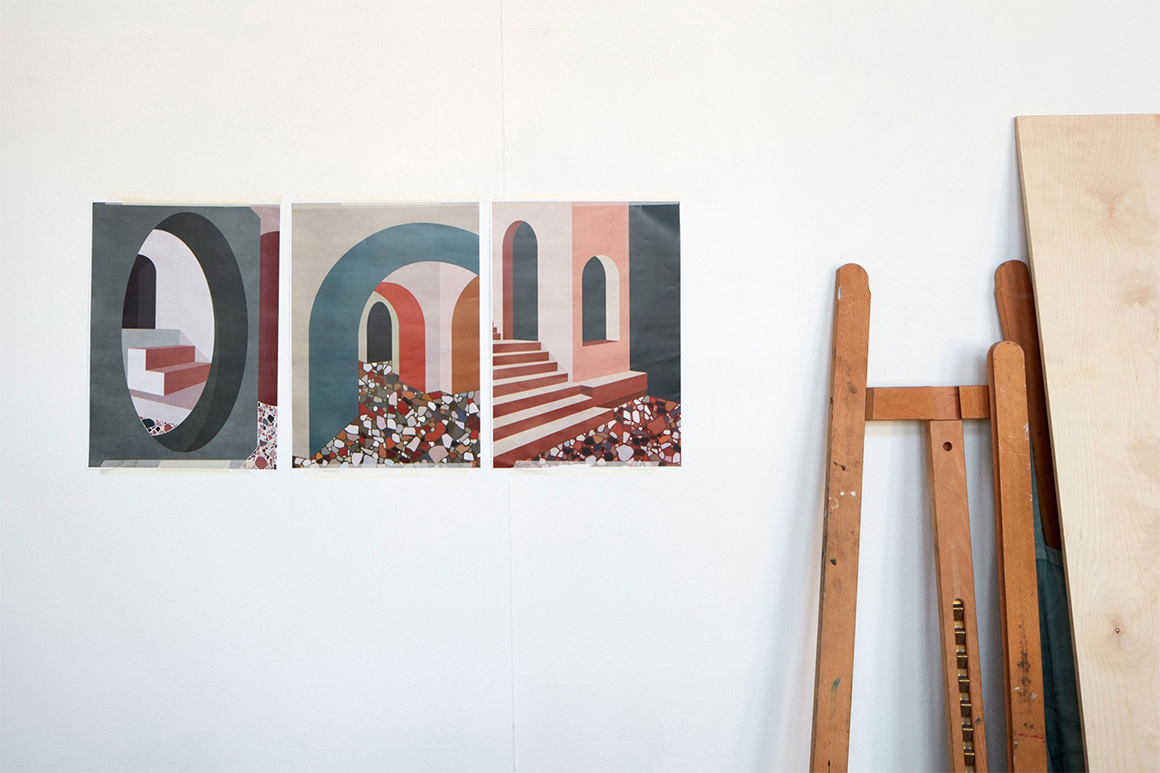 ON POSITIVE COLLABORATION
On first sight Charlotte's work struck us as an ideal partner for the Type02. Graphic, confident and contemporary, her clean and crisp visual language immediately pulled us in. Using collaboration as a tool to develop new and exciting possibilities, Charlotte brought the best of her own world and ours together to create something truly beautiful.
What drew you to working with Tylko?
I was familiar with the brand after seeing the stunning collaboration between Andrés Reisinger and Tylko. I was really pleased when Tylko contacted me as I love their identity and their connection with creatives.
Can you describe the images you chose to create for Tylko?
The images I created for Tylko envisaged how I would use such shelving in my ideal home with a curation of some of my favourite design objects inhabiting the shelves.
Is collaboration an important part of your practice?
Collaboration is essential to my practice and where I believe some of my most exciting work comes from.
ON TOOLS OF HER TRADE
Charlotte's images arrive so fully formed that it's difficult to imagine them being anything other than the finished product. However, practice makes perfect and multiple sketches, early ideas and a lot of visual research goes into each and every piece. Combining the manual skills learnt over a lifetime with cutting-edge digital illustration tools makes for a careful balance between old and new worlds, each work a reflection of both.
What role does colour play in your work? 
Colour is largely improvised. I don't plan too much in my illustrations; the form and colour take shape by conversation with each other until I feel they work together. 
What are the advantages of drawing digitally?
It is a much more efficient way to draw for me but also can be slightly limiting. I try to always work on pen and paper initially to keep this early stage of creativity and chaos in the drawing.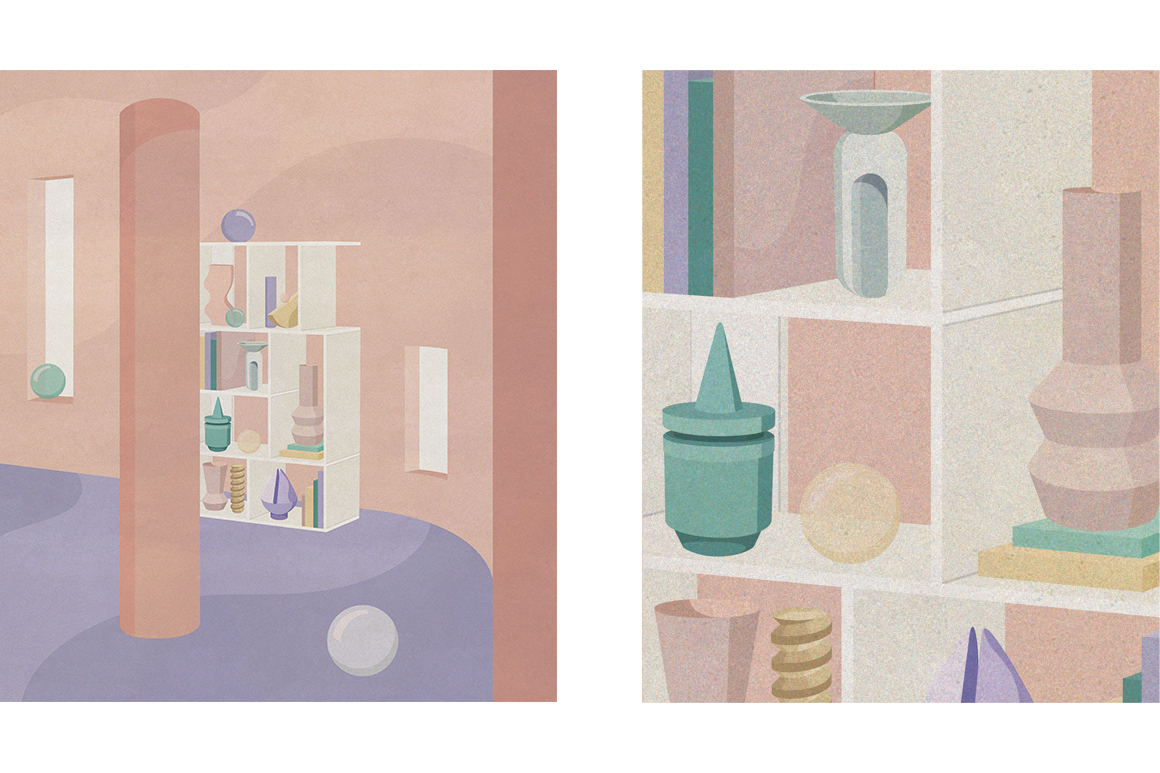 Where do the ideas for initial images come from?
It ranges from drawing to drawing, but is always an amalgamation of memory, references and sketches.
What does an average working day look like for you?
An average working day is an unknown concept for me. I can work 0-15 hours on any given day on a range of building, drawing, 3D modelling and research. I get extremely bored just working on one project so I like to balance my work to allow for a crossover of ideas and processes.
Have your professional skills come into play when designing your own home
I'm currently in the process of flat hunting and very excited at the prospect of really instating my interior style in a new space. I'm very drawn to interiors that are minimal with chaotic elements, sparse but busy at the same time. I love the idea of sculptural furniture, bridging a relationship between the gallery and the home.