The Wonderful World of Room Dividers – Maximise your Space in an Instant

Curious about how to divide a room? Get to know the wonderful world of room dividers in our guide.
Disclaimer: Room dividers can be a handy space changing tool for almost all spaces. However, it is absolutely crucial to ensure that they are both safe and secure. Attach them to the floor, ceiling or ideally both and make sure to distribute weight evenly across the divider by balancing the load and keeping drawers and doors closed. Have fun planning your divider but make sure safety comes first!
With us all spending significant periods getting comfy in the great indoors, we've become more and more familiar with the rooms in our home. Taking a moment to really get to know the four walls that surround us has sparked our creativity as we find ourselves wondering if it's time for a change. Step forward – room dividers. If you've been asking yourself whether there's a better way to order the spaces you live in, if you're after a dedicated corner for work or hobbies or if you just want a change of scene, splitting a room need not require any major work. Room dividers are a simple way to double the use of a room and reconfigure those familiar layouts.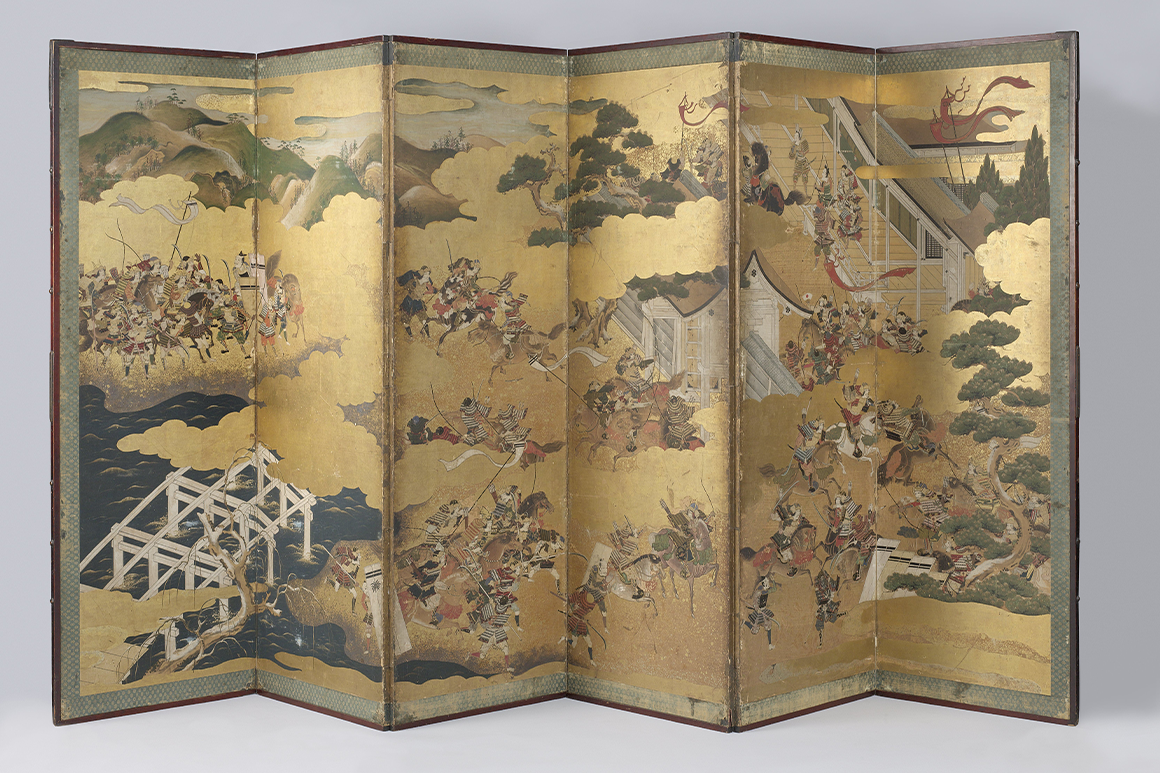 A Design Tool with a Storied History
Room dividers are by no means a modern design solution, in fact their history stretches back as far as the 4th century BC, folding screens originating in ancient China during the Han dynasty. They were the true multitasking wonder of their day, separating spaces while providing the ideal canvas for the beautiful and intricate decorative arts of the era. Finding their way across the rooms of Asia, Japan took the idea and ran with it, making the decorative folding screen their own. The byōbu ("wind wall") began life in the ceremonies of imperial palaces and eventually ended up as an everyday moveable item in residences across the land.
Room Dividers in the Modern Era
The legacy of the Japanese room divider remains strong. Still coveted to this day, the byōbu's ancestor, the shoji screen, uses translucent paper on a lattice frame, creating a beautiful dappled light perfect for the minimal interiors associated with Japanese aesthetics. Shoji came to represent a new approach to design and would go on, centuries later, to influence the midcentury masters of the west who created their own take on this very special item. The beautiful, undulating Tambour screen remains a classic of the era, popularised by midcentury master Alvar Aalto, original versions of this adjustable pinewood divider fetch sky-high prices even to this day.
The mid to latter part of the twentieth century would see dividers turn practical. Furniture systems such as Ladderax by British maker Robert Heal took the clean lines of wood-centric Danish design and created practical, modular shelves and storage that were both decorative and clutter-busting. These stylish freestanding systems formed striking mid-room centrepieces which allowed customers to decide where and how to split their space.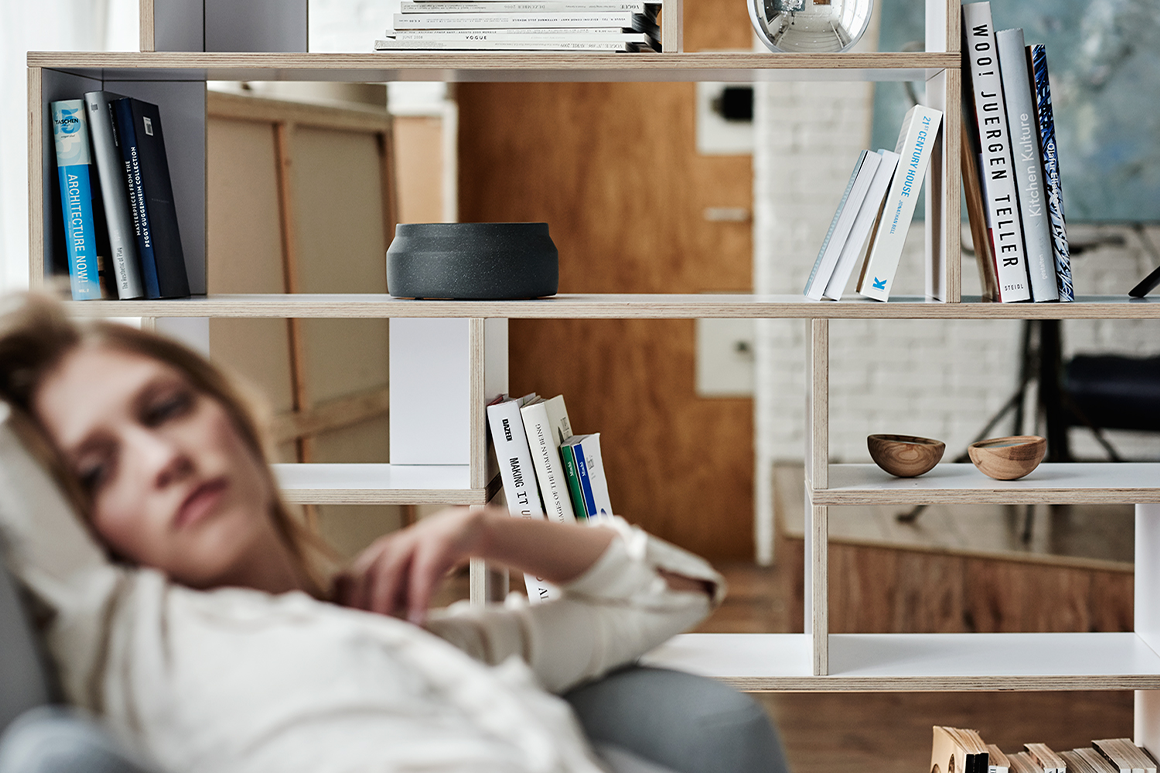 Make your Living Room a Double Use Space
So what's the purpose of the room divider today? Now more than ever, we expect so much from our spaces. A home is no longer somewhere just to retreat to at the end of the day, it's the site of so many aspects of our lives, from leisure, to play and work. Just like its midcentury cousins, essentially, it's all about the multi-use solution. Truly an open category, a modern living room divider idea can be anything as long as it effectively divides your space, from a large modular sofa system or shelving unit, to a long-length sideboard or floor to ceiling bookcase. Now, with so many of our homes open-plan, we're finding fresh and inventive ways of splitting our space ('zoning') to get the absolute maximum out of where we live: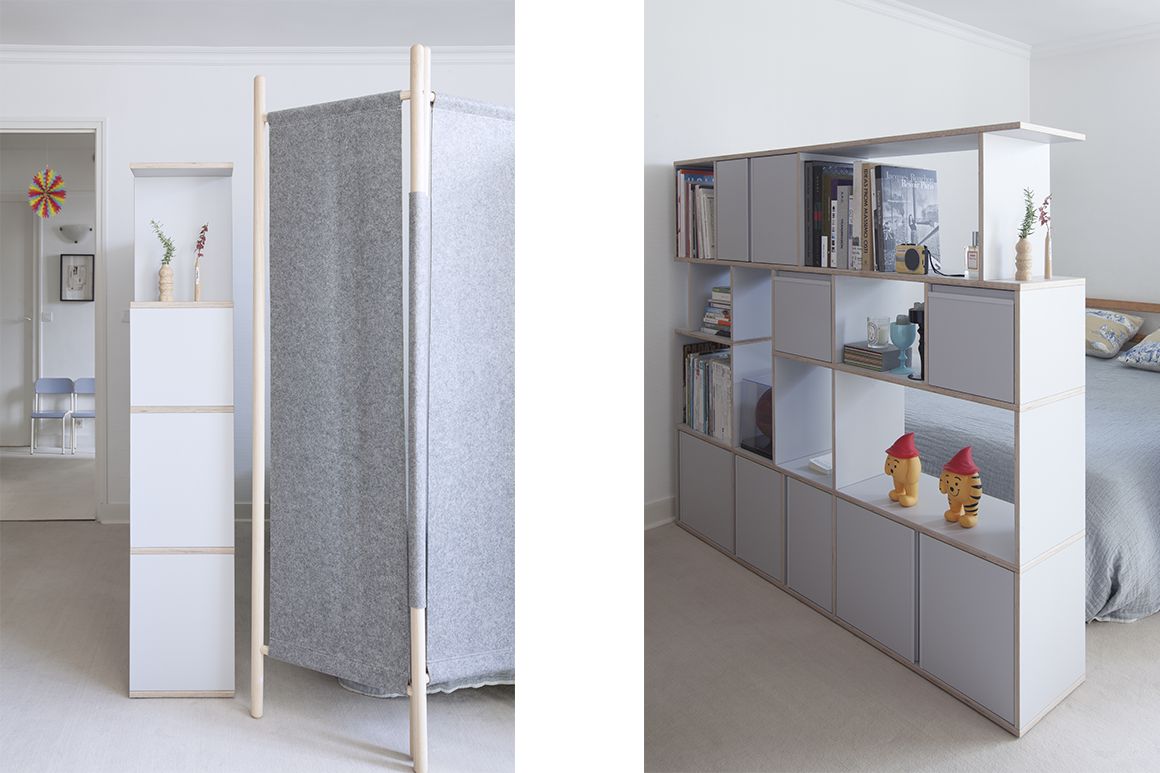 The New Office
One of the most effective uses of a room divider is the creation of the home office. With so many of us working from home right now, finding a dedicated space is a must. If you don't have the luxury of a home office or spare room, a living room corner can be sectioned off to provide a space for a mini home office, allowing you to separate work and leisure time, both mentally and physically.
The Essential Reading Nook
The living room has, over time, come to be centred around the television with furniture arranged to give us the ideal viewing point. For avid readers, a divider is the perfect way to separate your TV time and your book time in one room. Creating a separate reading space, with books to hand (room divider bookcase anyone?), will make your living room feel less like a cinema and more like a multi-use home library.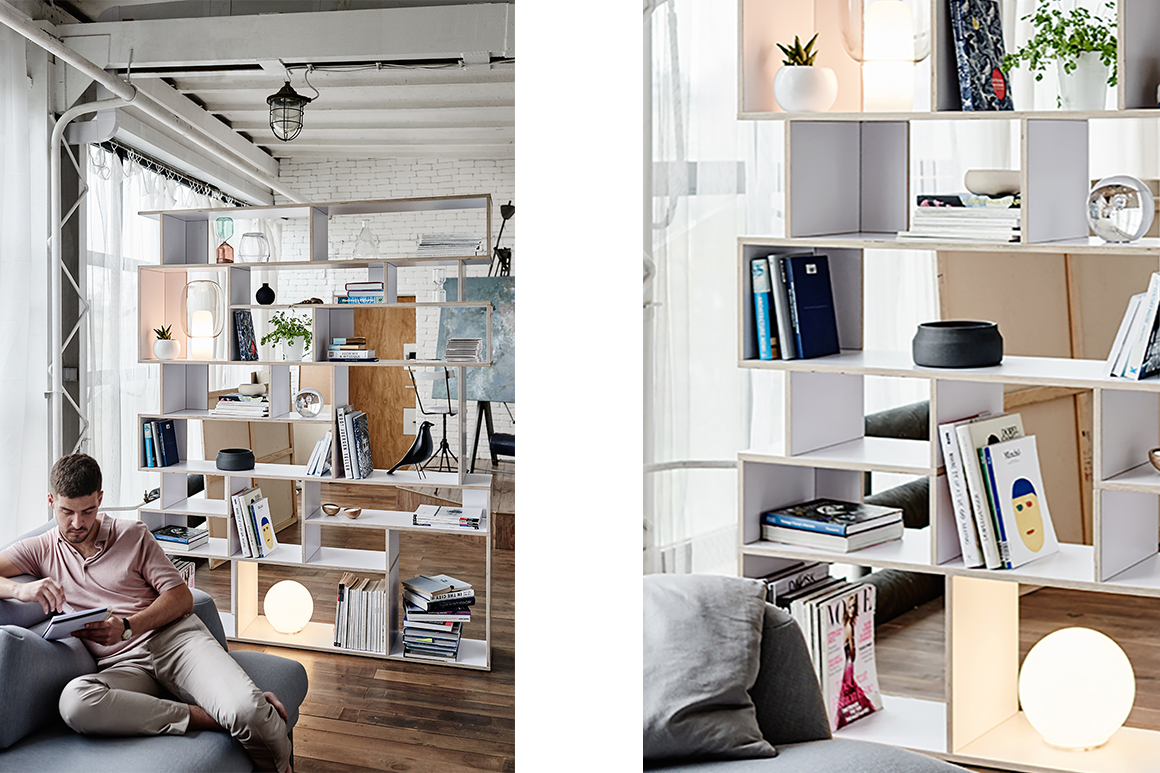 The Social Set-up
Dividers really come into their own when it's time to gather a crowd. Create a dining space within your living room for cosy dinner parties. Split your room to create intimate zones that will come alive when it's time to party or simply arrange your large sofa system as a separator to produce a conversation corner for those post night-out gatherings.
With a purpose in mind, to ensure you're getting the most out of your divider, there are four key boxes that should be ticked when it comes to making a living room partition purchase:
1. Style
While looks aren't everything, when it comes to a room divider, making sure it ticks your aesthetic boxes is crucial. Remember, it will be placed mid-room making it particularly noticeable. Ensure it's a piece you'll want to look at for years to come. Want to make a big and bold statement? Tylko's trademark Type02 palette offers a range of vivid and eye-catching shades from deep Terracotta to sleek Midnight Blue. For those of a more minimal persuasion, the Type01 is the perfect understated solution, shades of white, black or even Oak or Ash Veneer keeping things elegant and timeless.
2. Substance
What can your divider offer beyond good-looks? Make sure they bring something additional to the home, whether that's a place to store your books, clutter-busting storage or somewhere to display your favourite items. Add drawers or doors to really make your piece practical.
3. Shape
Keep in mind your original goal – to divide your room effectively. A partition should be big enough to make an impact but should never overwhelm a room. If you can, go custom. Tylko's bespoke shelves allow you total control, not only over height and width, but layout itself.
4. Safety
Without the safety of a sturdy wall, it is absolutely essential your piece can be secured to the floor or ceiling. Brackets, crossbeams or hooks will keep your furniture firmly in place and restore peace of mind.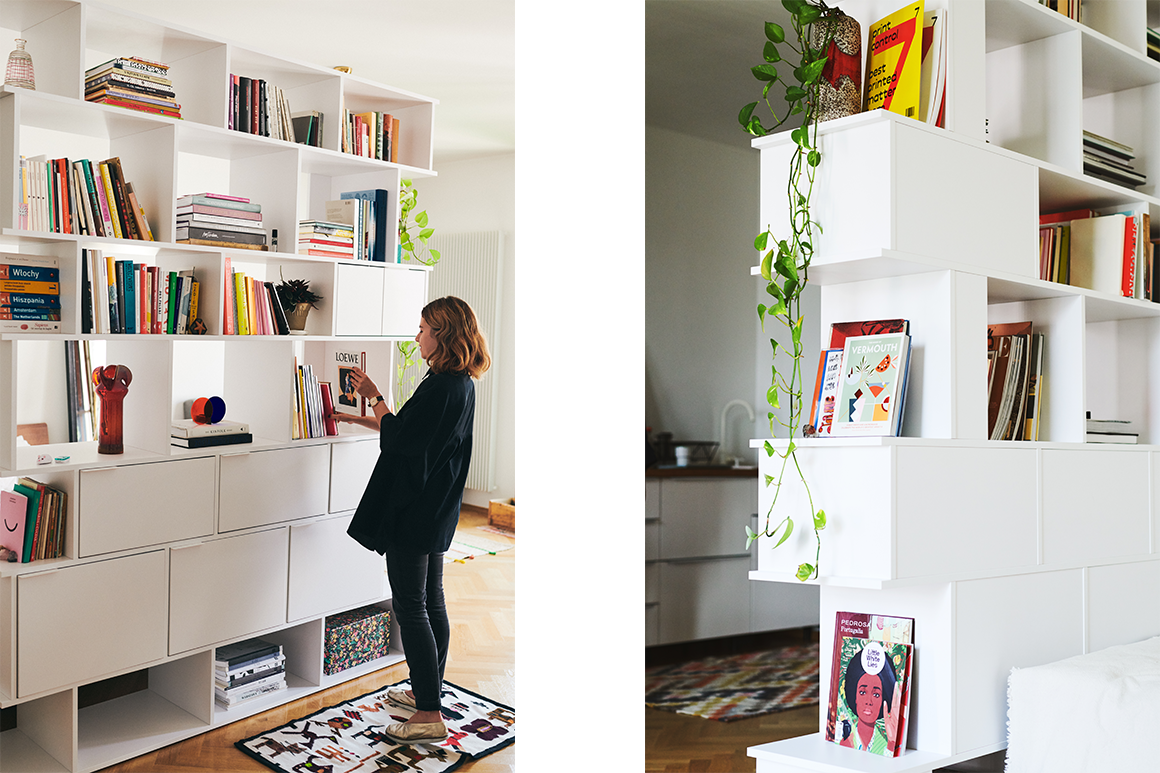 The Room Divider – Kids Edition
Note: Here, it's more important than ever to emphasise safety. Any room dividers that come in contact with children must be securely fitted by a professional to both the ceiling and floor. Please take the time to carefully and safely plan your installation.

A special mention must go out to the role of room dividers for anyone with children. An indispensable tool, the right room partition can change the way both you and your kids interact with your space. Here, it's even more important to emphasise safety, any room dividers that will come in contact with energetic children must be securely fitted by a professional.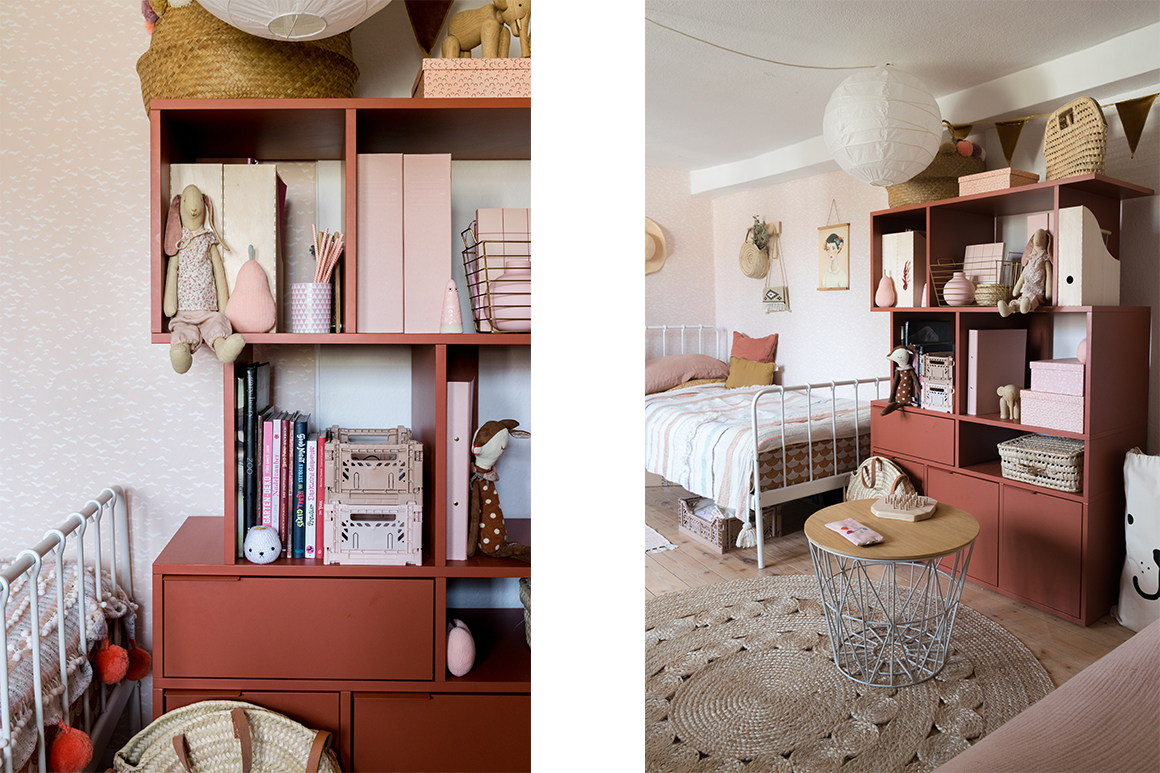 A Split Sleep Zone
If your little ones are sharing a bedroom, dividing the room with a well-chosen piece of furniture can give each child a sense of their own private space, turning a shared kid's room into a twin sleeping zone. If you opt for shelves or cupboards then you'll double your win by providing a home for their ever-multiplying collection of toys and books.
Design your own School
If home-schooling is still part of your day-to-day, providing the kids with a separate space to study will allow them to be more focused and productive and give you a break from mid-Zoom meeting interruptions. Whether it's a kitchen, living or bedroom, a kid's room divider can create a classroom feel just about anywhere in the house.
The Kids-Only Play Zone
Children are little mess makers and it's hard to keep up with all the clutter once they enter your lives. By creating a dedicated play space, you'll restrict untidiness to one corner whilst allowing your kids the freedom to go wild and express themselves. Give them ownership of this little space and teach them about the joys of tidying up (motivational bribes optional).
Have you uncovered the perfect room divider? Get in touch and share your space.
Inspired? On the hunt for some more room dividing ideas? See what's on offer at tylko.com and get designing your perfect partition.